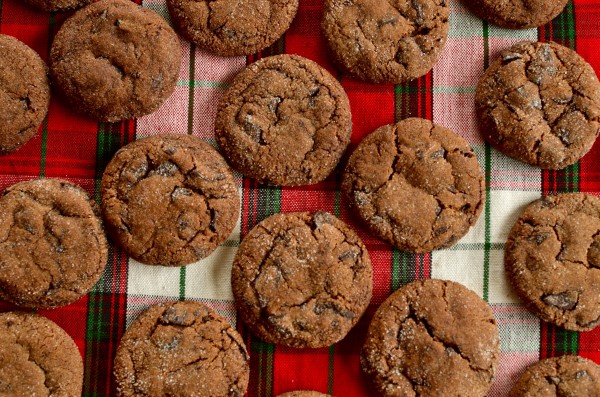 It wouldn't be December without a Christmas cookie post, would it?  It's been a busy month with lots of change coming my way, so I haven't had much time to bake Christmas cookies like I have in years past.  But I did get the chance to attend the Portland Culinary Alliance cookie exchange this year, and of course that meant I had to bring a cookie to share that was extra special.
This recipe, courtesy of the Mast Brothers, came out two years ago, and I've made it every December since.  I love chocolate, and I love ginger cookies, but I never thought to pair a ginger cookie with dark chocolate chunks.  The recipe is genius – the cookies are incredible!  These are a little spicy, thanks to a few tablespoons of fresh ginger, but also have a pleasant richness from the chocolate.  They are the kind of cookie you will crave each time the holidays come around!
And if you're looking for other cookie ideas, there are many, many, MANY on this blog!  Some of my all-time favorites for the holidays:
Beurre and Sel Jammers
Maple Walnut Biscotti
Peppermint Meringues
Spiced Fig and Walnut Biscotti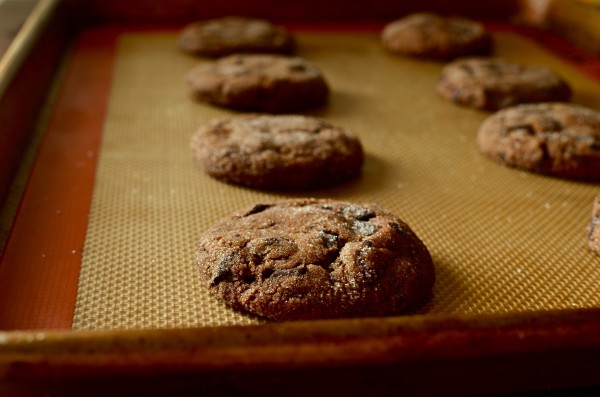 Notes:
The recipe calls for 3 tablespoons of freshly grated ginger, but I've often made it with 2 tablespoons because my arm gets tired from grating it.  Two tablespoons still gives the cookie plenty of ginger flavor, but don't be afraid to use 3!
Chocolate Ginger Cookies
Adapted from Mast Brothers Chocolate: A Family Cookbook via the Boston Globe
Makes around 24 cookies
Ingredients
1/2 cup (1 stick/8 Tablespoons) unsalted butter, at room temperature
1/2 cup brown sugar
1/4 cup molasses
2 teaspoons water
2 Tablespoons grated fresh ginger
1 1/2 cups flour
1 Tablespoon unsweetened cocoa powder
1 teaspoon baking soda
2 teaspoons ground ginger
1 teaspoon ground cinnamon
1/2 teaspoon ground nutmeg
7 1/2 ounces dark chocolate, chopped (I use Trader Joe's semi sweet chocolate chunks)
1 cup granulated sugar (spread in a shallow dish)
 In a mixer (standing or hand), cream the butter and brown sugar until fluffy, about 4 to 5 minutes. Add the molasses, water, and fresh ginger, and mix until combined.

 While the butter and brown sugar are going in the mixer, whisk together the flour, cocoa powder, baking soda, ground ginger, cinnamon, and nutmeg.  Add the dry ingredients to the wet ingredients in the mixer, and mix on low speed until blended.

 Add the chocolate, and the mix just until the bits are blended into the dough. Scrape down the sides of the bowl, cover the dough with plastic wrap, and refrigerate for 2 hours or overnight.  If you refrigerate overnight, you may need to let the dough sit out for a few minutes before shaping it into balls in the next step.

 Set the oven at 350 degrees F.  Line 2 baking sheets with parchment paper or silpats.  Shape the dough into 1 1/2-inch balls, roll in granulated sugar, and place cookies on the baking sheets about an inch apart. Bake for 14 minutes, turning halfway through, or until the cookies are just firm to the touch (they will seem underdone).
Allow the cookies to cool on the baking sheet for 5 minutes, then transfer the cookies to wire racks to cool.   The cookies will keep stored in an airtight container several days (but won't last that long!).