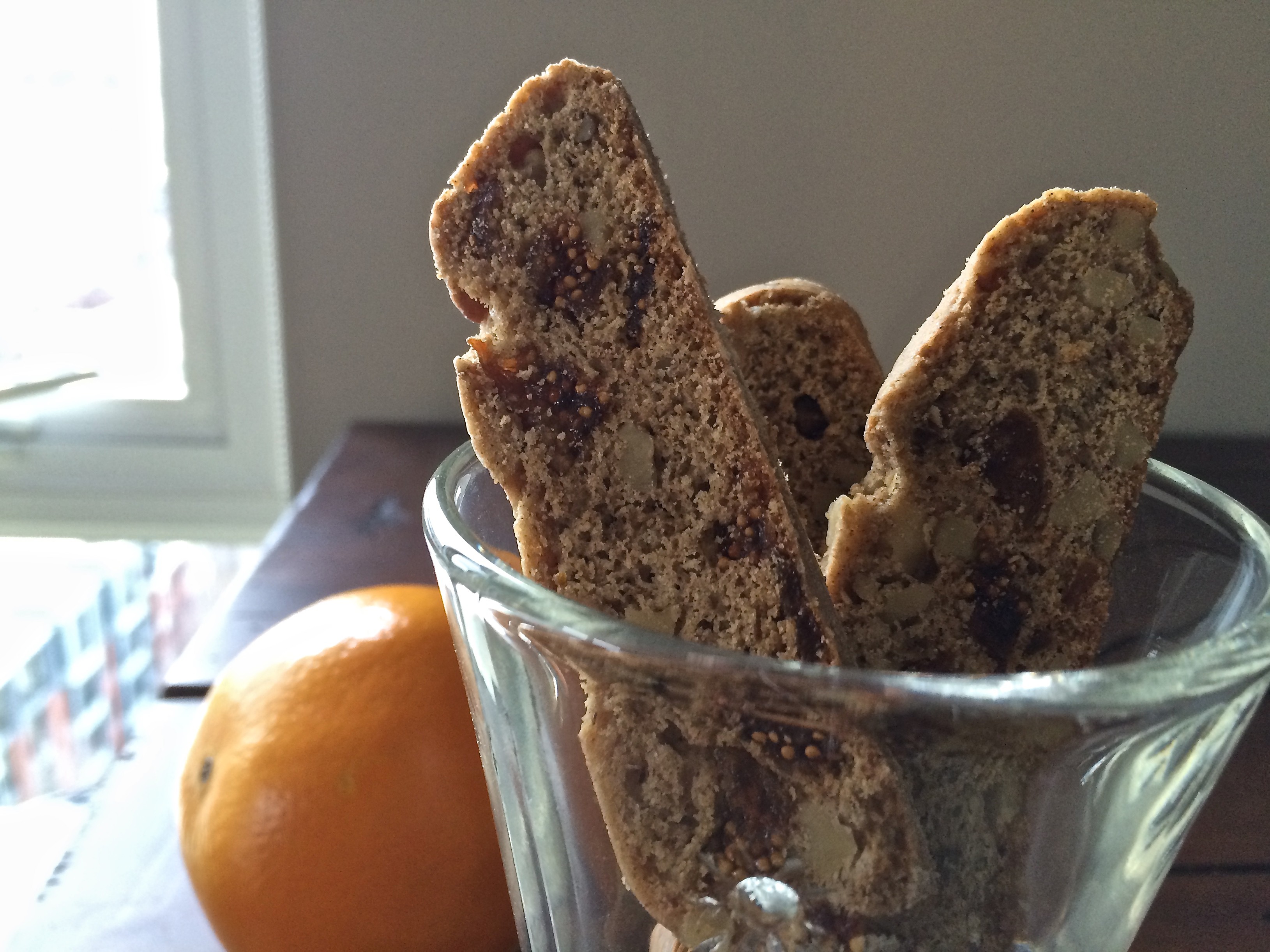 When I meet new people and they hear that I enjoy baking, I'm often asked, "What's your favorite thing to bake?"  That's a tough question to answer.  Whenever I pick up a new baking project, it will depend on the season, the occasion, and my general mood.  After much thought, however, I've narrowed it down to biscotti.
In case you've forgotten, I make biscotti a lot: Chocolate Cherry, Almond, Almond Cornmeal, Pumpkin, and Maple Walnut varieties of biscotti are already found on this site.  Biscotti are easy, fast, and can be constantly updated with new flavors and ingredients.  They perfectly compliment your coffee or tea, and are even an excellent addition to a cheese plate.  They are a light, not-too-sweet treat, as long as you don't eat half the batch at once.  Which I may have done in the past.  Don't judge.
I love these.  Love.  The sweet dried figs, toasted walnuts, and spiced orange flavors make for a warm and comforting cookie, and the figs' little round seeds give these a lovely crunchy texture.  I first made these in November and have now made them an additional 5 times.  The flavors of orange and spice make them a great holiday cookie, but I plan on working them in to my regular year-round biscotti repertoire.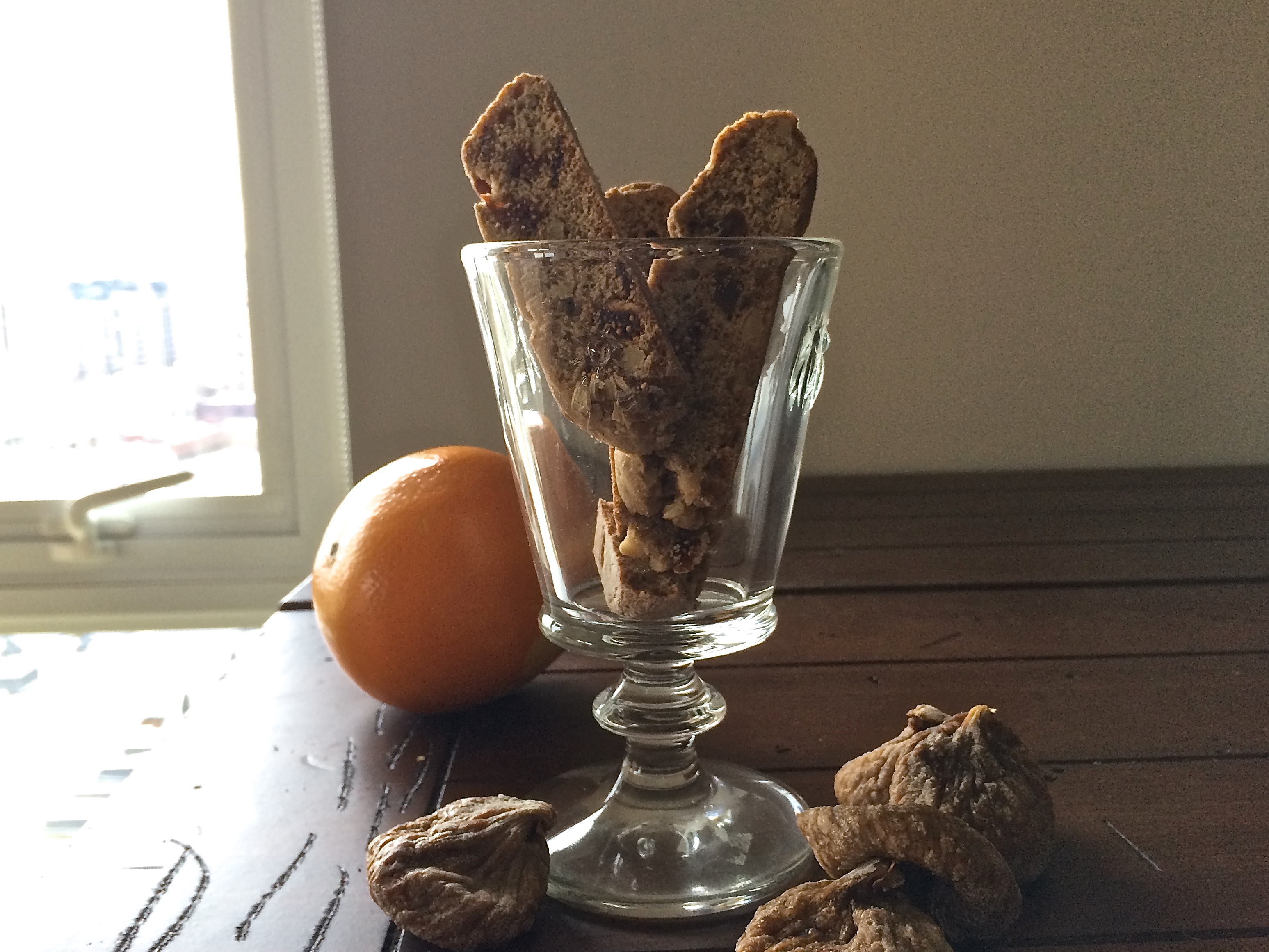 Spiced Fig and Walnut Biscotti
Adapted from Gina DePalma, The Babbo Cookbook
Makes ~24 biscotti
Ingredients
1 cup walnut pieces
1 cup dried Turkish or Calimyrna figs, quartered
3/4 stick (6 tablespoons or 3 ounces) unsalted butter, softened
1/4 cup granulated sugar, plus more for sprinkling
6 tablespoons dark brown sugar, packed
2 eggs
1 teaspoon pure vanilla extract
Grated zest of 1/2 a large orange
1 3/4 cup plus 2 tablespoons (or 2 cups minus 2 tablespoons) unbleached, all-purpose flour
1 teaspoon baking powder
1/4 teaspoon baking soda
1/4 teaspoon kosher salt
1 1/2 teaspoons ground cinnamon
1/4 teaspoon ground nutmeg
1/8 teaspoon ground cloves
1 egg white, lightly beaten
1. Preheat the oven to 325 degrees. Spread the walnuts on a baking sheet and toast in the oven for 5 to 7 minutes, or until golden brown and fragrant. Allow the walnuts to cool completely.
2. Place the walnuts and dried figs in a food processor and process until they are finely chopped.  Or, if you don't have a food processor, you can chop both by hand (which is what I did).
3. In the bowl of an electric mixer, cream together the butter and sugars until light and fluffy. Add the eggs, one at a time, and beat until incorporated, scraping down the sides and bottom of the bowl with a spatula occasionally. Beat in the vanilla and the orange zest.
4. In a medium bowl, stir together the flour, baking powder, baking soda, salt and spices. Mix the dry ingredients into the butter mixture to form a somewhat firm dough. Add the walnuts and figs and mix until thoroughly combined. Wrap the dough tightly in plastic and chill 35 to 40 minutes or until completely firm.
5. When the dough has chilled, on a floured board, use your palms to roll half of the dough (eyeball it) into a log. Repeat with the second half of the dough, and place both log on the baking sheet.
6. In a small bowl, beat the egg white with a fork until frothy. With a pastry brush, glaze the log with some egg white and sprinkle it with granulated sugar. (I was feeling lazy and skipped this step.)  Bake for 15 to 20 minutes or until the log is lightly golden brown, firm to the touch and just beginning to crack slightly.  This took me around 30 minutes, so start checking around 20 minutes and keep baking until firm and slightly cracked,
7. Allow the log to cool on the cookie sheet until cool to the touch, about 30 minutes. Move each log to a baking sheet, and with a serrated knife, slice the biscotti, slightly on the bias, into 1/2-inch slices. Lay the slices on the cookie sheet in single layer. Return the biscotti to the oven and cook for 20 more minutes, or until the biscotti are toasted and crisp.  This also took me at least 30 minutes, so again, start checking at 20 minutes and add more time if needed.
Store the biscotti in an airtight container. They should keep for at least a week.  They also freeze beautifully.