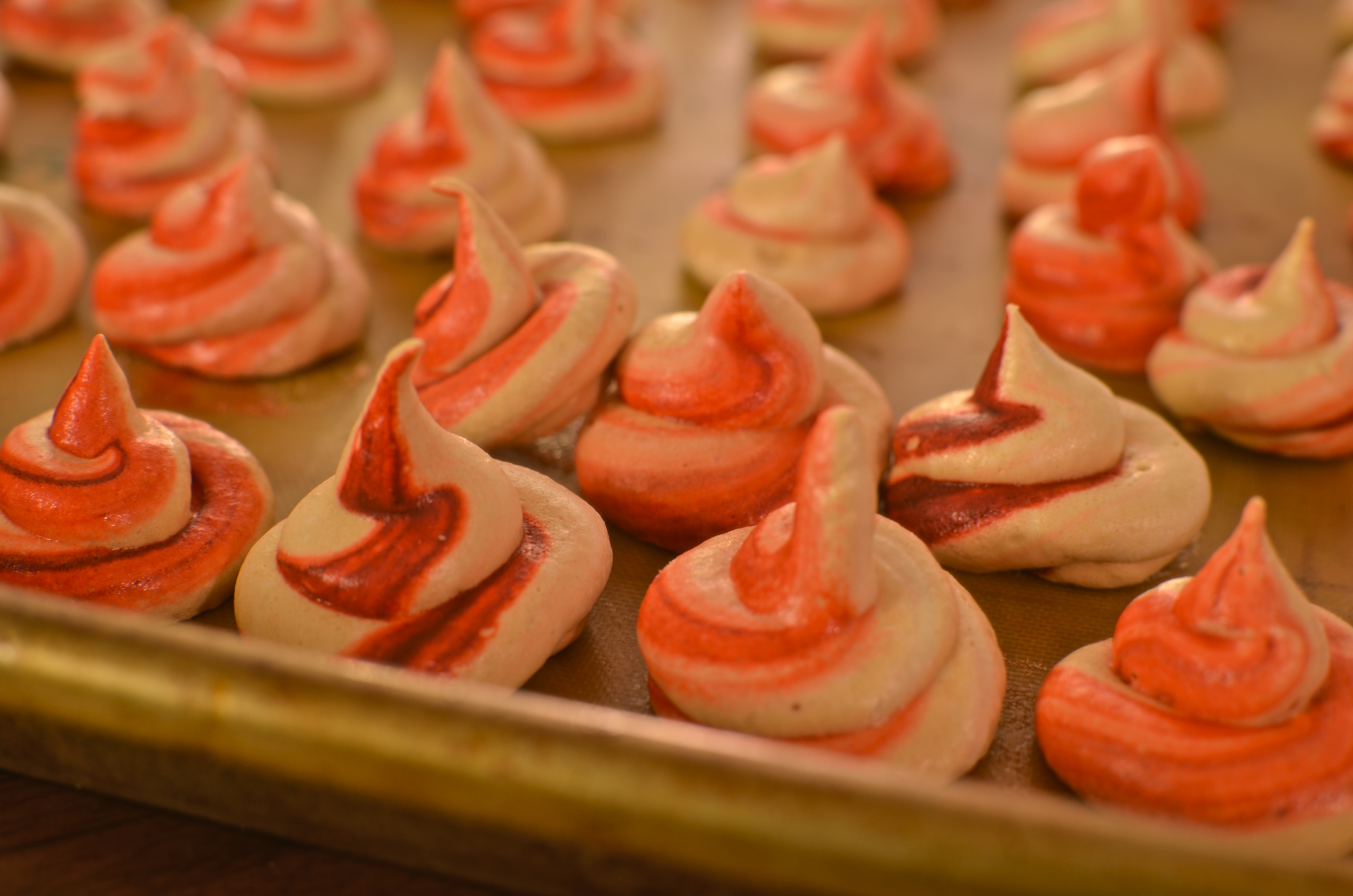 It's now December, and that means I get to kick off my second December of holiday cookie recipes!  For the first cookie of the month, I chose a recipe that is currently on the cover of Bon Appetit, one of my favorite food magazines.  The cover features a close-up portrait of gorgeous, airy, red-striped meringues that were just begging to be made in my kitchen.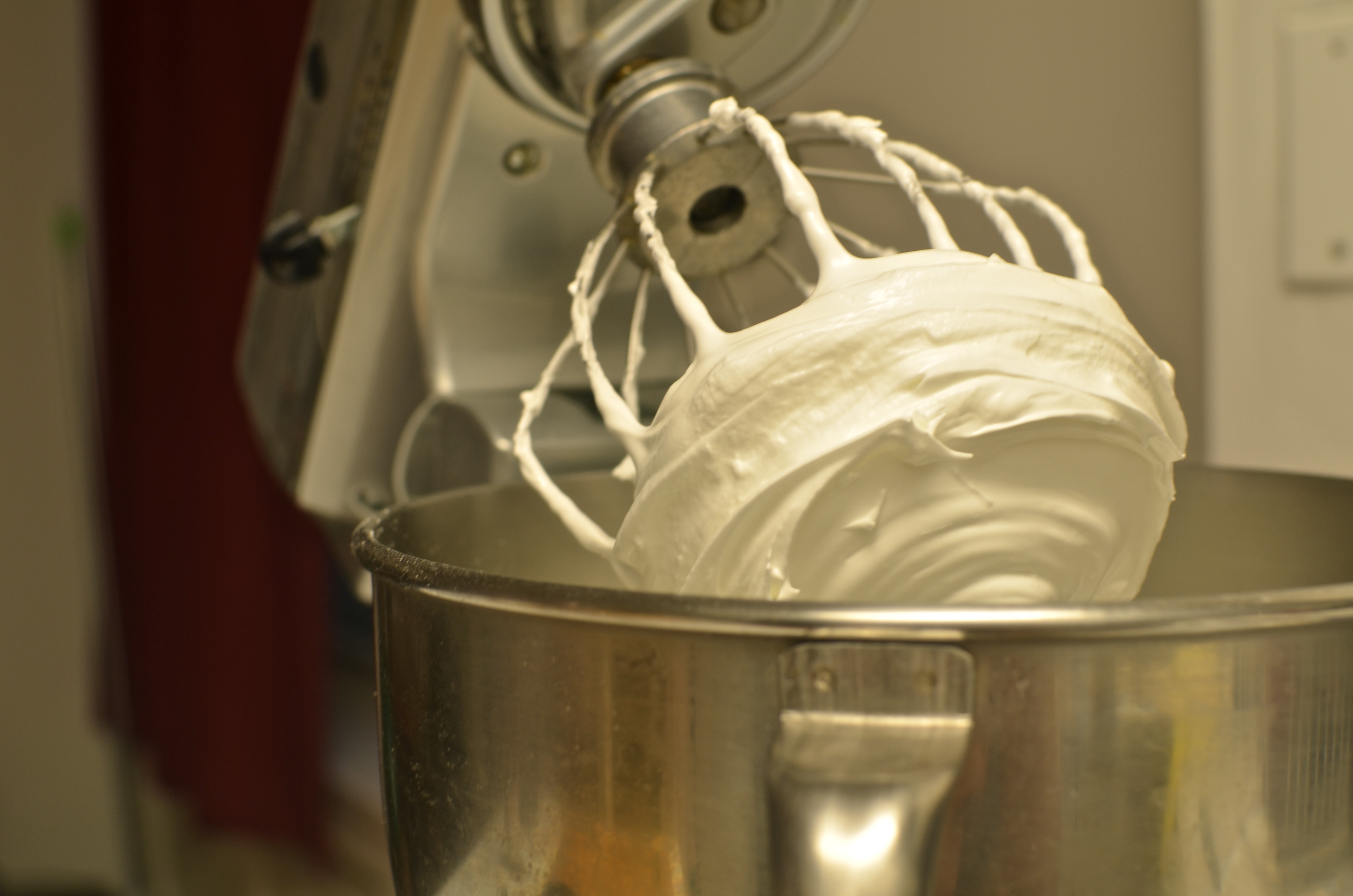 For those of you who haven't made meringues, they are close to being the perfect cookie to make, for several reasons.  You will be pleasantly surprised by how few ingredients they have.  They are simple to make, and the only special equipment you need is a hand mixer or standing mixer.  To make them look pretty, you can pipe them out of a ziplock freezer bag if you don't have pastry bags.  They are low fat and low calorie (assuming you don't eat the whole batch in one sitting!).  They are sweet, crunchy, and terribly addictive.  And this holiday version – spiked with peppermint and flecked with a little red dye – creates a meringue that is just so pretty.
This recipe makes a heavenly light and sweet meringue that evokes memories of old-fashion red and white peppermints.  The amount of peppermint extract in this recipe is perfect and not at all overpowering.  As you start piping these out, the drops of red food coloring make their way down the bag, and each meringue has some red swirling in it.  Some will have more red than others, and the I love that each one looks a little different; they are like your own meringue snowflakes.
These make the perfect snack or dessert, and would also make an impressive gift!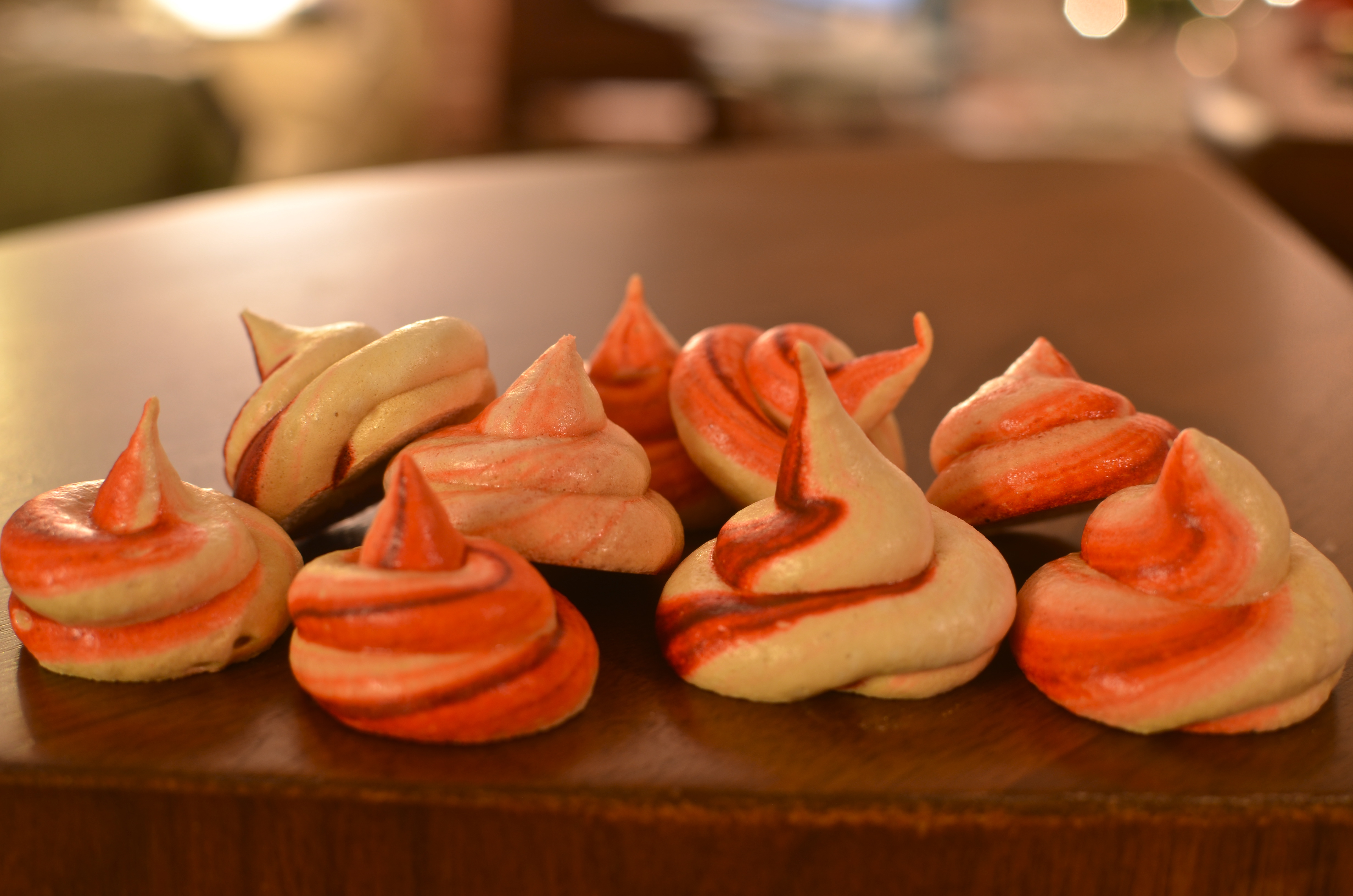 Peppermint Meringues
Recipe by Bon Appetit
Makes ~ 80 meringues, depending on how large or small you decide to make them
Ingredients
3 large egg whites, room temperature (this is important!)
1/8 tsp salt
1/3 cup white sugar
1/2 cup powdered sugar
1/8 tsp peppermint extract
Red food coloring
1.  Preheat oven to 200°F, and line two baking sheets with parchment paper.  You can use a silpat as well, but if you're using the food dye, there's a chance the meringues will leave red marks on the silpat.  Using an electric mixer (standing or hand), beat egg whites and salt on medium-high speed until white and foamy, about 1 to 2 minutes.  With mixer running, gradually add sugar in 3 additions beating for 2 minutes between each addition.  After the last addition, beat until firm peaks form, about 3 to 4 minutes longer.  Add powdered sugar and peppermint extract; beat to blend, about 1 minute.
2.  Dot coloring over surface of meringue, like this.  Do not stir (the coloring will form swirls when piped).  Spoon meringue into a pastry bag fitted with a 1/2″ tip (I think my tip was smaller, but it worked out just fine).  Alternatively, spoon into a plastic freezer bag, then cut 1/2″ off 1 corner. Twist top; pipe 1″ rounds onto prepared sheet, spacing 1″ apart.
3.  Bake meringues until dry, about 2 1/2 hours.  Let cool completely, about 1 hour (meringues will crisp as they cool).
These can be made 2 days ahead.  Store airtight at room temperature between sheets of parchment or waxed paper.