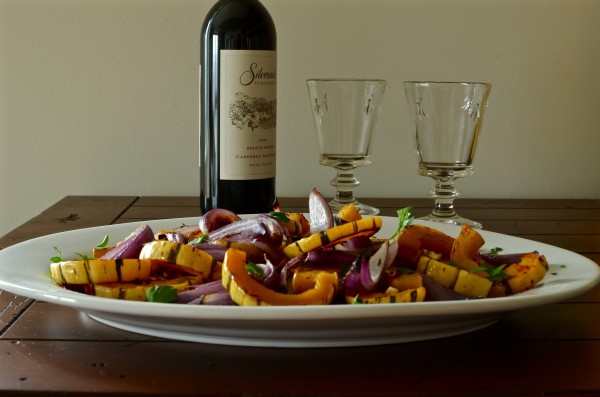 Guys, how is it already mid-November?!  Portland has done that thing it does every year where it goes from sunny and perfect to rainy and cool.  I'm getting an urge to hibernate, but instead of doing my normal "hibernating and baking," this year it's been more "hibernating and cooking."  I know, what have I become?
But cooking more than baking has its perks, like discovering great new recipes that make use of seasonal ingredients, especially when you consider that Thanksgiving is just around the corner.  This is one of my favorite new recipes.  Here's the deal: it's delicious, it's easy, it's fast, and it's healthy.  It's simple enough to make on a weeknight, but special enough for a holiday meal.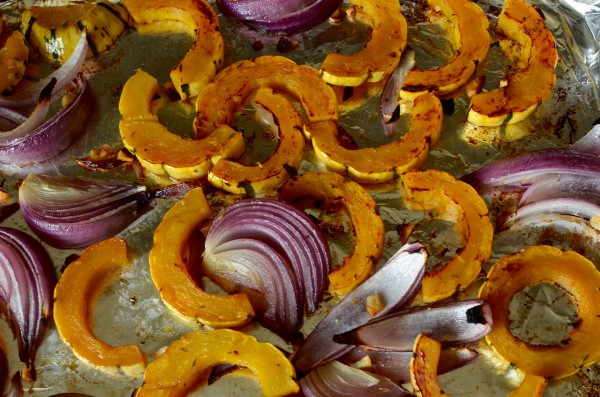 Besides tasting ridiculously good, delicata squash does not need to be peeled before cooking.  It's skin is very thin and tender, and after the squash rings have been roasted, you can cut through the rings with the side of your fork.  Prepping some varieties of squash can be a real pain, but delicata squash is as easy as can be.
Another perk?  This dish would look wonderful on your Thanksgiving table, and can be prepped ahead and served at room temperature.  And since it's flavorful yet healthy, you won't feel as guilty if you want a second slice of pumpkin pie.  It's the perfect side dish!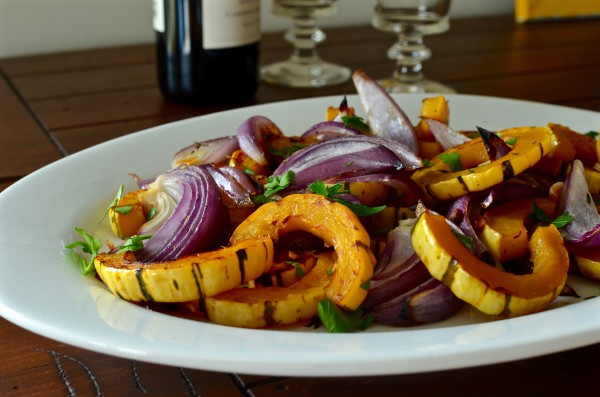 Roasted Red Onion and Delicata Squash
Adapted from Cooking Light
4 to 6 servings
Total time: 40 minutes
Ingredients
1 teaspoon unsalted butter, melted
1 Tablespoon chopped fresh thyme
1 Tablespoon honey
2 teaspoons olive oil
3 garlic cloves, sliced
1 (24-ounce) or 2 (12-ounce) delicata squash(es), halved lengthwise, seeded, and cut into 1/2-inch slices
1 (1-pound) red onion, cut into 12 wedges
1/2 teaspoon salt, divided
1/2 teaspoon freshly ground black pepper, divided
Cooking spray
3 tablespoons chopped fresh flat-leaf parsley
Place a baking sheet (unlined, or lined with heavy-duty foil) in oven. Preheat oven to 475° (leave pan in the oven).

Combine first 5 ingredients in a large bowl, stirring with a whisk.  Add squash and onion, and toss gently to coat. Sprinkle vegetable mixture with 1/4 teaspoon salt and 1/4 teaspoon pepper. Carefully remove preheated pan from oven and coat pan with cooking spray.  Pour the vegetables in a single layer on pan, carefully arranging if necessary.  Bake at 475° for 20 minutes or until tender, turning once.  Sprinkle with remaining 1/4 teaspoon salt and 1/4 teaspoon pepper, and chopped parsley.