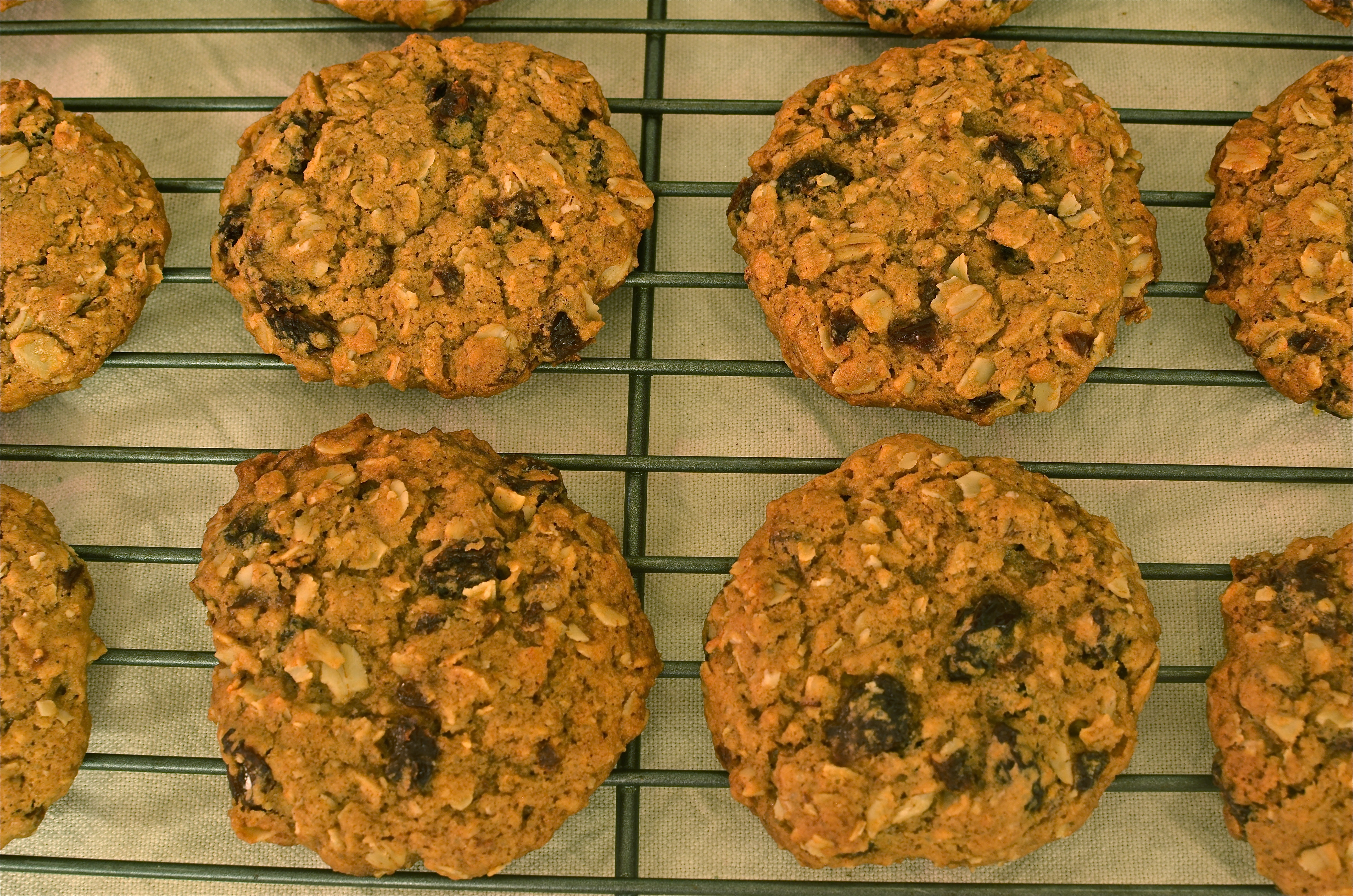 When it comes to dried fruits, raisins are my least favorite.  Remember when we were kids, how our parents would give us raisins as a "healthy" snack?  Lame.  I will eat raisins, but I'll only eat them 2 ways: covered in chocolate, and baked into oatmeal cookies.  And sure, oatmeal raisin cookies sound like a healthier option than the traditional and always-delicious chocolate chip, but they are often just as bad if not worse for you, thanks to all the butter and sugar need to make the raisins actually taste good.
When I saw America's Test Kitchen had created a reduced-fat version that they swore was great, I had to try them.  ATK claimed that they were able to cut fat and calories by starting with less butter, melting the butter, and then toasting the oats in the butter as it browned.  The browned butter and toasted oats pack a lot more flavor without adding more fat.  They also used half the raisins to create paste that, when added to the dough, ensured the cookies stayed moist and chewy.  ATK also promised the raisin paste would make the cookies taste a bit caramel-y.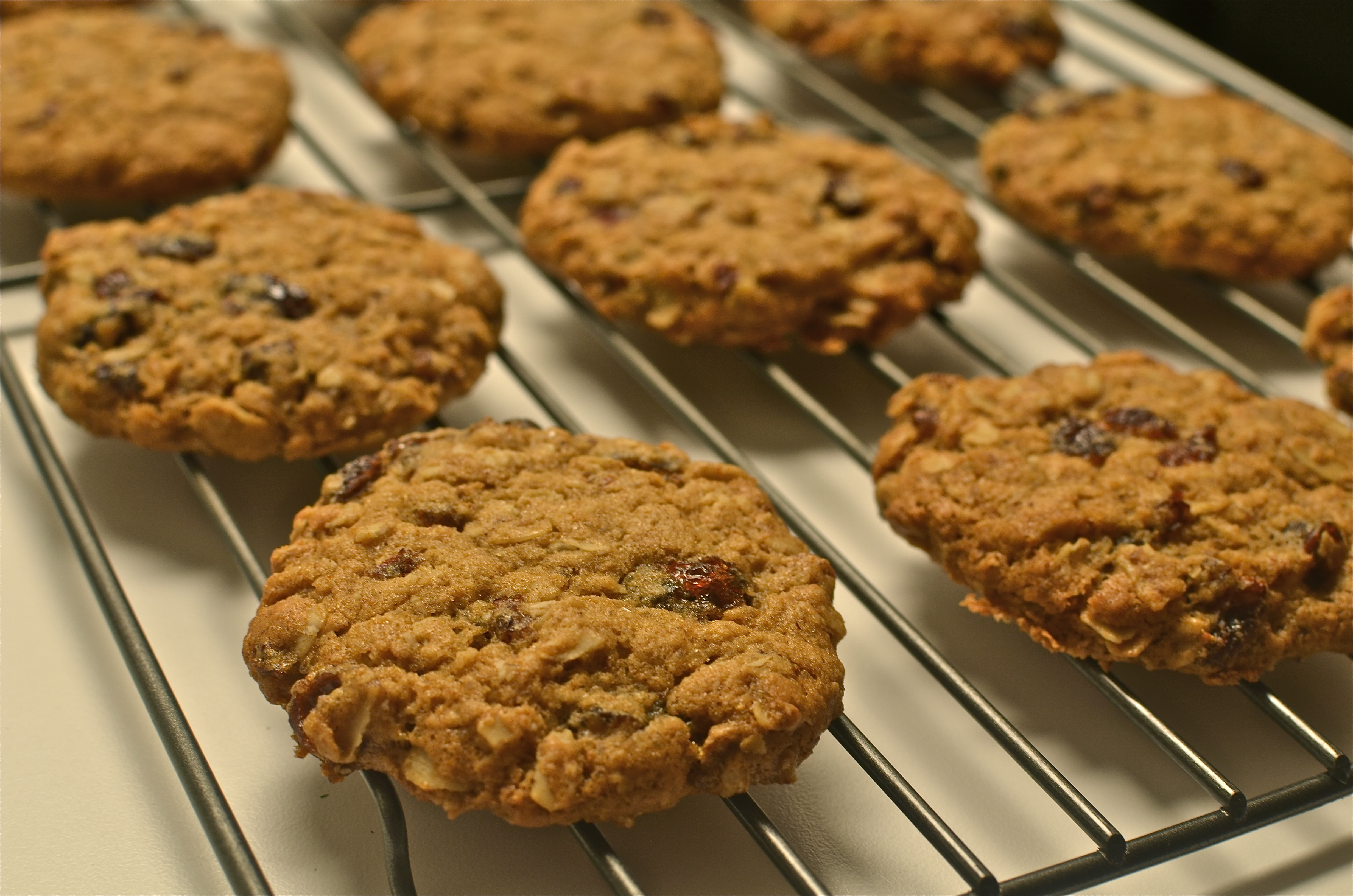 Turns out ATK was right; these cookies are both low-fat AND amazing.  They are the best cookie I've made in a long time!  I didn't even want to call them "Low-Fat" in the title, because I think they taste that good.  They are moist, chewy, and have a sweet caramel undertone.  They also have a deep oat flavor.  Can't you see all that oat-y goodness in the pictures?  Toasty, lovely oat-y goodness.  Seriously.  Make them now.
One note.  The last ingredient in these cookies is my own addition, and it is completely optional, mainly because it can be hard to find: boiled cider.  Boiled cider is apple cider that is boiled down over many hours, resulting in a uber-flavorful syrup.  It's kind of like maple syrup, only a spiced apple version.  Its sold in Vermont (where it is usually made) and online at outlets such as King Arthur Flour.  It can be used in anything – pies, sauces, baked goods, and on pancakes, waffles, oatmeal, or even ice cream.  I bought a few bottled when i was in Vermont last Fall, and thought the addition of boiled cider to these cookies could only be a good thing.  And it was!  It gave the cookies the faintest hint of apple flavoring and added a more complex spice profile.  These cookies will taste great without boiled cider, so there is no need to order a new ingredient that you probably don't have.  But if you happen to come across it, you should buy it!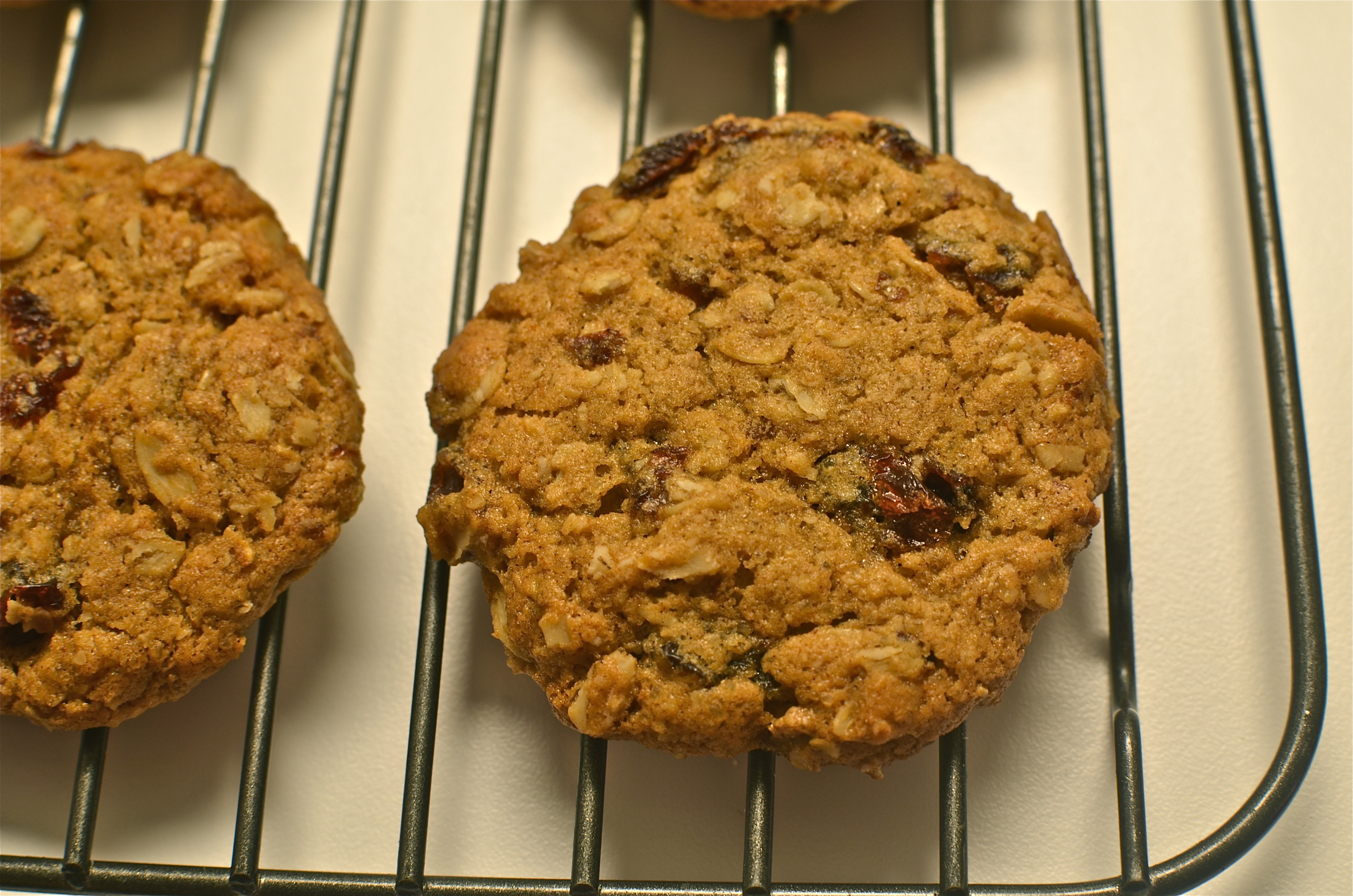 One year ago: Florentines
Reduced-Fat Oatmeal Raisin Cookies
Adapted from America's Test Kitchen
Makes 20 -30 cookies (I got 30 cookies out of the batch)
The cooled cookies can be stored in an airtight container at room temperature for 3 days.
Ingredients
1 cup raisins; 1/2 cup chopped fine, 1/2 cup left whole
3/4 cup water
6 tablespoons unsalted butter
1 3/4 cups old-fashioned oats
2 teaspoons ground cinnamon
1 cup all-purpose flour
1/4 teaspoon baking powder
1/4 teaspoon baking soda
1/2 teaspoon salt
1 1/4 cups packed light brown sugar
1 large egg
2 teaspoons vanilla extract
3 tablespoons boiled cider, optional (available at Wood's Cider Mill and King Arthur Flour)
1.  Adjust oven racks to upper-middle and lower-middle positions and heat oven to 350 degrees.  Line 2 baking sheets with parchment paper or a silpat.  Combine chopped 1/2 cup raisins and water in saucepan and bring to boil over medium-high heat.  Reduce heat and simmer until water has evaporated and raisins are plump, about 15 minutes; place in a small bowl and let cool.
2.  While raisin paste is simmering, melt butter in large skillet over medium heat.  Cook oats, stirring constantly, until just golden, about 5 to 10 minutes.  Stir in cinnamon and cook until fragrant, about 1 minute; let cool.
3.  Combine flour, baking powder, baking soda, and salt in bowl.  In large bowl, whisk sugar, egg, vanilla, and boiled cider (if using) until smooth. Stir in whole and plumped raisins, oat mixture, and flour mixture until just combined.
4.  Roll about 2 tablespoons dough into balls and place 2 inches apart on prepared baking sheets.  Gently press balls with measuring cup until ½ inch thick.  I sprayed my fingers with a little Pam and flattened the cookies that way.  Bake cookies until edges are light golden and centers are just set, 13 to 16 minutes, switching and rotating baking sheets halfway through baking. Cool 10 minutes on sheets, then transfer to wire rack. Serve warm or at room temperature.
Per cookie (assuming 30 cookies):

~ Cal 100; Fat 2.5 g