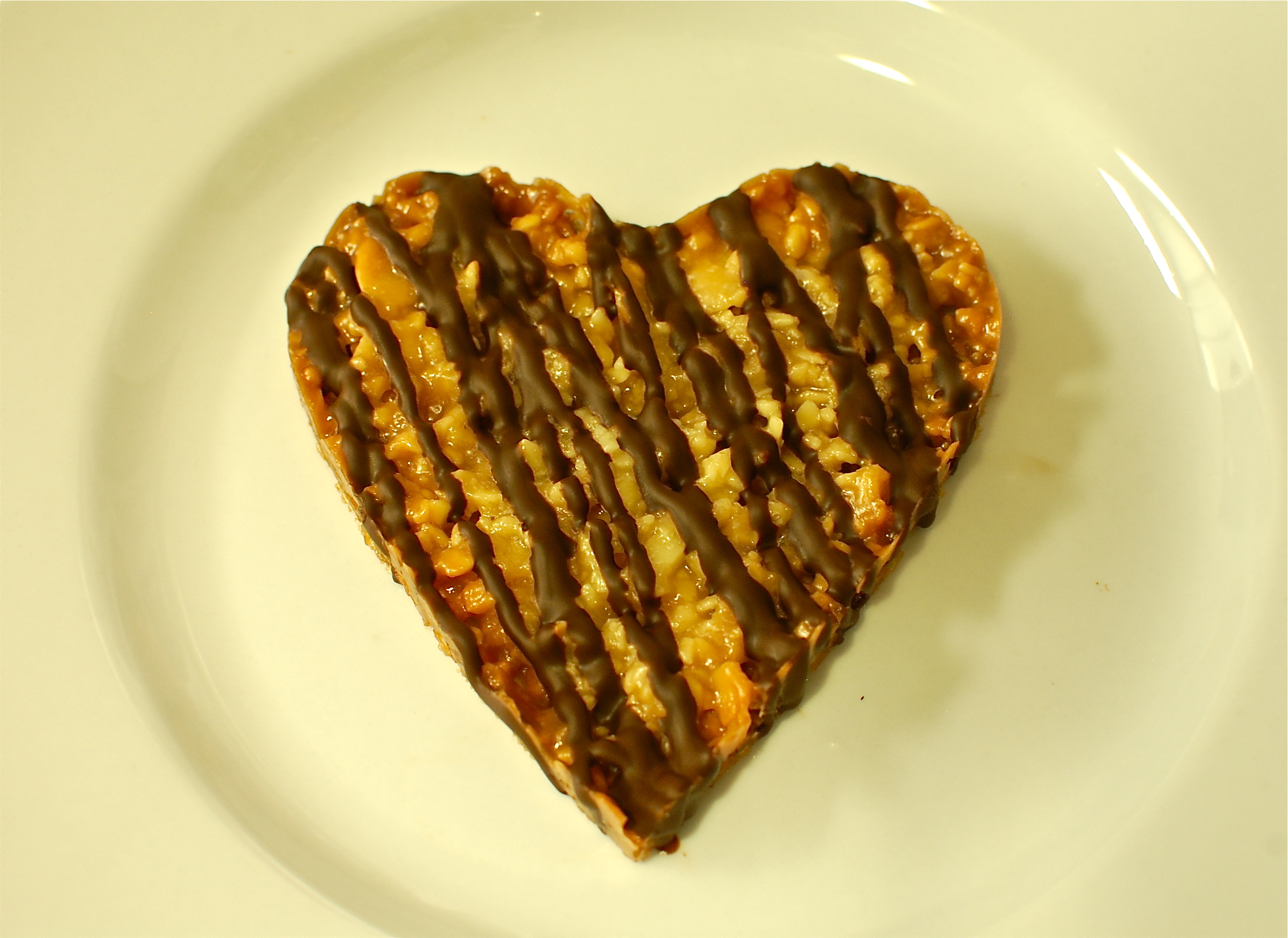 Last week was a good week.  Why, you may ask?  Amazon delivered Gesine Bullock-Prado's new book, Sugar Baby, over a week before its release date!  You may think I'm a nerd for considering this the highlight of my week, but the book is absolutely fantastic and I strongly advise you to run out and buy it.
Sugar Baby is about learning to cook with sugar, in all its various stages.  There are a ton of recipes in the book for things like rock candy, caramel, toffee, Parisian macarons, brittle, and fudge.  There is also a section of recipes at the end about putting it all together, which includes some amazing recipes for cakes, cookies, and the like (including one for a particularly famous ginger cookie, which I can't wait to try).
Cooking with sugar can be a little scarier than baking a cookie or a cake; it involves precise levels of heat, measured with a candy thermometer.  So in deciding which recipe to try first, I thought it best to ease into the process and choose a recipe that didn't look particularly difficult or time consuming.  I decided on Florentiners à la Mama, Gesine's take on the classic Italian Florentine.
Florentines are a candy-like cookie made of slivered almonds that bake up sweet, flat, and crunchy.  The batter came together very quickly, and I tried a few different ways shaping the Florentines.  The easiest way is to just take a teaspoon or two of the batter and just plop it onto a parchment-lined cookie sheet.  The result is an extra-thin, crispy cookie that is mostly round but sort of free-form in shape.  I also made a few cookies using heart-shaped molds, purchased from my local baking supply store and readily available online.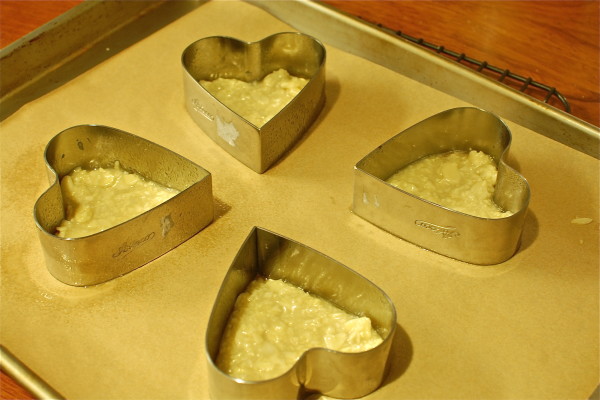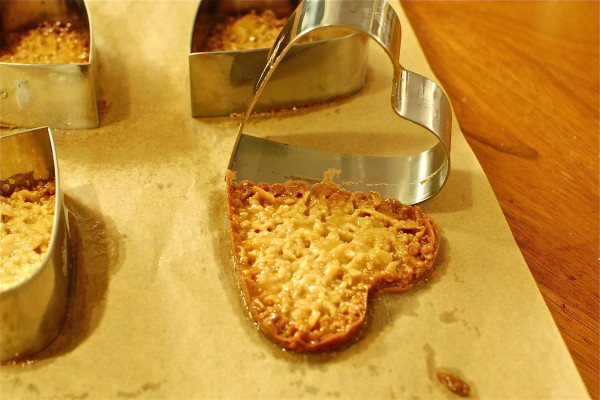 Both turned out well, and both tasted delicious drizzled with chocolate.  As you can see from the pictures, the heart-shaped Florentines are just so darn pretty, but I ultimately preferred the taste of the free-form ones.  When making the hearts, I found I put more batter in the molds, making it easier to push the batter all around inside of the molds to ensure the heart-shaped cookie did not have bits of its shape missing.  The result was a thicker Florentine; it certainly tasted great, but the free-form Florentines were just so thin and lacy.  As you can see below, the texture was delicate and divine.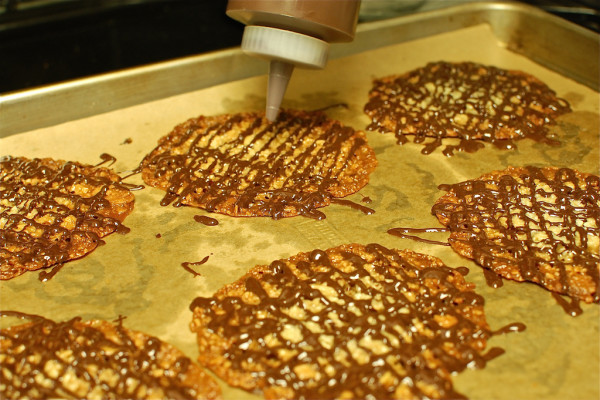 Florentiners à la Mama
Recipe from Sugar Baby, by Gesine Bullock-Prado.  Check out the book's companion website here.
To see more step-by-step pictures, check out the King Arthur Flour blog.
Makes 20-30 Florentines
Total time: 1 hour
Ingredients
2 cups sliced almonds
1/4 cup all-purpose flour
1 teaspoon salt
1 cup granulated sugar
3 tablespoons heavy cream (I used half and half)
2 tablespoons honey
1/2 cup (8 tablespoons, or 1 stick) butter
1 teaspoon pure almond extract
Pam non-stick spray
3 ounces bittersweet or semisweet chocolate chips
Special equipment: candy thermometer (I use this one)
1.  Preheat oven to 350 degrees F.  Line 2 baking sheets with parchment paper.  You should absolutely use parchment paper – it is basically impossible to clean cooked sugar off a baking sheet!
2.  Place 1 1/2 cups of the sliced almonds, the flour, and the salt in a food processor.  Pulse until there are some small piece of almonds left in the mixture.  Do not pulse until you get a fine flour or paste.  Put mixture in a medium heat-proof bowl and stir in remaining 1/2 cup almonds.
3.  In a medium heavy saucepan, combine sugar, cream, honey, and butter.  Heat on low, and stir until all the sugar is dissolved.  This is important – you need to make sure all the granules are dissolved, and this will mean stirring while the mixture reaches a simmering point.  Once all the sugar is dissolved, place the candy thermometer in the mixture, and raise heat to medium high.  Cook until the thermometer reads 235 degrees F (you will get there quickly).  Immediately pour the sugar mixture into the bowl containing the almond mixture.  Stir until combined.  Wait a minute, then add 1 teaspoon almond extract, and stir to mix.
4.  Drop 1 or 2 teaspoons of batter onto the parchment, leaving lots of room between cookies (6 cookies per sheet).  Just make sure you use the same amount of batter for each cookie, so they all bake evenly.  Bake the cookies 8-10 minutes, until golden brown.  They burn very quickly, so watch the cookies during the last few minutes!  If you want to use heart-shaped molds to shape your Florentines, spray the inside of each mold with plenty of Pam, and place on the cookie sheet.  Place 1-2 teaspoons of batter in the mold, and push the batter around so it fills most of the mold in a very thin layer.  How much batter you will need will depend on the size of the mold, but I would start with less, then add more if necessary.  You can spray your fingers with a little Pam to keep the batter from sticking to your fingers.  Bake 10 minutes, or longer, until cookies are golden brown.
5.  Cool cookies completely.  Melt chocolate in microwave-safe container in 30 second intervals, stirring the chocolate in between intervals to ensure the chocolate does not burn.  Drizzle chocolate over cooled Florentines, and wait until chocolate sets (you can speed this up by putting them in the fridge for 20 or so minutes).  Store in a cool, dry place in an airtight container for up to 1 week.