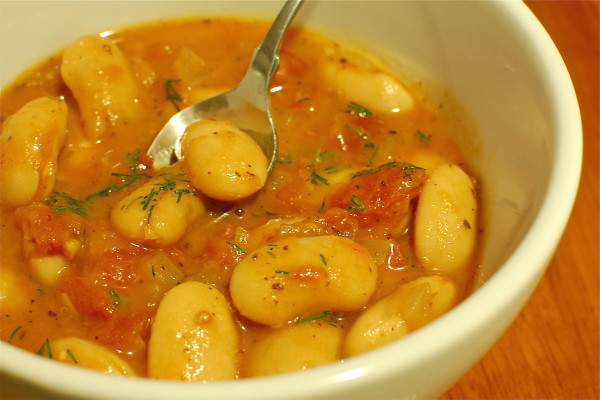 It's been a pretty good week – my schedule has calmed down, allowing me a little more time in the kitchen.  It was also a good week because Gesine Bullock-Prado featured some of my Florentine pictures (made from her recipe) on her Sugar Baby blog!  You can check them out here.
Frequent readers of this blog know I am a fan of legumes, in pretty much any form.  The other week I was on the Epicurious website, and saw this recipe – by famed Greek chef Michael Symon – featured on the homepage.   Being Greek, of course, I love Greek food, and stewed gigante beans (fasolia gigantes) are both delicious and healthy. I immediately went about procuring dried gigante beans, a large white bean similar in size to butter beans (also known as lima beans).
They are not the easiest ingredient to find, but some grocery stores carry them, and smaller white beans like Great Northern beans can be use instead.  I used this dish as an excuse to go to one of the Greek markets in Astoria (Mediterranean Foods, to be exact), where I also stocked up on feta, honey, spices, and amazing olive oil.  Even Italian chefs think that Greek olive oil is the best.
The recipe is very low maintenance; it involves a little chopping and a lot of inactive prep time.  The beans can be eaten on their own, as mezé (small dish), or as a side dish.  I found that the sauciness of the beans pairs very nicely with basic grilled or roasted chicken or shrimp.  Another great idea?  Beans for breakfast or lunch, sprinkled with feta cheese and topped with a fried or poached egg: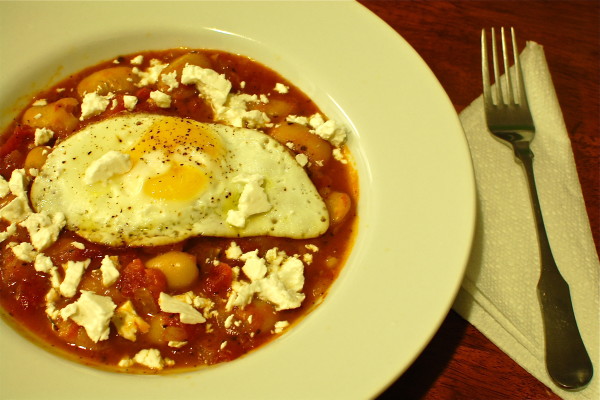 Gigante Beans
This recipe makes a lot of beans, at least 8 large servings.  You can halve the recipe, or freeze the leftovers.
Adapted from Michael Symon
Ingredients
1 pound dried gigante beans, dried lima beans, or dried Great Northern beans
1/4 cup olive oil
3 cups chopped onions (about 2 medium)
3 garlic cloves, minced
8 cups (or more) low-salt chicken broth (use water to make it vegetarian)
1 28-ounce can whole plum tomatoes in juice, tomatoes chopped, juice reserved (I used the same size can of diced tomatoes in their juice, simply because I forgot to buy a can of plum tomatoes – I'm sure either way the beans come out great)
1/4 cup red wine vinegar
1/4 cup dry white wine
1 tablespoon dried oregano
1 teaspoon dried crushed red pepper
1/2 cup chopped fresh dill
1.  Place beans in a large pot; pour in enough water to cover the beans by 3 inches.   Soak overnight.  I put them in water one morning before I went to work, then drained them when I got home in the evening.  Either way, drain beans and set aside.
2.  Heat olive oil in the large pot over medium heat.  Add chopped onions and garlic and sauté until onions are golden brown, 6 to 7 minutes.  Add beans, 8 cups chicken broth, tomatoes with juice, vinegar, white wine, oregano, and crushed red pepper to pot; bring to boil.  Reduce heat, cover, and simmer until beans are tender, adding more broth by cupfuls to keep beans submerged and stirring occasionally, 2 to 3 hours. If necessary, uncover and cook beans until tomato mixture thickens and liquid is slightly reduced, 10 to 15 minutes.  I simmered mine covered closer to 3 hours, then simmered uncovered for about 15 minutes.
3.  Season beans to taste with salt and freshly ground black pepper.  The beans taste much more flavorful after sitting overnight in the fridge.   After making the beans, cool slightly, then chill uncovered until cold and cover and keep chilled.  Rewarm beans, stir chopped fresh dill into beans and serve.