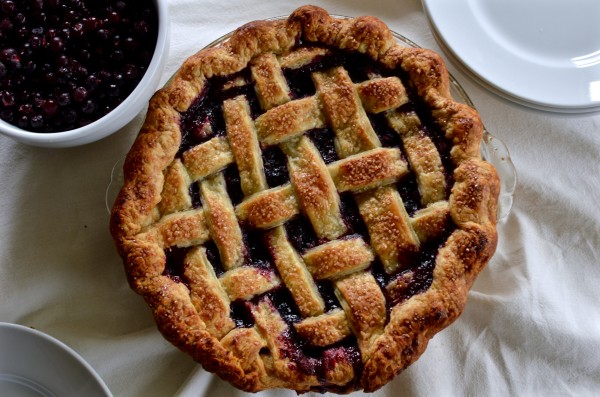 Two and a half years ago, when I was first seriously thinking of moving to Portland, Oregon, I was out to dinner one night at a Portland restaurant on NW 23rd Avenue.  I can't remember what I had for dinner, but for dessert, my dining companion suggested we split a piece of huckleberry pie.  I knew such a thing existed, but just barely; all I could recall was certain scene in Twin Peaks where Agent Cooper is given a piece of huckleberry pie and exclaims, "This must be where pies go when they die."
We got the huckleberry pie.  And it was so good.  It was one of the most delicious foods I had ever eaten.  It turns out that huckleberries are rarely found outside the Northwest, and they look (and taste) sort of like a cross between a blueberry and currant.  They are tart when eaten raw, but when cooked into a dessert or jam, they become sweet with a unique flavor that had me at the first bite.  From that night on, I always had a jar huckleberry jam in my fridge, and I always brought jars of that jam back home to Virginia for my family.  My family never liked that I moved so far away, but they will admit to loving that jam!
I'd had fresh huckleberries in my freezer for a few months, bought when they were in season and with the intention of making my own pie one day.  And in December, on the eve of my final departure from Portland, I realized it was now or never.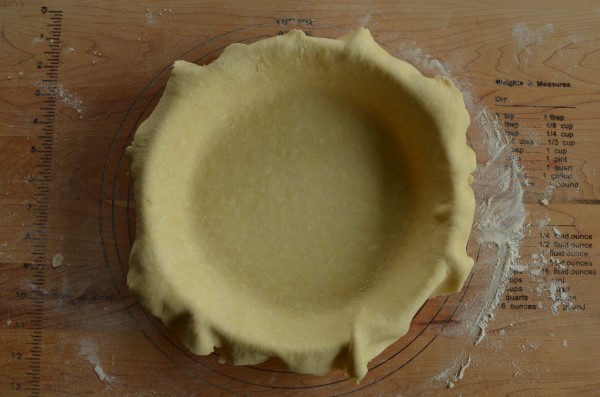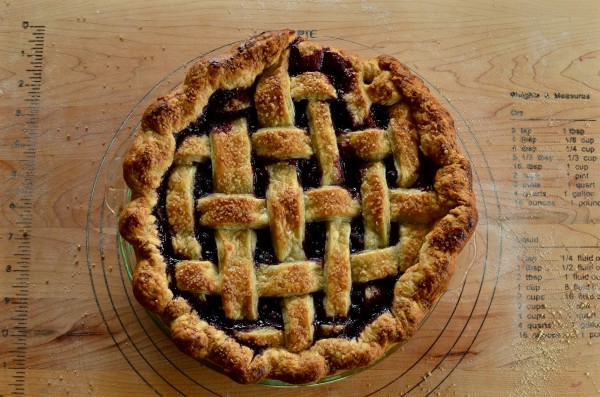 For a number of reasons, Portland and I did not work out – turns out I'm an East Coast girl at heart.  But this city is truly a special place, and I'm leaving with lots of good memories and great friendships.  I even picked up a few new Portland-esque interests.  Did you know this former Manhattanite now likes to hike?!  If you had told me 3 years ago that I would own a pair of legit hiking boots purchased from REI, I would have never believed you!  Along with the beautiful hikes, I'll miss views like this and Portland's phenomenal food scene – the best in the country, hands down.  I have yet to find any restaurant in DC that will serve me 5 different types of the freshest salmon sashimi (I miss you, Bamboo Sushi!).  But I'm excited for my new life back east, and I'm sure I'll be blogging about it soon enough.
It's been a sweet ride, Portland; this is my ode to you.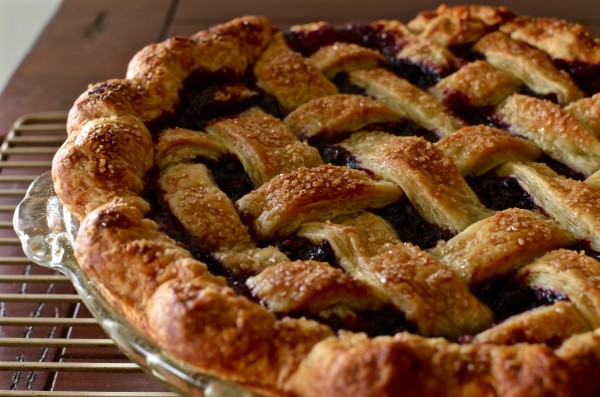 Notes:
Huckleberries are not grown commercially, and are only available in late August and early September.  My berries have always been acquired from farmers markets at that time of year, which I then wash and freeze.  They are, however, available frozen from a few online stores.
This pie can be made with blueberries, but I'd cut 1/3 cup sugar from the recipe, as blueberries are naturally sweeter than huckleberries.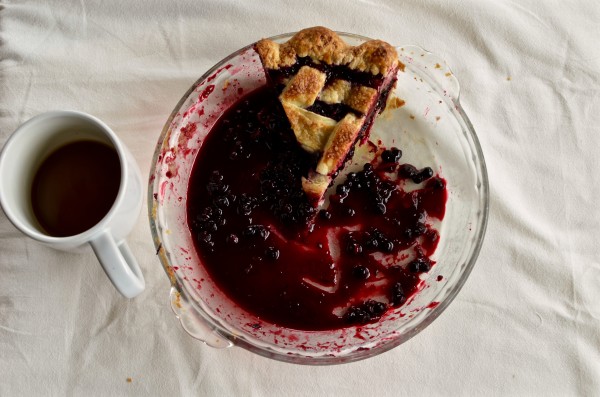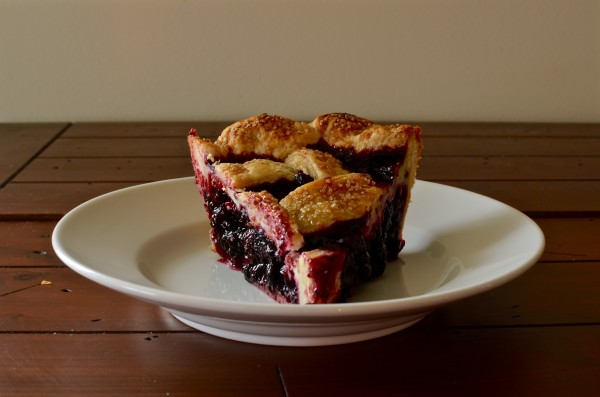 Huckleberry Pie
Ingredients
For the pie crust:
Your favorite double crust recipe.  Smitten Kitchen has a good recipe.
Filling:
~ 2 pounds huckleberries, fresh or frozen (about 5 cups)
juice and zest of 1 small lemon
3/4 teaspoon cinnamon
pinch nutmeg
4 tablespoons quick-cook (minute) tapioca
1 teaspoon vanilla extract
2/3 cup sugar
1/4 cup honey
2 tablespoons heavy cream
2 to 4 tablespoons coarse sugar
 Make your crust dough.  Separate into two balls, with one ball slightly larger than the other. and set aside in the fridge.

 Preheat the oven to 375 F.  In a large bowl, combine huckleberries, lemon juice and zest, cinnamon, nutmeg, tapioca, sugar, and honey.  Toss until well-combined and set aside while you roll out the crust.

 Roll out the larger ball of crust dough on a well-floured surface until it's around a 1/4 inch thick, then place into a 9 inch pie pan.  You want an even amount of the crust to be hanging off the pan's sides.  Spoon the huckleberry filling into the dough-lined pan.  Roll out the second ball of dough to the same thickness.  If you'd like to make the top crust into a lattice, the Kitchn has a great tutorial.  If not, place the second disk of dough over the filling pie pan.  Pinch the bottom and top crusts together to seal well (as you can see in the pictures above, a section of the crust was not sealed well enough and came undone while baking!), and if you are not doing the lattice, cut a few slits around the top to allow for ventilation while the pie bakes.  Brush the top crust with the heavy cream, then sprinkle the crust with sugar.

 Place the pie in the oven on a center rack and bake until the crust is golden and the filling is bubbly and thick, about 1 hour to 1 hour 15 minutes.  Let cool for around 4 hours, if possible, to allow the filling to set.  But if you can't wait that long, let cool at least 30 minutes!