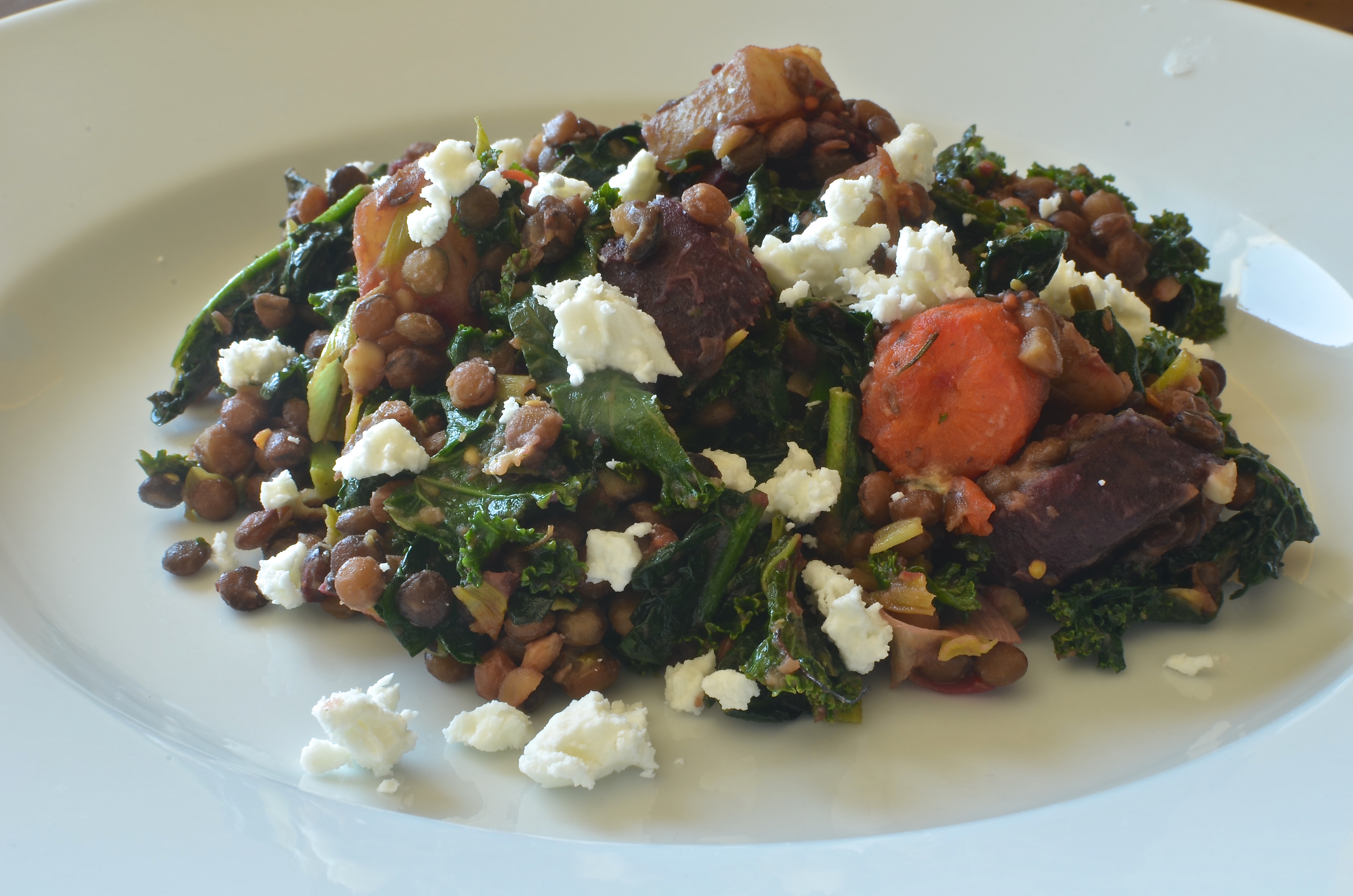 One of the many things I learned after spending six days in Paris is that the French are big fans of long, relaxing lunches made up of an aperitif, three courses, and a considerable amount of wine.  My normal lunch is spent at my desk with whatever protein and veggies I can throw together in a Tupperware bowl as I rush to leave for work that morning.  But I was on vacation.  And who was I to go to Paris and not experience life as a Parisian?  Long story short, many lengthy, filling, and delicious lunches were had.
It was all so lovely.  Except for the part where I got home and all my clothes were tight.
Cue the sad music.  It was back to reality, and back to healthy lunch planning as I prepared to return to work.  This is a wonderful recipe I first threw together last winter, after I decided that in order to be truly "Portland," I had to join a CSA.  In case you don't know, CSA stands for "community supported agriculture," and they deliver a box to me every other week with fresh fruits and vegetables from local farms.  In my first CSA box, I got some apples and pears, and a whole bunch of  vegetables: beets, sunchokes, a (figurative) ton of kale, 2 big leeks, and shiitake mushrooms.  I took all the vegetables except the mushrooms and came up with this healthy and delicious salad.
Fast forward to today, and I've made the lentil salad with various combinations of roasted vegetables.  Most recently, for my post-Paris detox, it involved roasted broccoli, Brussels sprouts, carrots, and butternut squash (pictured below).  The salad is perfect because it is so versatile – use vegetables that are in season or whatever vegetables you have on hand, and you'll always end up with the most wonderful, healthy lunch.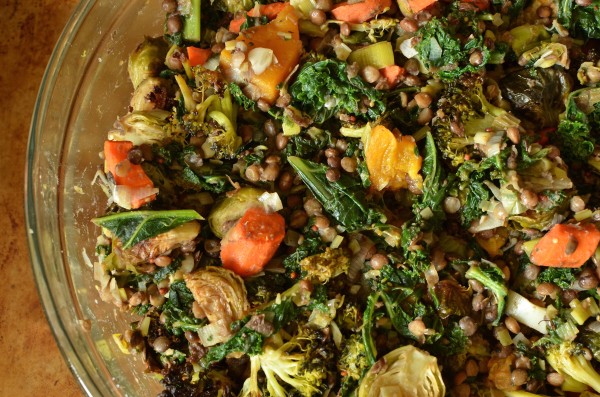 Roasted Vegetable and Lentil Salad
Recipe by Pâte à Chew
Makes 5-6 servings
Total time: ~ 2 hours
Ingredients
A mixture of vegetables suitable for roasting, such as:
6 beets, peeled and diced into 1 inch pieces
6 medium sunchokes or potatoes, peeled and diced into 1 inch pieces
4 large carrots, peeled and diced into 1 inch pieces
2 cups Brussels sprouts, trimmed and cut in half length-wise
2 cups diced squash, such as butternut or acorn
2 cups broccoli florets
4 tablespoons olive oil, divided
2 sprigs rosemary
6 sprigs thyme
4 slices (4 ounces) bacon, cut into 1-inch pieces (optional)
2.5 to 3 cups cooked brown or green lentils
1 or 2 leeks, white and light green parts, coarsely chopped
2 to 3 cups chopped kale
2 to 4 cloves garlic, chopped
For the vinaigrette:
1/4 cup red wine or sherry vinegar, or more to taste
1 tablespoon Dijon mustard or whole grain mustard (or mixture of the two)
1/2 teaspoon salt
Freshly-ground pepper to taste
1 tablespoon olive oil, more as needed
4 ounces goat or feta cheese, crumbled
 Preheat oven to 400 degrees. Place vegetables in one layer on one or two large rimmed baking pans (I cover mine in heavy-duty foil), then toss with 3 tablespoons olive oil and salt.  Place thyme and rosemary on top of vegetables, cover pans with foil, and roast for 25 minutes.  Remove foil, stir in bacon (if using) and stir vegetables, and continue roasting for 30 to 40 minutes longer uncovered, until vegetables are tender and golden all over.

 While roasting, heat 1 tablespoon olive oil over medium heat.  Once oil is hot, add chopped leeks, garlic, and kale, and cook, stirring frequently, until the vegetables are soft and wilted.  Add the cooked lentils and saute another 10 minutes, until the mixture is heated through.

 While the lentil mixture cools, make the dressing.  In a small bowl, whisk together vinegar, mustard, salt, and pepper.  Whisk in olive oil.

 Combine roasted vegetables and lentil mixture in a big bowl.  Add the vinaigrette, and stir until combined.  Top with crumbled cheese and enjoy!