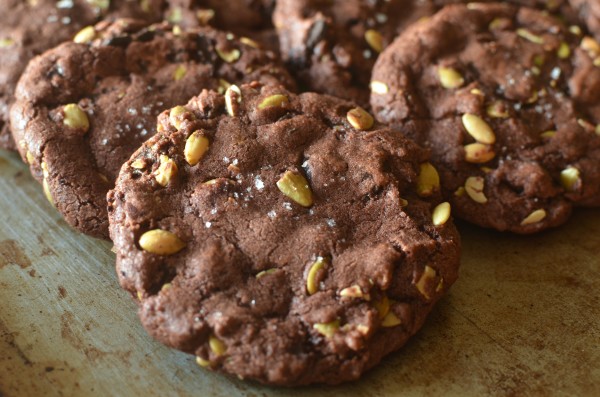 Newsflash: it's autumn.  Where did the time go?!  Labor Day has come and gone, which (in my mind) means the unofficial start of fall.  Many of my friends have expressed devastation over the loss of warm and carefree summer days, but fall has always been my favorite season.  I'm looking forward to walks in crisp air, cozying up in layers, and wearing jeans again after a far-too-hot summer in the Pacific Northwest.
This is also the time of year when Bon Appetit releases it's list of the 10 Best New Restaurants in America.  Whether or not you agree with their choices, it's always an interesting read.  Our country is built on innovation, and that innovation always shines in the new and creative ways American chefs are changing the food scene.  But the best part of Best New Restaurants issue is the recipes – many of the featured restaurants' chefs give up their secrets to some of their particularly noteworthy dishes.  It's how I found those incredible Banana Peanut Butter S'mores Bars from Atlanta's Bakery at Cakes and Ale.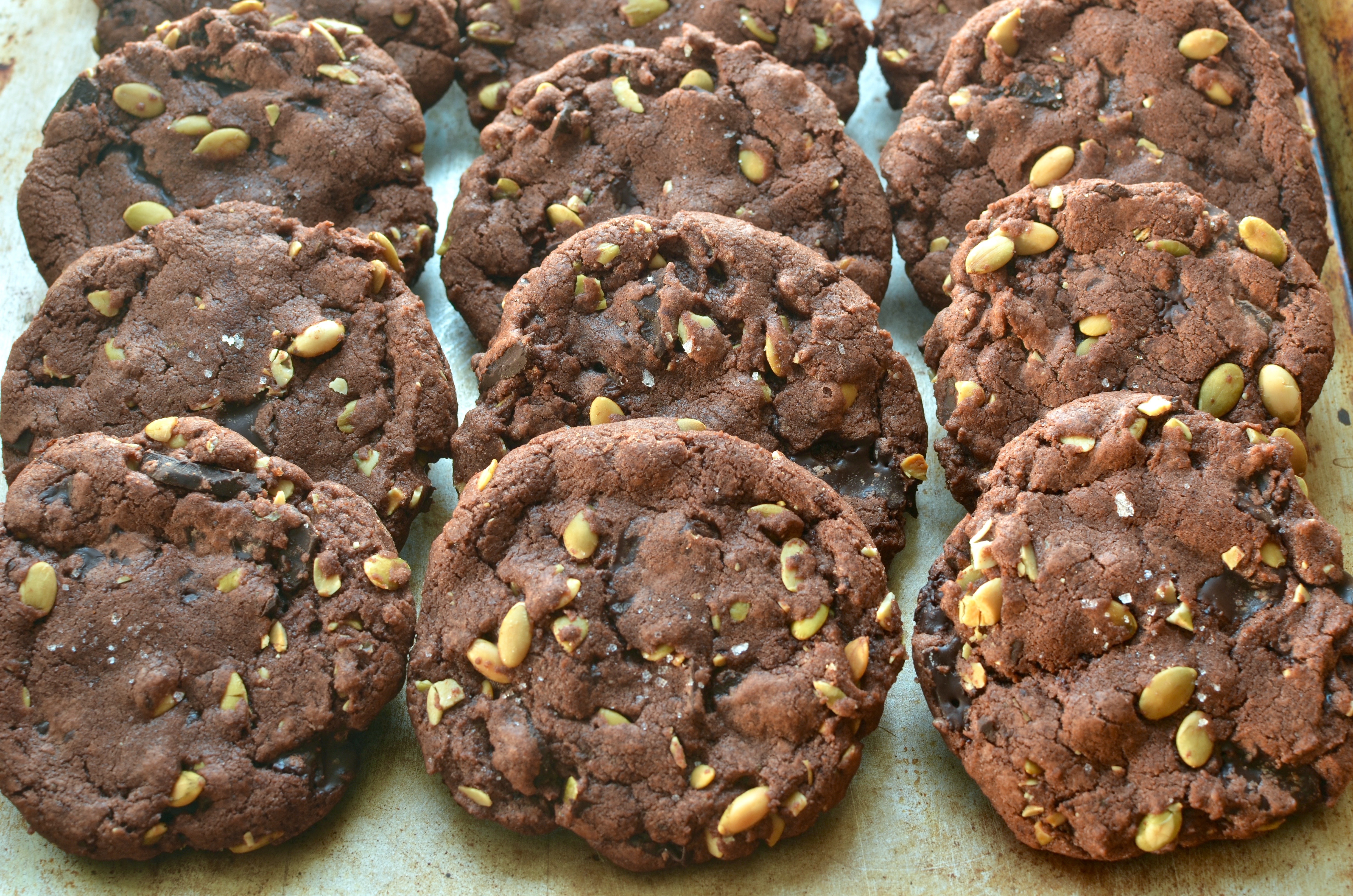 In perusing this year's recipes, a cookie full of dark chocolate and flecked with roasted pumpkin seeds from a Los Angeles deli named Gjusta caught my eye.  They are deeply chocolate-y yet a little spicy, sweet yet a little salty, soft yet a little crunchy.
This is, at is core, a simple cookie.  There are no surprising steps in the dough preparation and  no unconventional or hard-to-find ingredients.  The recipe doesn't even recommend letting the dough rest in the fridge for a number of hours or overnight (but I'm sure the dough will be just as good, if not better, if it did).  It's basic cookie, using high quality ingredients, a few spices, with the crunchy addition of toasted pumpkin seeds.
It's the perfect transitional recipe for fall – a little spice, a little pumpkin, and more than a little delicious.
Welcome to autumn, everyone!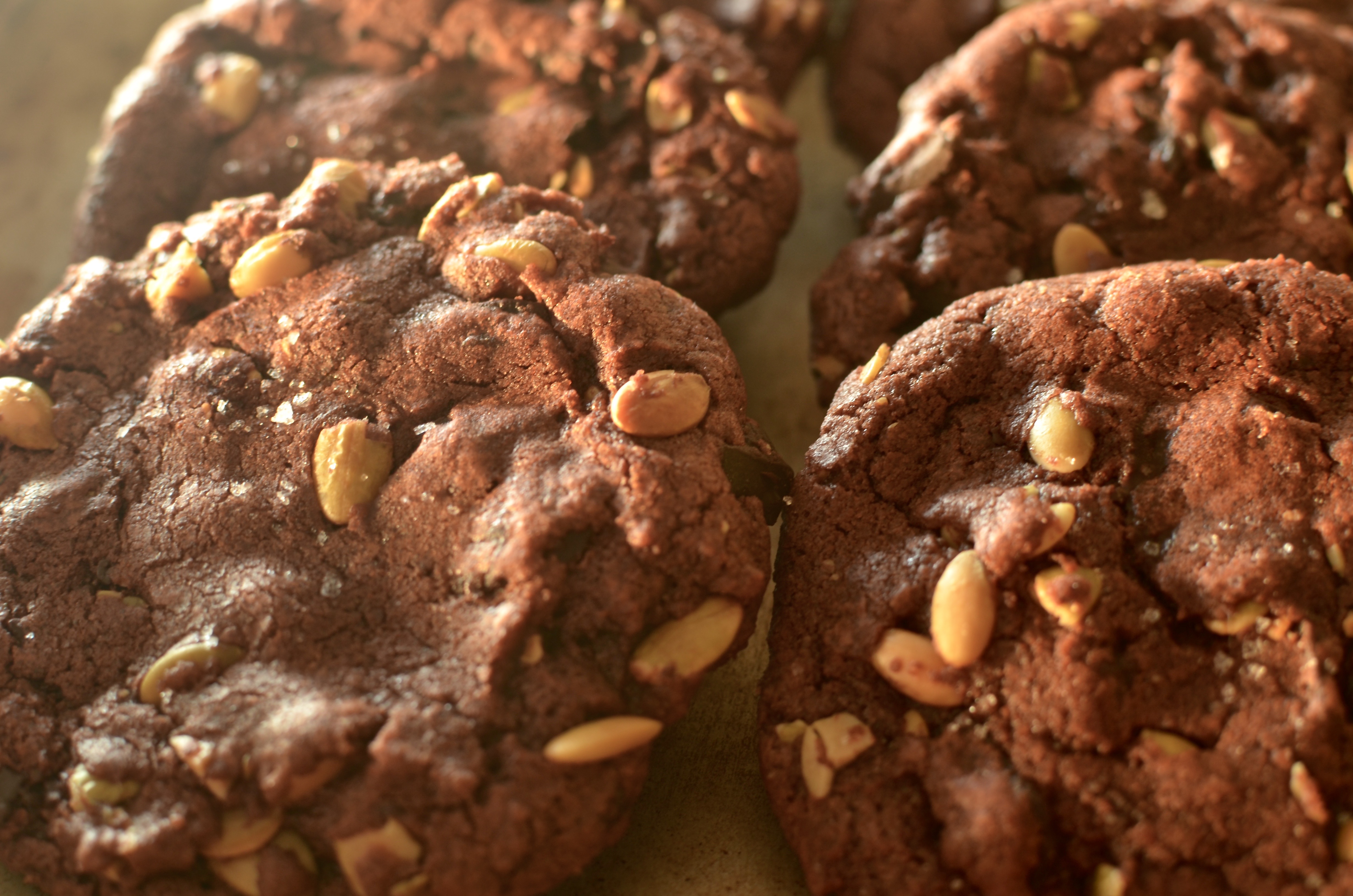 Spiced Chocolate Chunk–Pumpkin Seed Cookies
Instead of chili powder, the original recipe calls for hot smoked paprika.  I decided to use a little chili powder and cayenne pepper because I had those on hand and did not feel like buying hot smoked paprika.  I'm sure the cookies will be good which ever spice route you take!
Adapted from Gjusta Restaurant via Bon Appetit
Makes around 30 cookies
Total time: 1 hour
Ingredients
1 1/2 cups raw pumpkin seeds (pepitas)
2 1/2 cups all-purpose flour
1/2 cup unsweetened cocoa powder (make sure it's a good one, I love Pernigotti, also available at Williams Sonoma)
2 teaspoons kosher salt
1/2 teaspoon baking soda
1 teaspoon ground cinnamon
1/2 teaspoon chili powder
1/2 teaspoon cayenne pepper (optional)
1 1/2 cups (packed) light brown sugar
1 cup granulated sugar
12 tablespoons (1 1/2 sticks) unsalted butter, room temperature
2 large eggs
1 1/2 cups semi or bittersweet chocolate chunks
Flaky sea salt
 Place racks in upper and lower thirds of oven; preheat to 350°F. Toast pumpkin seeds on a large rimmed baking sheet on upper rack, tossing occasionally, until golden brown, 8–10 minutes. Let cool.

 Meanwhile, whisk flour, cocoa powder, salt, baking soda, cinnamon, chili powder, and cayenne (if using) in a large bowl.  Using an electric mixer on medium-high speed, beat brown sugar, granulated sugar, and butter in a large bowl until pale and fluffy, about 4 minutes.  Add eggs one at a time, beating to blend after each addition.  Reduce speed to low; add dry ingredients in 3 additions, mixing until well blended after each. Fold in chocolate and pumpkin seeds.

 Using a disher (I used a #24), portion out dough into balls, then flatten slightly with damp fingers.  Sprinkle with sea salt and bake cookies, rotating pans halfway through, until edges are slightly browned and firm but centers are still soft, 12-14 minutes. Transfer to wire racks to cool.