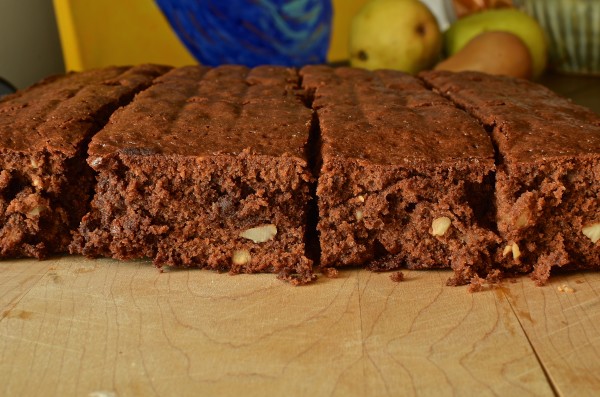 I love honey as a natural sweetener; while I certainly eat my fair share of refined sugar, I often replace sugar with honey where I can, like in my morning cup of coffee or tea.  It's not often you find honey replacing sugar in baked goods, so when I found a recipe for "honey nut brownies" in Dorie Greenspan's Baking: From My Home to Yours, which uses honey in an unexpected place (brownies), of course I had to try it.
Everything Dorie touches turns to baking gold, so not surprisingly these honey nut brownies are fantastic.  Just like regular brownies, they are easy to throw together and bake up in under an hour.  But these are not the dense, fudge-y brownies you might be used to.  Don't get me wrong, dense, fudge-y brownies are hands-down my favorite kind of brownie.  These honey nut brownies have enough chocolate to qualify as brownies, but honey is definitely the star of the show.  The brownies have a moist, cake-like texture, thanks to the addition of a full cup of honey.  And the flavor of that full cup of honey adds a richness and depth to an otherwise lighter brownie.
If you're looking for a lighter version of a brownie (or even a simple chocolate cake), this is a great recipe to try!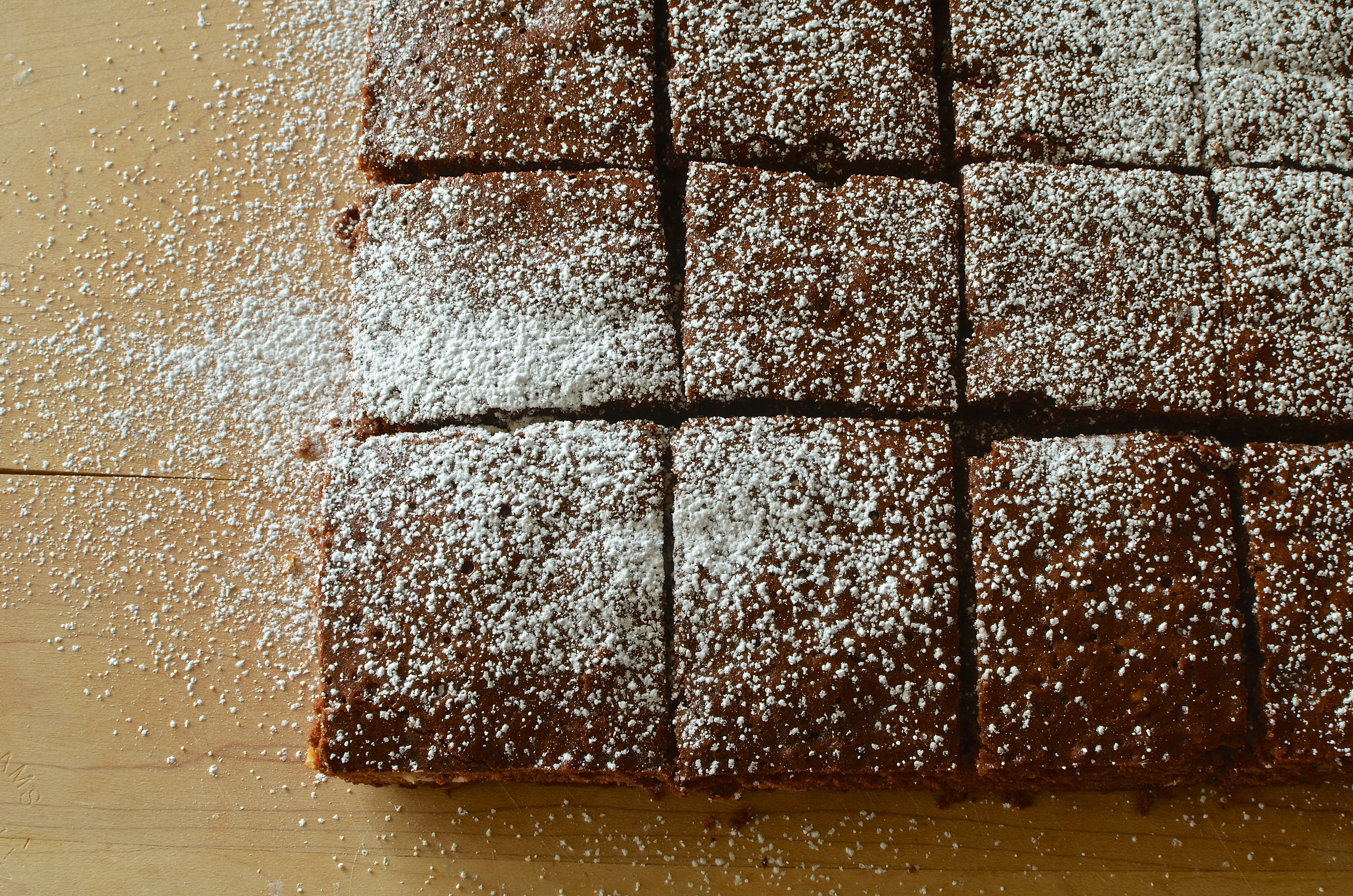 Honey Nut Brownies
If you want to up the chocolate factor, you could add 1/2 to 1 cup of chopped chocolate or chocolate chips.
Adapted from Dorie Greenspan
Makes 16 brownies
Ingredients
1 stick unsalted butter, cut into 8 pieces
4 to 5 oz. chopped bittersweet chocolate
4 large eggs
1/2 tsp salt
1 cup honey (Dorie recommends a mixed blossom honey)
2/3 cup sugar
1 tsp vanilla extract
1 cup all purpose flour
1 cup coarsely chopped nuts (I used pecans, but walnuts or almonds would be great as well)
In a double boiler, melt the chocolate and butter until just smooth. Set aside.  Preheat oven to 325 degrees F.  Line a 9 x 9 inch pan with foil, then butter or non-stick spray the foil.

Working with a stand mixer, fitted with a paddle attachment, or with a hand mixer in a large bowl, beat the eggs and salt together on medium-high speed until light and foamy.  Add the honey, sugar, and vanilla and continue to beat for two minutes, or until well blended and smooth.  Reduce the mixer speed to low and add the chocolate-butter mixture, mixing only until just incorporated.  On low speed, add flour and mix until it just disappears into the batter. Using a spatula fold in, the nuts then scrape batter into prepared pan.

 Bake for 45 to 50 minutes, or until the brownies have risen and are beautifully brown, and toothpick inserted in the center comes out clean.  Transfer the pan to a rack and cool for 5 minutes, then turn out onto a rack, peel away foil and invert onto another cooling rack. Cool to room temperature right side up, then dust with either cocoa powder or confectioners sugar.