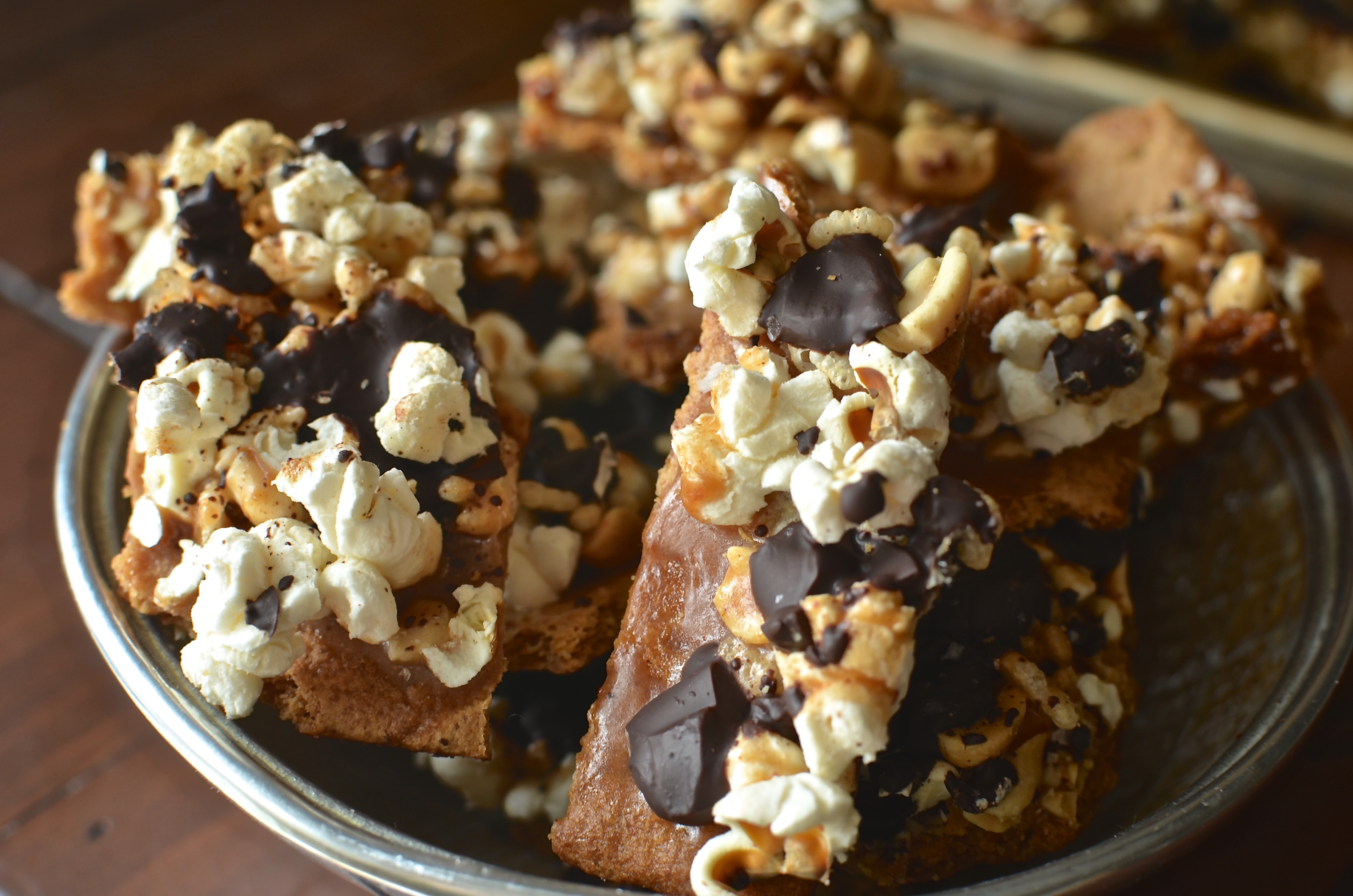 Over the last few years, I've enjoyed a low-key Superbowl.  I hosted a few exceptionally fun ladies-only Superbowl Parties when I lived in NYC (during which I made things like the best brisket ever and a sweet potato black bean chili), but perhaps I've welcomed the break from the pressures of entertaining since moving out west.  For this year's party hosted by my dear friend Meredith of Martha Chartreuse, I committed to bringing simple crudités with a side of baba or hummus from Barbur World Foods (yes I could make my own, but why mess with perfection?).  Then Bon Appetit went and tweeted a recipe involving a whole bunch of delicious ingredients bound together by toffee and chocolate.  I couldn't resist, I had to make it and share it with my fellow football watchers.
This is a crowd-pleaser not only because it tastes good; it's just plain fun.  Popcorn + peanuts + toffee + rice krispies + graham crackers + chocolate: it's like you're a kid again, eating Cracker Jacks, Rice Krispie Treats, and S'mores all at once.
And a final sprinkling of flaky sea salt adds that little bit of adult back into the mix.  Bravo, Bon Appetit.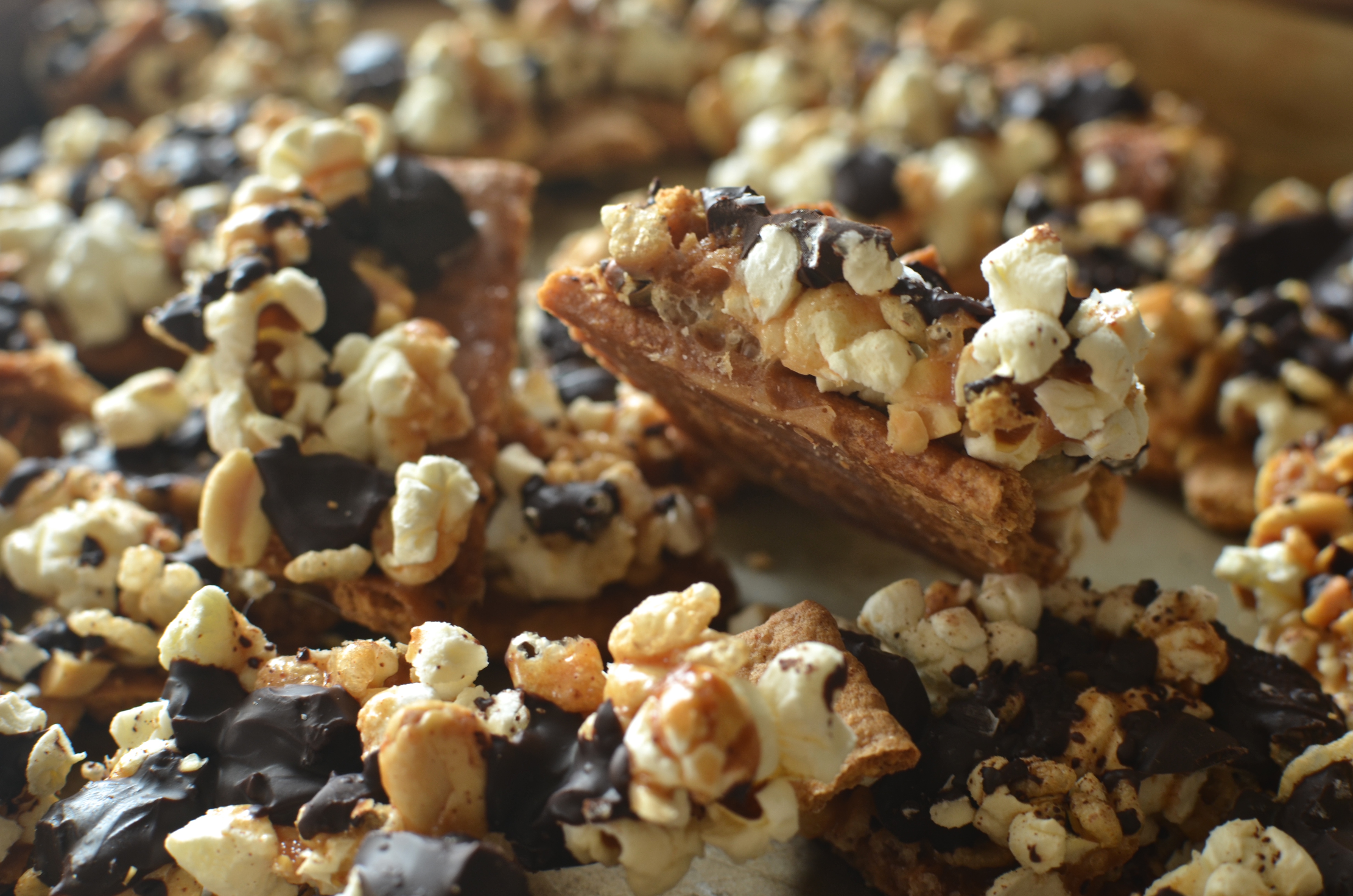 Popcorn Toffee Crack Bars
Adapted from Bon Appetit
Makes 30 servings in theory.  Way less once you actually try them.
Total time: 1 hour
The toffee mixture then hardens as these cool, transforming into a snappy, crunchy layer that holds everything together.  I followed the recipe almost exactly, except I added more rice krispies, because (1) I had to buy a large box that contained way more than 3/4 cup so I figured why not, and (2) duh, they are rice krispies, they will make anything better.  

Ingredients
Nonstick vegetable oil spray
15-ish graham crackers
4 cups popped popcorn (from 1/4 cup kernels)
1 cup coarsely chopped salted, roasted peanuts
1 1/2 cup puffed rice cereal
1 1/2 cups (3 sticks) unsalted butter
3/4 cup sugar
1/2 teaspoon cayenne pepper (optional)
1 cup chopped semisweet chocolate or chocolate chips (about 6 oz.)
Flaky sea salt (for serving)
1. Preheat oven to 350°. Line a large rimmed baking sheet with foil and lightly coat with nonstick spray.  Arrange graham crackers in a single layer on baking sheet, breaking to fit as needed to cover entire surface. Top evenly with popcorn, peanuts, and the puffed rice cereal.
2. Bring butter, sugar, and cayenne pepper (if using) to a boil in a medium saucepan over medium-high heat.  Once boiling, stir once, then reduce heat and simmer, swirling occasionally (try not to stir), until mixture is golden brown and syrupy, 8–10 minutes.  This process took me 10 minutes.
3. Pour the golden brown, syrupy toffee mixture evenly over graham crackers and popcorn mixture.  Bake until toffee is slightly darkened in color (the shade of a brown paper bag) and bubbling, 10–12 minutes.  This took me 12 minutes, and I didn't see much bubbling going on, so don't worry if you see it cook to the brown-paper-bag-shade without a lot of bubbling.  Remove the pan from oven, top evenly with the chocolate and sprinkle with a big pinch of sea salt. Let cool in baking sheet before breaking into pieces.
Do Ahead: Bars can be made 3 days ahead. Store airtight at room temperature.