October is my favorite month of the year.  It's around this time that the Northeast air starts to get crisp, and the smell of simmering apple cider fills the narrow walkways of the Union Square Greenmarket.  On Saturday mornings, I walk through the market with a cup of warm cider, picking up apples, quince, various squashes, and other seasonal delights that you can only get during this season.  I wear a comfy sweater or light jacket, but no heavy coat or mittens necessary. This is, for me, the perfect time of year.
The foods of Fall are also perfect for me, the aspiring home cook.  I've previously discussed my love of all things pumpkin (check out my favorite pumpkin recipe, Pumpkin Biscotti) and my dedication to quince.  I've even got a pretty great apple cake recipe to share with you soon.  But outside of my World of Desserts, I like to cook up some Fall foods too.  Butternut squash is one of my favorites.
This dish – creamy baked rigatoni, studded with tender chunks of squash and loaded with caramelized onions and goat cheese –  is a great way to incorporate butternut squash.  Sure, you can make soups and the typical butternut squash things, but I liked this meal because it was different, and different in a good way.  The sweet caramelized onions, the tangy goat cheese – it's a sophisticated but easy-to-make meal that is great for entertaining or a casual night in.  If you're in a vegetarian mood, omit the bacon; if you're in a meatier mood, add more.  And I love the flavor of sage, here it pairs perfectly with the cheese and caramelized onions.
Go forth and enjoy Fall!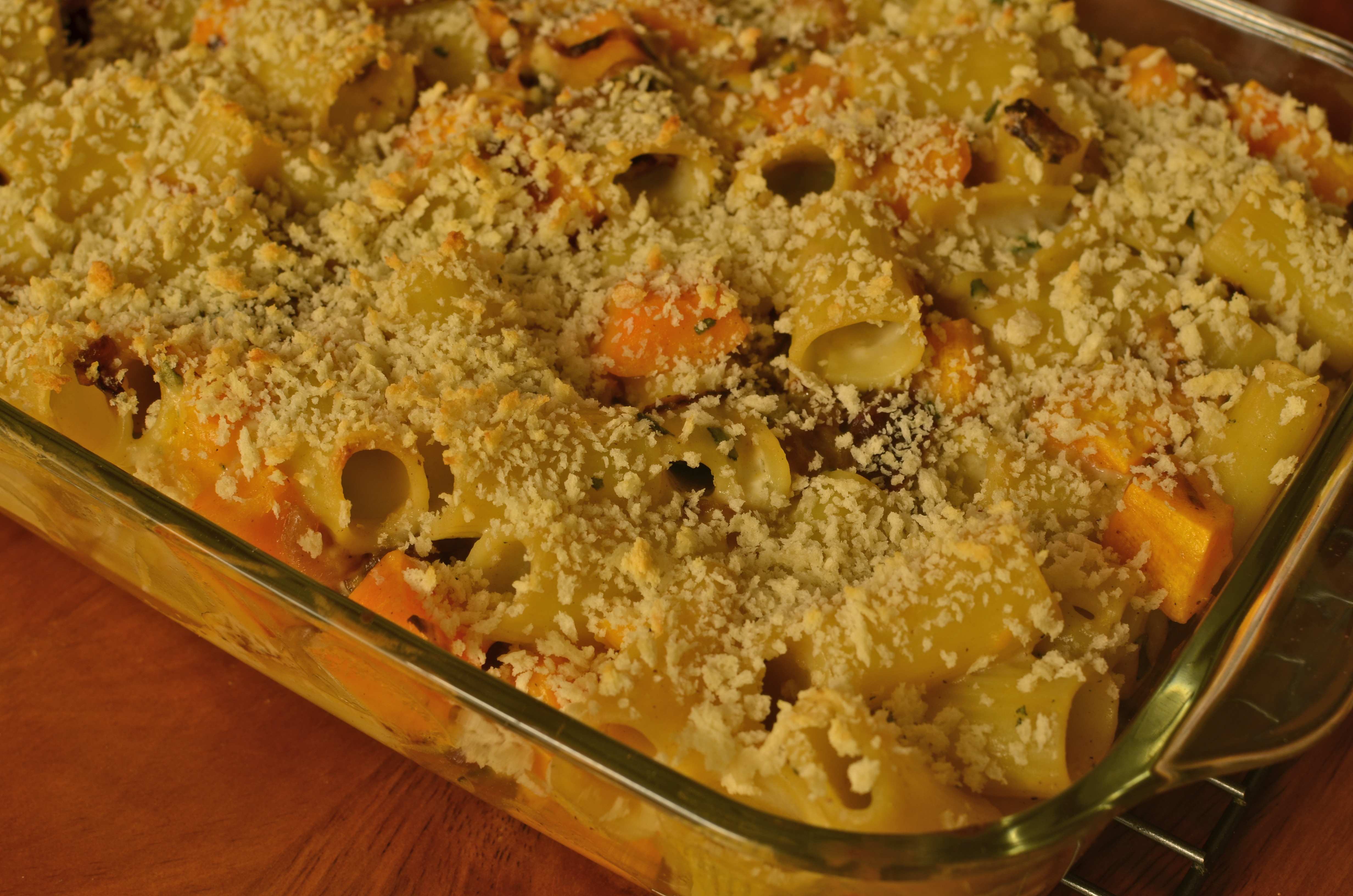 One year ago: Blueberry Crumb Cake (another one of my favorites!)
Creamy Baked Rigatoni with Butternut Squash + Goat Cheese
Adapted from Foodess
Serves 6 to 8
Total time: 2 hours
Ingredients
1 medium butternut squash, peeled, seeds removed, and cut in 1/2 inch cubes
3 tablespoons olive oil
1 pound dried rigatoni
3 slices bacon, cut into 1/2 inch pieces (I find it easiest to use scissors) (optional)
2 medium onions, cut in half then sliced thinly crosswise
1/2 teaspoon sugar
1 teaspoon balsamic vinegar
4 tablespoons butter
4 tablespoons flour
3 cups milk, any kind (I used skim, which considerably lightens up the dish)
pepper
pinch nutmeg
4 ounces goat cheese, crumbled
1/4 cup loosely packed fresh sage leaves, finely chopped
1/3 cup fresh breadcrumbs or panko
salt
1.  Preheat oven to 400 degrees F. Toss squash cubes with oil, and spread in a single layer on a baking sheet; season with salt. Bake until tender and caramelized, about 20 minutes, stirring once halfway through.  Remove the squash from the oven to cool, and reduce the oven temperature to 375 degrees.  While the squash is roasting, bring a large pot of salted water to a boil, and cook pasta as directed; drain well and set aside.
2.  Meanwhile, in a medium pan over medium-high heat, cook bacon until crispy. Remove using a slotted spoon and set aside to drain on paper towel. Pour out all but 1-2 tablespoons of fat – enough to coat the bottom of the pan. Add onions, sprinkle with sugar, and cook over medium-high heat until tender and deeply caramelized, stirring occasionally (about 20 minutes). Stir in balsamic vinegar; set aside.
3.  Make the sauce.  While onions are caramelizing, melt butter in separate medium saucepan over medium heat, cooking until butter smells fragrantly nutty and is a warm brown color.  Be careful not to burn the butter – burned brown butter tastes pretty terrible.  Whisk in flour and cook 2 minutes.  Very slowly pour in milk, whisking constantly. Cook over medium-low heat until sauce thickens, about 8 to 10 minutes. Season with salt, pepper and nutmeg.
4.  In a very large bowl, toss the pasta with the sauce, roasted squash, bacon, caramelized onions, goat cheese and chopped sage leaves. Transfer to a large baking dish (I used a 13 x 9 inch Pyrex dish), and sprinkle with the breadcrumbs.  Bake at 375 degrees until edges are crispy and breadcrumbs are golden brown, about 20 minutes.  Let sit a few minutes, then serve.  Creamy pasta dishes like this pair nicely with a lightly-dressed green salad.