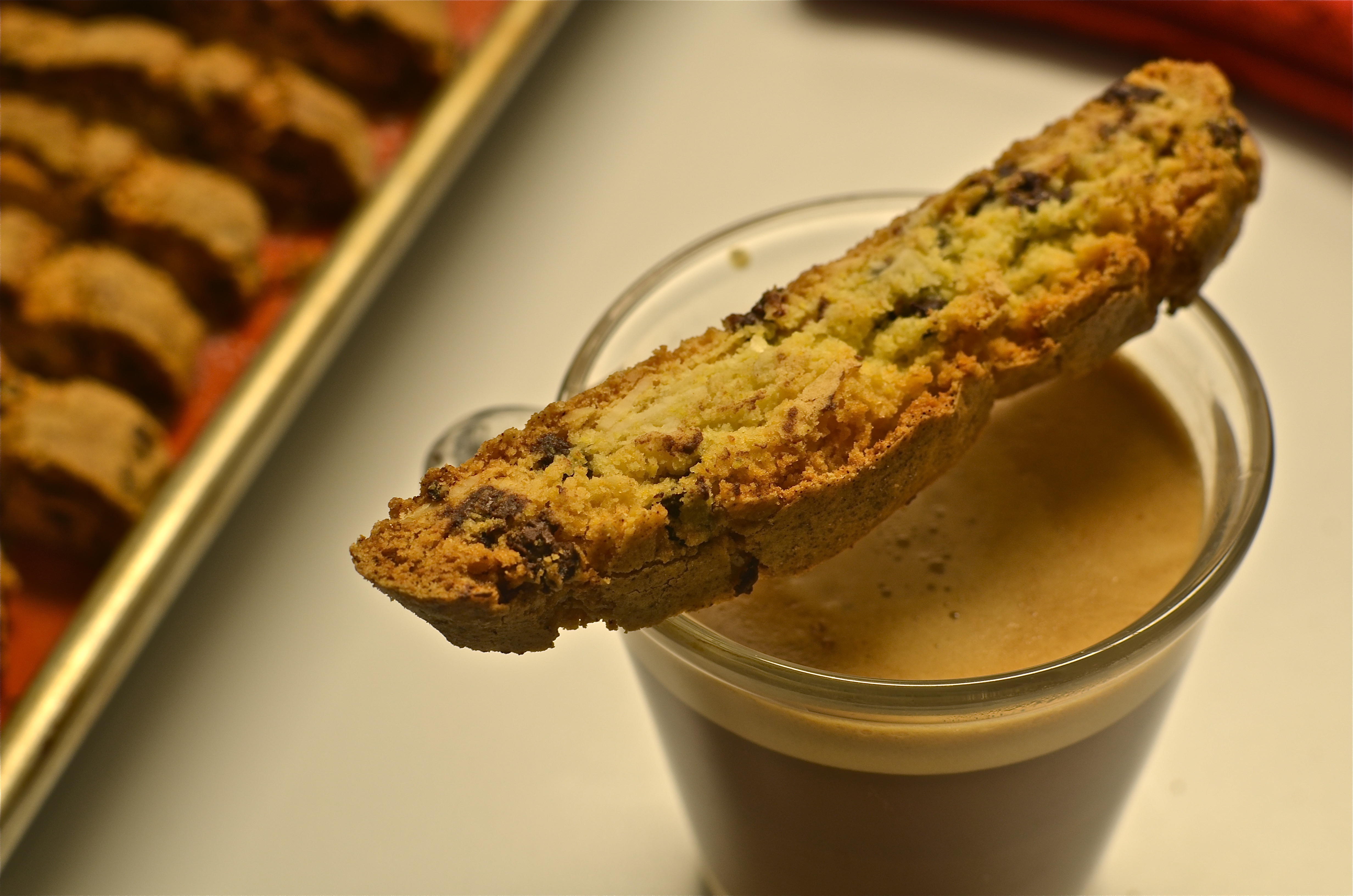 This month there has been lots and lots of baking in my life.  I just returned from a weekend at King Arthur Flour in Vermont, where I took a class with the amazing and talented Gesine Bullock-Prado.  She recently published a new cookbook called Pie It Forward, which is all about pies, tarts, galettes, and other delicious treats.  I learned how to make strudel dough, stretching it out across a large table until it was so thin, you could read a newspaper underneath it.  It was a lot of fun and very educational, and Vermont was beautiful, sunny, and 80 degrees.  It was the perfect weekend.
Back to the real world, and back to my own small Manhattan kitchen.  Now I get to share with you a biscotti recipe I have been playing with for the past month or so.  In case you are keeping track, this is the fourth (that's right, fourth) biscotti recipe I've written about here.  And yes, one of other three biscotti recipes is for Almond Biscotti.  My name is Mary Ellen, and I have a biscotti problem.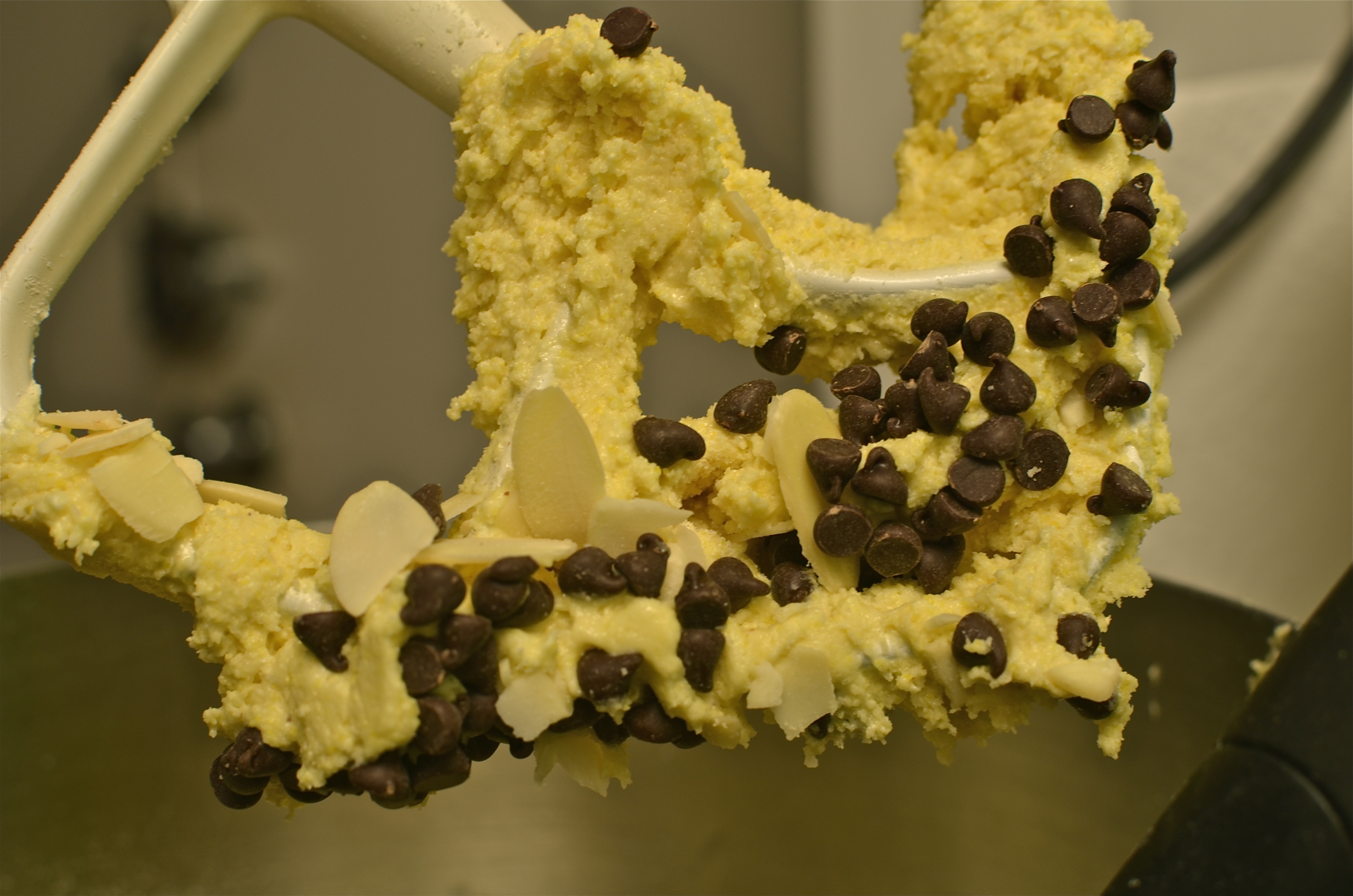 So how are these different from the Almond Biscotti I wrote about last year?  For one, these have a little butter in them, which makes them not quite as hard.  I liked the butter-free biscotti I made last year, but I got some complaints that they were a bit too crunchy (as in, kind of hard to bite into at all).  The addition of a little butter helps a lot.  Second, there's a bit of cornmeal in the dough, which gives the cookie a different but lovely texture.
I'm a fan.  A big fan.  I tested this recipe, oh, 6 times.  I added small chocolate chips one time, orange zest another, lemon zest yet another, and played with the ratio of butter and eggs.  Below is the finished product, I hope you enjoy them!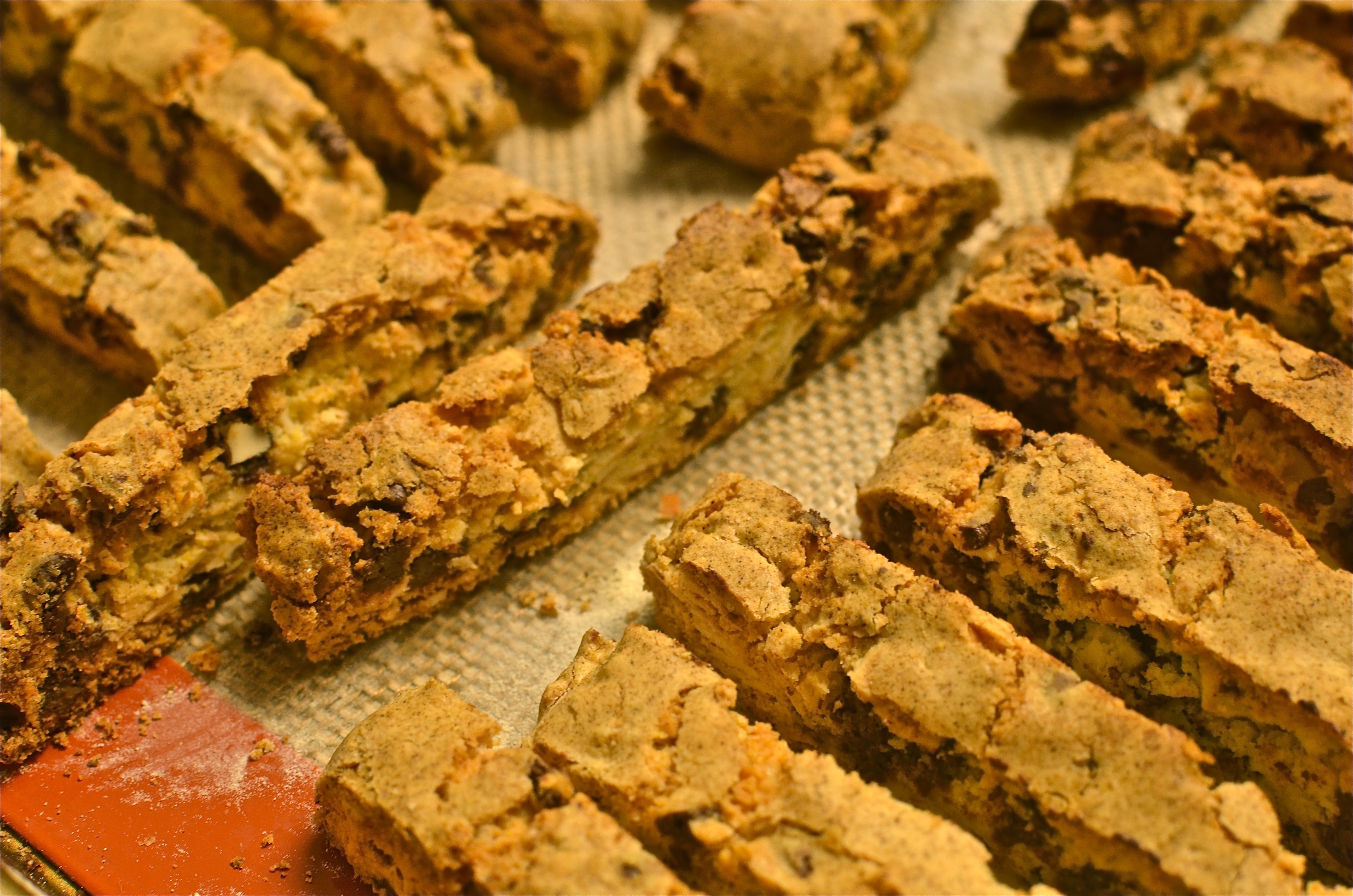 One year ago: Chocolate Zucchini Cake
Almond Cornmeal Biscotti
Adapted from Dorie Greenspan
Makes around 40 biscotti
Total time: 1 hour
Ingredients
1 1/2 cups all-purpose flour
1 1/2 teaspoons baking powder
1/4 teaspoon salt
1/2 cup yellow cornmeal
5 tablespoons unsalted butter, at room temperature
1 cup sugar
2 large eggs, at room temperature
2 teaspoons pure almond extract
1/2 teaspoon vanilla extract
1 cup sliced almonds, blanched or unblanched
A few suggested add ins:
3/4 cup chopped chocolate or chocolate chips (preferably semisweet)
or
1 tablespoon orange zest
1.  Center a rack in the oven and preheat to 350 degrees F.  Line a baking sheet with parchment or a silicone mat.  In a bowl, whisk the flour, baking powder, and salt.  Add the cornmeal and whisk again to blend.
2.  Working with a stand mixer fitted with a paddle attachment, or with a hand mixer in a large bowl, beat the butter and sugar together at medium speed for 3 minutes, until very smooth.  Add the eggs and continue to beat, scraping down the bowl as needed, for another 2 minutes, or until the mixture is light, smooth, and creamy.  Beat in the almond and vanilla extract, and orange zest (if using).  Reduce the mixer speed to low and add the dry ingredients, mixing only until they are incorporated.  Halfway through the adding of the dry ingredients, stop the mixer and scrap down the bowl, making sure there is no flour mixture hanging out at the bottom of the bowl.  Do not overmix!  When you are finished, the dough will be soft and sticky.  Scrape down the paddle and bowl, then added in the almonds and chocolate (if using) and mix just to blend.
Sprinkle a generous amount of flour onto your lined baking sheet.  Scrape half the dough (eyeball it) onto one side of the baking sheet. Dust your hands with flour.  Using your hands, work and roll the dough into a log about 12 inches long and 1 1/2 inches wide. Flatten the log with your fingers a bit; the log will be more rectangular than domed, and bumpy, rough and uneven.  Dust hands with flour again, and add more flour to the sheet if necessary.  Make second log with the remaining dough on the other side of the baking sheet.
3.   Bake the logs for 25 minutes, or until the logs are lightly golden but still soft and springy to the touch.  Transfer the baking sheet to a rack and cool for 30 minutes.
4.  If you turned off the oven, bring it back up to 350 degrees F.  Using a wide spatula, transfer the logs to a cutting board and, with a long serrated knife, trim the ends and cut the logs into 3/4-inch-thick slices on a diagonal.  Place the slices back on the baking sheet standing them up like a marching band and put the sheet back into the oven.
Bake the biscotti for another 15 to 18 minutes, or until they are golden and firm and mostly dried out.  Transfer them to racks and cool to room temperature.