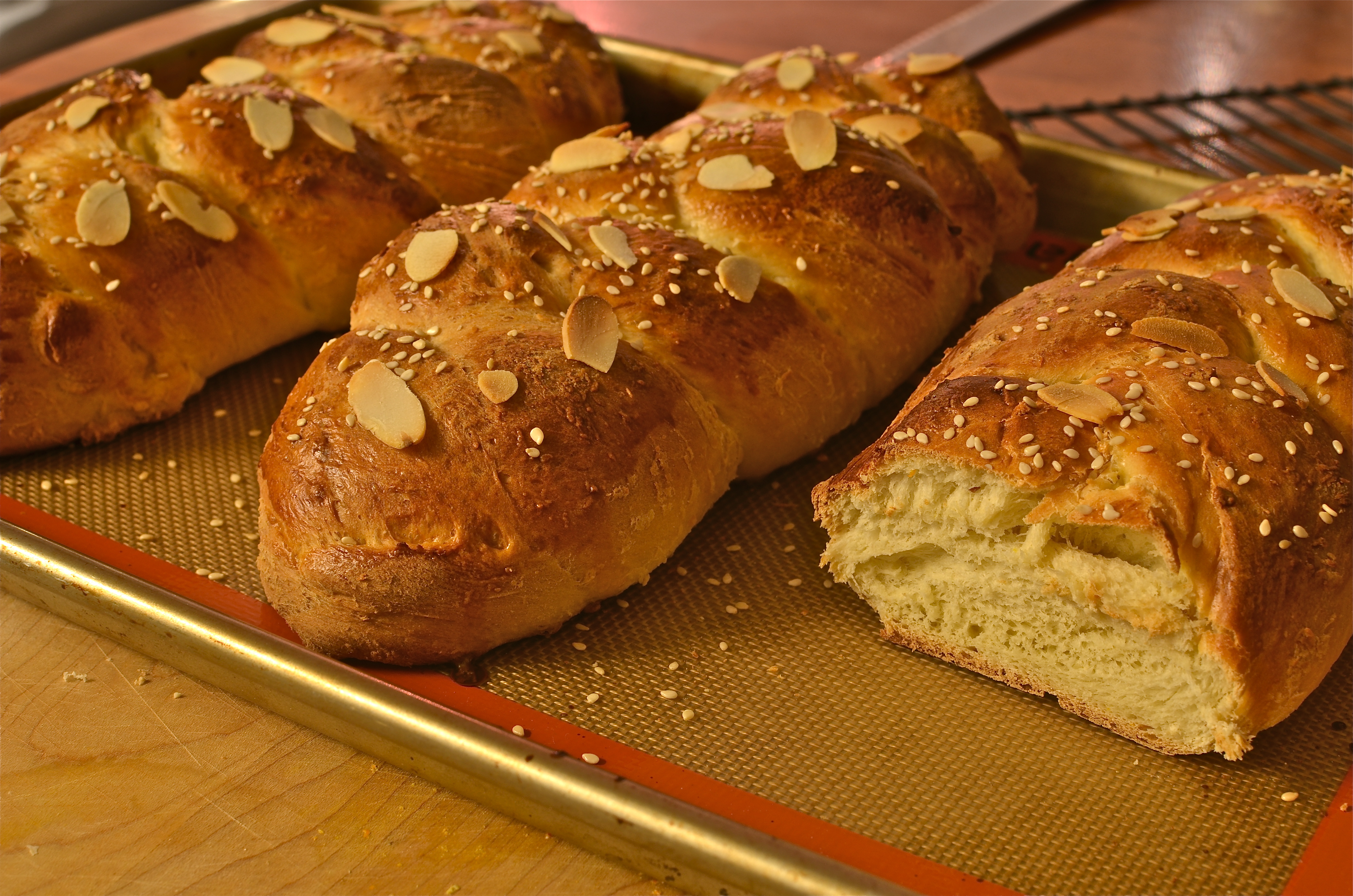 Happy Easter everyone!  Unless you are Greek Orthodox like me, in which case your Easter is a week later this year!  Last year for Easter, I made Hot Cross Buns, promising that next year I would try my hand at tsoureki, or traditional Greek Easter bread.  My grandmother made it every year for the family when I was growing up, and since she passed, no one in my family has tried to make it.  I knew it was time to try making it on my own.  So behold, my very first tsoureki.
Tsoureki is a sweet yeast bread not unlike challah, but tsoureki is flavored with a spice called mahlab (also called mahlepi) that is ground from the pits of wild cherries.  Mahlab is a little sweet and nutty, but still a unique taste you won't find with any other spice.  The spice is a little hard to acquire at regular grocery stores – any Greek or Mediterranean food store carries it, and it can also be found online at places like Penzy's.  There is also a small amount of a second spice – mastiha – in this bread.  Mastiha is the sap of lentisk trees (AKA, evergreen bushes) found only in certain areas of the Greek island of Chios.  Complicated or exotic enough for you?  You can leave the mastiha out, but if you're going to the trouble of buying mahlab, might as well buy both!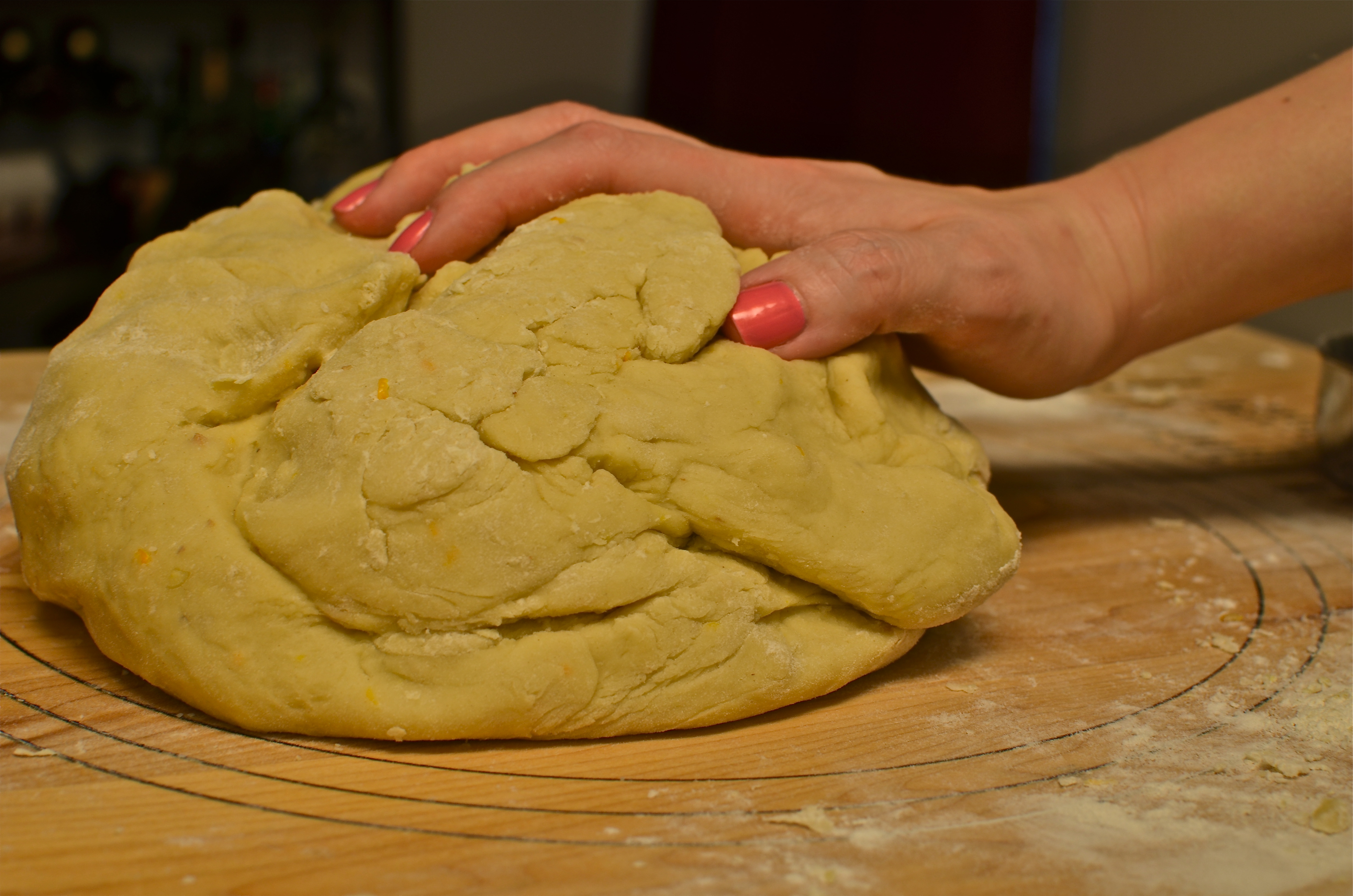 I have my grandmother's "recipe" for this bread, but it lacks a lot of what you might call "instructions."  It is, in other words, a typical vague Greek grandmother's recipe with imprecise measurements that magically comes together for the grandmother but not for the rest of us.  So I looked at her recipe and mashed it up with a recipe posted last week by Elly Says Opa.  So thank you Elly for for the recipe!  I was very happy with the way my first tsourekia turned out; it's a lot of work making yeast breads, so I'm glad all my work paid off!
Note that you can speed up the rising process for this bread (and others too) by doing the following: when you start making the dough, set your oven at its lowest setting (likely 200 degrees F).  A few minutes before the dough is ready for its first and second rise, turn off the oven.  Then place the dough in the oven, which will give it a warm, draft-free place to do its thing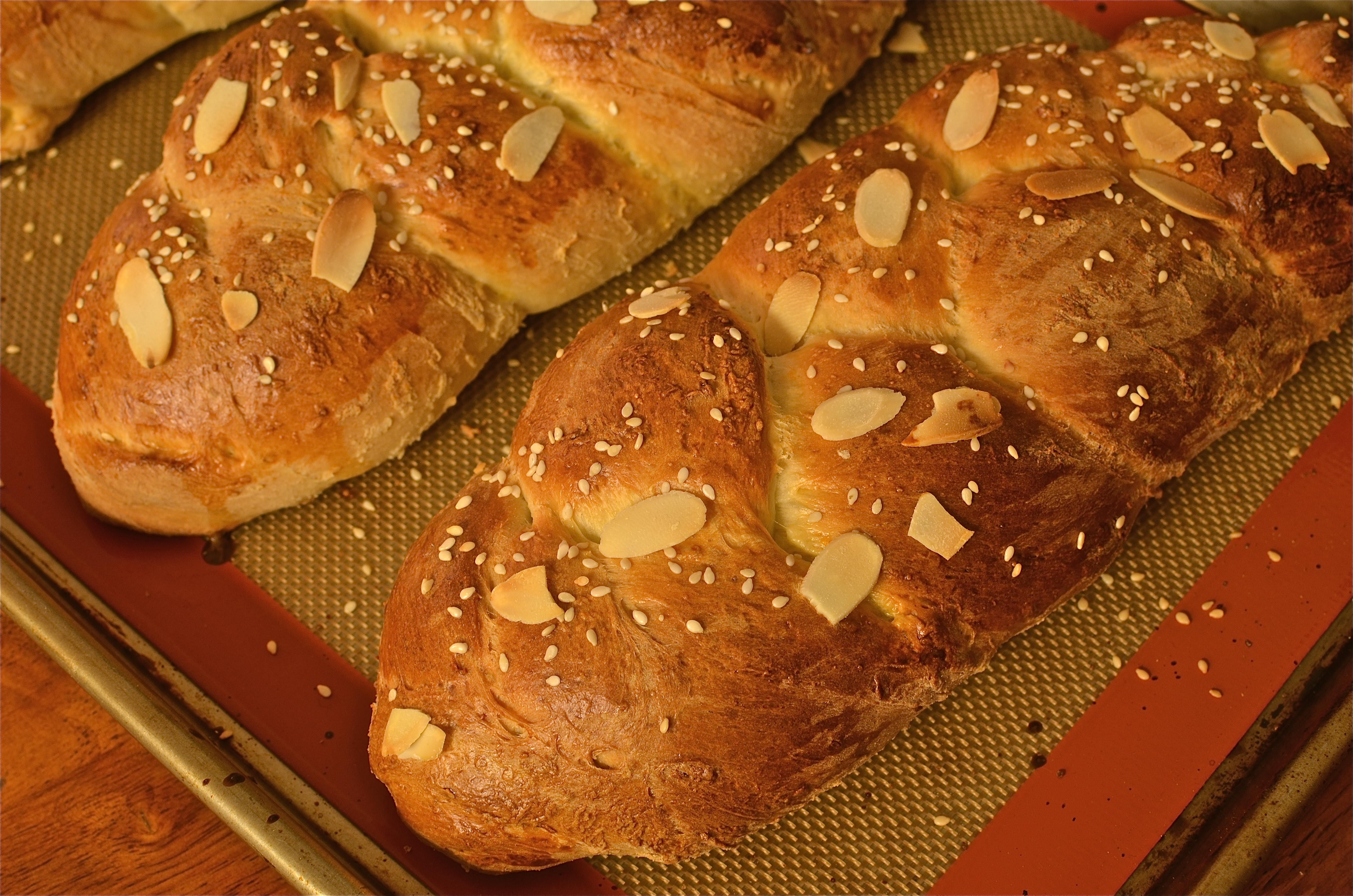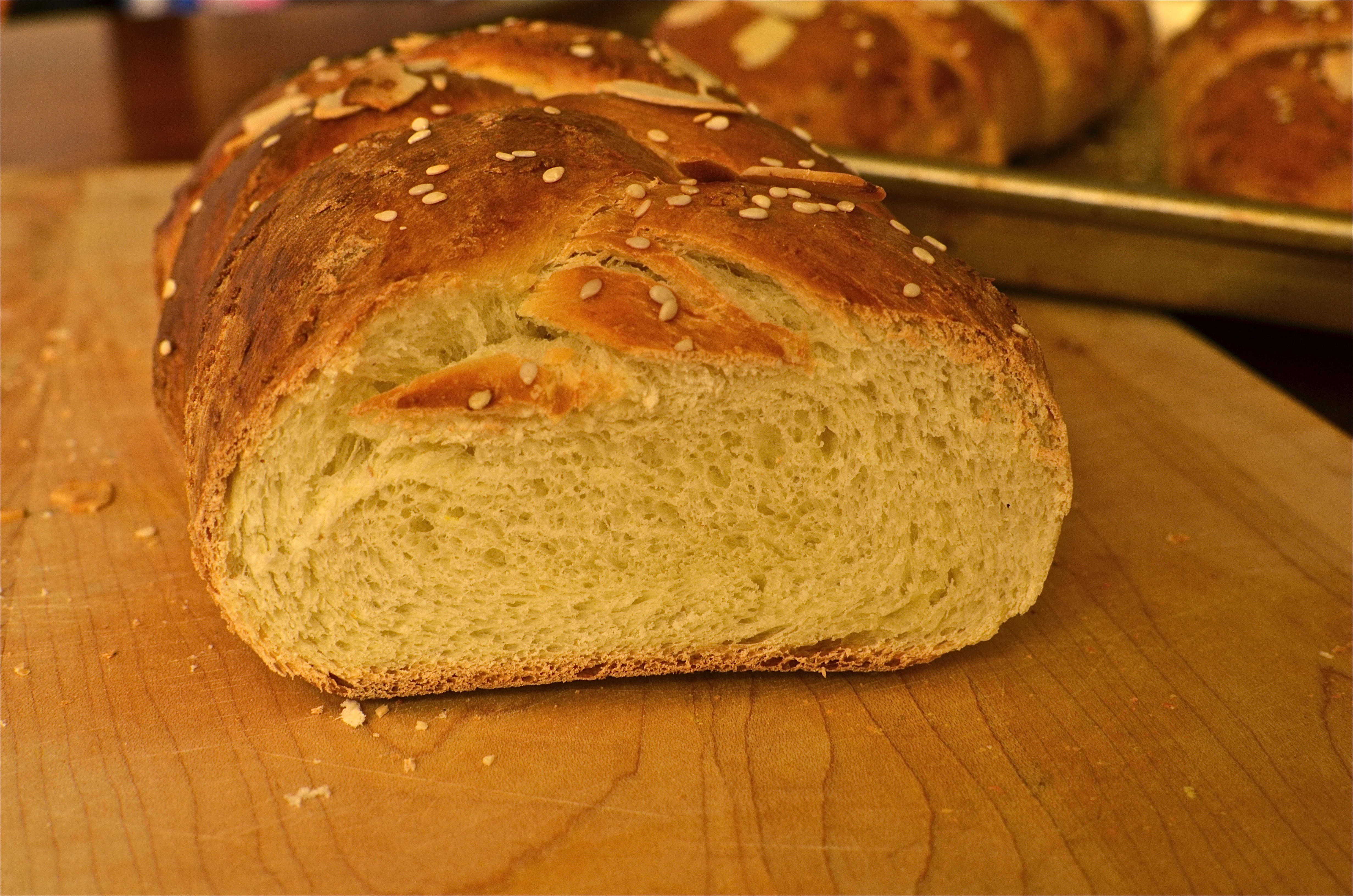 One year ago: Pasta with Broccoli Rabe, Tomatoes, and Goat Cheese
Greek Easter Bread (Tsoureki)
Adapted from my grandmother and Elly Says Opa
Makes 6 loaves
Total time: 6 hours
Note: This makes a lot of bread, but the loaves freeze beautifully.
Ingredients
2 cups warm (not hot)  milk
2 (1/4 oz.) envelopes of dry active yeast, or 4 1/2 teaspoons dry active yeast (I used Red Star)
8-9 cups bread flour, divided (I use King Arthur Flour)
1 3/4 cups sugar, divided
1 teaspoon salt
Zest of 1 large orange
1 tablespoon ground mahlepi
1/2 teaspoon ground mastiha (optional, but encouraged)
1/2 cup butter, melted
5 large eggs, beaten
Vegetable or canola oil
Egg wash
1 egg yolk
3 tablespoons milk
Sesame seeds and sliced or slivered almonds
1.  In a large bowl, mix together the milk, yeast, 1 cup flour, and 1/4 cup sugar.  Cover with a clean kitchen towel and proof for one hour.  (See my note above about using the oven to make a warm place for it to rise)
2.  In a separate large bowl, whisk together 7 cups of flour, the remaining 1.5 cups sugar, salt, orange zest, mahlepi and mastiha (if using).  Make a well in the center of the flour mixture; add the yeast mixture, melted butter, and beaten eggs.  Work from the center outwards, bringing flour into the well, stirring the mixture with a wooden spoon until a dough begins to form.
3.  On a heavily floured work surface, knead the dough for about 12 minutes until the dough no longer sticks to your hands, adding some or all of that extra cup of flour when necessary.  I split the dough into two pieces, and used my standing mixer and its dough hook to do my kneading for me.  I split it into two pieces because there was too much dough to fit in the bowl and knead properly, so I did it in turns.  Once you have kneaded the dough (either by hand or with your mixer), place the dough in a large oiled bowl, turning once to get oil on the other side. Cover with a kitchen towel and allow to rise for 2 hours, until doubled in size.  (See my note again for the oven trick)
4.  Punch down the dough, and divide into 6 equal portions, and then divide each of those into three equal portions. Roll each piece into a 12-inch strip.  Lay 3 strips side by side, pinch together the strips at the top, and then braid them. Pinch the bottom together.  You can tuck the two pinched ends underneath each loaf.  Repeat with each set of 3 strips, until you have 6 braided loaves.  Place the braided loaves on parchment or Silpat-lined baking sheets (I put three loaves per sheet) then cover with a towel and let rise for about 2 hours or until doubled in size.  I only let mine rise for about an hour.  (See my note again for the oven trick)
5.  Preheat the oven to 350°F.  Whisk together the egg yolk and milk.  Take a pastry brush, and brush the mixture on top of both loaves evenly.  Sprinkle with slivered almonds and/or sesame seeds.
6.  Bake each sheet for about 25 minutes, checking the loaves about halfway through;  you will likely need to tent the pan with foil to keep the top from over-browning, which I did at about the half-way point.  Let cool, but they do taste good a little warm!