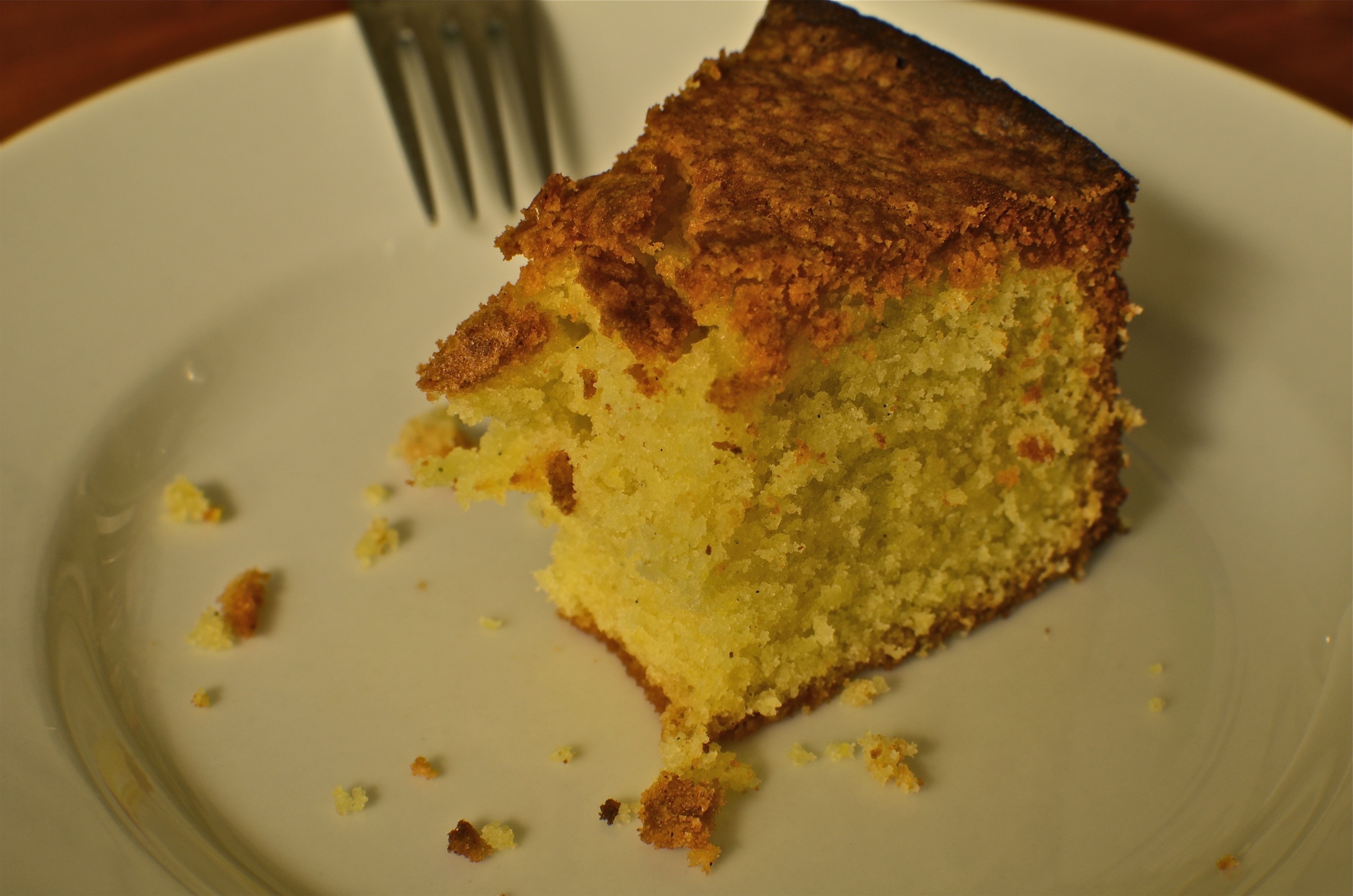 Did I ever tell you the story of the best dessert I had in my entire life?  No?  Last summer during my trip to California wine country, a friend and I stopped in for lunch at Chez Panisse, the famous Alice Waters restaurant in Berkley, CA.  We sipped Ms. Waters' favorite rosé while working our way through a few courses.  The food was great, but the dessert was outstanding: an almond-crusted cornmeal cake.  It was simple but brilliant – a moist but light cornmeal cake crusted with sliced almonds, finished with a little powdered sugar and accompanied by mixed berries.
I asked our waiter if the pastry chef would be willing to part with their recipe; our waiter laughed and said no.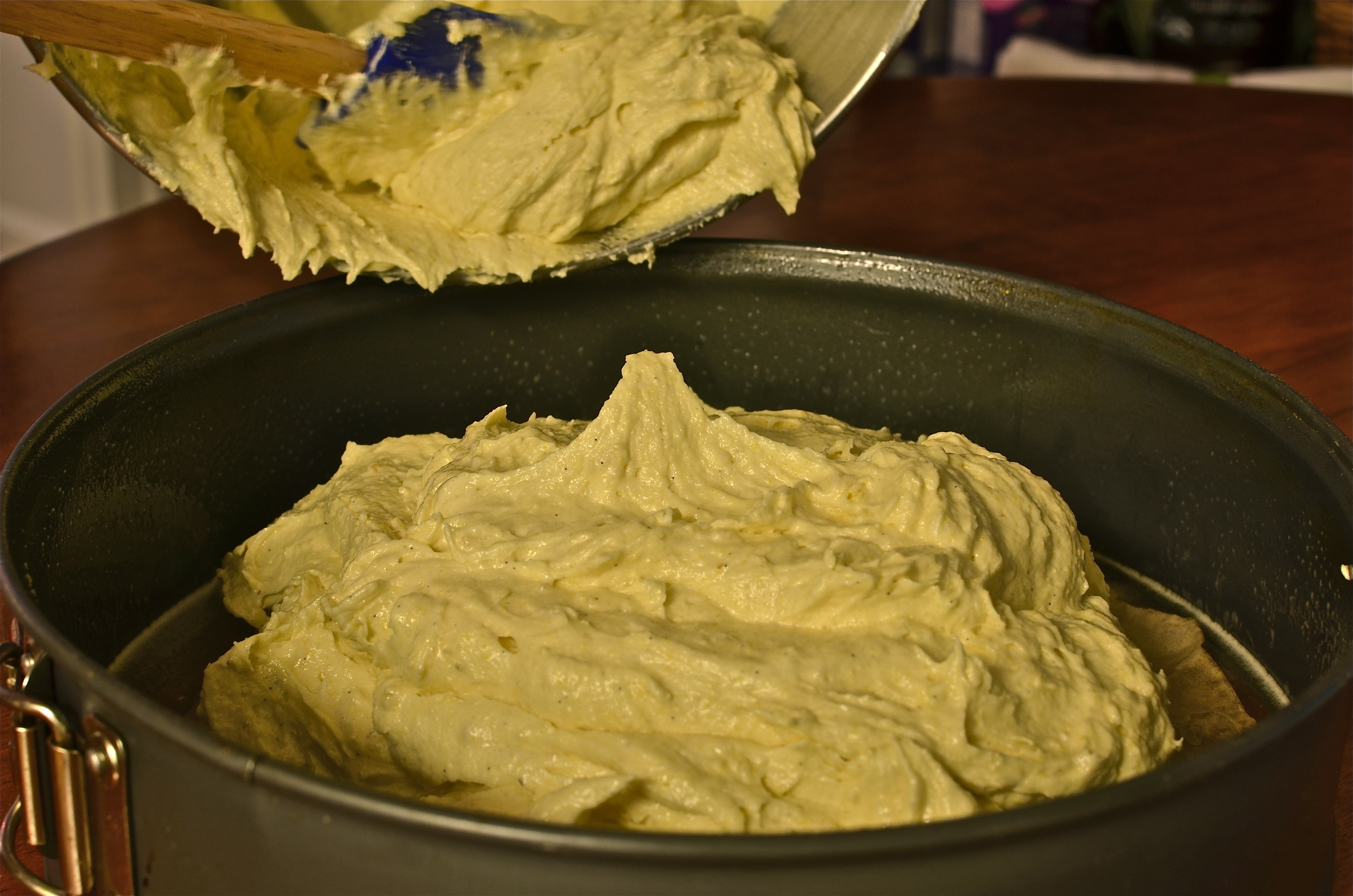 So began a quest to recreate the now infamous Almond Crusted Cornmeal Cake of Chez Panisse.  I haven't been able to do it … yet.  But this cake, what I call a Simple Almond Cake, is inspired by the quest.  It's a true almond cake full of sweet almond paste, with a touch of cornmeal added for texture.  And I call it simple because it is simple; there aren't many ingredients, but they are whipped together into an airy batter that bakes into a dense-but-not-too-dense, sweet cake with a slight crunch from the cornmeal and a deep almond flavor.
I may not have a version of the Chez Panisse cake just yet, but I did create a darn good almond cake recipe.  My coworkers (who are also frequently my taste testers) loved it – the cake disappeared from the kitchen in minutes.  One even admitted to immediately going back for seconds and slicing off a quarter of the cake for himself.  If you are looking for simple, great tasting, and elegant dessert for yourself or to serve a crowd, please try this cake!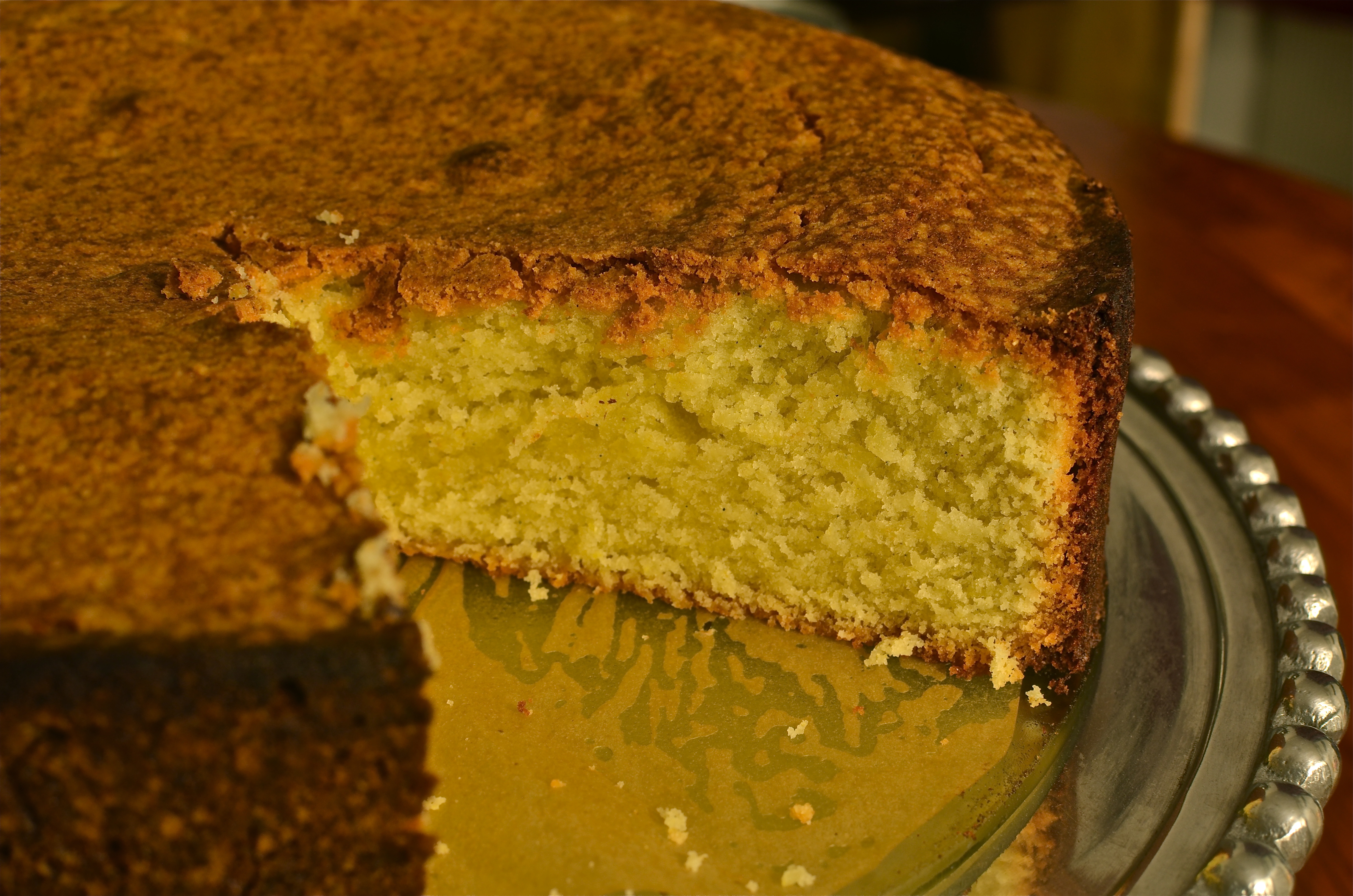 One year ago: Hot Cross Buns
Simple Almond Cake
Recipe by Pâte à Chew
Total time: 1 hour 15 minutes
Makes 1 9-inch cake
Ingredients
1 1/2 cups granulated sugar
1 10-ounce can of almond paste (not marzipan)*
8 ounces unsalted butter , at room temperature
6 large eggs, at room temperature
1 teaspoon vanilla extract or vanilla bean paste
1 cup all-purpose flour
1/4 cup cornmeal
1 teaspoon baking powder
1/4 teaspoon salt
* I always buy Love'n Bake brand almond paste, which comes in 10 ounce cans.  You can find it at stores like Whole Foods, or online at stores such as Amazon or Nuts.com.
1.  Preheat the oven to 325 degrees F and position the rack to the center of the oven.  Line the bottom of a 9-inch cake pan or spring-form pan (I used the latter) with a round of parchment paper, or butter the pan and dust it lightly with flour, tapping out any excess.  I've said it before, and I'll say it again: baking non-stick spray, such as Pam for Baking, is the best invention ever.  I spray the bottom and sides of my pan with the baking spray, put a round of parchment down, and then spray the parchment.
2.  With a standing or hand mixer, beat together the sugar and almond paste until the paste is finely broken up.  Let it run for about 5 minutes.
3.  Add the butter, then and beat at medium-high speed until light and fluffy.  Again, let it go for about 5 minutes, stopping to scrape down the bowl with a spatula half-way through.
4.  Meanwhile, in a separate bowl or a measuring cup with a spout, stir together the eggs with a fork or whisk.  When the butter/sugar/almond paste mixture is done beating and looks light and fluffy, dribble the mixed eggs into the batter as you beat.  Once incorporated, add the vanilla.
5.  In a separate bowl, mix together the flour, baking soda and salt with a whisk, then gradually add the dry ingredients into the batter with the mixer on low/stir speed until just incorporated (do not overmix!).
6.  Transfer the batter into the prepared cake pan and bake for about 1 hour, or until a toothpick inserted into the center comes out clean.  Mine took 1 hour exactly, but start checking at 50 minutes.  I could have pulled my cake out a few minutes early, as the edges got ever-so-slightly overdone.
Cool the cake on a rack before serving.  This cake is extremely moist and will keep well for up to a week if well-wrapped.