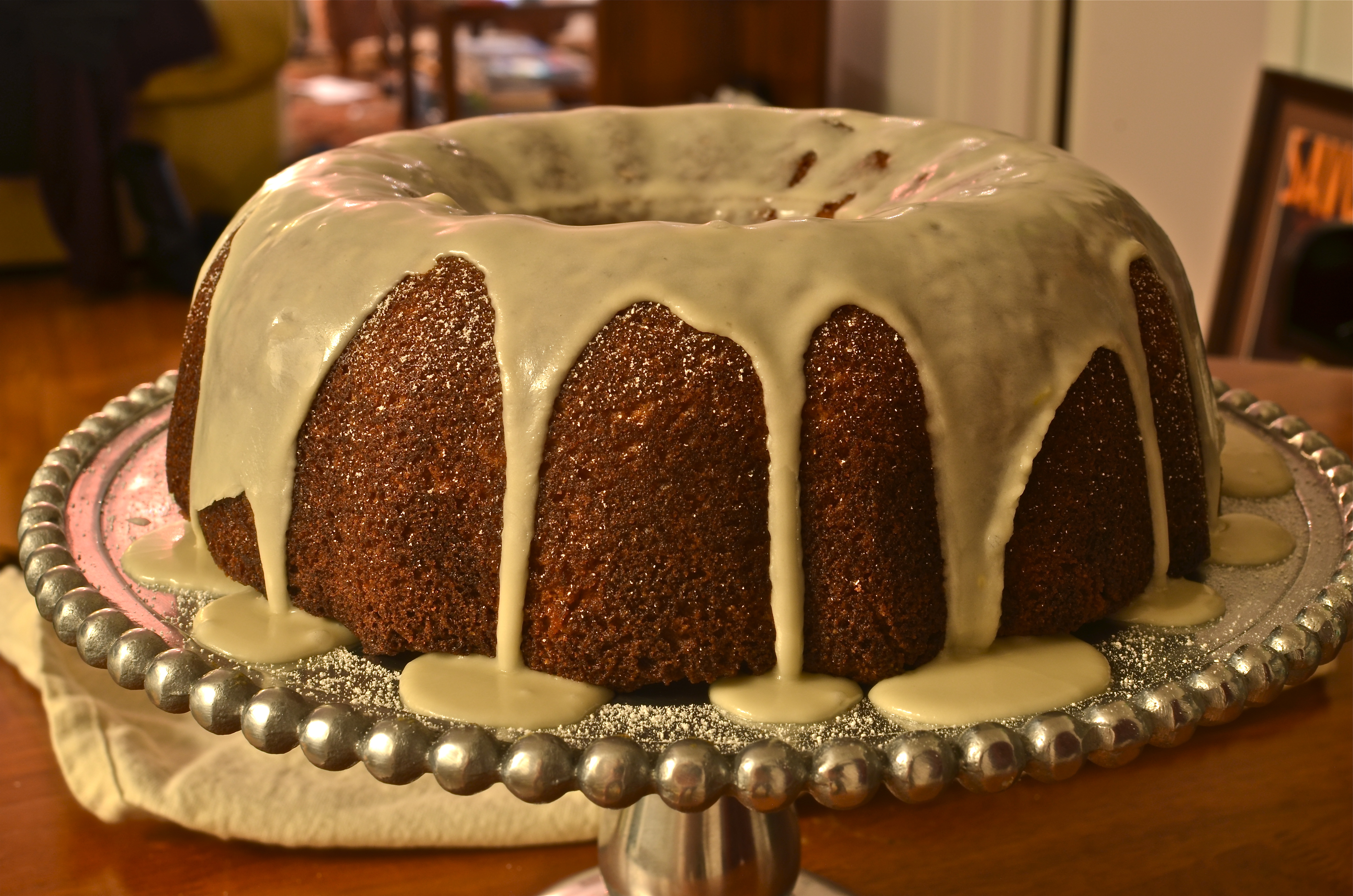 A week ago I found something at the market (or FreshDirect, which is often "the market" in New York City) I had never bought before: Meyer lemons.  Over the years I've had a few desserts flavored with Meyer lemons but have never used them myself.  For those of you who don't know, Meyer lemons are a cousin of the lemons we use every day; they are a little smaller, a little rounder, with a slightly more orange color, making them a beautiful canary yellow.  And the taste?  Sort of a cross between a lemon and a Mandarin orange.  While the taste is similar to a lemon, Meyer lemons are not as tart or acidic as lemons.  You can see how Meyers measure up next to a typical large lemon below:
The Meyer lemons sat in my fridge for a week before I decided what to do with them – make a cake!  I saw a beautiful lemon cake on the lovely blog Lemons and Anchovies, and used it as my inspiration.  As much of a chocoholic as I am, I love lemon desserts.  Even my last birthday cake was a Lemon and Blueberry Layer Cake.  This cake turned out lovely – super moist and not too sweet, with a strong lemony flavor that was also mellowed by the use of the Meyers.  The cornmeal adds a little bit of texture, but this definitely doesn't taste like cornbread; the cake has a light and delicate crumb.  It's still citrus season, so I say take advantage and whip up this cake, especially if you have a special occasion coming up.
I tried to lighten up the recipe a bit, but who are we kidding?  This isn't the most diet-friendly of desserts.  Serve up in small slices and you'll be fine!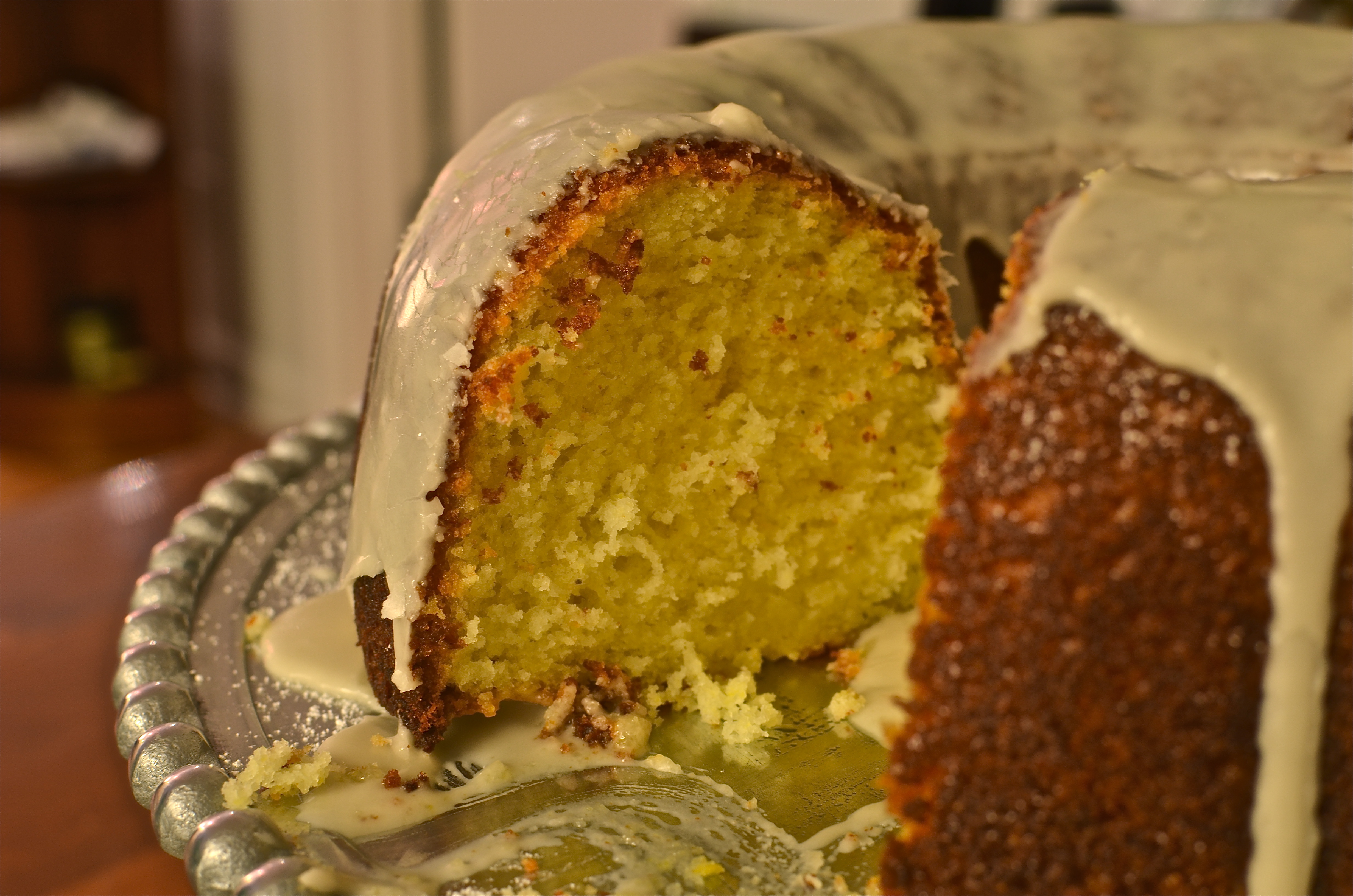 One year ago: Lemon Chicken + Roasted Asparagus
Meyer Lemon Cornmeal Cake
Recipe by Pâte à Chew; inspired by Lemon and Anchovies
If you use regular lemons in this recipe, up the sugar in the cake to 2 cups, from 1 3/4 cups, as the regular lemons will make the cake more tart.
You can omit the ground almonds and add an extra 1/2 cup all-purpose flour to the recipe instead.
Makes 12-16 servings
Total time: 2 hours
Ingredients
2 cups all-purpose flour
1/2 cup yellow cornmeal
1/2 cup blanched almonds
2 teaspoons baking powder
1/2 teaspoon baking soda
1/2 teaspoon salt
1 1/2 sticks (3/4 cup) unsalted butter, softened
1 3/4 cups sugar
2 tablespoons grated Meyer lemon zest (from about 2 lemons)
1/2 cup Meyer lemon juice (from 3 to 4 lemons)
4 large eggs, room temperature
1 cup buttermilk
1 teaspoon lemon extract (optional)
For the syrup
1/2 cup Meyer lemon or lemon juice
1/2 cup sugar
For the glaze
2 cups confectioner's sugar
1/4-1/3 cup Meyer lemon or lemon juice
1.  Heat oven to 325°F.  Prepare a 10-cup decorative tube pan or a 12-cup Bundt pan by coated with baking spray (I always use Pam for Baking).  In a food processor, grind the almonds until very fine, about 30 seconds, and set aside.  Whisk together the flour, cornmeal, baking powder, baking soda and salt in a medium bowl.  Combine buttermilk and lemon juice in another bowl and set aside.
2.  In a separate bowl beat the butter, sugar, and lemon zest with a standing mixer or hand mixer set at medium speed until the batter is light and fluffy, at least 3 minutes.  Add lemon extract (if using), then beat in the eggs one at a time, making sure each egg is incorporated into the batter after each addition.  Put the mixer to low, and mix in the flour mixture and buttermilk mixture in 3 additions until the batter is smooth, starting and ending with the dry ingredients.  Scrap down the bowl with a spatula at least once during the addition of the dry ingredients and wet ingredients.  Gently fold in ground almonds.  Scrape into prepared pan; level top with spatula.
3.  Bake 55 to 65 minutes until a wooden pick inserted in cake comes out clean.  Cool cake in pan on wire rack 5 minutes.
4.  Meanwhile, make the sugar syrup: Combine 1/2 cup granulated sugar with 1/2 cup lemon juice in a small saucepan and cook over low heat until the sugar dissolves.  When the cake is done, allow to cool for 5 minutes.  Spoon syrup all over hot cake until absorbed.  It helps to take a toothpick or knife and make small holes in the cake before adding the syrup.  Cool completely.
5.  Make the glaze:  Stir confectioner's sugar and lemon juice in a bowl until smooth.  Start with 1/4 cup lemon juice, adding a little more if you think the icing is too thick.  Remove the cake from the pan and transfer cake to a serving plate and cover. Pour glaze over top of cake; it will slowly make its way down to the bottom of the cake.  Let cake rest several hours, or overnight, before serving.  Store cake covered at room temperature up to 4 days.  Cut into thin slices to serve.