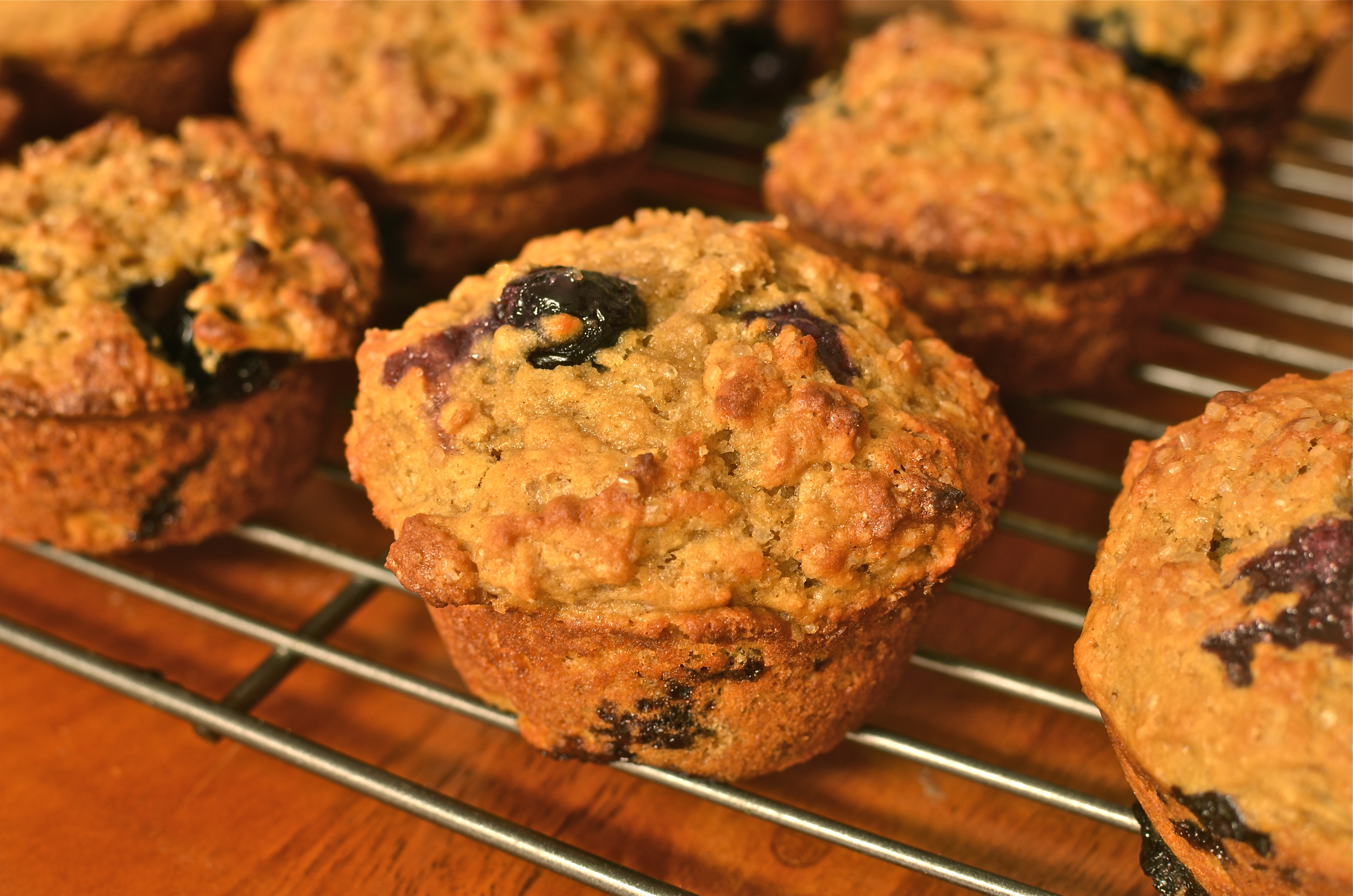 It must be hard to have an egg allergy; 99% of baked goods worth eating have eggs in them.  But my oldest friend in the world is allergic to eggs, so we've spent most of our time together not eating desserts.  Or quick breads.  Or fresh pasta when we went to Rome last year.
Enter King Arthur Flour.  I love King Arthur Flour, both their products and the company itself – I've even taken a class at their Education Center in Vermont.  They also happen to be a great source for recipes, and their test kitchen is always coming up with new recipes.  So imagine my delight when last week, a few days before my friend was coming to visit me in New York, KAF posted a new recipe for 100% Whole Wheat Blueberry Muffins that happens to be egg-free!
And they were good!  They don't taste any different from muffins made with egg, thanks to a generous amount of low-fat buttermilk.  The buttermilk also keeps these muffins moist days – you heard me, DAYS – after making them.  Plus the muffins are so quick and easy to make – 25 minutes from start to finish.  Drizzled with a little honey, they make the perfect healthy breakfast.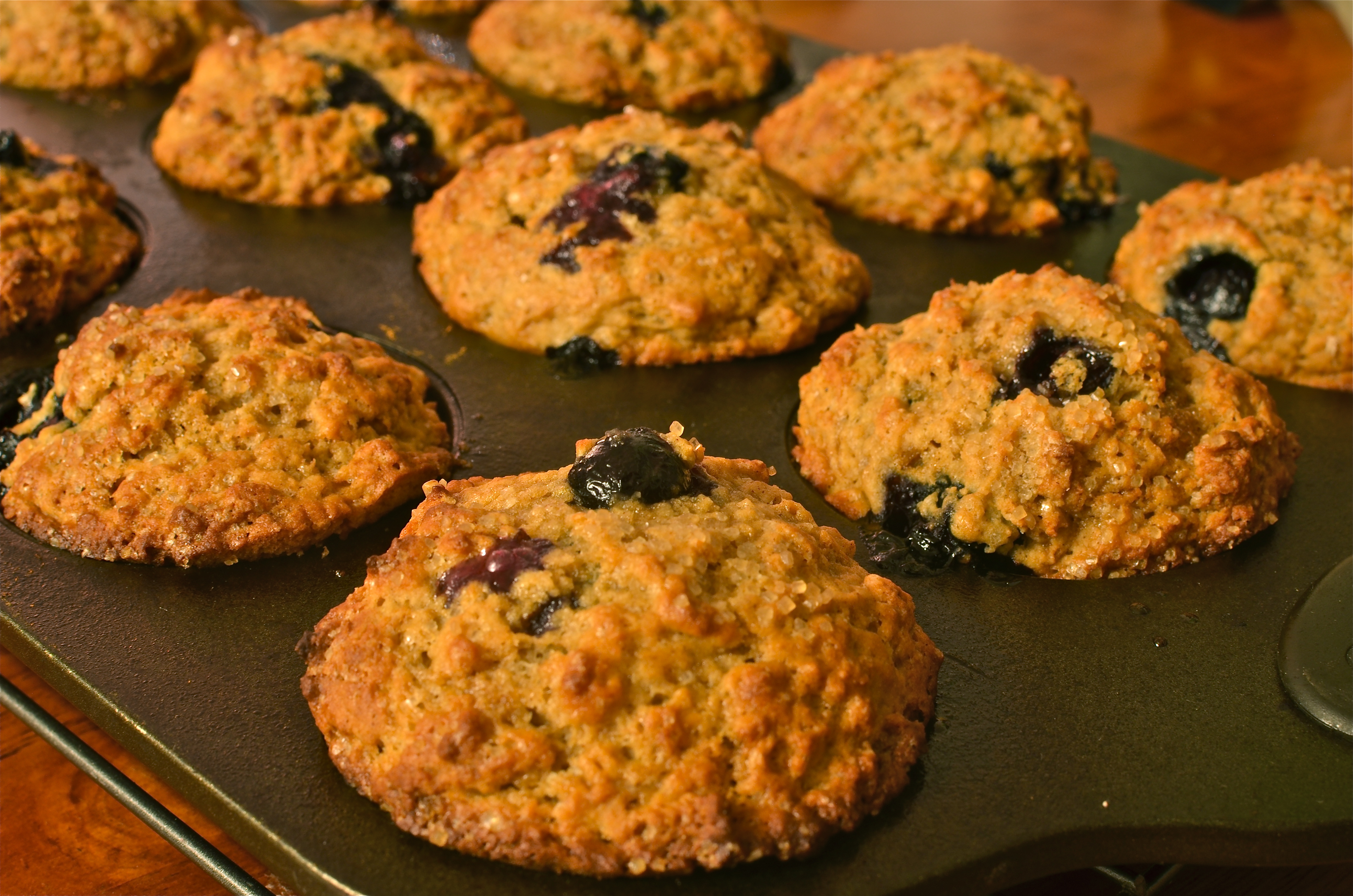 One year ago: Peanut Butter Chocolate Chunk Cookies
100% Whole Wheat Blueberry Muffins
Adapted from King Arthur Flour
Makes 12 muffins
Total time: 25 minutes
Ingredients
2 1/4 cups King Arthur White Whole Wheat Flour or Premium Whole Wheat Flour
1 cup brown sugar
3/4 teaspoon salt
1 teaspoon baking powder
1/2 teaspoon baking soda
1/2 teaspoon ground cinnamon
1 cup blueberries, fresh or frozen
1 teaspoon vanilla extract
1/3 cup vegetable oil
1 1/2 cups buttermilk
cinnamon-sugar or coarse white sparkling sugar for topping, optional
1.  Preheat the oven to 400°F.  Lightly grease the cups of a standard muffin pan; or line with paper baking cups, and grease the paper cups.
2.  In a large bowl, whisk together all of the dry ingredients, including the blueberries.  In a separate bowl, whisk together the vanilla, vegetable oil, and buttermilk.
3.  Pour the liquid ingredients into the dry ingredients, stirring just to combine (do not overmix!).
4.  Spoon the batter into the prepared muffin cups.  An ice cream scoop or disher works great here.  The muffin cups will be nearly full.
5.  Sprinkle the tops of the muffins with coarse sparkling sugar or cinnamon sugar, if desired.  I had Turbinado sugar, and I mixed a few tablespoons of it with a pinch of cinnamon mixed and sprinkled the sugar on the tops.  It gave the tops of the muffins a nice sweet crunch, but if you want the tops to look pretty and sparkly, you'll need to procure some sparkling sugar.
6.  Bake the muffins for 18 to 20 minutes, until a toothpick inserted into the middle of one of the center muffins comes out clean.  Remove the muffins from the oven, and after 5 minutes (or when they're cool enough to handle) transfer them to a rack to cool.  Serve warm or at room temperature. Store leftovers loosely wrapped at room temperature.