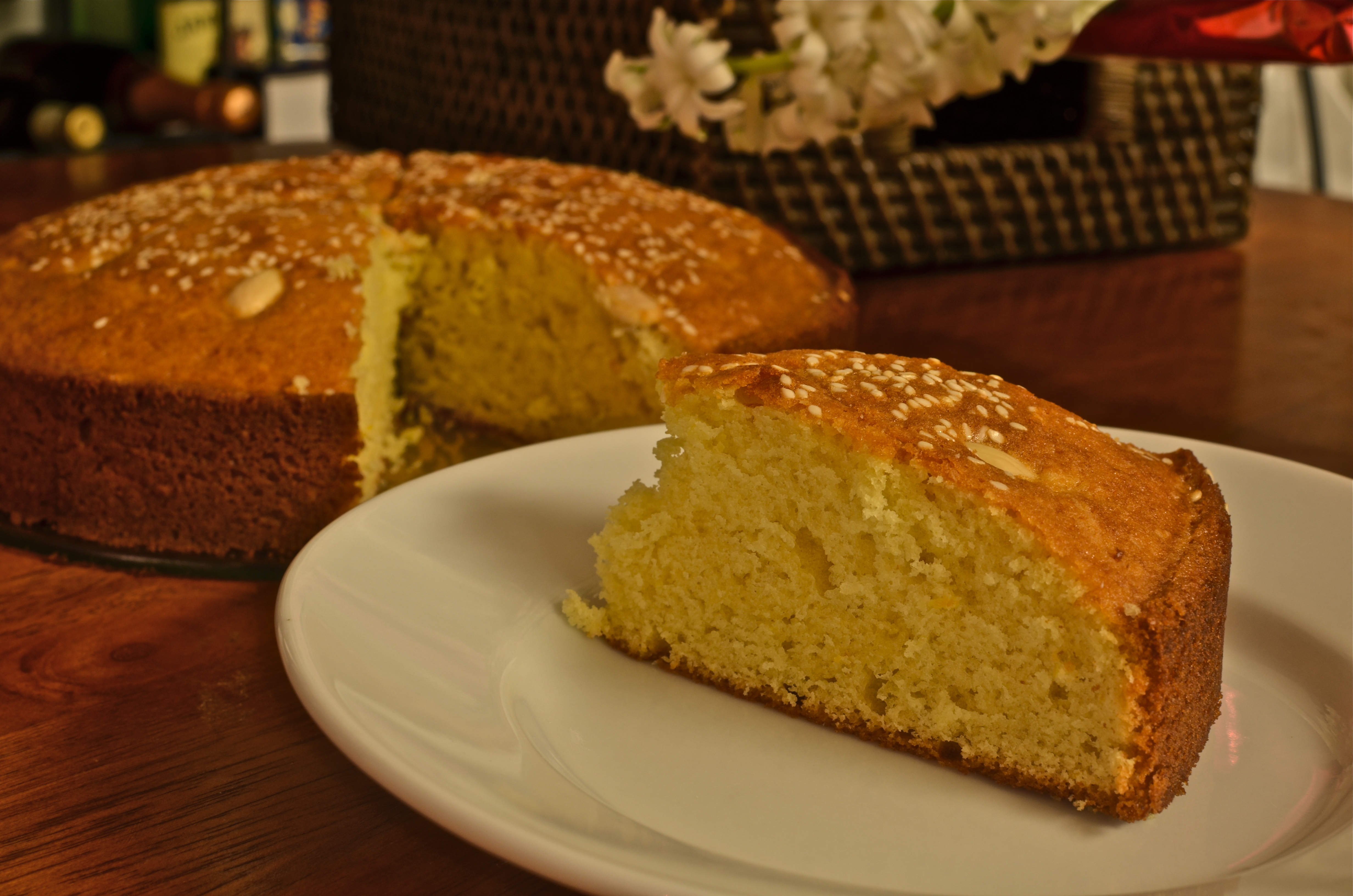 Happy New Year!  Welcome to 2012.  I hope everyone had a great time last night, wherever you were or whatever you did.  This is the first time since I moved to New York City that I was in town for New Year's Eve (last year, if you remember, I celebrated New Year's in Rome).  I attended a fabulous party hosted by a fabulous friend, and we all had a great time.  Another perk of being in town this year was that I had the opportunity to make something I grew up eating every New Year's Day: vassilopita, or Greek New Year's bread.
So what is this bread?  Well, it's more of a cake than a bread, so let's go ahead and just call it what it is.  It's a slightly dense and sweet yellow cake flavored with orange and a bit of lemon.  Besides being delicious, it's special because there is a coin baked into the cake.  On New Year's Day, you slice the cake into sections: the first is for God, the second is for your home, and the rest of the sections are cut for members of your family.  Whoever gets the coin has good luck for the new year.
My grandmother always made this cake, and this is the first time since she passed away that I've made her recipe.  Recipe is a term I use loosely – I watched her make the cake 5 years ago, and she was making it by memory.  No ingredients were measured; the "cup" of orange juice she added was really a glass full of juice, certainly not 8 fluid ounces.  I scribbled down everything she was doing, and ended up with this recipe.  I'm happy to report my cake tastes almost exactly the same as hers did.  I made a few slight adjustments after tasting the cake this morning, so I'm confident I've got her cake recipe down to near perfection.
Have a happy and healthy new year, everyone!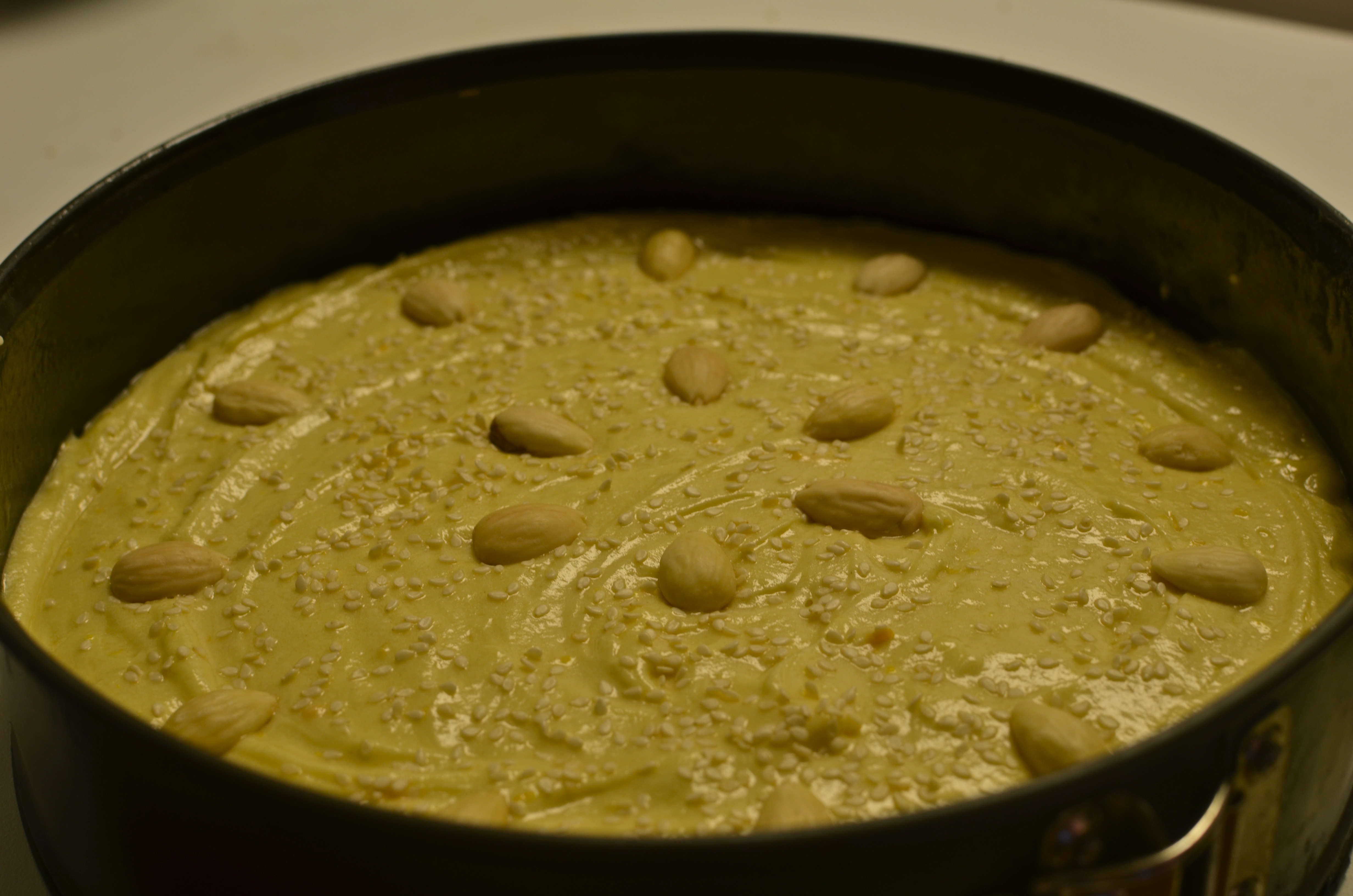 One Year Ago:  Black-Eyed Peas with Garlicky Black Pepper Shrimp
Greek New Year's Cake (Vassilopita)
Recipe by Pâte à Chew
Makes one cake.  I used a 9 inch springform pan, but any 8-10 inch cake pan would work.
Total time: 1 hour
Ingredients
1/2 cup butter (room temperature)
1 cups sugar
3/4 cup orange juice (room temperature)
1 1/2 – 2 cups flour (I used 1 3/4 cups)
3 eggs (room temperature)
juice of 1/2 lemon
zest of 1/2 orange and 1/2 lemon
1/2 tsp baking soda
1/2 tsp baking powder
1 pinch salt
1 ounce brandy or whiskey (optional)
15 or so blanched almonds
sesame seeds
1 quarter and a little parchment paper
1.  Preheat oven 350 F. Combine flour, baking soda, and baking powder in bowl.  Combine the juices, zest, and brandy in a separate bowl. Butter and flour 9 inch cake pan. I sprayed the pan with Pam for Baking, then I lined the bottom with a round of parchment paper, then sprayed the paper with Pam.
2.  Beat butter in a mixing bowl with mixer (either standing mixer or hand mixer) at high speed until lighter in color, will thicken and lighten considerably.  Add sugar gradually, then the and eggs one at a time.   When adding the eggs, make sure each egg is mixed in before adding the next.  Once the eggs are added, reduce mixer speed to low and alternate adding flour and juices + zest, starting and ending with the flour.  Don't overmix.
3.  Pour batter into the prepared pan.  Wrap coin in parchment; put on top of batter and push near the bottom (but not all the way to the bottom). Sprinkle sesame seeds on top and decorate with almonds (without skin).
4.  Bake at 350 degrees until top begins to brown, 30 to 40 minutes. Check with toothpick or knife, the cake will be ready when toothpick comes out clean. Cook cake completely.
5.  When it's time to cut up the cake, I'll tell you how we have always done it (but I'm not in your kitchen, you can do whatever you want!). Cut the first section of cake for God, the second for your home, and the rest of the sections for each member of your family. Whoever gets the coin will have good luck in the new year!