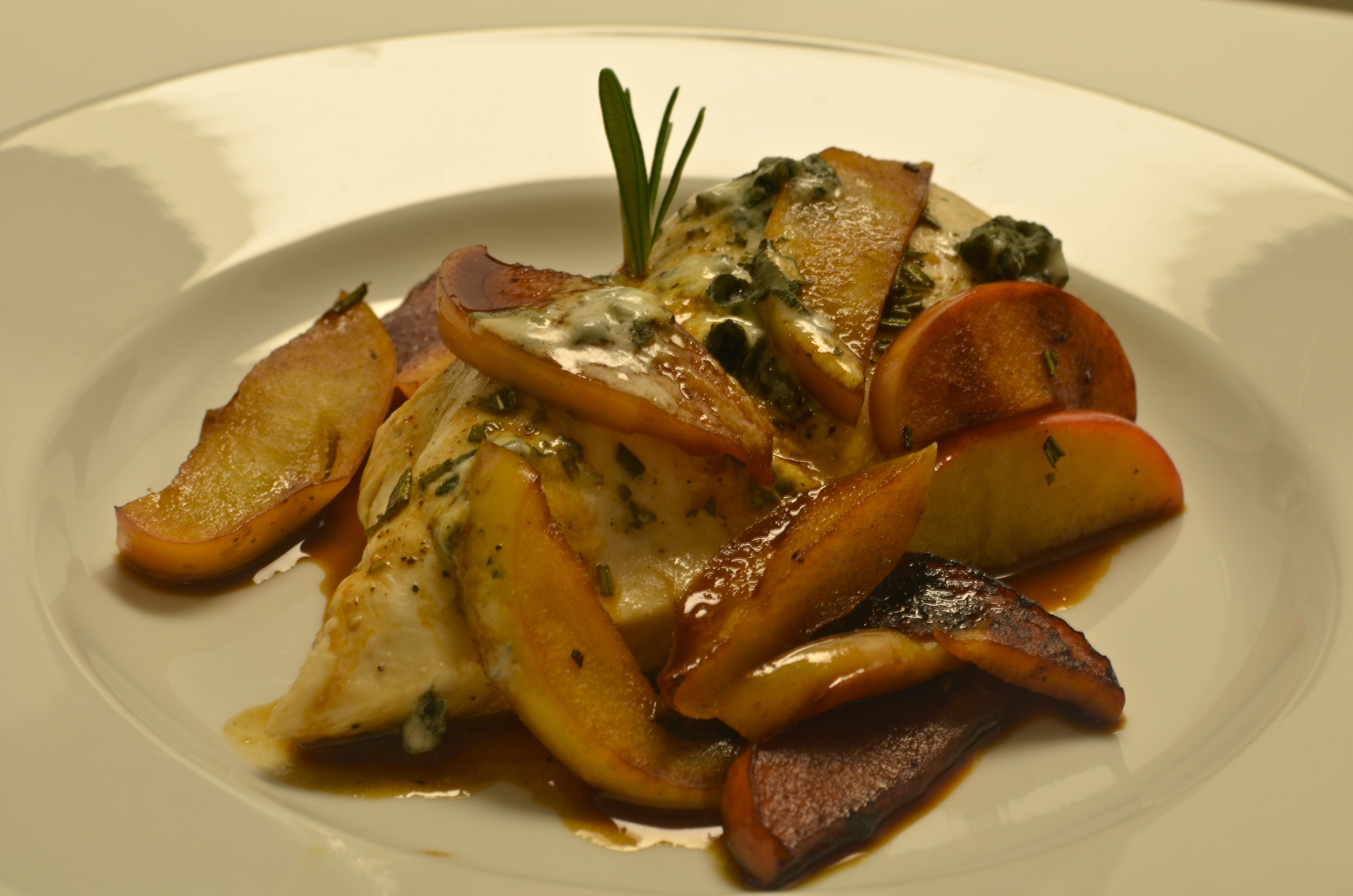 File this one under "Perfect Quick Weeknight Dinner."  It can be hard to turn boring chicken into something great and healthy in under 30 minutes, but this recipe does just that.
A friend sent me this recipe a while back, and I finally got around to making it.  It turned out to be more delicious than it sounded – apples always go well with chicken, but the addition of a healthy amount of rosemary and Stilton resulted in a combination of flavors that was surprisingly good.  It worked, and worked well.  My one complaint: I found that it just needed more of everything.  In the recipe below, I doubled the amount of apples and rosemary used.  You could certainly double the amount of Stilton or other blue cheese (because when is more cheese a bad thing?), but since I doubled the apples and rosemary measurements in the recipe below, I don't think you'll need the extra cheese.  So put this one in the same category as my Chicken with Tomato-Herb Pan Sauce: few ingredients + short cooking time = amazing results.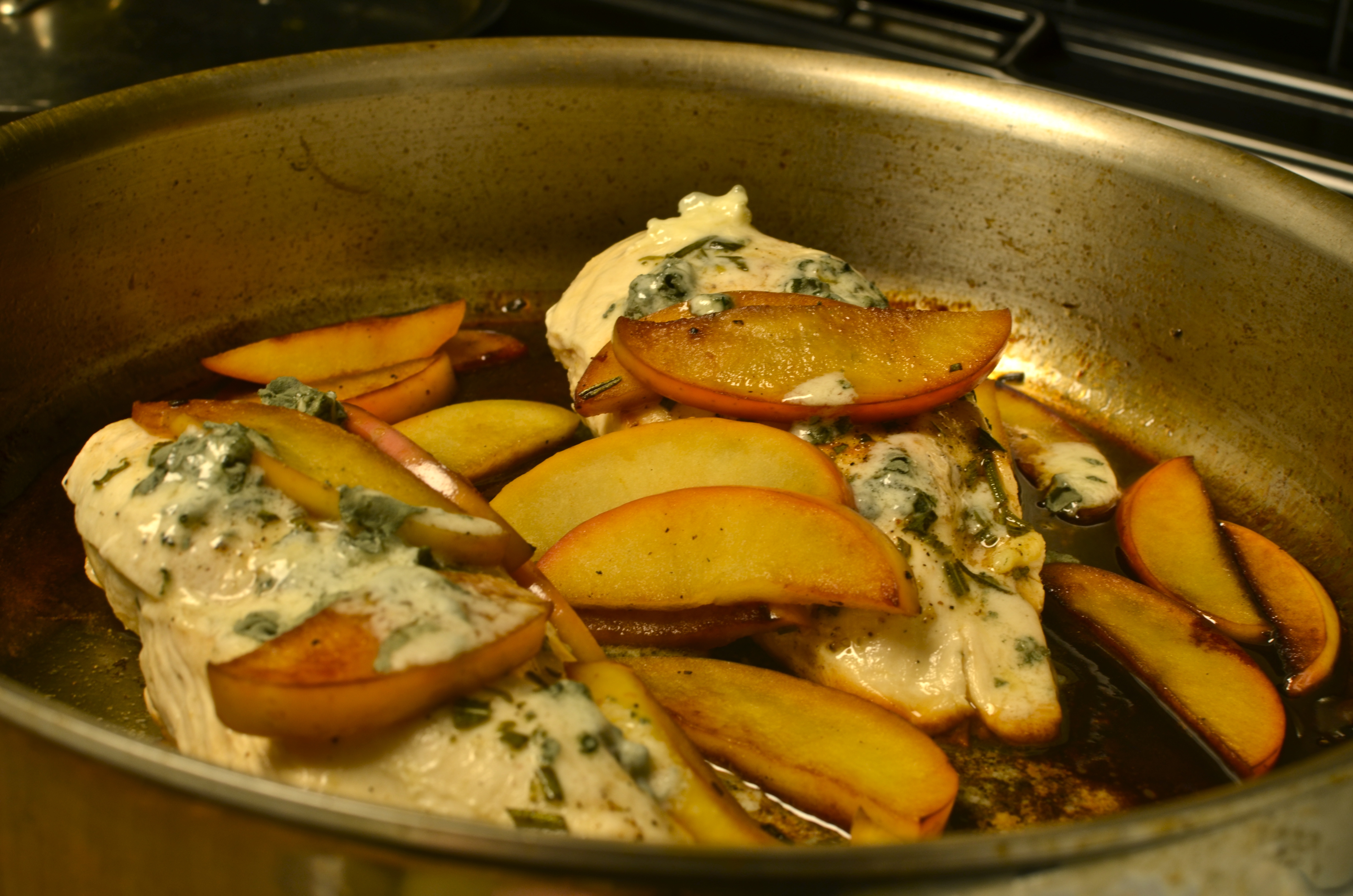 One year ago: Moussaka
Chicken with Apples, Rosemary, and Blue Cheese
Adapted from Epicurious
Makes 4 servings
Total time: 25 minutes
Ingredients
4 boneless skinless chicken breast halves (about 1 1/2 pounds)
1/4 teaspoon kosher salt
1/2 teaspoon freshly ground pepper
2 tablespoons chopped fresh rosemary
1 tablespoon unsalted butter
1 tablespoon extra-virgin olive oil
4 unpeeled Honeycrisp or Fuji apples, cored and sliced 1/4 inch thick
2 ounces Stilton cheese,* or your favorite blue cheese, crumbled (about 1/3 cup)
If you don't like blue cheeses, you can substitute another cheese.  Some shredded sharp cheddar might work nicely, as would dollops of brie or goat cheese.
1.  Preheat the oven to 425°F.  Melt the butter with the oil in a large oven-proof skillet over medium-high heat. If you don't have an oven-proof skillet, then also lightly oil a small, rimmed baking sheet with extra-virgin olive oil or coat with nonstick cooking spray, and set aside.  Season the chicken breasts with salt and pepper, and sprinkle with the rosemary.
2.  Cook the chicken in the skillet for 6 minutes or until browned on both sides, turning once.  Transfer the chicken to a plate, or to the baking sheet if using.  Add the apple slices to the skillet and cook over medium-high heat for 3 to 4 minutes, or until slightly softened and lightly browned.  Put the chicken back in the skillet and spoon the apples around the chicken, placing a couple of slices over each breast.  If using the baking sheet, spoon the apples over the chicken.
3.  Bake the chicken and apples for 6 minutes or until the chicken feels slightly firm when pressed. Scatter the cheese over the chicken and apples. Continue baking another 2 minutes, or until the cheese is melted and the chicken is no longer pink in the center.  Serve the chicken with the apples.