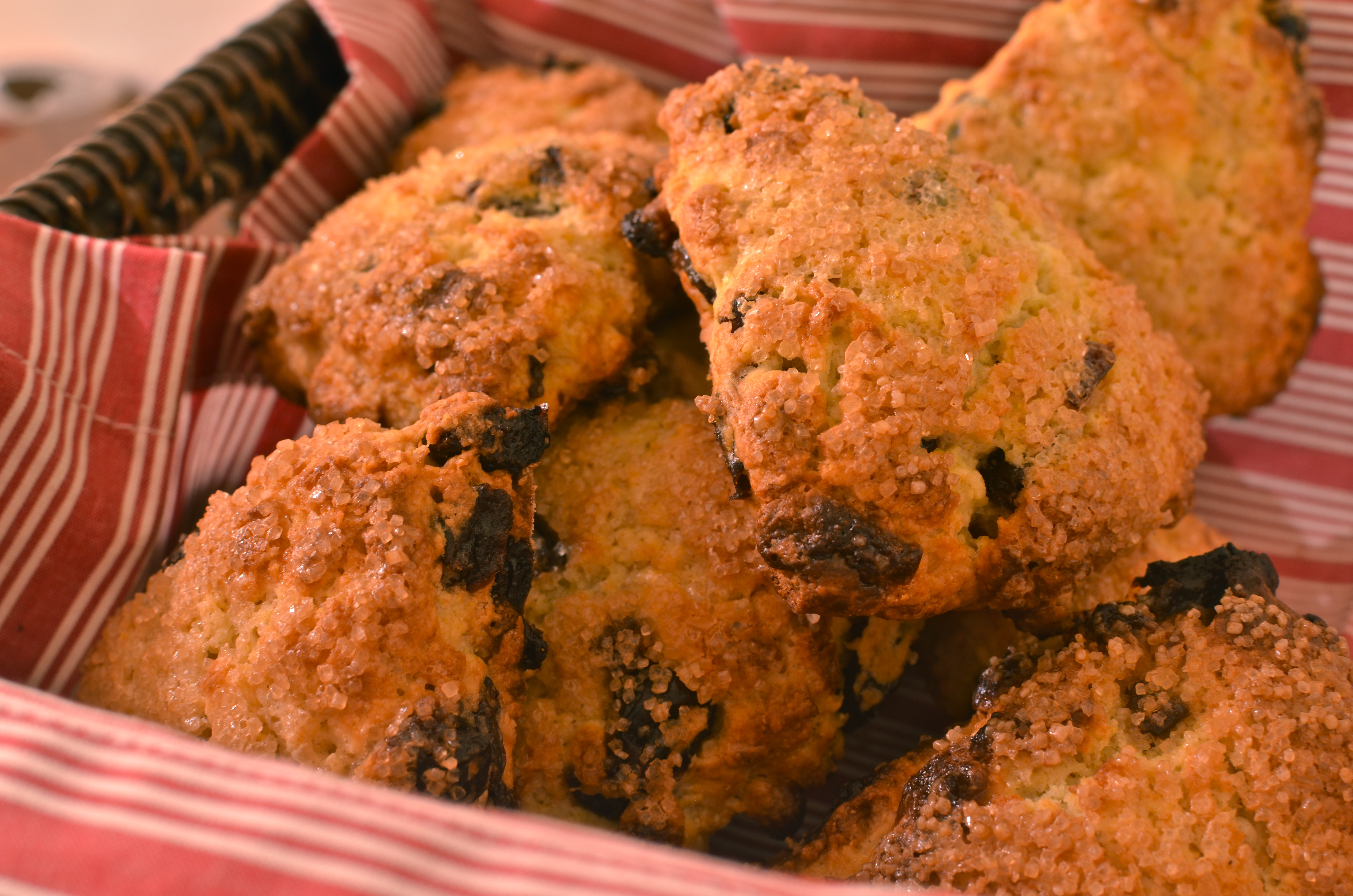 I'm not a huge fan of sweet or heavy breakfast breads, but I love the idea of scones.  There are lots of ways to make them, and when done right, they can only be described as heavenly.  But more often than not, scones are terribly disappointing.  Scones can be notoriously dry, heavy, and flavorless.  Think of the scones you get at your typical chain coffee shop – don't they remind you of a dried-out brick?  What's the point of wasting all those calories on a dried-out brick?  My philosophy is that if I'm going to indulge in a breakfast or tea-time pastry, it better be worth it!
I turned yet again to David Lebovitz for a good scone recipe, and yet again I was not disappointed.   The man is a genius.  Have I said that before?  It's like he knows that I love sour cherries, and posted a recipe just for me.  Okay, fine, maybe that's not exactly what happened, but I did find this scone recipe on his blog that looked too good not to try.  The recipe produced a scone that was perfect: moist, sweet-but-not-too-sweet, and with an interesting texture that comes from the addition of a little cornmeal.
The greatest thing about these?  Once you've made the dough and cut them out, the scones can be frozen and stored in a freezer bag.  Then you can then bake them up whenever you like.  You can make them ahead of a big event (like Christmas morning!), or you bake just one or two whenever you randomly get a craving for scones.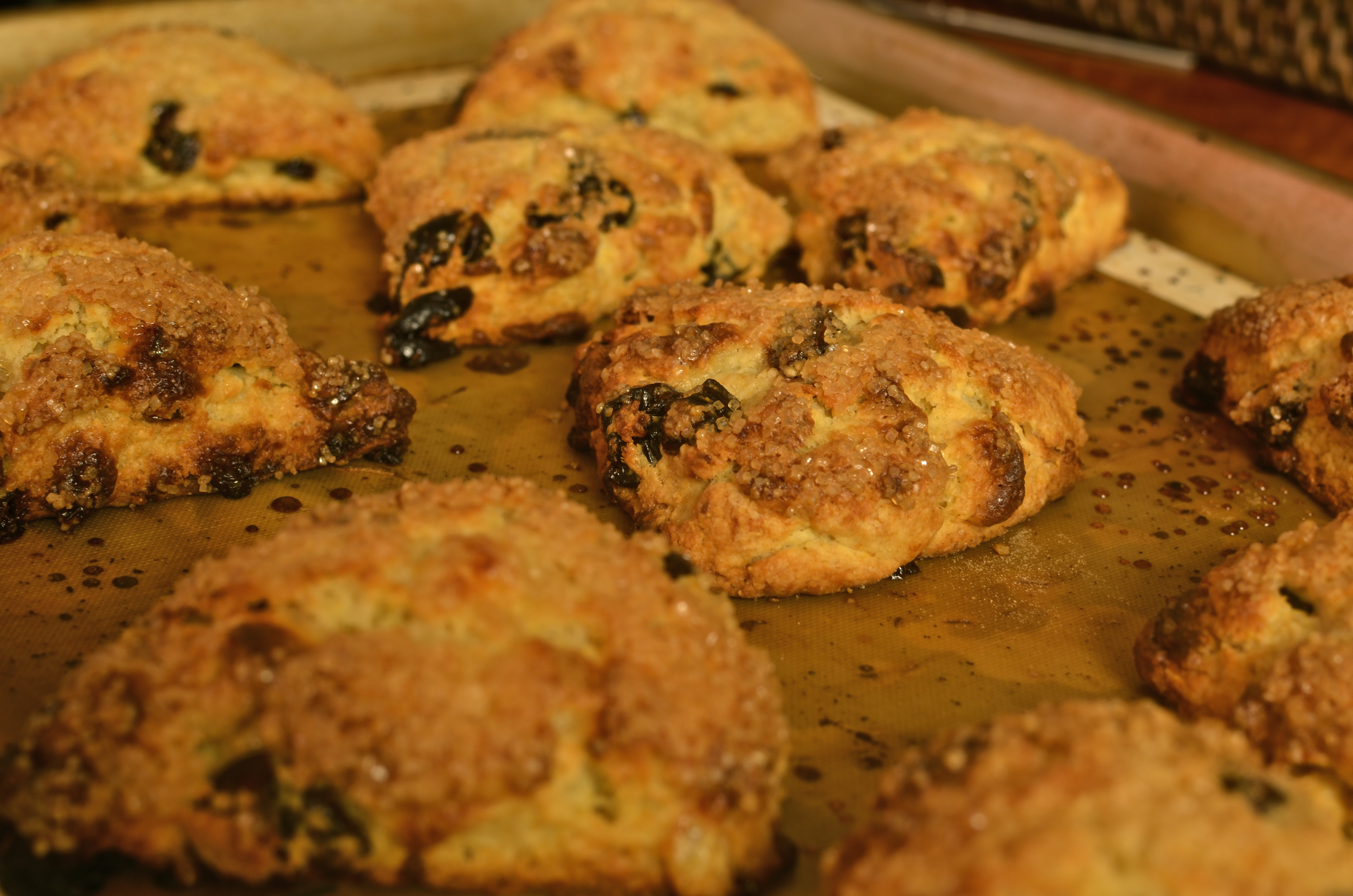 White Chocolate and Sour Cherry Scones
Adapted from David Lebovitz
Total time: 30 minutes
Makes 8 large scones, or 12 smaller ones
Ingredients
1 large egg
a scant 1/2 cup (115 ml) cream, whole, or low-fat milk
1 1/3 cup (170 g) flour
1/3 cup (45 g) buckwheat flour* or whole wheat flour
1/3 cup (45 g) cornmeal, preferably stone-ground
1/3 cup (65 g) sugar
2 1/2 teaspoons baking powder
1/2 teaspoon salt
6 tablespoons (85 g) unsalted butter, chilled, cut into cubes
1 cup (140 g) white chocolate chunks
1/2 (60 g) coarsely-chopped dried sour cherries
1 egg yolk mixed with 1 teaspoon milk, or 1/4 cup cream or half-and-half
coarse (such as Turbinado) or granulated sugar for dredging the scones
*The original recipe calls for buckwheat flour, but I couldn't find any when I went to the store, so I used whole wheat in its place.  You can easily use all purpose flour instead.
Preheat the oven to 400F (200C) and line a baking sheet with a silicone baking mat or parchment paper.
1.  In a small bowl, stir together the egg with the milk or cream.
2.  In a large bowl, whisk together the flour, buckwheat, cornmeal, sugar, baking powder, and salt.
3.  Using a pastry cutter, work in the cold butter until the pieces are about the size of corn kernels.  You could use an electric mixer or food processor instead – I used the food processor.
4.  Add the egg mixture, stirring with a spatula, until the dough is moistened, then stir in the white chocolate bits and sour cherries.
5.  On a lightly-floured surface, pat the dough into an 8-inch (20 cm) round. If it's too wet and is very sticky, knead in a spoonful or two of flour on the countertop.  Use a pastry scraper to divide the dough into eight wedges.
Note: I wanted to make smaller scones, so I divided the dough in half, and patted each half into a 6 inch round.  I then cut each round into 6 wedges, making 12 scones in total.
If you want to save your scones for later, at this point place the scones on a baking sheet, and stick the baking sheet in the freezer.  Once frozen, put the scones in a freezer bag and save for later.  When you want to make them, take them out of the freezer, and continue to the next step.
6.  Brush the tops of each wedge with the a glaze made by stirring the egg yolk with the teaspoon of milk together with a fork.  I used half-and-half for the glaze instead.  Dip the top of each scone in small bowl of coarse or regular sugar so they're generously coated (I used Turbinado sugar), then set each one right-side up on the baking sheet, evenly-spaced apart.
7.  Bake the scones for 18 to 25 minutes, or until the tops are golden brown.  Start checking at 16 minutes, mine did not take 25 minutes and burned scones are not good!