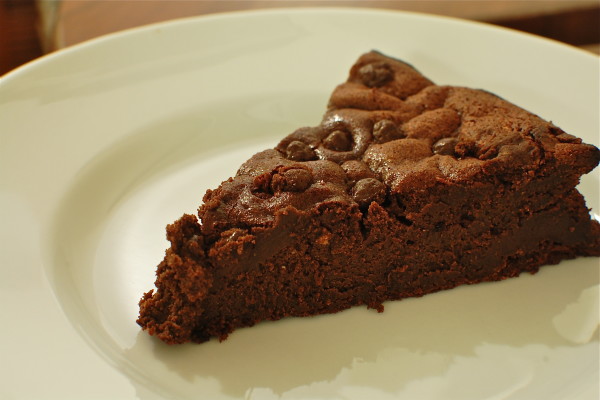 Today is a special day, because my little blog turns one year old.  Happy Blogiversary, Pâte à Chew!  To all my readers, both old and new, thank you for being there, thank you for your feedback, and (for some of you) thank you for taste-testing my creations.  It's been a great hobby that provides me with a creative outlet that keeps me sane.  I hope to keep the treats coming for many more years.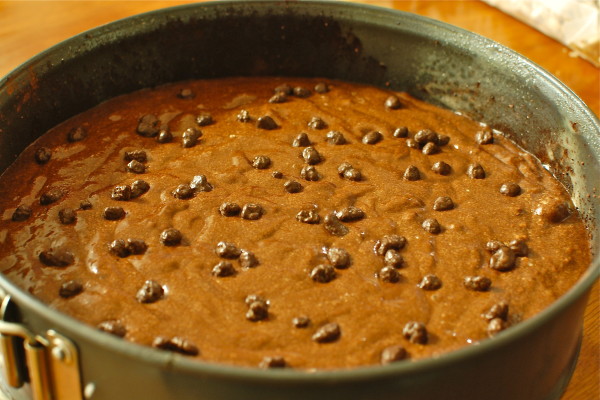 What better way to celebrate than with a cake!  Two recipes in a row from David Lebovitz might be extreme, but what can I say?  I love the man, he's a genius.  If I were Picasso, I'd be in a Lebovitz Period right now.  I made this flourless chocolate cake recently for someone else's birthday, and I was thrilled with the results.  The recipe, called Racines cake, came from Racines, a restaurant in Paris.  The beautiful thing about this cake is that, despite the need to prep the batter in three parts, then fold the parts into one another, it's actually an easy, low-maintenance cake to make.  There is no decorating, besides perhaps a sprinkling of confectioner's sugar or a dollop of whipped cream.  It's a rich, decadent, classic, and elegant dessert that is also simple.  And since Pâte à Chew strives to be all those things, I thought it fitting I make Racines cake to celebrate its birthday.
So I say whip up this cake, cut yourself a generous slice, and celebrate with me.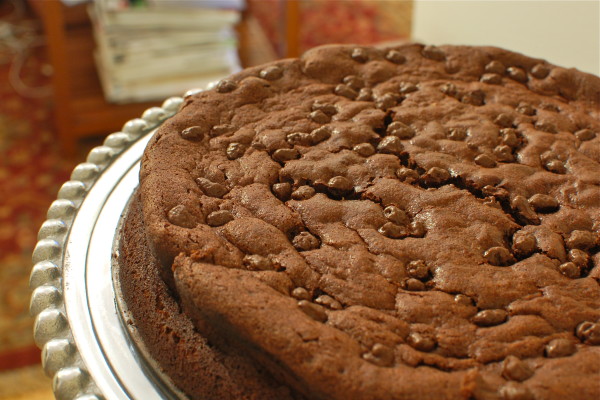 Racines Cake (Flourless Chocolate Cake)
Adapted from David Lebovtiz, Ready for Desserts
Makes 1 9-inch cake
Total time: 1 hour
Ingredients
Cocoa powder, for preparing the pan
10 ounces (280 g) good quality (aka, not Hershey's or Nestle) bittersweet or semisweet chocolate, chopped
1/2 cup (4 ounces/115 g) salted butter, cut into pieces (I used unsalted, it turned out fine, so use what you want)
1 tablespoon freshly brewed espresso or very strong coffee*
1 teaspoon vanilla extract
6 large eggs, separated, at room temperature
1/4 cup (50 g) plus 2 tablespoons (30 g) granulated sugar
2 tablespoons (20 g) cocoa nibs (optional) – I could only find chocolate-covered cocoa nibs at the store, so I used those and it turned out well
Powdered sugar, for dusting the cake (optional)
*I haven't tried it, but you could likely substitute 1 teaspoon instant espresso powder for the espresso or coffee
1.  Preheat the oven to 350°F.  Butter the bottom and sides of a 9-inch springform pan, dust it with a bit of cocoa powder, and tap out any excess. I used Pam for Baking instead of butter.
2.  In a large heatproof bowl, combine the chocolate, butter, and espresso.  Set the bowl over a pan of simmering (not boiling) water and stir occasionally until the mixture is melted and smooth.  Remove the bowl from the heat and stir in the vanilla.
3.  In a stand mixer fitted with the whip attachment, whisk together the egg yolks and the 1/4 cup (50 g) granulated sugar on medium-high speed until the mixture is light and creamy, about 1 minute.
4.  In a clean, dry bowl using a clean whisk attachment, whisk the egg whites on low speed until they begin to hold their shape.  Add the remaining 2 tablespoons (30 g) sugar and whisk on high speed until the whites hold soft peaks.
5.  Fold the beaten egg yolks into the melted chocolate mixture, then fold in half of the whipped egg whites.  Fold in the remaining whites, mixing just until there are no visible streaks of egg whites. Do not overfold.
6.  Pour the batter into the prepared pan, sprinkle with cocoa nibs, and bake until the cake feels like it's just barely set in the center, about 18 to 20 minutes.  Note: I checked my cake at 20 minutes, and it was slightly overdone – start checking around the 18 minute mark!  It shouldn't feel too firm.  Let cool completely.
Run a knife around the sides of the cake to help loosen it from the pan. Release the sides of the pan and dust the cake with powdered sugar, if using.