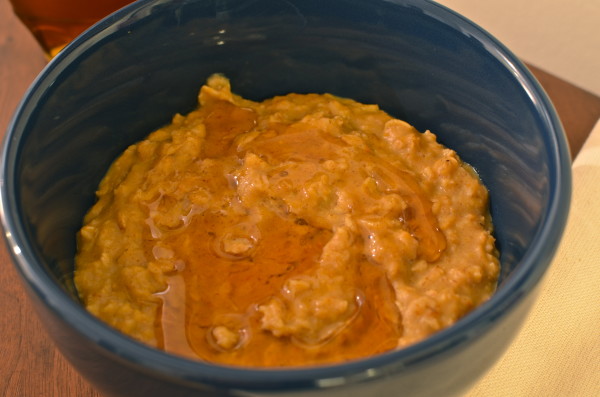 Let's say you've made something with canned pumpkin – like last week's Pumpkin Biscotti, or my Pumpkin Muffins – and you have leftover pumpkin but nothing to do with it?  Don't throw it away!  Make something like this.  It's delicious, it's easy, its healthy, and you likely have all the ingredients in your kitchen.
My favorite version is sweetened with Vermont maple syrup and topped with chopped walnuts.  Perfect, simple, low-maintenance breakfast for a holiday morning.  Enjoy!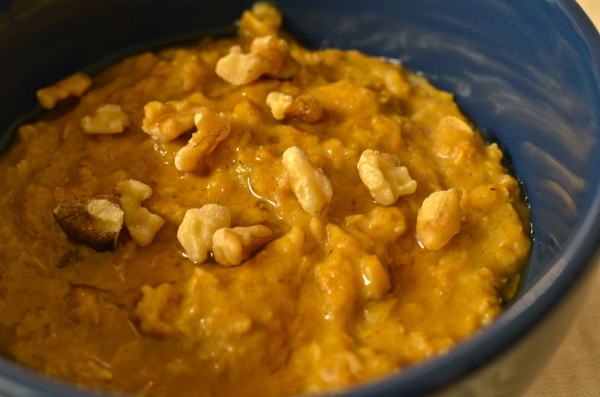 Pumpkin Oatmeal
Adapted from Liv Life
Makes 2 servings, make more or less by adjusting proportions accordingly
Total time: 10 minutes
Ingredients
1 cup old-fashioned oats
2 cup milk or milk alternative
1/2 cup pumpkin
1 teaspoon cinnamon
1/4 teaspoon ginger
1/4 teaspoon nutmeg
1/8 teaspoon cloves
2 pinches salt
Brown sugar
Dried fruit (optional) such as raisins, cherries, or cranberries
Maple syrup or honey (optional)
Chopped nuts such as walnuts, pecans, or whatever you fancy (optional)
Put the first 8 ingredients into a saucepan over medium heat and stir to combine.   When the mixture begins to boil, reduce heat to low, mix in 2 tablespoons of brown sugar, and simmer, stirring occasionally, about 5 minutes.
When finished, remove from heat and pour into bowls.  To sweeten further, add more brown sugar, honey, or maple syrup (my favorite!) to taste.  Feel free to also mix in dried fruit or nuts.