Some people find it odd that brussels sprouts are my favorite vegetable.  I've been known to roast them, or braise them in a balsamic vinegar mixture, and then eat them like candy.  I swear, there are at least a few people in this world who agree with me – in fact, I recently heard Alton Brown say during his current book tour that his favorite vegetable is brussels sprouts  (and you know how much I love Alton Brown).
Brussels sprouts are back in season now, and I'm always looking for new ways to incorporate them into dishes, since the vegetable is often only seen as a side dish.  Here, I've paired it with cauliflower – something I like but almost never cook with – to make a lovely sauce to toss with pasta.  The sprouts and cauliflower are sautéed in olive oil with onion, garlic, anchovy paste (which you can leave out, fear not!) and herbs until they're charred and flavorful.   The pasta is then finished off with cheese and breadcrumbs, the latter of which gives the pasta a great texture and sets it apart from your typical pasta dish.  Note that I cut back on the rather large amount of olive oil called for in this recipe and added some chicken stock, since I didn't want to completely negate the health (and calorie) benefits of eating lots of vegetables by drowning the vegetables in oil.
For those of you who are not a fan of brussels sprouts, I beg you – give this dish a chance.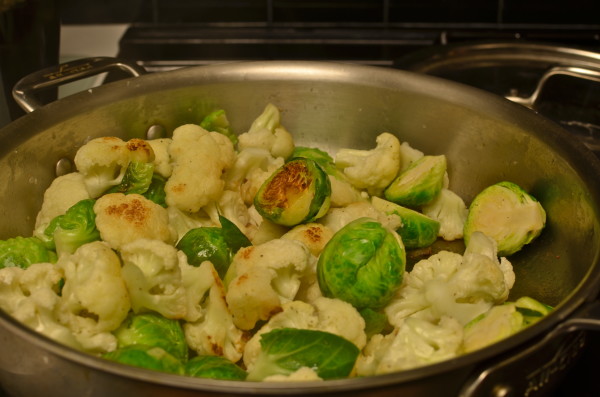 Pasta with Cauliflower and Brussel Sprouts
Adapted from Food and Wine
Total time: 40 minutes
Makes 4 servings
The original recipe recommends bucatini, which is a thick spaghetti-like pasta that has a hole running through the center.  I decided to use a thicker spaghetti instead, as bucatini is hard to find at regular supermarkets, and I'm not the biggest fan of bucatini.  I say use whatever noodle you have on hand, but avoid very thin noodles such as angel hair.
Ingredients
12 ounces spaghetti, bucatini, or perciatelli
1/4 cup plus 1 tablespoon extra-virgin olive oil
1/2 pound cauliflower florets, cut in 1-inch pieces
1/2 pound brussels sprouts, halved or quartered if large
Salt and freshly ground black pepper
1/4 to 1/2 cup chicken or vegetable stock
1 small onion, finely chopped
2 large garlic cloves, thinly sliced
1 teaspoon anchovy paste, or 4 plump oil-packed anchovies, minced*
1/2 teaspoon crushed red pepper
1 teaspoon chopped rosemary
1 teaspoon chopped thyme
1/2 cup dry bread crumbs
1/2 cup freshly grated Parmigiano-Reggiano, plus more for serving
*Omit if you don't like anchovies, or to make the recipe vegetarian
1.  In a large pot of boiling salted water, cook the pasta until al dente.  Drain the pasta, reserving 1/2 cup of the cooking water.
2.  Meanwhile, in a large, deep skillet, heat 1/4 cup of the oil.  Add the cauliflower and brussels sprouts and season with salt and black pepper; cover and cook over medium-high heat, stirring occasionally, until lightly charred and crisp-tender, about 5 to 8 minutes.  Add 1 tablespoon olive oil and 1/4 cup stock to the skillet, along with the onion, garlic, anchovies or anchovy paste (if using), crushed red pepper, rosemary and thyme; cook, stirring occasionally, until the onion is slightly softened, about 3 minutes.  If you think you need to add more stock, add the remaining 1/4 cup.  Cover and cook over low heat until the cauliflower and sprouts are tender, about 3 minutes.  Keep warm.
3.  Add the pasta and reserved cooking water to the vegetables and cook over moderate heat, tossing, until the water is nearly absorbed.  Remove from the heat and stir in the 1/2 cup of grated cheese and bread crumbs.  Serve the pasta in wide bowls, passing additional cheese at the table.