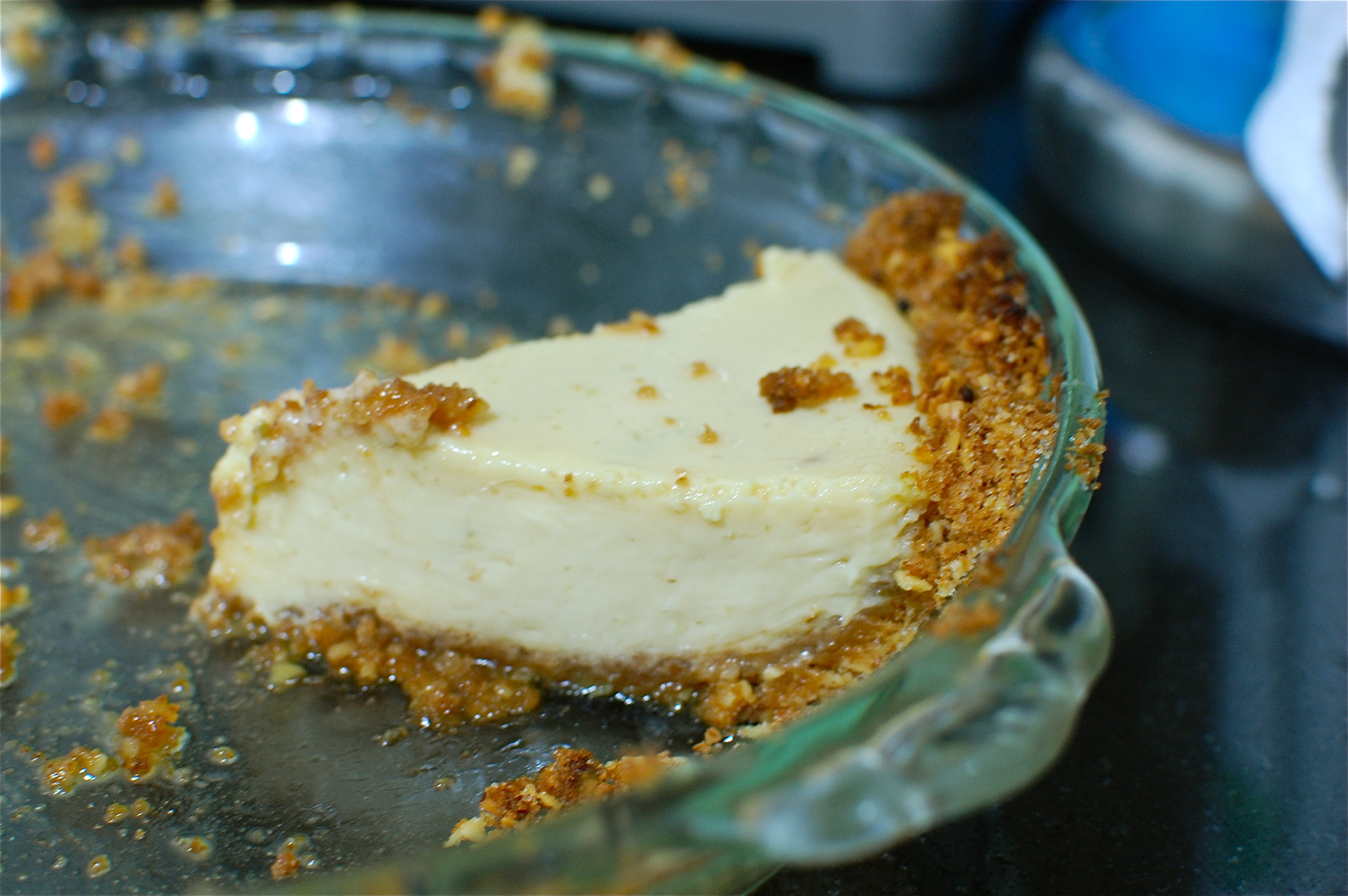 Did I not just say in my last post that I was on a baking hiatus?   In all fairness I still am on my healthy eating kick.  The problem is that I have events to attend like Labor Day barbecues.  And I'm the guest with the cooking blog, which means I must be contributing something sweet and baked and awesome-tasting, right?  At the end of the day, I have a reputation to maintain.
There's a little bit of a backstory as to how I decided on Key lime pie this weekend.  This past June, I was out with my friends one Wednesday night, and began conversing with a young, gangly gentleman who was trying his best to flirt with me.  Hearing that I like to bake and that I write this blog, he started in with the always smooth, "Well, when you bake something for me, what would you bake?"  (As a side note, why do guys always think this is a good idea?  Impressing me by implying I must want to run to the kitchen and bake them something?)  Trying not to roll my eyes, I asked him what his favorite dessert was.  He replied, "Well you won't like what I have to say, because it's not baked: Key lime pie."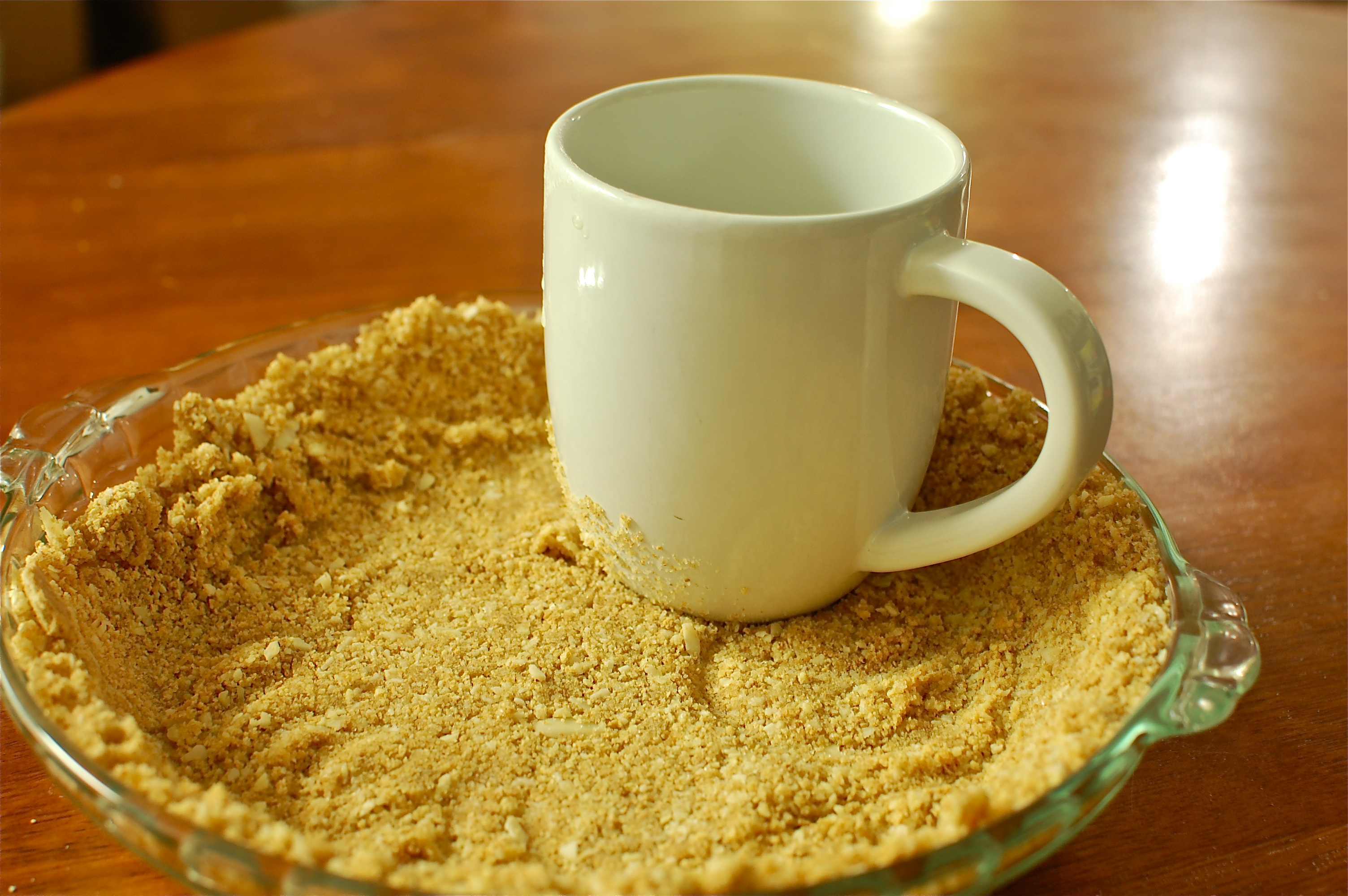 Not surprisingly, things didn't work out.  But what he said got me thinking about two things: (1) this guy's wrong on yet another level, because Key lime pies need to be baked in order to get the optimal creamy texture, and (2) why haven't I ever made a Key lime pie?  I love it – it's a light(ish), refreshing summer dessert, and it's not terribly difficult to make, especially if you buy a ready-made graham cracker crust.
So I made Key lime pie, with Key limes and a homemade graham cracker crust.  Actually I made it twice – I first made it Hurricane Irene Weekend.  I used Cook's Illustrated's recipe, and while I liked it a lot, there wasn't enough filling; the Key lime filling only filled the pie crust up about half way.  So I made it again for a Labor Day weekend barbecue, this time with twice the filling and a graham cracker crust that included crushed almonds.
I'm happy to report that my reputation remains in tact – the pie is awesome.  Great flavor, creamy texture, amazing almond-spike crust.  Serve with some whipped cream, and I guarantee the pie will disappear.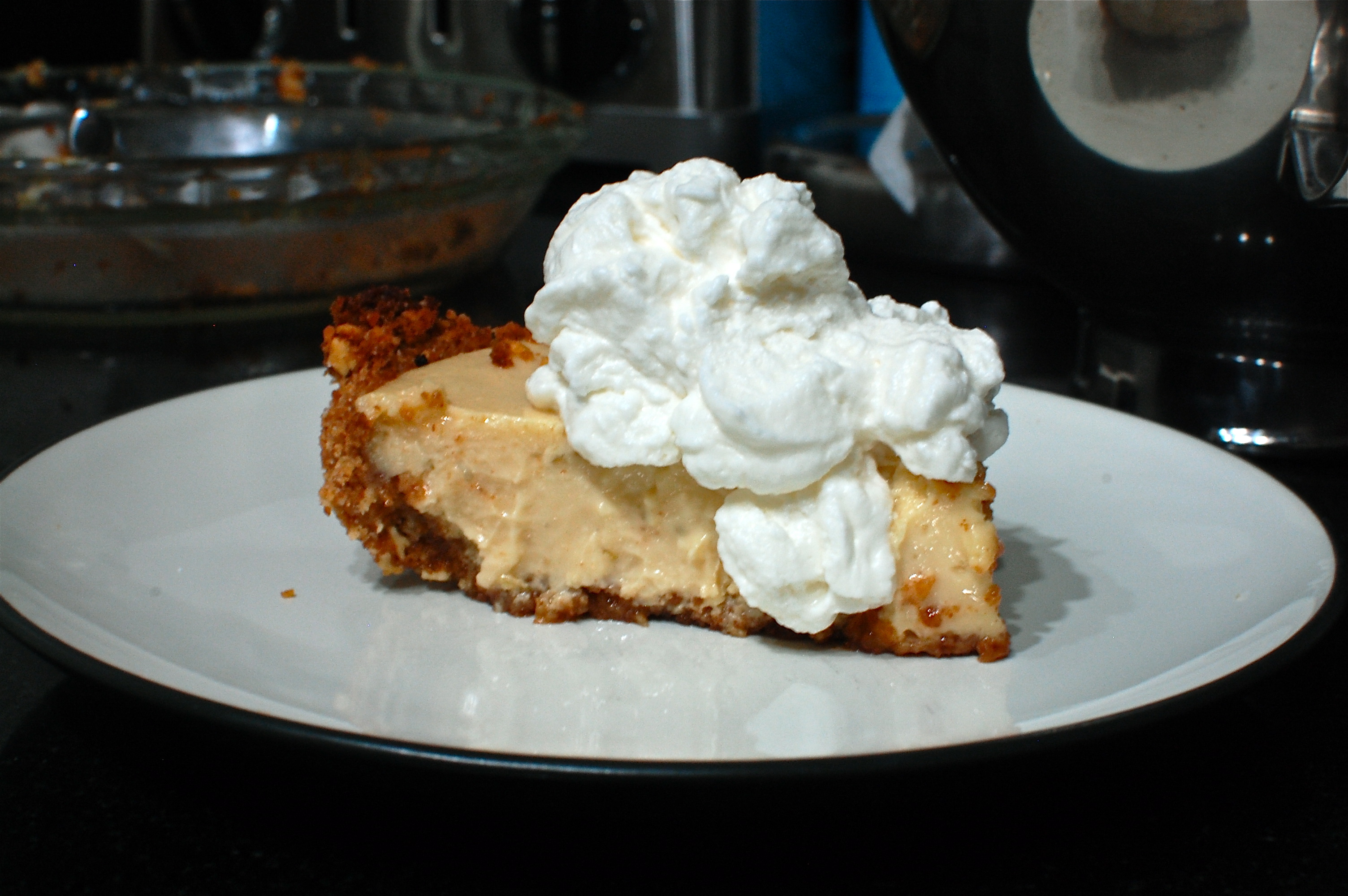 Key Lime Pie
If you like your pie with less filling, half the filling recipe and bake for 15 to 18 minutes.
Let's talk Key limes.  Many people insist you must use real Key lime juice and not regular (Persian) lime juice for this pie.  I made the pie with fresh Key limes, which are tiny and a pain to zest and juice.  Do I think the taste is better?  Yes.  Do I necessarily think you should trouble yourself with finding Key limes and juicing 2 pounds of the little suckers to get 1 a cup of juice?  No.  Cook's Illustrated – which generally knows what it's talking about – actually recommends you use regular lime juice, as recipe testers did not taste much of a difference between pies using the two limes, and the extra work involved in using Key limes isn't worth it.  And, there is always bottled Key lime juice, which I haven't tried – maybe a commenter can chime in on whether this works as well as fresh limes, either Key limes or regular limes.
Oh, and I know I try to make almost everything on this blog from scratch, but no one will know if you buy a graham cracker crust and ready whipped cream instead of making it all at home.  
My own recipe
Total time: 1 hour, plus chilling time
Ingredients
Lime Filling
1 cup strained key lime or regular lime juice
2 teaspoons grated zest
8 large egg yolks
2 (14 ounce) cans sweetened condensed milk
Graham Cracker Crust
7 graham crackers, broken into rough pieces
3/4 cup slivered almonds
2 tablespoons granulated sugar
5 tablespoons unsalted butter, melted and kept warm
Whipped Cream Topping
2 cups chilled heavy cream
4 tablespoons confections' sugar
1. For the crust: Place oven rack in the middle position and heat the oven to 325 degrees. In a food processor, process the graham crackers and almonds until fine, about 30 seconds.  Add sugar and pulse to combine.  Continue to pulse while adding the warm melted butter in a steady stream; pulse until the mixture resembles wet sand.
Put crumb mixture into a 9-inch glass pie plate and evenly press the crumbs into the pie plate, using your thumb and a cup to help.  Bake the crust until its fragrant and beginning to brown, 10-12 minutes.  Transfer to a wire rack and cool completely.
2. For the filling: Whisk the zest and yolks in a medium non-reactive bowl until tinted light green, about two minutes. You can do this by hand or with electric mixer with a whisk attachment. Beat in the condensed milk, and then the juice. Set aside at room temperature to the thicken for 30 minutes.
3. Pour the lime filling into the crust; bake at 325 until the center is set yet wiggly when jiggled, 20-22 minutes.  Cool completely on a wire rack, then refrigerate until well chilled, at least 3 hours.  The pie can be covered directly with lightly oiled or Pam-sprayed plastic wrap and refrigerated up to 1 day.
4. Up to 2 hours before serving, whip the cream in the chilling bowl of an electric mixer to very soft peaks.  Add the confections' sugar 1 tablespoon at a time, and continue whipping to just-stiff peaks.  Decoratively pipe the whipped cream over the filling, or spread the cream evenly with a rubber spatula.  Or just dollop a large amount of it on each slice!  I recommend freezing the pie for 30 minutes or so before serving – stick it in the freezer before dinner, then pull it out when it's time for dessert.