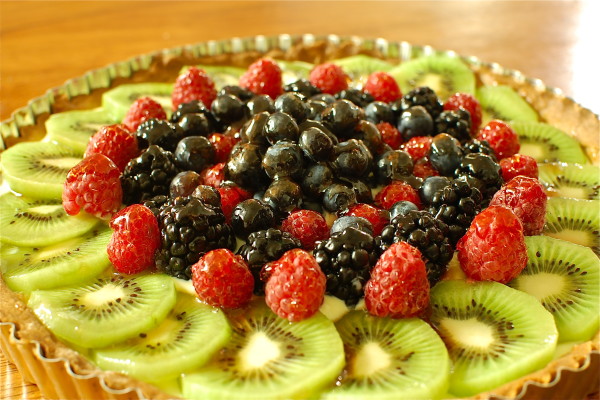 As you've probably noticed at this point (or can quickly figure out if you go to the Recipe Archive), I like to bake.  In fact, I like to bake a lot.  There is something inherently beautiful about giving life to a sweet confection.  But every so often, I meet someone – often a man – who insists that they don't like desserts, that they were simply not born with a sweet tooth, and that for heaven's sake, I should stop looking at them in such a judgmental and disgusted way and just get over it.
This past weekend, a good friend turned the big 4-0.  This good friend falls into this "I don't like desserts" category of men.  A big party was thrown at his beautiful midtown apartment, complete with excellent food and even more excellent company.  I, of course, offered to make him whatever kind of cake he wanted.  He has always insisted he doesn't eat sugar, doesn't like it, did not grow up with it, and the like.  But this time around, he caved.  He decided that instead of a cake, he wanted a fresh fruit tart, because fruit tarts were his favorite as a child.
"Don't make fun of me," he said.  "Not very masculine for a dude."
So I decided not to make fun of him (at least not to his face), and to try my hand at a fresh fruit tart.  I love fruit tarts, I just haven't made one before.  I turned to trusty Cooks Illustrated for a recipe, and they did not disappoint. I will admit, this was a time-consuming project – I encourage you to make it, but you might want to save it for a more special occasion.   I made the pastry cream and tart dough the day before the party.  The tart dough (pâte sucrée) was particularly good, and should definitely be used for other tarts; just make sure you keep the dough cold, as it gets sticky and hard to work with.
And then there was the pastry cream.  I had never made my own pastry cream before, and let me assure you, homemade pastry cream is … a spiritual experience.   It is just so GOOD.  You will want to eat it by the spoonful, except you have to save it so it fills your tart, which makes you sad, until you realize there is definitely some left over after you fill the tart.  And then you're happy again.
The birthday boy loved the tart.  The lesson of this post?  For all you people out there who claim not to like desserts, I bet that I can wear you down and find the right one for you.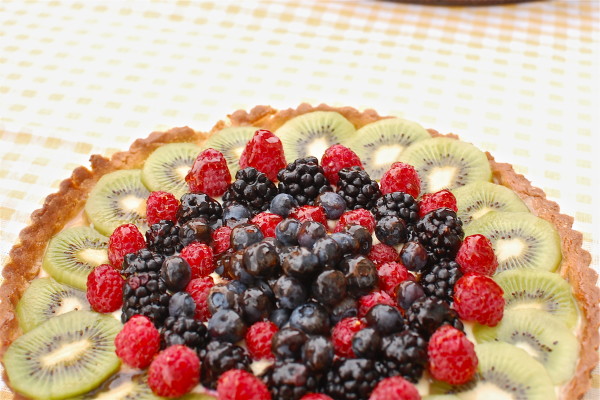 Classic Fresh Fruit Tart
Adapted from Cooks Illustrated
Makes ~ 10 servings, or one 9 to 11″ tart
Total time: 3 hours
Ingredients
Pastry Cream
2 cups half-and-half
1/2 cup granulated sugar
pinch table salt
5 large egg yolks , chalazae removed*
3 tablespoons cornstarch
4 tablespoons unsalted butter (cold), cut into 4 pieces
1 1/2 teaspoons vanilla extract
Tart Pastry (Pâte Sucrée)
1 large egg yolk
1 tablespoon heavy cream
1/2 teaspoon vanilla extract
1 1/4 cups unbleached all-purpose flour (6 1/4 ounces)
2/3 cup confectioners' sugar (about 3 ounces)
1/4 teaspoon table salt
8 tablespoons unsalted butter (1 stick), very cold, cut into 1/2-inch cubes
Fruit and Glaze
Fruit – kiwis, raspberries, blueberries, blackberries, strawberries, peaches – whatever kinds you want
1/2 cup red currant jelly or apple jelly
* When making the custard for cream pies, Cooks Illustrated recommends removing the chalaza – a small white cord attached to the yolk of an egg – to ensure a silky smooth texture.  This can be done by grasping the slippery cord with your fingers.  I used a grapefruit spoon, and that worked well.  Hold the yolk of the egg in your hand, and gently pull the cord away and discard.
1. For the Pastry Cream: Heat half-and-half, 6 tablespoons sugar, and salt in medium heavy-bottomed saucepan over medium heat until simmering, stirring occasionally to dissolve sugar.
2. Meanwhile, whisk egg yolks in medium bowl until thoroughly combined. Whisk in remaining 2 tablespoons sugar and whisk until sugar has begun to dissolve and mixture is creamy, about 15 seconds. Whisk in cornstarch until combined and mixture is pale yellow and thick, about 30 seconds.
3. When half-and-half mixture reaches full simmer, gradually whisk simmering half-and-half into yolk mixture to temper.  I would first slowly add half a cup of the half-and-half to the yolk mixture while whisking.  If you add very hot liquid to the yolks, the yolks will cook, and no one wants scrambled yolks in their pastry.  Add the rest of the half-and-half mixture and whisk until combined.  Return mixture to saucepan, scraping bowl with rubber spatula; return to simmer over medium heat, whisking constantly, until 3 or 4 bubbles burst on surface and mixture is thickened and glossy, about 30 seconds. Remove the pan from the heat and whisk in butter and vanilla. Transfer mixture to a bowl, press plastic wrap directly on surface, and refrigerate until cold and set, at least 3 hours or up to 48 hours.  The pastry cream will develop a skin if you do not cover all of it with the plastic wrap!
4. For the Tart Pastry: While pastry cream is chilling, whisk together yolk, cream, and vanilla in small bowl; set aside. Pulse to combine flour, sugar, and salt in bowl of food processor fitted with steel blade. Scatter butter pieces over flour mixture; pulse to cut butter into flour until mixture resembles coarse meal, about fifteen 1-second pulses. With machine running, add egg mixture and process until dough just comes together, about 25 seconds. Turn dough onto sheet of plastic wrap and press into 6-inch disk.  The dough will be quite sticky.  Wrap in plastic and refrigerate at least 1 hour or up to 48 hours.
5. Remove dough from refrigerator (if refrigerated longer than 1 hour, let stand at room temperature until malleable). Unwrap and roll out between lightly floured large sheets of parchment paper or plastic wrap to 13-inch round.  (If dough is soft and sticky, slip onto baking sheet and refrigerate until workable, about 20 minutes.)  Transfer dough to tart pan by rolling dough loosely around rolling pin and unrolling over 9- to 9 1/2-inch tart pan (my pan was 10 1/4 inches) with removable bottom.  Working around circumference of pan, ease dough into pan corners by gently lifting dough with one hand while pressing dough into corners with other hand.  Press dough into fluted sides of pan. (If some edges are too thin, reinforce sides by folding excess dough back on itself.)  Run rolling pin over top of tart pan to remove excess dough.  Set dough-lined tart pan on large plate or cookie sheet and freeze 30 minutes.  At this point, the pastry can be sealed in gallon-sized zipper-lock plastic bag and frozen up to 1 month.
6. Meanwhile, adjust oven rack to middle position and heat oven to 375 degrees. Set dough-lined tart pan on baking sheet, press 12-inch square of foil inside frozen tart shell and over edges and fill with metal or ceramic pie weights, or dried beans.  Make sure to fill up the pan with the weights or beans.  Bake until golden brown, about 30 minutes, rotating halfway through baking time. Remove from oven and carefully remove foil and weights by gathering edges of foil and pulling up and out. Continue to bake until deep golden brown, 5 to 8 minutes longer. Set baking sheet with tart shell on wire rack to cool to room temperature, about 30 minutes
7. To Assemble and Glaze the Tart: When tart shell is completely cool, spread cold pastry cream over bottom, using offset spatula or large spoon.  Arrange fruit on top of pastry cream.
8.  Bring jelly to boil in small saucepan over medium-high heat, stirring occasionally to smooth out lumps.  When boiling and completely melted, apply by dabbing and flicking onto fruit with pastry brush; add 1 teaspoon water and return jelly to boil if it becomes too thick to drizzle.  (Tart can be refrigerated, uncovered, up to 30 minutes.)  Remove outer metal ring of tart pan, slide thin metal spatula between bottom of crust and tart pan bottom to release, then slip tart onto cardboard round or serving platter; serve.