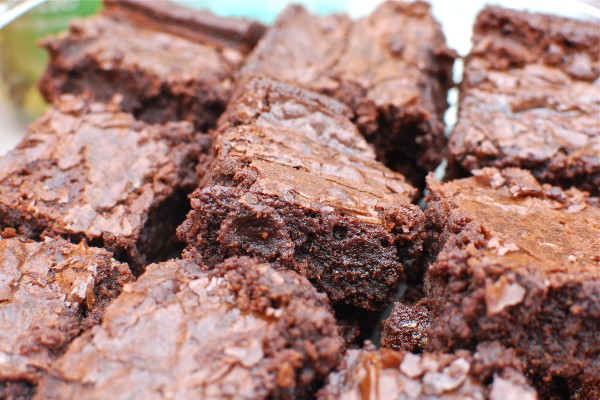 This past Sunday I attended a spectacularly fun event – the Veuve Clicquot Polo Classic, an annual polo match on Governor's Island.  It was an absolutely gorgeous day to watch polo, drink champagne, and wear ridiculous hats.
Being me, I (naturally) had to bring some sort of baked good to contribute to our snack table.  I didn't have much time to whip something up the day before the polo classic, so I searched my cookbooks for something quick.  Then I remembered the Baked brownie, an allegedly famous brownie sold at Baked in Brooklyn.  I've written about the Baked boys a few times before – I  have made their Banana Chocolate Chip Muffins and Peanut Butter Chocolate Chip Cookies.  But their brownie recipe has been heralded by the likes of Cooks Illustrated, the Today Show, and Oprah.  And really, how much more legit can your brownie get with that type of following?
The brownies are both cakey and fudgy, chocolatey and buttery (but not too buttery).  The texture is dense but not too dense.  They are perfect.  Perhaps the best part of the recipe is how easily and quickly it comes together.  It doesn't take much more work than making brownies from a boxed brownie mix.  Don't get me wrong – some brownie mixes are pretty darn good.  But the Baked brownies still blow them out of the water (even after I cut a quarter of the butter out of the recipe!).  The brownies will make you very popular wherever you take them!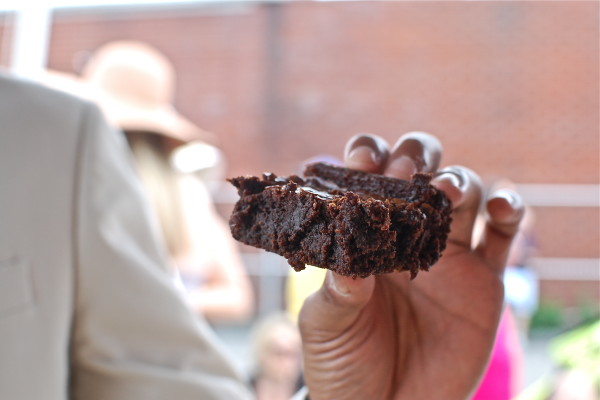 The Baked Brownie
Adapted from Baked: New Frontiers in Baking
Makes 24 Brownies
Ingredients
1 1/4 cups all-purpose flour
1 teaspoon salt
2 tablespoons dark unsweetened cocoa powder (I used Pernigotti, which is Dutch process)
12 ounces (3/4 pound) dark chocolate, 60 to 72% cacao, coarsely chopped, or use chocolate chips
3/4 cup (1 1/2 sticks) unsalted butter, cut into 1 inch pieces
2 teaspoons instant espresso powder
1 1/4 cup granulated sugar
1/2 cup firmly packed light brown sugar
5 eggs, room temperature
2 teaspoons pure vanilla extract
1.  Preheat oven to 350 degrees.  Butter the sides and bottom of a 9×13 inch glass or light-colored metal baking pan.  I used Pam for Baking to grease the pan, and I recommend you do the same.
2.  In medium bowl, whisk the flour, salt, and cocoa powder together, and set aside.  Put the chocolate, butter, and espresso powder in a large heat-proof bowl and set it over a saucepan of simmering water.  Stir occasionally, until the chocolate and butter are completely melted and smooth.  Turn off the heat, but keep the bowl over the water and add the sugars.  Whisk until completely combined, then remove the bowl from the pan.  Let the mixture come to room temperature.
3.  Add 3 eggs to the chocolate mixture and whisk until just combined.  Add the remaining eggs and whisk until just combined.  DO NOT OVERMIX at this stage.  Sprinkle flour mixture on top of chocolate mixture, and using a spatula (not a whisk), fold the flour mixture into the chocolate until just a bit of the flour mixture is visible.
4.  Pour batter into prepared pan and smooth the top.  Bake in the center of the oven for 25 to 30 minutes, rotating the pan half-way through, until a tester inserted into the center of the brownies comes out with a few moist crumbs sticking to it.  Check the brownies at 25 minutes, as mine came out then, and an overbaked brownie is never good.  Let brownies cool completely, then cut them into squares and serve.  Brownies keep at room temperature for up to 3 days if tightly covered with plastic wrap, but they will stay good several days covered in the fridge.