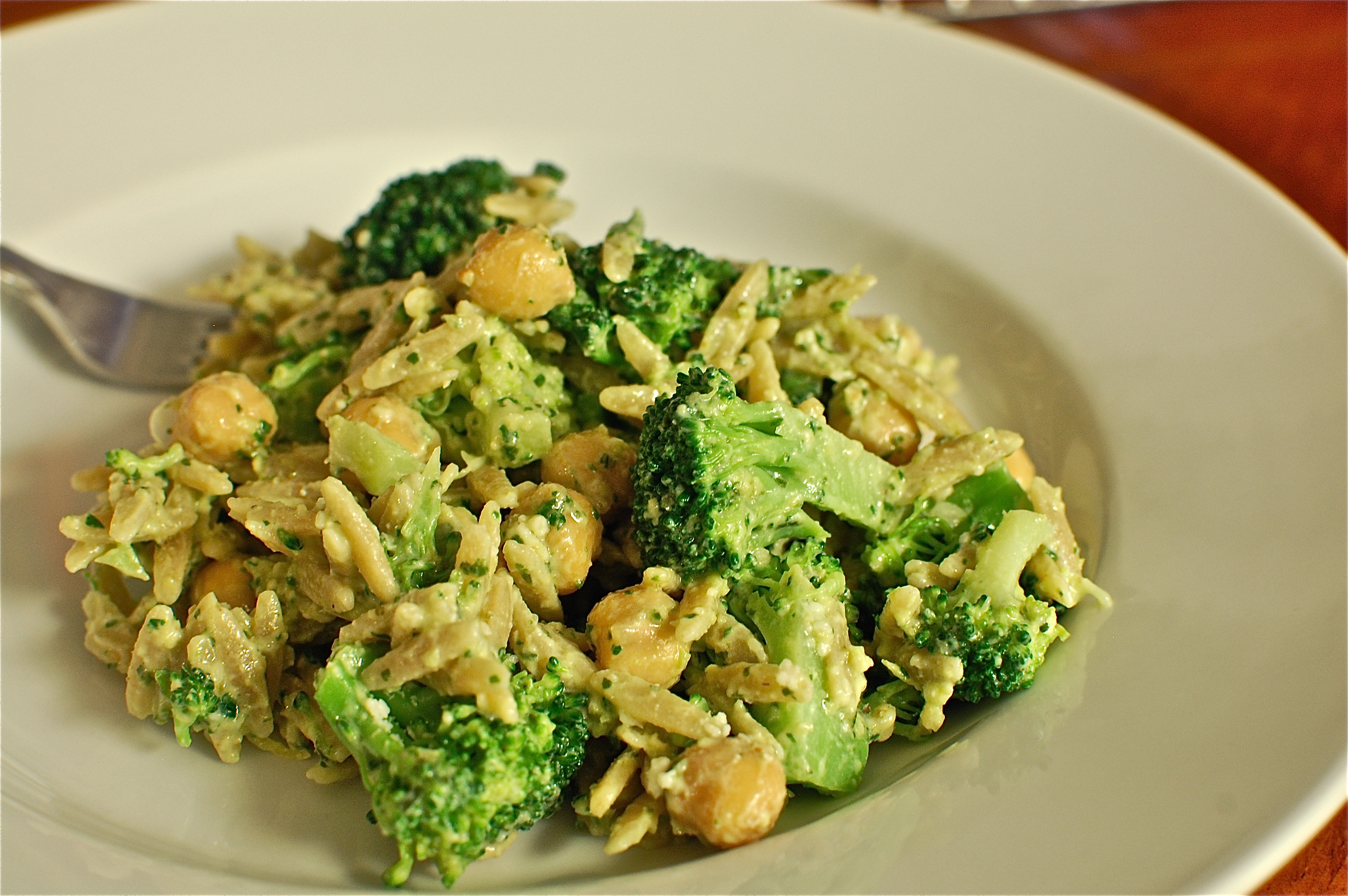 Need a break from the seemingly endless number of baked goods I've been posting lately?  Yes, I do too.  It is, after all, bathing suit season.  Don't worry, more treats are coming (like this scrumptious blueberry tart).
But in the meantime, here's a nice, healthy lunch or dinner for you.  My friend Shannon over at always amazing Tri 2 Cook made this a few months ago, and the recipe has been sitting on my To Do list for a while.  It's a great light and healthy dish for summer.  The main change I would make to the dish would be to roast the broccoli instead of blanching it.  Roasting the broccoli gives it great flavor, and I thought adding the Parmesan Roasted Broccoli recipe I recently tried with this dish would result in the perfect combination. The broccoli recipe makes a great side dish, but when added to this recipe, I left out the parmesan and basil (since all those ingredients already go into the orzo).
The downside of roasting the broccoli?  It takes longer, and messes up more dishes.  And as Shannon points out, it's summer and you may not want to turn on the oven.  So if you want to keep cool and are looking for as fast a dish as possible, blanching the broccoli is the way to go!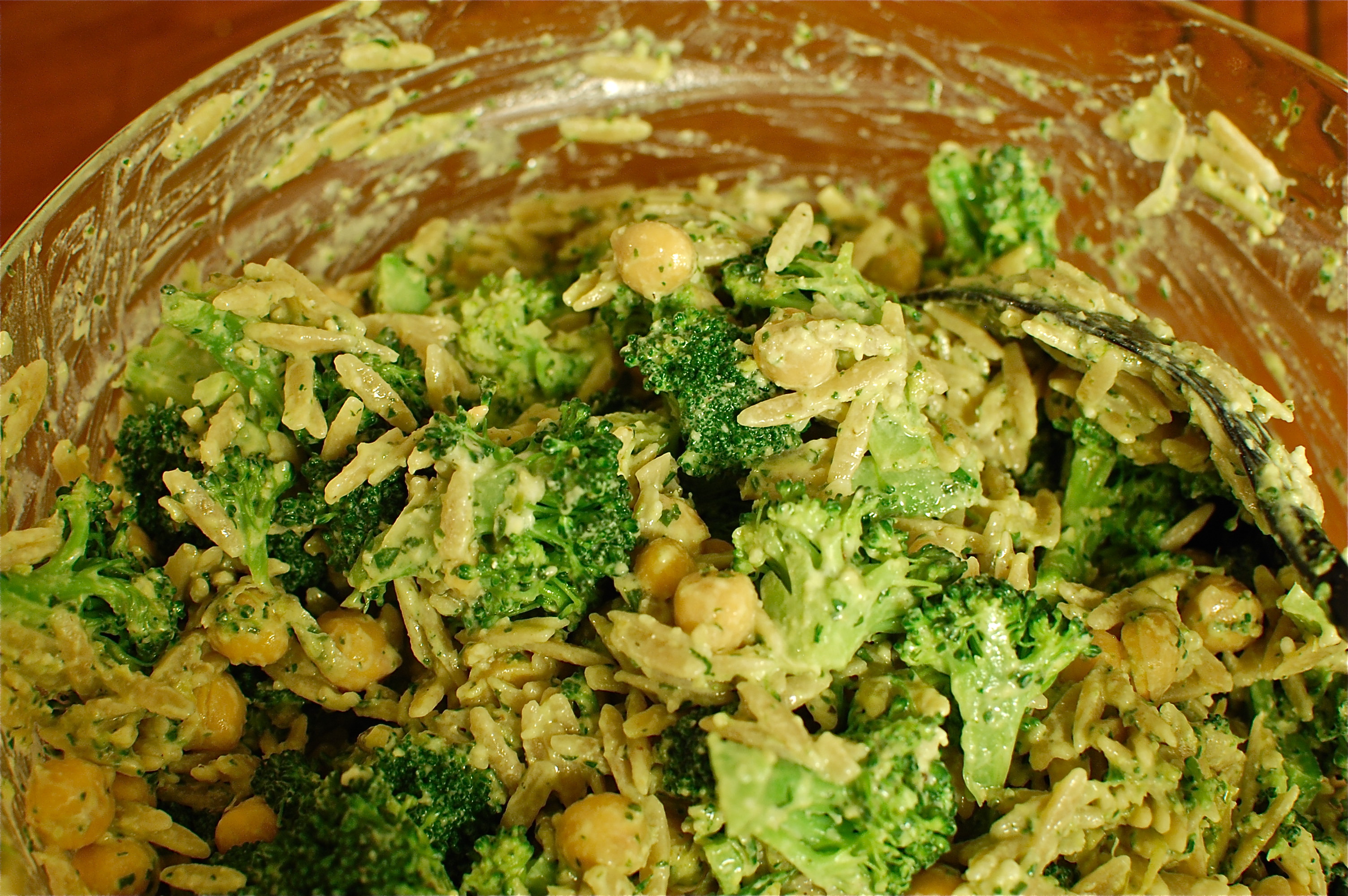 Orzo and Chickpea Salad
Adapted from Shannon at Tri 2 Cook
Makes 4 servings
Total time: 30 minutes
Ingredients
Roasted broccoli, recipe below
1 cup cooked regular or whole wheat orzo
1/4 to 1/2 cup basil pesto, either jarred or homemade, see recipe below
1/4 cup fat-free greek yogurt
1 can chickpeas, drained
Salt and pepper, to taste
Lemon zest, to taste
Prepare roasted broccoli and set aside.  While broccoli is roasting, bring a large pot of water to a boil; add a healthy shake of salt to the boiling water, and add the orzo; cook to al dente.  Drain cooked orzo (drain well!), then transfer to a large bowl.  Add roasted broccoli, 1/4 cup pesto, greek yogurt,  chickpeas, salt and pepper.  Taste and adjust seasonings, including adding more pesto and lemon zest if necessary.
Homemade Basil Pesto
Makes 1 cup
Total time: 10 minutes
Ingredients
2 cups packed fresh basil leaves
2 to 3 cloves garlic
1/4 cup pine nuts or walnuts
2/3 cup extra-virgin olive oil, divided
Kosher salt and freshly ground black pepper, to taste
1/2 cup freshly grated Pecorino or Parmesan cheese
Combine the basil, garlic, and nuts in a food processor and pulse until coarsely chopped.  Add 1/2 cup of the olive oil and process until fully incorporated and smooth.  Season with salt and pepper.
If using the pesto right away, add  the remaining oil and pulse until smooth.  Mix in cheese.
If you want to freeze part of the pesto, transfer what you want to freeze to an air-tight container and drizzle remaining oil over the top.  Freeze for up to 3 months. Thaw and stir in cheese.
Parmesan Roasted Broccoli
Adapted from Ina Garten
Makes 4 servings
Total time: 40 minutes
Ingredients
4 cups broccoli florets (2 heads broccoli )
1 garlic clove, peeled and thinly sliced
Good olive oil
1 teaspoon kosher salt
1/2 teaspoon freshly ground black pepper
2 teaspoons grated lemon zest
2 tablespoons freshly squeezed lemon juice
1/3 cup freshly grated Parmesan cheese
2 tablespoons julienned fresh basil leaves (about 12 leaves)
1.  Preheat the oven to 425 degrees F.  Cut the broccoli florets from the thick stalks, leaving an inch or two of stalk attached to the florets, discarding the rest of the stalks. Cut the larger pieces through the base of the head with a small knife, pulling the florets apart. You should have about 4 cups of florets. Place the broccoli florets on a sheet pan large enough to hold them in a single layer. Toss the garlic on the broccoli and drizzle with 2 tablespoons olive oil. Sprinkle with the salt and pepper. Roast for 20 to 25 minutes, until crisp-tender and the tips of some of the florets are browned.
2.  Remove the broccoli from the oven and immediately toss with 1 1/2 tablespoons olive oil, the lemon zest, and lemon juice.  If you're adding this to the orzo dish, stop now and add orzo to the bowl with the broccoli.
3.  If making broccoli on its own as a side dish, also toss with the Parmesan cheese and basil leaves.