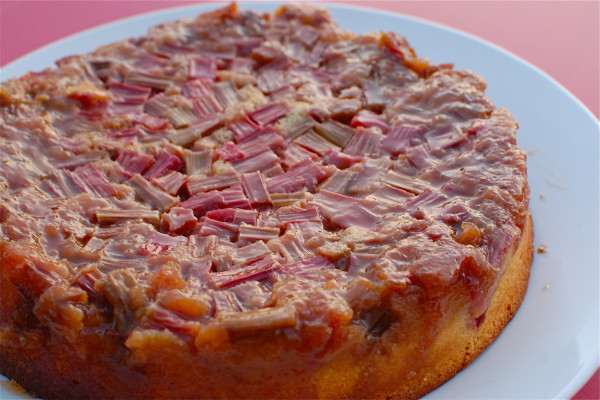 This past weekend, Summer arrived.  It's a bit unfortunate, since Spring usually arrives before Summer.  Last weekend was cold; this weekend was hot, and yesterday (Memorial Day) was hot and muggy.  What happened to Spring, did we really have to completely skip it this year?
Because I started blogging last November – at the start of winter – there have been several ingredients that have been off-limits to me.  Now, however, there is an abundance of new fruits and vegetables for me to play with.  Rhubarb is in season now, and it's an ingredient I've never cooked used.  It's often paired with strawberry (strawberry rhubarb pie or cobbler), where the sourness of the rhubarb cuts the sweetness of the strawberries.  You rarely see rhubarb on its own, and last week the New York Times printed a recipe for rhubarb upside-down cake.  Intrigued, I took on the challenge of using a new ingredient, and thought a seasonal rhubarb dessert would be a good addition to the Memorial Day barbecue I attended.
I was really happy with the way this cake came out.  It was not difficult to make, although there are several steps to making it.  The rhubarb was really easy to work with – I bought it at the Union Square Greenmarket, kept it in a plastic bag in my fridge, then washed and chopped it a few days later when I made the cake.  The green and red parts of rhubarb are both edible, but the red stalks tend to be sweeter, so I bought rhubarb that was as red as I could find.
Rhubarb is naturally sour, but when macerated with sugar and baked on top of a mixture of butter and brown sugar, it tastes sweet but still retains a little tartness.  The cake was also nice, a little lemony but not a lemon cake, with a light, delicate and tender crumb.  The dessert is perfect for summer, as it's not overly sweet and incorporates a fruit (well, technically a vegetable) that is only in season through July.
And probably most importantly, people seemed to like it, as most of it was gone by the end of the party!
Rhubarb Upside-Down Cake
Adapted from the New York Times
I made a few adjustments to the recipe, notably cutting a quarter of the fat by removing 1 stick of butter from the batter and adding a quarter-cup of vegetable oil, which also lowers the saturated fat content of the cake.  I upped the sour cream to make up for the lost wet ingredients (half a cup of fat), and the cake still tasted great.
Total time: 1 hour 45 minutes
Ingredients
1 1/2 sticks unsalted butter, at room temperature, more to grease pans
1/4 cup vegetable oil
1 1/2 pounds rhubarb, rinsed and sliced into 1/2-inch cubes (about 4 cups)
2 teaspoons cornstarch
1 1/2 cups granulated sugar
1/2 cup light brown sugar
2 cups cake flour*
1 1/4 teaspoons baking powder
1/2 teaspoon salt
Zest of 1 lemon
1 1/2 teaspoon vanilla extract or paste
4 large eggs, room temperature
1/2 cup sour cream
2 teaspoons lemon juice
* To make your own, 1 cup of cake flour = 3/4 cup all purpose flour + 2 tablespoons cornstarch; double that for the 2 cups of cake flour called for in this recipe.
1. In a medium bowl, mix rhubarb, cornstarch and 1/2 cup granulated sugar.
2. Heat oven to 325 degrees. Line the bottom of a 9-inch springform pan or regular cake pan with parchment paper.  Butter the paper and sides of the pan – or use Pam for Baking, like I always do.  If you are using a springform pan, wrap two layers of foil under the pan, and place it on a baking sheet also lined with foil.
3. Mix the brown sugar and 1/2 stick butter in a pan over medium heat. Whisk until smooth and bubbling, about 2 minutes (this took me longer, at least 5 to 10 minutes).  In a bowl, mix together the cake flour, baking powder, and salt, and set aside.
4. Whip 1 stick butter and 1/4 cup vegetable oil in a mixer with a paddle attachment for 2 minutes, then scrap down the bowl. With your fingers, blend the remaining 1 cup sugar with lemon zest until the mixture is uniform in color. Cream together with the butter at medium-high speed until it is light and fluffy, about 4 minutes, stopping to scrape down the bowl halfway through. Add the vanilla and mix well. Add the eggs, one at a time, mixing well after each addition. Mix in the sour cream, then the lemon juice. (The original recipe notes here that it's fine if the mixture looks curdled, but mine did not look curdled.) With the mixer set to low speed, add the flour mixture, 1/4 cup at a time, until well combined, but try not to overmix. Scrape down the mixer bowl every so often between the additions.
5. Pour the brown-sugar mixture into the cake pan, then spoon in the rhubarb and its juices. Spoon in the batter so it covers all of the rhubarb. Smooth out the top.
6. Bake for 1 hour and 15 minutes, or until the top of the cake is firm to touch and a toothpick stuck in the middle comes out without any large, moist crumbs.  My cake took 5 minutes longer, but start checking the cake at the 1 hour 10 minute mark.  Do not open the oven before then, as no one likes a fallen cake!
7. Place the pan on a wire rack, and cool for 15 minutes. Run a knife around the cake, place a plate on top of the pan and turn it upside-down. Release the cake from the pan while still warm or else it will stick.