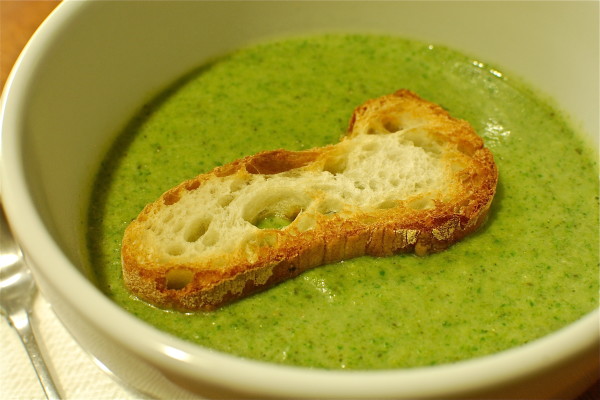 This post is dedicated to all the broccoli lovers in the world (I know you exist).  I have been trying to think of something clever to write about this soup, but I am coming up short.  If you like broccoli, you will like this soup.  It is thick and flavorful while not being heavy.  But if you simply cannot stand broccoli, you might want to pass on this recipe.
I have been on a broccoli kick lately, trying various different recipes with it.  Then I spotted this soup on the Cooks Illustrated website.  The name "Broccoli Cheese Soup," along with the pictures of a thick and (delightfully) bright green soup, implies that the dish is cheese-heavy, but it is actually not.  Even with the addition of sharp cheddar and Parmesan, the soup is very light; in fact, each serving has less than an ounce of cheese in it.  The thickness of the soup comes from a combination of the vegetables (including 2 cups of spinach) puréed with the cheese in a blender or food processor, which gives  you a velvety-smooth result.
Of course, the result of a soup that isn't heavy is that it cannot be eaten as a meal by itself.  Eat it along with a grilled cheese sandwich, chicken, or anything else that strikes your fancy.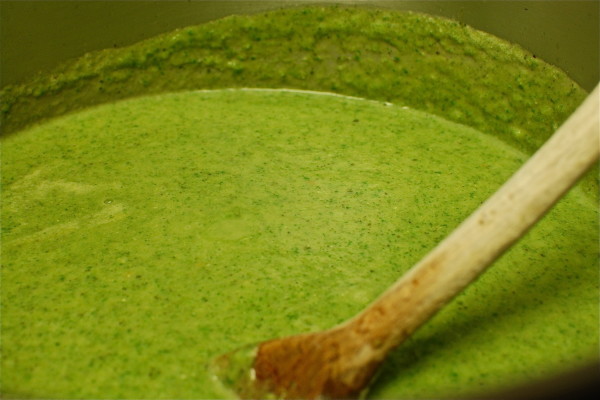 Broccoli Cheese Soup
Adapted from Cook's Illustrated
Serves 6
Total time: ~ 1 hour
Ingredients
1 tablespoon unsalted butter + 1 tablespoon olive oil
2 pounds broccoli, florets roughly chopped into 1-inch pieces, stems trimmed, peeled, and cut into 1/4-inch-thick slices
1 medium onion, roughly chopped (about 1 cup)
1 shallot, roughly chopped
3 garlic cloves, minced or pressed through garlic press (about 2 teaspoons)
1 1/2 teaspoons dry mustard powder
pinch cayenne pepper or red pepper flakes
Kosher salt
1-2 cups water
1/4 teaspoon baking soda
3 cups low-sodium chicken broth, vegetable broth, or water
2 ounces baby spinach (2 loosely packed cups)
3 ounces sharp cheddar cheese, shredded (3/4 cup)
1 1/2 ounces Parmesan cheese, grated fine (about 3/4 cup), plus extra for serving
Ground black pepper
1. Heat butter and olive oil in large Dutch oven over medium heat.  When foaming subsides, add broccoli, onion, garlic, dry mustard, cayenne or red pepper flakes, and 1 teaspoon salt. Cook, stirring frequently, until fragrant, about 6 minutes.  Add 1 cup water and baking soda, bring to simmer.  Lower heat and cover, and cook until broccoli is very soft, about 20 minutes, stirring once during cooking.
2.   Add broth and 1 cup water and increase heat to medium-high. When mixture begins to simmer, stir in spinach and cook until wilted, about 1 minute. Transfer half of soup to blender or food processor, add half the cheddar and Parmesan, and process until smooth, about 1 minute. Transfer soup to medium bowl and repeat with remaining soup.  I don't own a blender, so used my food processor.  It worked fine, but the soup had to be blended in 3 batches, not 2.  Return soup to the Dutch oven, place over medium heat and bring to simmer. Adjust consistency of soup with up to 1 cup water, but I did not need to do this.  Season to taste with salt and pepper. Serve, topped with more Parmesan cheese.