Over the past few years, I have developed what I like to call a "lighter" meat ball recipe.  Let's face it: there's very little in the world more comforting than a bowl of pasta and meatballs.  But they are certainly not good for you.  Take a look at all the different recipes out there for meatballs; you will see that you are, in fact, encouraged to use a mixture of high-fat meats, because this is allegedly the only way to get a juicy, flavorful meatball.  So I started experimenting with how to make a meatball that tastes good but uses the leanest meat possible, and I can now report that I created a recipe that makes me happy.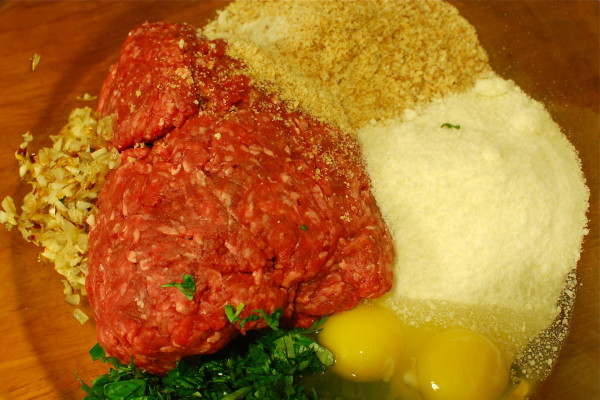 What makes my meatballs better for you than your average meatball?  First, I only use extra-lean ground beef, the leanest I can find, instead of a mixture of higher fat ground beef, ground pork, and ground veal.  Second, to make up for the fact that there is significant less saturated fat from the meat (and thus, perhaps significant less flavor), I use a little more Parmesan cheese, add lots of fresh herbs, and add sautéed garlic and shallots.  Third, I don't fry the meatballs in oil, I bake them drizzled with a little olive oil.
They taste great, and I can make a few dozen, freeze them, and take a few out of the freezer any night of the week for a quick yet homemade dinner.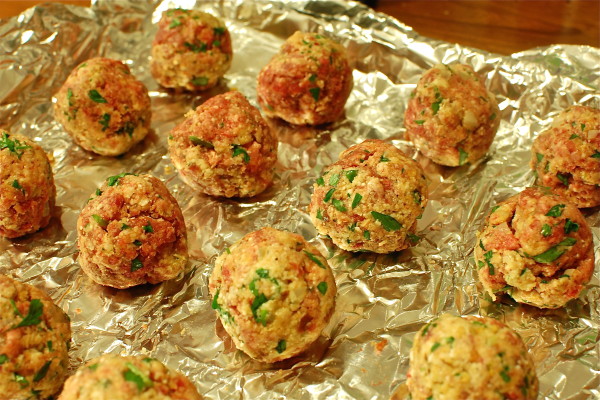 Pâte à Chew's Lighter Meatballs
Makes ~ 30 meatballs, depending on your size preference – about 6 servings
Ingredients
3 teaspoons olive oil, divided
1/2 cup small-diced shallots
Salt
2 cloves garlic, finely chopped
Pinch crushed red pepper
1 1/2 pounds extra-lean ground beef (I used 93% lean)
2 large eggs
1 cup grated Parmigiano
1/4 cup finely chopped fresh Italian parsley leaves
1/4 cup finely chopped fresh basil leaves
1 cup breadcrumbs (preferably whole wheat; any breadcrumbs will do, but I would avoid using panko breadcrumbs)
1/2 cup water
1.  Coat a saute pan in 1 teaspoon olive oil and heat over medium heat.  Add chopped shallots, and cook 5-7 minutes, until soft and translucent.  Add garlic and crushed red pepper and cook 1-2 minutes more.  Remove pan from heat and allow onions and garlic to cool.
2.  In a large bowl combine the meat, eggs, cheese, parsley, basil, onion-garlic mixture, bread crumbs, and a generous teaspoon of salt.  Using your hands, get in there and mix and squish mixture until just combined.  Add the water and do 1 final really good squish.  The mixture should be quite wet.
3.  Preheat the oven to 350 degrees F.  Pour 2 teaspoons olive oil into a small dish or bowl.  Shape the meat mixture into desired size – I scoop the meatballs out with a #24 disher, which gives you a meatball about the size of a golf ball.  Roll meat mixture into balls, dip in olive oil, and place each on an aluminum foil-lined cookie sheet.  Bake them in the preheated oven for about 20 minutes or until the meatballs are cooked all the way through (but don't overcook!).  Eat, or if not using right away, cool and freeze for later use.