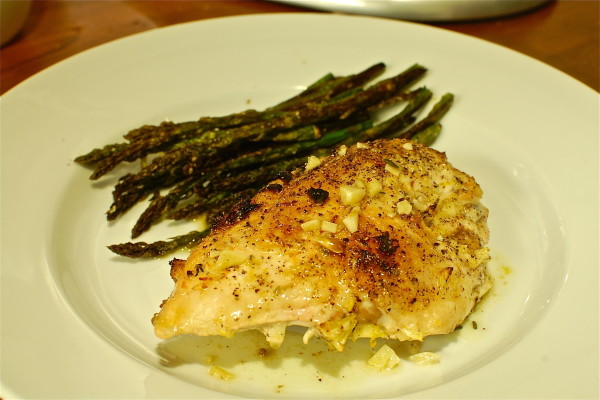 I have been asked several times why I don't have more chicken recipes on this blog.  I realized that this is true; besides a few soups, I haven't posted about an actual chicken dish.  The truth is this: as easy as people (including me) think chicken is to make, it's actually not.  Chicken often turns out bland, overcooked, and generally boring – three things I don't want my food (or this blog) to be.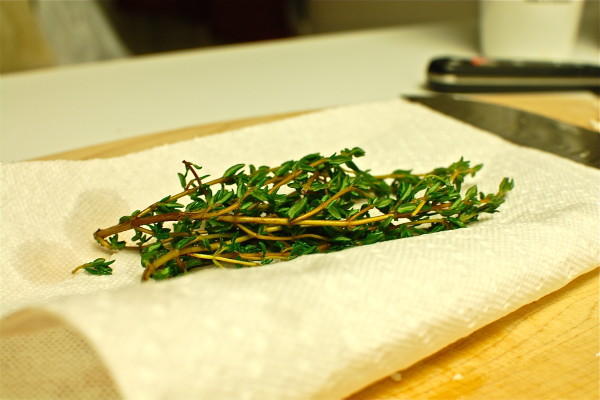 So I turned to a reliable source for a good, easy, and fast chicken recipe: Ina.  And Ina came through for me.  I made this on a weeknight, and it came together in just under an hour.  The recipe calls for boneless, skin-on breasts, but I couldn't find that combination, so I went bone-in, skin-on.  I never eat  the skin, but roasting with the skin on makes for one moist and juicy chicken.  I paired it with roasted asparagus, which is even easier to make: wash and trim asparagus, toss in olive oil, salt, and pepper, and roast on a sheet pan in the same oven as the chicken.  When the chicken has 15 minutes left, place the asparagus in the oven on the rack below the chicken, and you're done.  As Ina likes to say these days, "How easy is that?"  (Yes, this line – and the title of her new cookbook – is so cheesy … but I still love her.)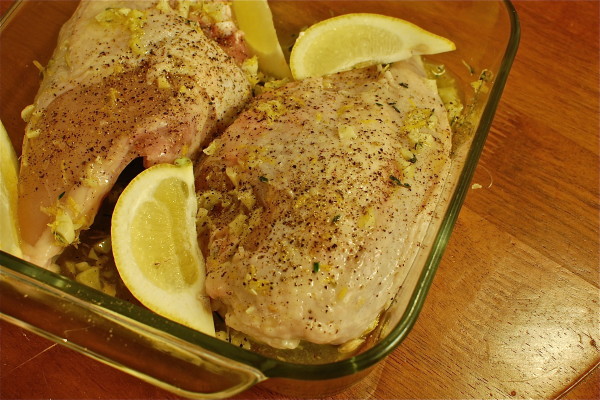 Lemon Chicken Breasts
This recipe comes together fast, but if you plan ahead, prepare the sauce and assemble with the chicken in the roasting pan that morning or the night before you want to make it.  Place the prepared dish in the fridge until you want to roast it.  Allowing the chicken to marinate for several hours or overnight will result in even better flavor.
Adapted from Ina Garten
Serves 4, adjust recipe for any number of servings
Total time: 45 minutes
Ingredients
1/4 cup good olive oil
3 tablespoons minced garlic (9 cloves)
1/3 cup dry white wine
1 tablespoon grated lemon zest (1-2 lemons, depending on the size)
2 tablespoons freshly squeezed lemon juice
1 1/2 teaspoons dried oregano
1 teaspoon fresh thyme leaves, roughly chopped
Kosher salt and freshly ground black pepper
4 boneless chicken breasts, skin on (6 to 8 ounces each)
1 lemon, cut into 8 wedges
1.  Make sauce/marinade: Heat the olive oil on medium-low heat in a small saucepan. Once hot, remove the pan from heat and immediately add the garlic and stir. After one minute, add the white wine, lemon zest, lemon juice, oregano, thyme, and 1 teaspoon salt. As a side note, Ina rubs the dried oregano between her hands while she sprinkles the oregano in the pan, because this releases the oils in the spice. Pour into a 9 by 12-inch baking dish.  If you are only making 2 breasts, you can use an 8 by 8-inch baking dish.
2.  Preheat oven to 400 degrees.  Pat the chicken breasts dry and put them skin side up over the sauce in the baking dish. Brush the chicken breasts with olive oil and sprinkle them liberally with salt and pepper. Tuck the lemon wedges among the pieces of chicken.  If preparing dish for later, cover baking dish with plastic wrap and put in the fridge until you want to bake it.
3.  Bake for 30 to 40 minutes (this will depend on the size of your chicken breasts) until the chicken is done and the skin is lightly browned.  If the chicken isn't browned enough, you can put it under the broiler for 2 minutes.  Cover the pan with aluminum foil and allow the chicken to rest for 10 minutes.  Sprinkle with salt and serve with the pan juices.
Roasted Asparagus
Serves 4
Total time: 30 minutes
Ingredients
1 pound asparagus
A few tablespoons olive oil
Salt and Pepper
Preheat oven to 400 degrees.  Wash asparagus, break off the tough ends, and place the asparagus on a baking sheet.  Drizzle with olive oil, then toss with your hands to coat the asparagus completely.   Spread the asparagus in a single layer and sprinkle with salt and pepper.  Roast the asparagus for 15 to 20  minutes (depending on how thick the asparagus are), until tender but still a little crisp.