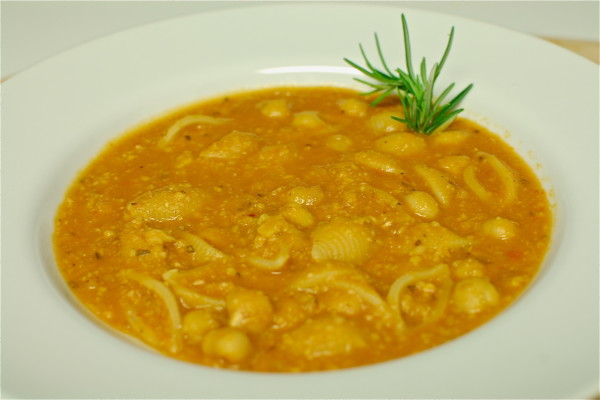 Happy Groundhog Day!  It is icy, cold, and generally miserable in New York City today (and probably throughout much of the East Coast).  The mighty, all-powerful groundhog has predicted an early spring.  Seriously?  Since when can a groundhog see his shadow during an ice storm?
Anyway, on my recent trip to Rome, my friend and I, after a day of visits to the Borghese Gallery, Colosseum, and Forum, wandered into a restaurant for a late lunch.  It rained on an off that day (as it did most days we were there), the result of which was a terrible damp, bone-chilling cold.  After eating so much pasta, all I really wanted for lunch was some soup.  Luckily, they had pasta e ceci on the menu.
Pasta e ceci, or pasta and chickpeas, is considered by some to be a soup, and others a pasta dish.  I like it as a soup, but as a soup naturally thickened by pureeing some of the chickpeas.  I have a recipe for this soup in an Italy cookbook someone had given me for Christmas a few years ago, but it didn't look particularly good, or anywhere close to the version I had in Rome.  I then turned to the internet, but still did not find a recipe I liked.  So I took the recipe from my book and the recipes from various websites, and did a little mash-up.  Behold: my own pasta e ceci.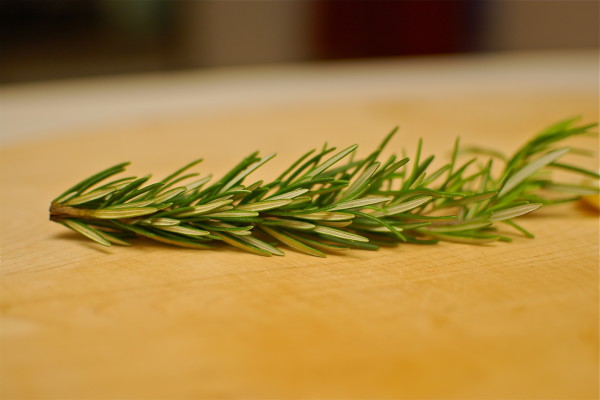 I was extremely happy with the results.  It was thick and hearty, but also light (and healthy!).  What can I say, I love rosemary (as evidenced by the picture above).  The rosemary gives this a wonderful, subtle flavor that is not overpowering.  It's a great way to warm up, especially during one of the weekly snowstorms we on the East Coast have been suffering through all winter.  When will this snow end?!
Pasta e Ceci
Recipe by Pâte à Chew
Serves 4
Total time: 1 hour
Ingredients
2 14 oz cans chickpeas, drained and rinsed
3 tablespoons extra-virgin olive oil
3 garlic cloves, peeled and chopped
1 small onion, peeled and finely chopped
1 fresh rosemary sprig, leaves picked and finely chopped
1/2 teaspoon dried crushed red pepper (or to taste)
4 tablespoons tomato paste
3-4 cups chicken or vegetable stock, or water (I needed 4 cups stock, plus a little extra hot water)
1 1/2 cups small shells, or another small soup pasta like ditalini
salt and pepper
grated Parmesan cheese
1.  Put the finely chopped onion, garlic, and rosemary into a saucepan with the little extra virgin olive oil, the red pepper flakes, 1 teaspoon salt, and a few grinds of black pepper.  Cook as gently as possible on low heat, with the lid on, for about 15 minutes, until all the vegetables are soft and losing color.
2.  Drain the chickpeas and rinse well in cold water.  Add tomato paste, chickpeas, and 3 cups chicken stock to pan. Cover and cook gently for 30 minutes and then, using a slotted spoon, remove 1/3 – 1/2 of the chickpeas, put them a bowl, and set aside.  If you want your soup to have more whole chick peas (and also be not as thick), remove 1/2 the chickpeas.
3.  Puree the soup in the pan using a handheld immersion blender, or puree the soup in batches in a food processor (which is what I did), returning the pureed soup to the pot. Add the reserved whole chickpeas and the pasta, taste to see if more salt and pepper is needed. Note: if the soup is a little thick, pour in the last cup of stock, or some hot water to thin it down.  I added the rest of the chicken stock, plus a little more hot water.  Simmer gently on medium-low to low heat; add pasta, and continue to simmer until the chickpeas are tender and the pasta is cooked.
4.  Ladle into a bowl, drizzle a little extra virgin olive oil over the soup, and top with grated Parmesan cheese.  When reheating leftovers, you might need to add a little more water to thin out the soup.