Want an easy way to feed a lot of people at the dinner party you are throwing in your one bedroom apartment?  Serve this: a cheesy, meaty lasagna with garlic bread (and salad, because you are trying to be healthy, but who wants to see a picture of that?).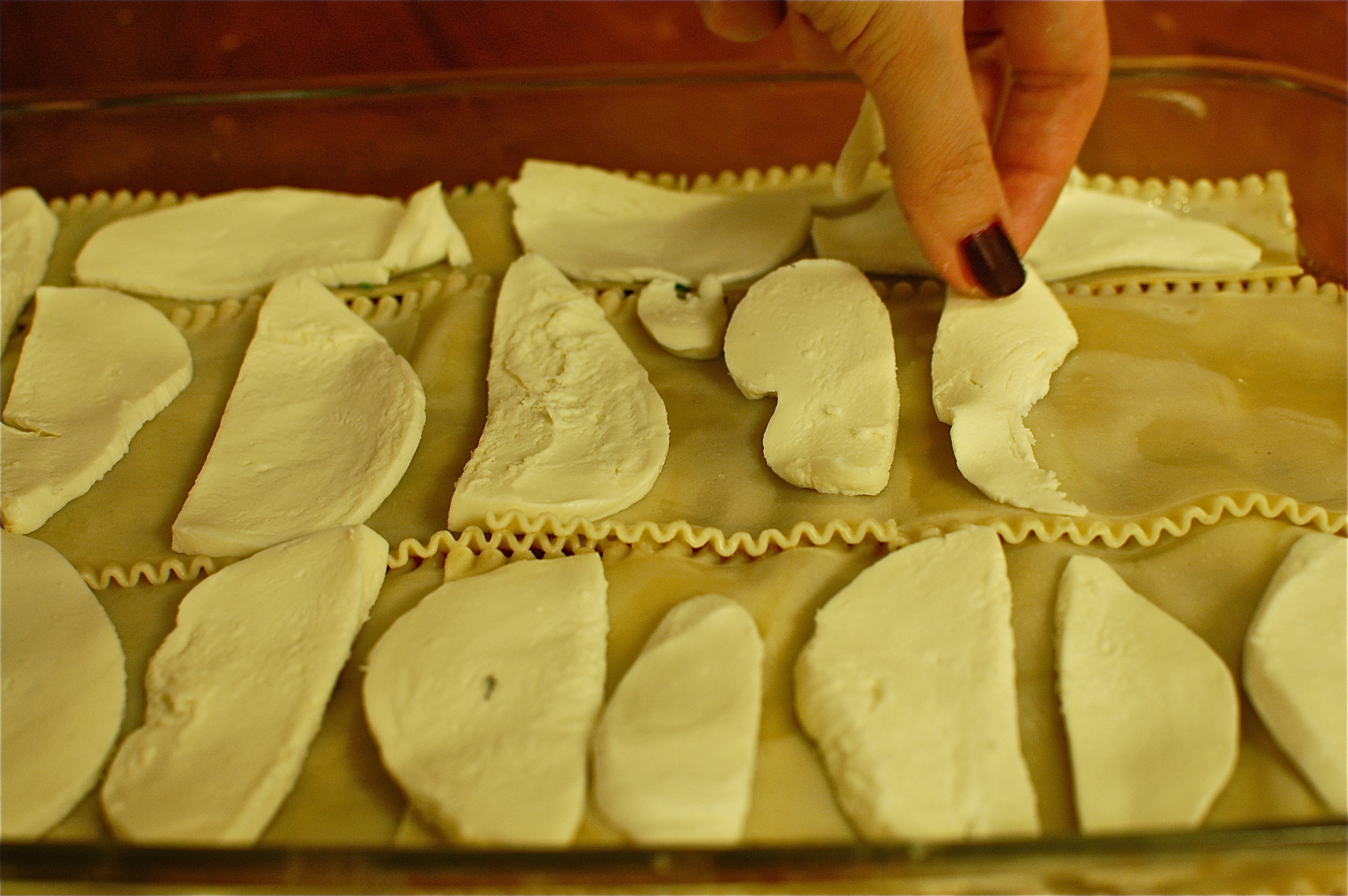 I confess that this dish was not an experiment, as I've made it a few times before.  It's my go-to lasagna dish, my go-to "feed a lot of people dish," and my go-to "that's right, I am an amazing cook" dish.  And it's perfect for when friends from DC are visiting for the weekend and you want to have a nice, home cooked meal instead of a big, expensive New York City dinner out.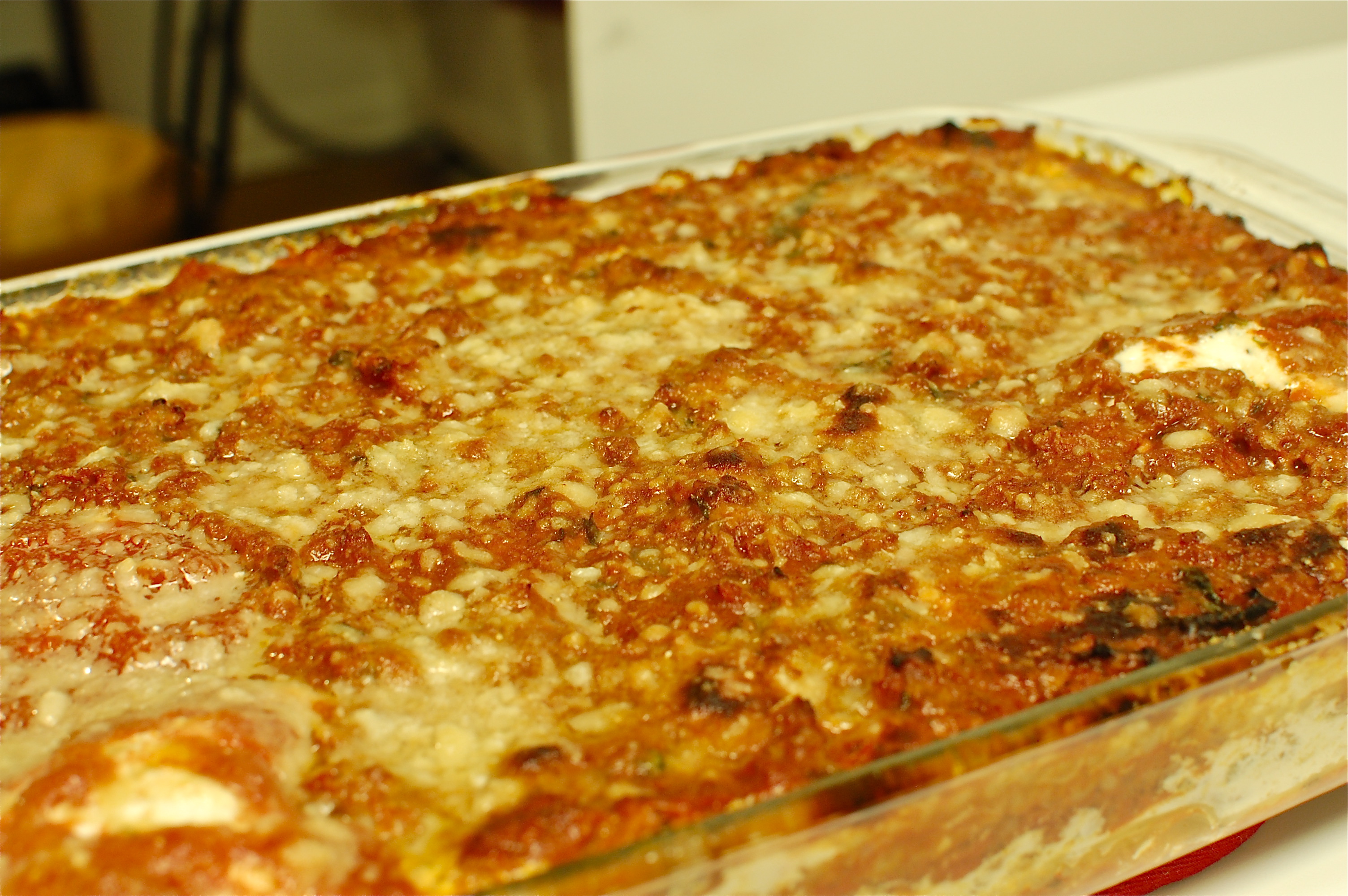 This seems like a good time to discuss Ina Garten (also known as the Barefoot Contessa, of Food Network Fame).  As a general rule, I trust Ina Garten recipes.  They are usually just challenging enough to make you feel like you accomplished something new and exciting, but not so challenging that you get frustrated and throw in the towel.  And of course, they end up tasting really good.  The garlic bread, in particular, is something I've made many, many times, because it is so easy and tastes so much better than what you get at an Italian restaurant.  The fresh herbs combined with garlic, olive oil, and a little butter for flavor make all the difference.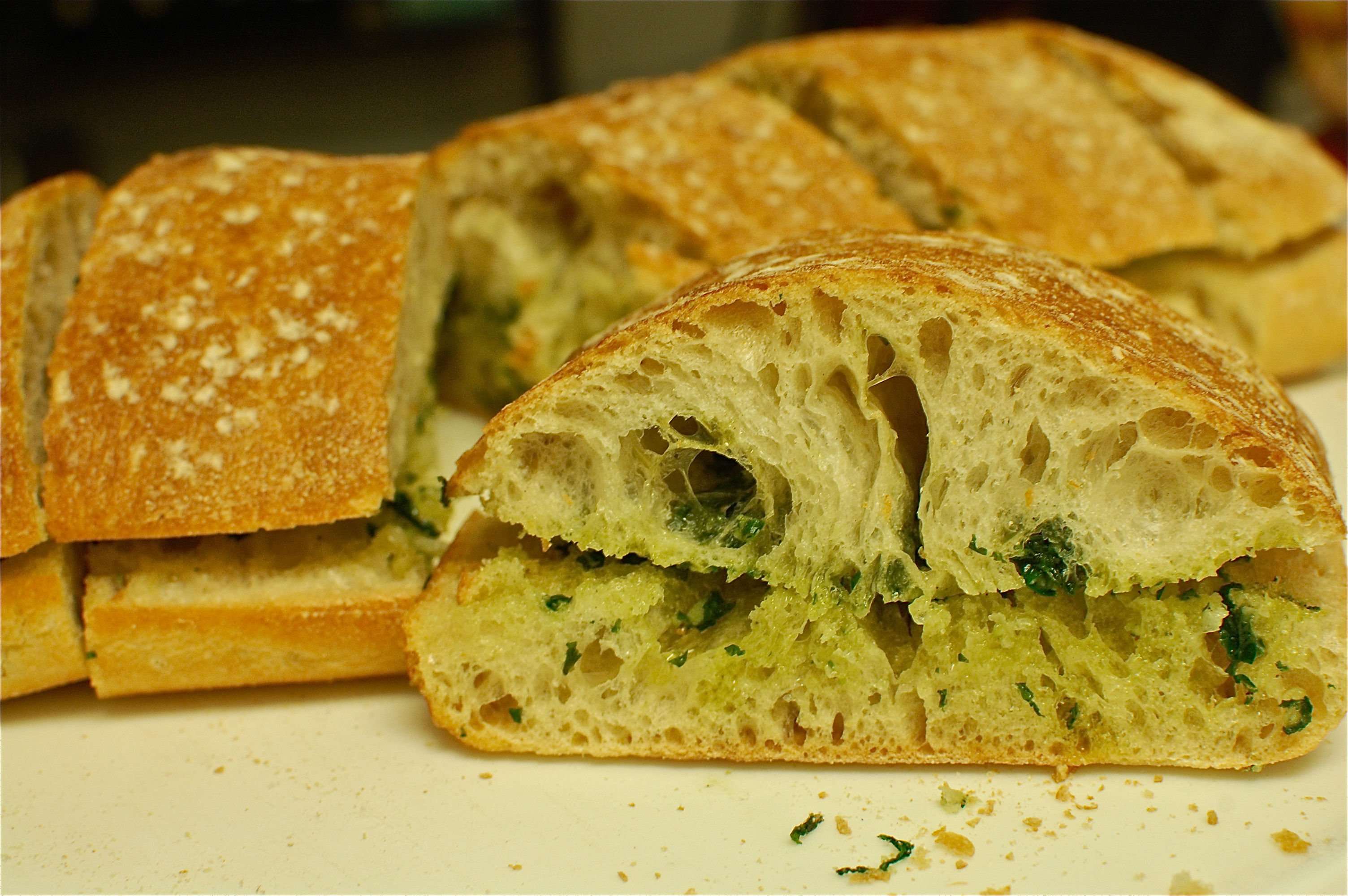 Lasagna
Want to make this vegetarian?  Make your own sauce, or use your favorite jarred sauce (I may be a food snob, but I don't turn my nose up at a good-quality jarred sauce!).
Adapted from recipe by Ina Garten
Serves 8
Total time: 1 hour 30 minutes
Ingredients
2 tablespoons olive oil
1 1/2 lb extra-lean ground beef
1 cup chopped yellow onion (1 small to medium onion)
3 cloves garlic, minced
1 28 oz can crushed tomatoes
1 14 oz can diced tomatoes
1 6 oz can tomato paste
1/4 cup chopped fresh flat-leaf parsley, divided
1/2 cup chopped fresh basil leaves
2 teaspoons kosher salt
3/4 teaspoon freshly ground black pepper
1/2 pound lasagna noodles
15 ounces part-skim ricotta cheese
3 to 4 ounces creamy goat cheese, crumbled
1 cup grated Parmesan, plus 1/4 cup for sprinkling
1 large egg, lightly beaten (note: I've left this out before, and the dish still turned out great)
1 pound fresh mozzarella, thinly sliced
1.  Heat the olive oil in a large (10 to 12-inch) skillet over medium heat.  Add ground beef and cook until no longer pink.  Remove with a slotted spoon to a paper towel-lined plate, and discard of excess fat rendered from the beef.  Reheat skillet and add the onion and cook for 8-10 minutes over medium-low heat, until translucent. Add the garlic and red pepper flakes and cook for 1 more minute.  Add the beef,  tomatoes, tomato paste, 2 tablespoons of the parsley, the basil, 1 1/2 teaspoons of the salt, and 1/2 teaspoon pepper.  Simmer, uncovered, over medium-low heat, for minutes, until thickened.
2.  Meanwhile, fill a large bowl with the hottest tap water. Add the noodles and allow them to sit in the water for 20 minutes.  Drain.
3.  In a medium bowl, combine the ricotta, goat cheese, 1 cup of Parmesan, the egg, the remaining 2 tablespoons of parsley, remaining 1/2 teaspoon salt, and 1/4 teaspoon pepper.  Set aside.
4.  Preheat oven to 400 degrees F.  Ladle 1/3 of the sauce into a 9 by 12 by 2-inch rectangular baking dish (mine was 9 x 13), spreading the sauce over the bottom of the dish. Then add the layers as follows: half the pasta, half the mozzarella, half the ricotta mixture, and one 1/3 of the sauce. Add the rest of the pasta, mozzarella, ricotta mixture, and finally, sauce.  Sprinkle with 1/4 cup of Parmesan.  Bake for 30 minutes, until the sauce is bubbling.  Note: the lasagna can be assembled ahead of time and left covered in the fridge.  When baking, you might need to add an extra 3-5 minutes of baking time if the uncooked lasagna is still cold from the fridge.
Garlic Bread
Adapted from recipe by Ina Garten
Serves 6-8
Total Time: 20 minutes
Ingredients
6 clove garlic, chopped
1/4 cup chopped flat-leaf parsley
1/4 cup fresh oregano leaves
1/2 teaspoon kosher salt
Freshly ground black pepper
1/3 cup good olive oil
1 loaf ciabatta bread
1 1/2 tablespoons unsalted butter, softened
1. Preheat the oven to 350 degrees F. Place the garlic in the bowl of a food processor and process until minced. Add the parsley, oregano, salt and pepper and pulse twice.  If you don't have a food processor, I you can just finely chop everything together on a cutting board.
2. Heat the olive oil in a medium saute pan and add the garlic mixture. Remove the pan from the heat.
3. Slice the ciabatta bread in half horizontally, and spread the butter on bottom half. Spread the garlic mixture on the other half of the bread, and put the halves together. Wrap the bread in aluminum foil.
4. Place the bread in the oven and bake for 5 minutes. Open the foil, and continue baking for an additional 7-10 minutes.