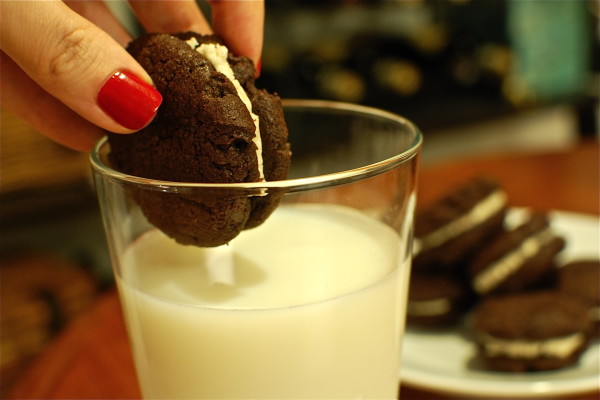 Oreos are the most amazing mass-produced food to have ever existed in the history of the world.
Too bold a statement?  I think not.  Two not-too-sweet chocolate cookies held together by a sweet, creamy, vanilla filling.  Dare I say, they are perfect.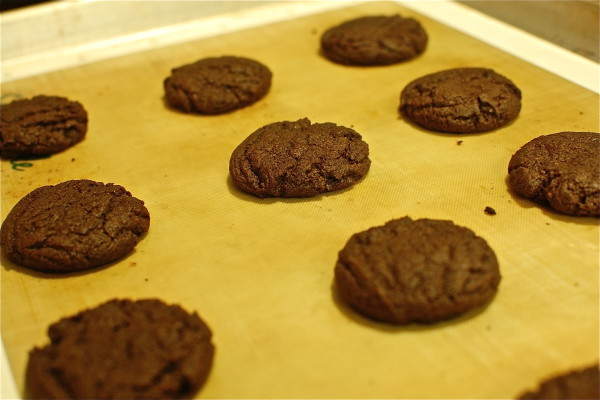 It turns out that making your own Oreos is quite easy!  And not only that, the people you give them to go craaaaazy for them.  This is particularly true of men (a hint for all you single ladies out there).  They will think you are some sort of magical creature that can work miracles in the kitchen, and they will beg you to make them again.
I have made these a few times using a recipe posted on smitten kitchen.   The dough can be made in a food processor or mixer; I use a food processor and the dough comes together in 30 seconds.  Scoop out small rounds of dough, place on a baking sheet, flatten with your fingers, and bake for 8-10 minutes.  Cookies done.  Whip up butter, shortening, powdered sugar and vanilla.  Filling done.  Assemble into sandwiches.  Devour.
Simple enough for you?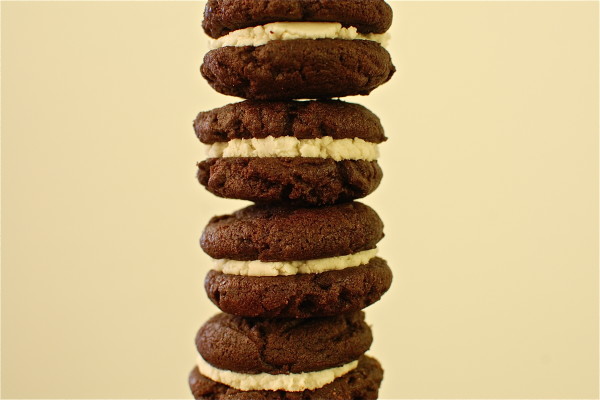 Homemade Oreos
From smitten kitchen's adaptation of Retro Desserts, Wayne Brachman
Makes 20-25 sandwich cookies
Total time: 45 minutes
Ingredients
For the chocolate wafers:
1 1/4 cups all-purpose flour
1/2 cup unsweetened Dutch process cocoa (I love Pernigotti from Williams Sonoma)
1 teaspoon baking soda
1/4 teaspoon baking powder
1/4 teaspoon salt
1 cup sugar
1/2 cup plus 2 tablespoons (1 1/4 sticks) room-temperature, unsalted butter
1 large egg
For the filling:
1/4 cup (1/2 stick) room-temperature, unsalted butter
1/4 cup vegetable shortening
2 cups sifted confectioners' sugar
2 teaspoons vanilla extract
1.  Set two racks in the middle of the oven. Preheat to 375°F.
2.  In a food processor, or bowl of an electric mixer, thoroughly mix the flour, cocoa, baking soda and powder, salt, and sugar. While pulsing, or on low speed, add the butter, and then the egg. Continue processing or mixing until dough comes together in a mass.
3.  Take rounded teaspoons of batter and place on a parchment paper-lined baking sheet approximately two inches apart. I used a small disher (#70).  With moistened hands, slightly flatten the dough. (Note: you want to flatten more than "slightly" if you want flatter cookies, like a classic oreo.  I now flatten them so they are a disk no more than 1/2 inch high.  When you flatten to a disk, make sure to keep the round shape of the disk, so the cookies bake up round. )  Bake for 8 minutes, rotating once for even baking.  Cookies will still be soft, but should be set around the edges – baking times may vary.  As they cool, the cookies will set completely.  Place baking sheets on a rack to cool.
4.  To make the cream, place butter and shortening in a mixing bowl with paddle attachment, and at low speed, gradually beat in the sugar and vanilla. Turn the mixer on high and beat for 2 to 3 minutes until filling is light and fluffy.
5.  To assemble the cookies, in a pastry bag with a 1/2 inch, round tip, pipe teaspoon-size blobs of cream into the center of one cookie. I just scooped a little cream onto the cookies with the same (washed) #70 disher I used to scoop the cookie dough, but you could also put the filling in a big zip-lock bag and cut one of the corners off to make your own pastry bag.  Place another cookie, equal in size to the first, on top of the cream. Lightly press, to work the filling evenly to the outsides of the cookie. Continue this process until all the cookies have been sandwiched with cream.