Greatest.  Brisket.  Ever.
Okay, I admit some people from places like Texas might take issue with that statement, but this is certainly the best brisket I've eaten in recent memory.  I had some ladies over for a little dinner party, and I decided early in the planning process that I wanted to make a brisket.  I recently tried a recipe I saw over at smitten kitchen for brisket prepared in a slow cooker, but while  it was easy to make, I was not blown away by the results.  It was fine, but certainly not great.  So I kept looking, eliminating recipes that required a grill of any kind (a sad truth about living in Manhattan).  I finally found a promising recipe on the Cooking Channel website.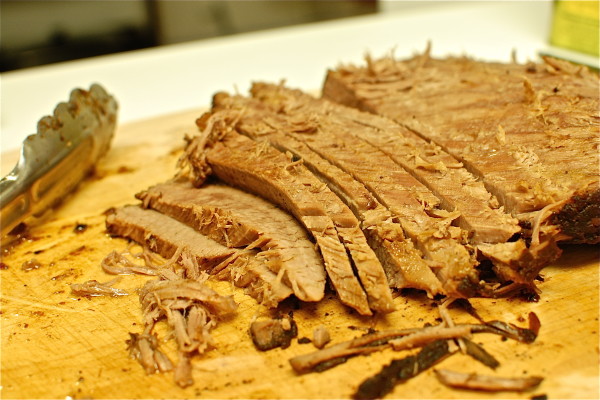 Pretty much everything about this brisket is spectacular.  You could pull the meat apart with a fork.  And don't get me started on the sauce!  This homemade barbecue sauce was sweet but not too sweet, with a tiny kick at the end from the chipotle pepper.  The complex flavors of the sauce simply blew me away.
The dish was so good that even my vegetarian friend tried some.  That's right – I got a vegetarian to eat this.  A vegetarian.
The only downside: the amount of work that went into it.  Mind you, nothing about this recipe is difficult, but it is a little time-consuming.  I can now say I have made my own spice rub, but it requires planning and a lot of chopping.  Was it worth it in the end?  Yes.  But if you have some sort of amazing spice rub that you think would go well with this recipe, you could probably use that.  I also wonder how this brisket would taste if I skipped the rub all together; my guess is that it would be not quite as flavorful, but still really good, because at the end of the day, the homemade barbecue sauce really made this dish.  Plus the sauce used a lot of ingredients that you probably having lying around your pantry and fridge, which makes throwing together the sauce a lot easier than making the rub.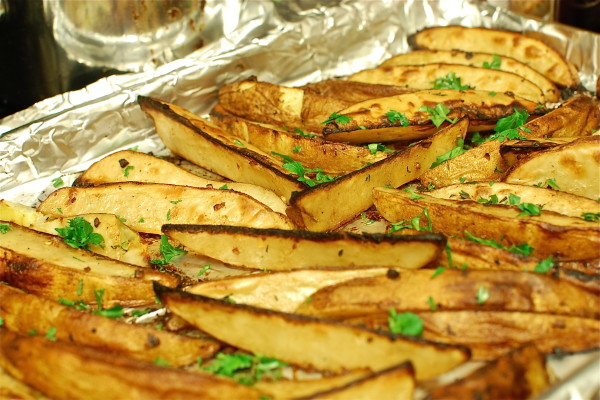 To make up for the work that went into the brisket, I made an easy roasted potato that was equally good.  Leave it to the Pioneer Woman to have plenty of potato recipes for me to choose from.  The brisket may be something you have to plan a day ahead, but the potatoes are great as quick and easy side dish for a weeknight meal.  You can throw in pretty much whatever you want with the potatoes – a few (or more) spices, a little garlic, fresh herbs, balsamic vinegar.  Toss with olive oil, roast in oven, and you're done.  They are even great the next day!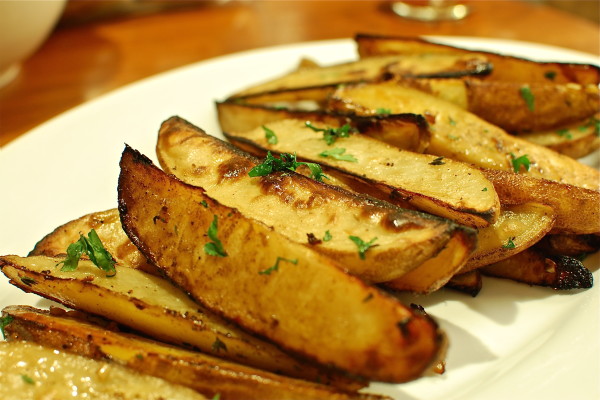 So that's it for this week, folks.  I'm off to Costa Rica for 7 glorious days in the sun …  the same sun from which I will be hiding via a big hat and SPF 100+.  Who knows, my pale skin might come back with the slightest bit of tan!
Brisket in Barbecue Sauce
Adapted from Chuck Hughes
Serves 8 people
Ingredients
1 ~3-4 lb brisket (mine was 3 1/2; original recipe called for 6-7 lb)
Homemade Dry Rub:
1 head garlic, peeled and thinly sliced
5-6 roots of peeled and very thinly sliced fresh ginger (the amount of ginger was not clear in this recipe; I used about 6 larger pieces of ginger)
5 shallots, thinly sliced
2 onions, thinly sliced
1/4 cup brown sugar
2 teaspoons kosher salt
1 teaspoon freshly ground black pepper
Apple Barbecue Sauce:
1/2 large Spanish onion, peeled and chopped
1 chipotle pepper, in adobo sauce, chopped (note: 1 pepper from a can, not one can)
1 clove garlic, minced
1 cup apple sauce
1 cup ketchup
1/2 cup honey
1/4 cup molasses
1/4 cup soy sauce
1 tablespoon Worcestershire sauce
Juice of 1 lemon
Salt and freshly ground black pepper
1. Make dry rub the day before.  Preheat the oven to 200 degrees F.  On a parchment paper-lined baking tray, put the garlic, ginger, shallots, and onions and bake in the oven 4 hours, or until dried.  Note: make sure to separate all the rings of onion and shallots, otherwise they won't be dry when the rest of the ingredients are dry.  Do not bake at a higher heat, because the mixture will burn, and no one wants a bitter, charred spice rub!
Using a food processor, reduce into a powder with the brown sugar, salt, and pepper.  Trim brisket of excess fat, but do not trim fat flap on top (we can trim this off after it's done cooking).  Coat the brisket with the spice mixture. Cover and keep in the refrigerator overnight to marinate and flavor the meat.
2.  Make apple barbecue sauce.  In a large bowl, mix together the onion, chipotle pepper, garlic, ketchup, honey, molasses, soy sauce, Worcestershire sauce, lemon juice, salt, and pepper, to taste.
3.  Preheat the oven to 350 degrees F.  Again, I did not remove the big side of fat on the brisket; instead, I removed the fat after the brisket was cooked, resulting in a moist, incredibly tender but lean piece of meat.  Place the brisket, fat-side up, into a heavy baking pan just large enough to hold it, and pour sauce over it.  I put my brisket in a dutch oven.  Cover tightly (or place lid on the dutch oven) and bake for 4 hours or until fork-tender.  Transfer the brisket to a cutting board and keep warm.
4.  Strain and pour the sauce in a stockpot and let reduce for about 10 minutes on medium high heat until thick. Remove excess fat.  If you have time, make the brisket earlier in the day, put reduced  sauce in a container and place in the fridge for a few hours.  The fat will solidify on top of the sauce, making it easy to skim off all the fat.  Then reheat sauce when ready to serve.
5.  Remove the side of fat if you want to (this will come off easily).  Cut the meat with a sharp knife against grain, to desired thickness.  Serve topped with sauce on its own, or on sandwich rolls.  I bought sandwich rolls but thought that the bread took away from the brisket, so we enjoyed the brisket on its own.
Easy Roasted Potato Wedges
Adapted from The Pioneer Woman
Serves as many people as you'd like
Ingredients
Potatoes (I used 4 Russet potatoes, medium-sized, to serve 4 people, but ended up having way too many leftovers)
~1/4 cup olive oil
Salt and pepper to taste
Fresh herbs to taste (I used parsley and a little thyme; rosemary would be lovely)
2 cloves garlic, minced
few dashes of paprika
2 dashes cayenne pepper
3 tablespoons balsamic vinegar
1.  Preheat the oven to 450 degrees.  Wash potatoes well.  Cut potatoes into wedges.  Toss with oil, salt, pepper, and whatever else you'd like: garlic, balsamic, spices, etc.
2.  Roast for 15 minutes.  Shake around. Stir.  Roast for another 20 minutes. Check them to see if they need more time.
3.  Remove from oven, check the seasoning.  Add more if necessary.  Sprinkle with herbs.  Serve immediately.