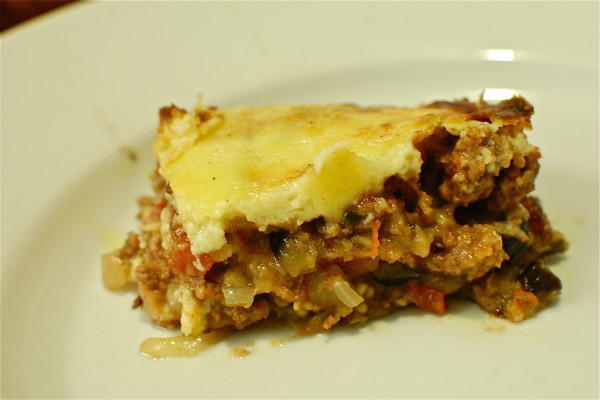 It's about time I whipped up something Greek, isn't it?  It was one of the reasons I started the blog – as an ode to my grandmother, as a way to develop my skills in the kitchen so that one day I can cook as well as my grandmother.
So I used the Golden Globes as an opportunity to do a little dinner party, and the main attraction: moussaka.  For those who don't know, moussaka is a Greek dish made by layering slices of eggplant and ground beef, then topping it off with bechamel sauce.  It's similar in concept to lasagna, but does not have any pasta.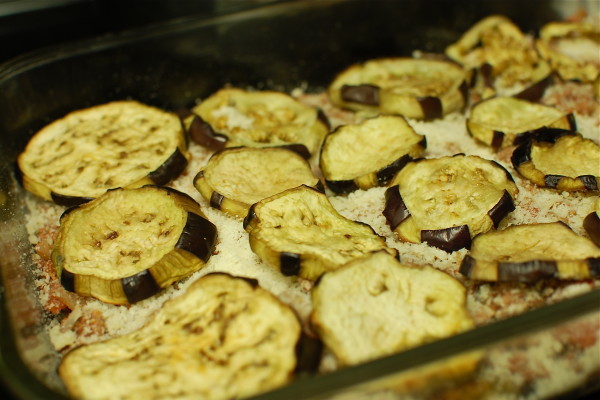 Alas, I did not have my grandmother's recipe for it.  I know she made it, but I don't recall eating it all that often growing up.  Perhaps that was because I couldn't stand eggplant as a child.  Luckily I had several other recipes to look at, including my Greek friend's mother's recipe.  I did a mash-up of several recipes in the end, taking the parts I liked best from of each of them.  I also tried to slim the dish down a bit – moussaka can be unnecessarily greasy, and I wanted to avoid that outcome (remember that Post-Rome Diet to which I'm trying to adhere?).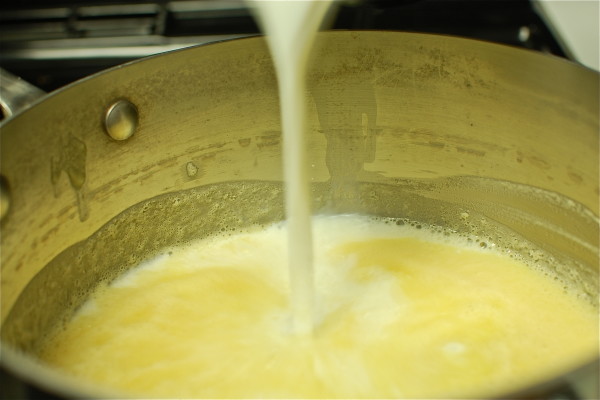 I thought my first attempt at this dish turned out pretty well.  It was (surprisingly) not heavy – probably a combination of using extra-lean ground beef, eggplant slices not fried in oil, and enough bechamel sauce to cover the top of the dish but not a drop more.  My main complaint was that I didn't add enough salt, but that is easy to fix.  I put so much salt on the slices of eggplant at the beginning of the recipe, I was afraid of adding much more salt to the rest of the dish, despite the fact that I rinsed the eggplant slices in water.  Turns out I was wrong.
Now I can turn my attention on what my next Greek recipe will be.  Suggestions are welcome!
Moussaka
8 servings
Total time: 2 hours
Ingredients
3 medium eggplants
1 1/2 lbs. ground beef (I used the leanest I could find)
1 28-ounce can diced tomatoes
1 onion, finely diced
2 cloves garlic, sliced
1/4 teaspoon ground allspice
1/2 teaspoon sugar
1/3 cup finely chopped fresh parsley
6 tablespoons dried breadcrumbs
1 cup grated parmesan cheese
olive oil, salt, and pepper
Bechamel sauce
2 cups milk (I used skim)
6 tablespoons butter
6 tablespoons flour
2 eggs, slightly beaten
salt and pepper
1.  Prep eggplant: Remove 1/2 inch wide strips of peel lengthwise from the eggplants, leaving 1/2 inch peel between the strips.  Cut into slices 1/2 inch thick, sprinkle slices with salt on both sides, and let them stand on a baking sheet or in a colander for 1 hour.  Rinse the slices and pat dry.  Preheat oven to 450 degrees.  Place back on a baking sheet, drizzle or brush them with olive oil (or spray with Pam Olive Oil spray, as a brilliant commenter suggests), and roast them for 15-20 minutes, until they turn golden brown.
2.  Heat a heavy pan over medium heat.  Add ground beef, and cook until beef is mostly browned.  Remove the ground beef with a slotted spoon to a plate lined with paper towels.  Discard of excess fat in the pan.
3.  In same pan, heat 2 tablespoons olive oil over medium-low heat, and add onions, sautéing for 5 minutes.  Add garlic, then continue to cook until vegetables are softened.  Add ground beef, tomatoes, allspice, sugar, parsley, and season with salt and pepper.  Simmer over medium-low heat for 20 minutes, stirring occasionally until almost all the liquid has evaporated.
4.  While sauce is simmering, make the bechamel sauce.  Warm the milk in a pan over low heat; in another pot, melt the butter over medium-low heat, then add flour, 1/2 teaspoon salt, and a few grinds of pepper.  Stir quickly, and let the flour mixture cook for a few minutes, still stirring.  Pour the warm milk into the flour mixture, stir well, and let stand for 10-15 minutes, until thickened.  In a small bowl, lightly beat the eggs.  Add about 1/2 cup of the white sauce to the eggs, which tempers the eggs.  Add the eggs to the white sauce, and mix well.
5.  Spray a 9×13 inch baking dish with a little non-stick spray, and sprinkle 2 tablespoons of breadcrumbs on the bottom of the dish.  Cover the bottom of the dish with half of the eggplant slices, overlapping the slices if necessary.  Spread half the meat mixture on top, and sprinkle half the parmesan cheese and 2 tablespoons of the remaining breadcrumbs.  Repeat, ending with the remaining cheese and breadcrumbs.  Pour bechamel over the top of the pan, spreading evenly over the top layer of the dish.
6.  Bake about 45-50 minutes, until top is golden brown.  Let stand 10-15 minutes before serving.