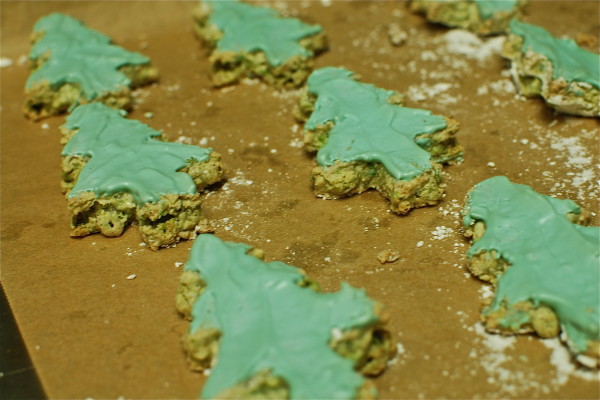 For my third installment of Christmas Cookie Extravaganza, I decided to do something different: I dug deep into my kitchen drawers and pulled out a Christmas-themed cookie cutter.  And surprise, surprise, I decided to try yet another recipe from Gesine.  She is doing her own Christmas cookie extravaganza, but cleverly calls it Cookiemas.  And she made lovely, green heart-shaped cookies made of a pistachio meringue.
Rolling out cookie dough and cutting the dough into fun shapes can be both fun and messy (which can also be fun, depending on your mood).  The task gave me the opportunity to break out the new pastry board I purchased (on a sample sale website, no less) a few months ago: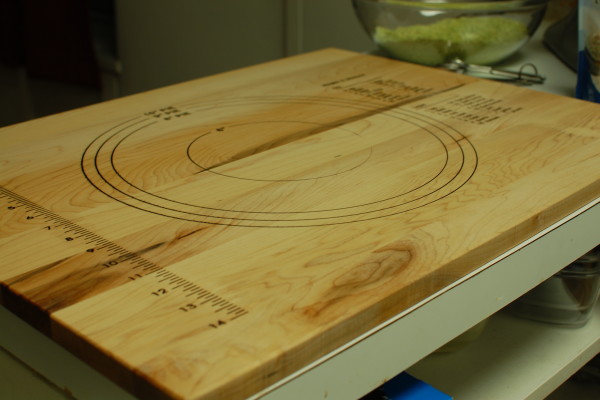 Giant, is it not?  But also cool: it has inch measurements on the side, and several circles that allow you to measure whether your pie crust or tart crust is 6 inches in diameter, 9 inches, 10 inches, etc.  Of course, this time around I did not need to measure the dough to a specific size, but I still got the benefit of having a giant board on which to roll out my pistachio-meringue cookie dough.  If you do not have one of these lying around your tiny New York City apartment, fear not.  Just use your clean kitchen counter.  Don't have a rolling pin?  A bottle of wine will work wonders.  Don't have wine?  Well … I can't help you there.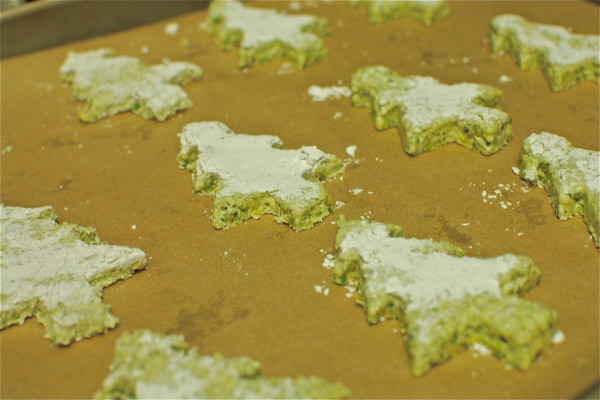 I do not own a heart-shaped cookie cutter, but I do own a few Christmas-themed cookie cutters.  The cookies are green in color, so I thought, "Why not make my pistachio meringues in the shape of Christmas trees instead?  Gosh, I am so brilliant."  Well, I did not turn out to be quite as brilliant as I thought.
Let us first discuss the taste.  They are delicious.  No butter or oil, just whipped egg whites with confectioner's sugar, added to ground pistachios and a large pinch of orange zest.  They are light, airy, and divine.
The Christmas tree cutter idea, however, was somewhat of a bust.  As you can see above, they have the perfect Christmas tree shape when going into the oven.  After baking, that changed for many of the cookies; some turned out lop-sided, some had pistachio bumps bulging out one side of the tree.  While the cookie is yummy, it is not as pretty as I had hoped it would be.  I will definitely make these again, but with the heart shape instead.  The Christmas tree is a more complex cutter, and is simply too unforgiving with this type of dough.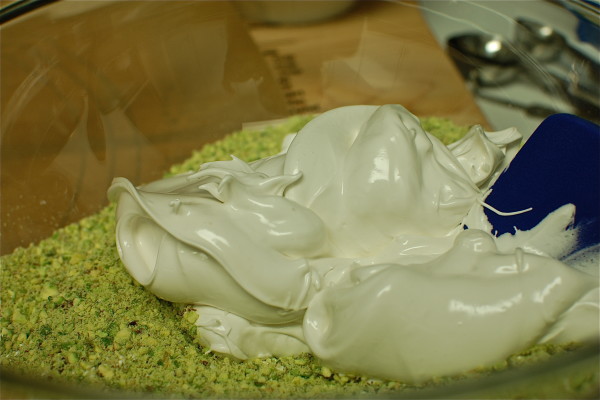 I also think I made another mistake: I did not grind the pistachios finely enough.  If you look at the picture above, where I am about to fold the whipped meringue into the ground pistachios, you can see large bits of pistachio in the bowl.  Next time I make this (and I would certainly make these again), I will be sure to grind the pistachios finer, so you do not see those big chunks in the ground nut mixture.
Overall, making these was a learning experience that ended up tasting pretty darn good.
Pistachio Meringues
Adapted from Gesine Bullock Prado – click for recipe!