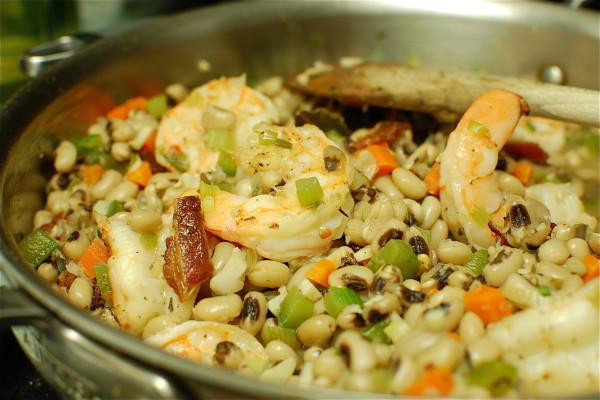 It may be 2 days early but … Happy New Year!  Pardon me for not being around to post this on New Year's Day, but you should have this recipe a few days before the holiday, in case you decide to make it.  It is, after all, the day you are supposed to eat black-eyed peas (which are actually legumes).
Oh yes, and I am boarding a plane to Rome in a few hours, so I won't be here to post this recipe on New Year's Day.  I will be far too busy  wandering around the city, sipping espresso and eating gelato (or combining them into an affogato).  Silly me!
All right, enough bragging about my trip.  I always knew it was tradition to eat black-eyed peas at New Year's, particularly in the American South, as they are thought to bring luck and prosperity in the new year.  But I never knew why or where the tradition came from, so naturally I turned to Google for help.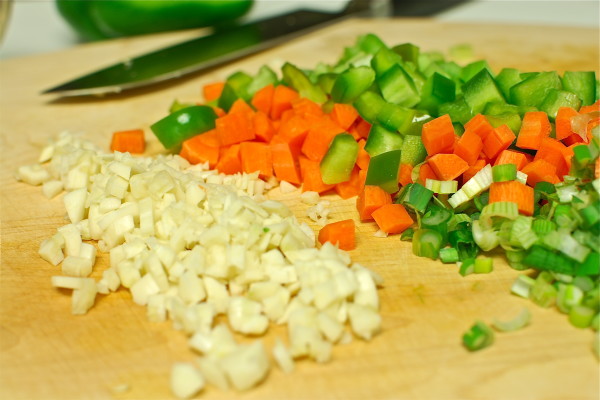 I had some trouble getting a definitive answer, but here is what I was able to put together.  Black-eyed peas were eaten during Rosh Hashana (the Jewish new year) over 1500 years ago.  In addition, legend has it that during the Civil War, the town of Vicksburg, Mississippi had their crops destroyed by Union soldiers while under attack.  The soldiers did not destroy the black-eyed pea crops, however, because black-eyed peas (also called cowpeas) were considered only fit for animal feed.  The peas then became cherished by hungry Southerners.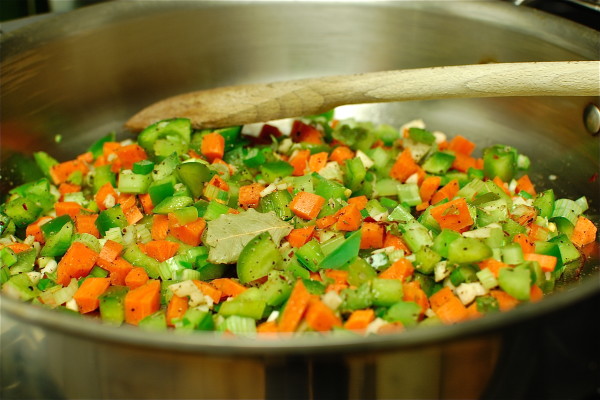 There you have it, and here you have my version of a hoppin' john.  This recipe can be made vegetarian by leaving out the shrimp and bacon and the chicken broth, but honestly, the bacon really does make it taste so much better.  You don't hear me say that too often about bacon; I have a history of leaving it out of recipes.  But here, I'm glad I left it in, as the black-eyed peas can be pretty bland without it.
I will be off the grid for about a week, but will be back posting when I return from Rome.  Happy New Year!
Black-Eyed Peas with Garlicky Black-Pepper Shrimp
Adapted from Gourmet
Total time: 40 minutes
Serves 6
Ingredients
For the black-eyed peas:
6 bacon slices
4 scallions, chopped
1 medium carrot, finely chopped
1 celery rib, finely chopped
1/2 medium green bell pepper, chopped
2 large garlic cloves, finely chopped
2 Turkish bay leaves or 1 California
1 teaspoon dried thyme
1/8 teaspoon hot red-pepper flakes
2 (15-oz) cans black-eyed peas, rinsed and drained*
1 3/4 cups reduced-sodium chicken broth
For the shrimp:
3 tablespoons extra-virgin olive oil
1 lb large shrimp, peeled and deveined
3 large garlic cloves, finely chopped
1/2 cup dry white wine
* For some reason, I could only find one can of black-eyed peas in the 3 stores I visited, so I was forced to buy dried black-eyed peas.  I quick-soaked them using this method.  Once soaked, I used 1 1/2 cups of dried black-eyed peas (measured before soaking) as I would the two cans in this recipe.
1.  To make black-eyed peas: Cook bacon in a 12-inch heavy skillet over medium heat until browned but not crisp.  Transfer bacon to a plate, then tear into small pieces.
2.  Cook scallions, carrot, celery, bell pepper, garlic, bay leaves, thyme, red-pepper flakes, 1/8 tsp salt, and 1/4 tsp pepper in fat in skillet over medium heat, stirring occasionally, until vegetables are pale golden, about 10 minutes.  Add black-eyed peas and broth and simmer 5 minutes.  Transfer to a bowl
3.  Heat oil in skillet over medium-high heat until it shimmers. Season shrimp with 1/4 tsp salt and 1/2 tsp black pepper.  Cook shrimp with garlic, stirring occasionally, until just opaque (shrimp will not be fully cooked), about 3 minutes.  Add wine and bring to a boil, then briskly simmer 2 minutes.  Add bacon and black-eyed-pea mixture and simmer until just heated through (mixture will be juicy).  Discard bay leaves.  Serve by itself or with rice.