There is something deliciously comforting about the smell of pumpkin coming from the oven.  You feel suddenly warm and cozy, like you are ready for fall to arrive.  Those of you who know me well know that I love pumpkin-anything desserts.  Pumpkin cakes, pumpkin pies, pumpkin cookies.  I eat it all.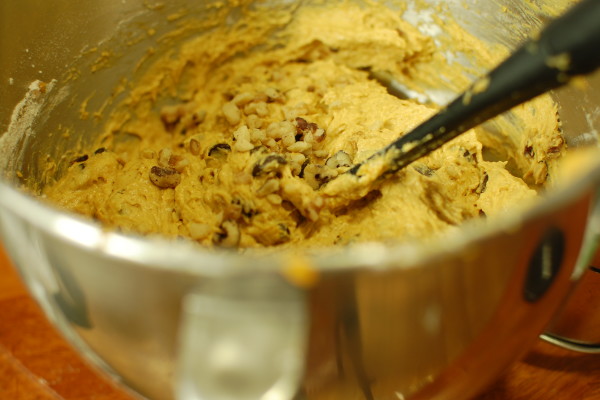 I have made these cookies every fall for, oh, 10 years now.  I remember making them in college, when I finally had an apartment with a real kitchen.  Funny how that college apartment kitchen is bigger than the one I have all these years later.  Ah, life in Manhattan …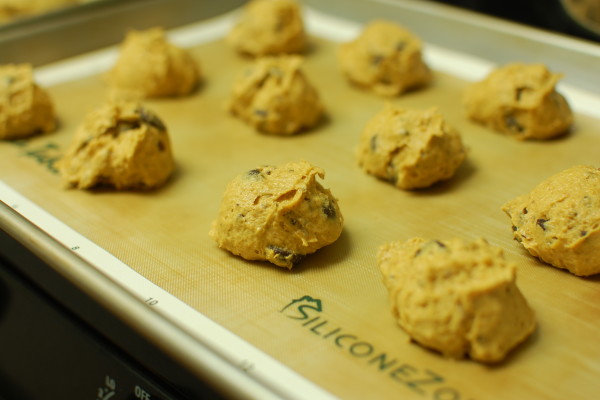 Sometimes I make the them in the winter too.  They are just so good, at any time of day, but especially for breakfast.  The cookies taste less like a cookie; they have more of a muffin-y, cake-y texture.  Perhaps that's why I just cannot resist them when I wake up in the morning.  The perfect start to the day?  Snuggling up on the couch with a few (or a plateful) of these and a hot cup of coffee.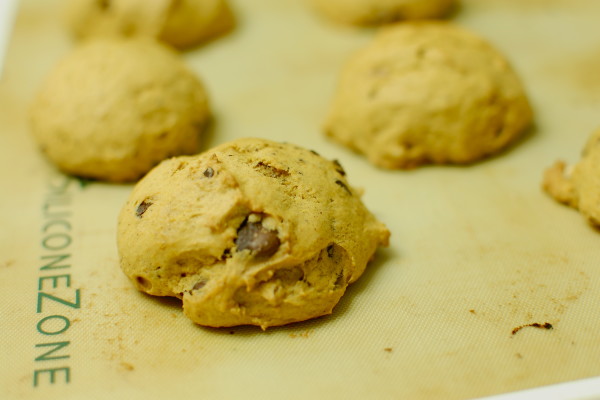 Pumpkin Chocolate Chip Cookies
Recipe by Pâte à Chew
Makes 30-35 cookies
Prep time: 15 minutes
Bake time: 15 minutes per cookie sheet
This dough comes out super-sticky; I would advise investing in a disher.  A disher is like an ice cream scoop, and ensures the cookies are all the same size – that way they cook evenly (not to mention they will also look neat and pretty)!  Dishers come in all sorts of sizes, but I use a #24 disher for a lot of my cookies, I think it makes a good-size cookie.  Not too big, not too small.  Just perfect.
Ingredients
1/2 cup shortening
3/4 cup brown sugar
3/4 cup white sugar
1 egg, room temperature
1 15 oz can canned pumpkin
1 teaspoon vanilla extract
2 3/4 cups all-purpose flour
1 teaspoon baking powder
1 teaspoon baking soda
1 teaspoon salt
1 teaspoon ground nutmeg
1 1/2 teaspoon ground cinnamon
1/4 teaspoon cloves
1/2 teaspoon ground ginger
1 1/2 cups semisweet chocolate chips
1/2 cup walnuts, optional
1.  Preheat oven to 350 degrees F. Line cookie sheets with parchment or a silpat.
2.  In a large bowl, cream together the shortening and sugar until light and fluffy. Beat in the egg, then stir in the pumpkin and vanilla. Combine the flour, baking powder, baking soda, salt, nutmeg, and cinnamon; gradually mix into the creamed mixture.
3.  Stir in the walnuts and chocolate chips. Drop dough by teaspoonfuls onto the prepared cookie sheets; I use a disher.
4.  Bake for 15 minutes in the preheated oven, or until light brown. Rotate baking sheets halfway through cooking time.  Cool completely on wire racks.  I actually love eating these out of the fridge.