So after a few way too many months of saying I was going start up this blog, here I am.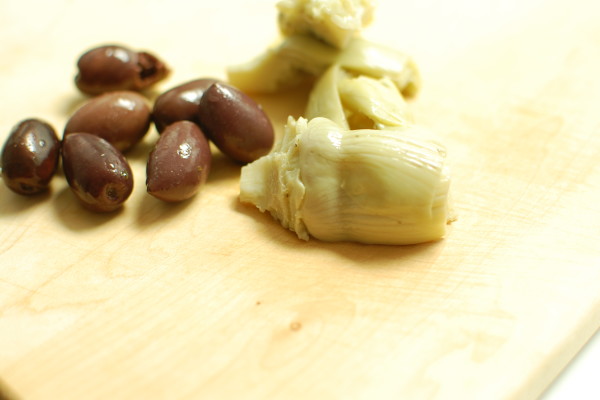 It may have taken a little longer than it should have, but I made it.  I have armed myself with some new photo equipment to make up for the fact that my New York City apartment has no natural light.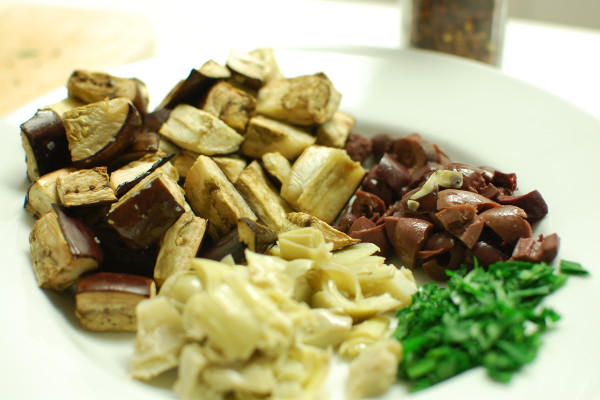 So November in Manhattan is … cold.  Every year I seem to forget just how cold it can get up here, and every year the city decides it needs to remind me.  Even some days in early October brought cold, blistering winds that made me long for the hot, smelly days of summer.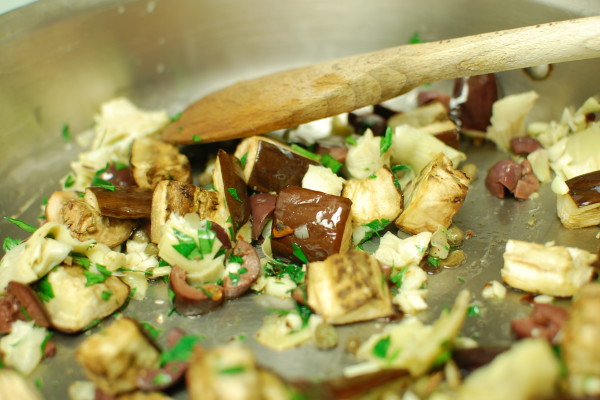 Maybe it's this terrible cold, and the fact that I have to walk to the Hudson River every morning for work with gusts of cold wind coming off the water, that is making me want to stay in and eat way too much delicious but fattening food.  So today I felt I had to break the cycle.  I created a recipe that was both edible and healthy!  And I have figured out how to post pictures and everything!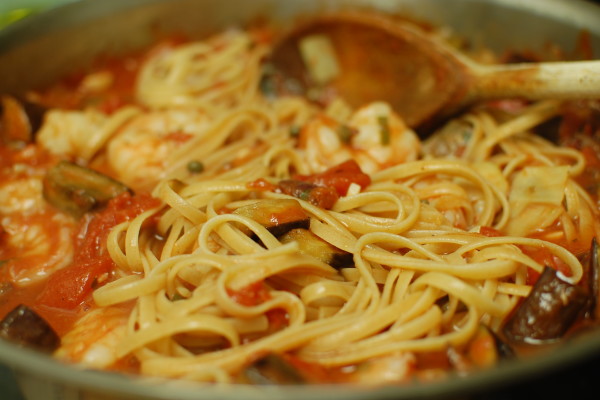 So pasta with puttanesca sauce.  Healthy, full of veggies, flavorful, and a great fast meal for a weeknight when you want something warm, comforting, and fresh-tasting.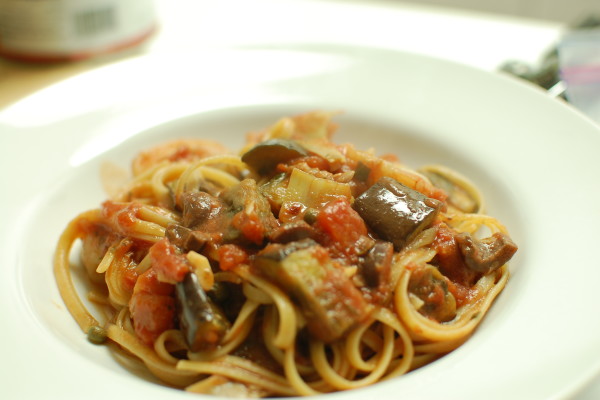 Pasta Puttanesca
Serves 3-4, depending on how hungry you are.
Prep time: 15 minutes
Cook time: 30 minutes
I actually preferred this without the shrimp, but the shrimp added some protein if you're in the mood for it.
Ingredients
6 ounces whole-wheat thin spaghetti or linguine
1 tablespoon extra-virgin olive oil
3 cloves garlic, minced
1/3 cup chopped flat-leaf parsley
1/4 cup pitted chopped kalamata olives
1/4 cup chopped artichoke hearts
1 medium eggplant
2 tablespoons capers
1/2 teaspoon dried oregano
1/2 teaspoon crushed red pepper flakes (or more, if you are me)
1 (14-ounce) can diced tomatoes (I like my pasta super saucy, so I used a bigger can)
8-12 shrimp, peeled and deveined
3/4 cup fresh spinach
1/2 cup grated Parmesan
1.  Cut eggplant into 2-inch dice; place on a baking sheet sprayed with Pam, and roast at 400 degrees for 15 minutes.
2.  Heat olive oil in skillet over medium heat; add garlic, sauté for 1 minute until fragrant.  Add parsley, olives, artichoke hearts, eggplant, capers, oregano, and red pepper flakes; sauté another 2-3 minutes.  Add diced tomatoes and bring sauce to a simmer for 5 minutes.  Add shrimp and continue to simmer 5 minutes.
3.  While making sauce, prepare spaghetti according to package, but cook 2 minutes less.  When finished, add pasta to sauce and spinach, and finish cooking pasta in simmering sauce, a few minutes more, until pasta is done and spinach is wilted.  Serve with Parmesan cheese.