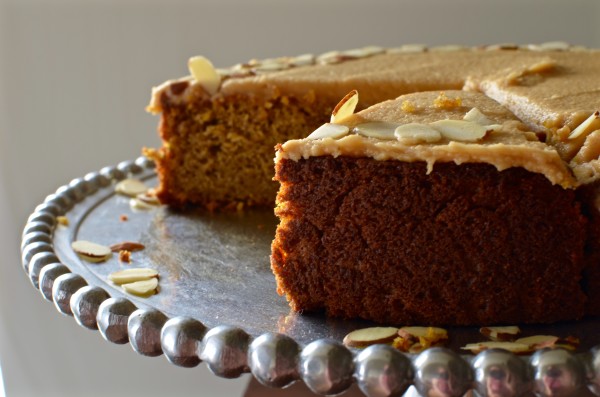 I'm back with yet another pumpkin recipe!  Third in a row, I know (even though the first of the three – Spiced Chocolate Chunk Pumpkin Seed Cookies – only contain pumpkin seeds, and no actual pumpkin puree).  But hear me out!  I got a last-minute opportunity to participate in a fun blogger event called #virtualpumpkinparty; over 70 pumpkin recipes are hitting the blogosphere today.  How fun is that?!
The last few years, we've witnessed a bit of a pumpkin back-lash in the foodie community.  Too many pumpkin-flavored and pumpkin-spiced things have been thrust on the market by various companies.  It probably started all those years ago with Starbucks' pumpkin-spiced latte.  Now, we have Pumpkin Spiced Peeps, Pumpkin Spice Marshmallows, and even Pumpkin Oreos.  As a fan of the classic Oreo cookie, I find this last one particularly offensive.
But I still love pumpkin as an ingredient in real, fresh-baked goods, and I'm excited to be participating in #virtualpumpkinparty's celebration of pumpkin in both sweet and savory dishes.  For my own contribution to the party, I wanted to do something a little different with pumpkin; this is, after all, the 11th (!) pumpkin recipe I've posted on the blog.  After giving it some thought, I decided to pair pumpkin and almond in an easy frosted cake.  Despite its long name, this cake is simple – simple to make, but with a wonderfully complex result.  It's a one layer wonder with a foolproof "throw it all in the food processor" frosting to spread on top in a charmingly rustic, never-quite-perfect fashion.  It's more of a pumpkin cake with a little almond flavor thrown in, but I found the flavors go oh so well together.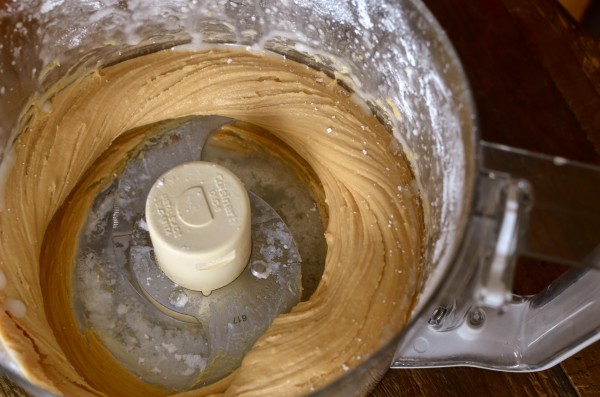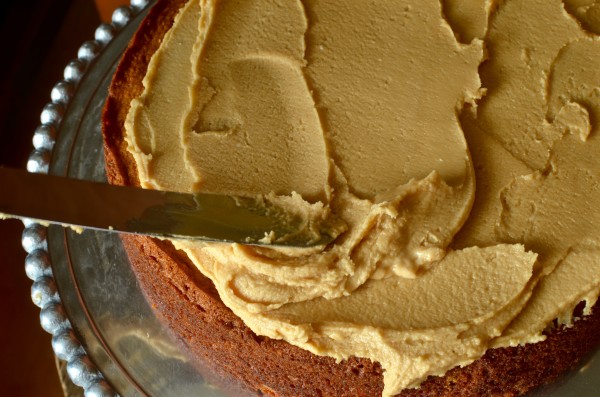 And let's talk about the frosting, shall we?  We normally see pumpkin cakes frosted with cream cheese frosting.  And for good reason – cream cheese frosting is amazing.  But do you know what else is amazing?  Almond butter frosting!  The cake itself tastes pumpkin-y with a hint of almond, and the frosting compliments the cake perfectly.  Almond butter by itself isn't my favorite, but this frosting paired with the cake changes my whole outlook on the butter.
Special thanks to Sara from Cake Over Steak for organizing the #virtualpumpkinparty.  Check out her blog, and of course all the other fabulous pumpkin recipes out there today, which you can find at this link or at the end of this post!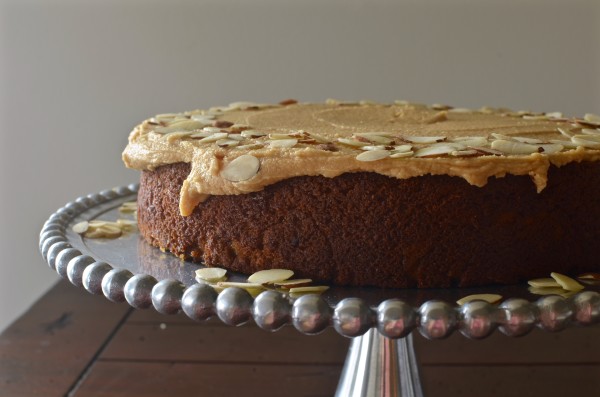 Finally, seeing as how this is my 11th pumpkin recipe, here is a round-up of all the pumpkin recipes I've made for Pâte à Chew over the past five years.  I love them all, and have made each multiple times!
Breads, Breakfasts, etc.
(Healthier) Pumpkin Muffins
Cranberry Walnut Pumpkin Bread
Pumpkin Brioche Buns
Pumpkin Oatmeal
Desserts
Pumpkin Pie with Streusel Topping
Caramel Mascarpone Pumpkin Pie
Pumpkin Biscotti
Pumpkin Chocolate Chip Cookies
Spiced Chocolate Chunk-Pumpkin Seed Cookies
Simple Pumpkin Chocolate Chip Bundt Cake
Pumpkin Almond Cake with Almond Butter Frosting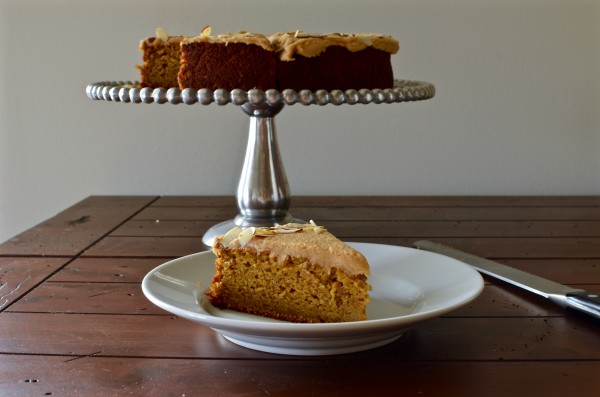 Pumpkin Almond Cake with Almond Butter Frosting
Inspired by Baked Elements
Makes one 9-inch cake, 12 servings
Total time: 90 minutes
Ingredients
For the cake
1 1/2 cups all purpose flour
3/4 cup almond flour
1 1/2 teaspoon baking powder
1/2 teaspoon baking soda
1/2 teaspoon salt
1 1/2 teaspoons cinnamon
1 teaspoon ginger
1/2 teaspoon nutmeg
1/4 teaspoon cloves
3 oz (6 tablespoons) unsalted butter, at room temperature
3/4 cup sugar
1/2 cup firmly packed dark brown sugar
1 cup pumpkin puree (if using canned, use the remaining 1/2 cup of the can to make Pumpkin Oatmeal!)
2 large eggs, room temperature
3/4 cup well-shaken buttermilk
For the Almond Butter Frosting
1/2 cup almond butter
2 oz (4 Tablespoons) unsalted butter, softened
2-4 Tablespoons milk or almond milk, to taste
1 1/4 to 1 3/4 cup confectioners' sugar, to taste
1/2 teaspoon salt
1 teaspoon vanilla extract or paste
1/4 cup sliced almonds, toasted; or 1/4 cup pumpkin seeds, roasted (optional, for decoration)
1.  Make the pumpkin almond cake: Preheat the oven to 350 degrees F, and grease and flour one 9-inch round cake pan, line with parchment paper, and grease and flour the parchment.  Instead of using butter and flour, I suggest buying Pam for Baking or another non-stick spray that contains flour.  Spray the pan, put the parchment down, and spray the parchment.  Done.  It makes things a whole lot easier!
In a medium bowl, whisk together the flours, baking powder, baking soda, salt, cinnamon, ginger, nutmeg, and cloves, and set aside.  Next, in the bowl of a standing mixer fitted with the paddle attachment, beat the butter and sugars together on medium speed until light and fluffy, about 5 minutes.  Add pumpkin puree and beat just until incorporated.  Add eggs one at a time, beating well after each addition.  Scrape down the sides and bottom of the bowl and mix again for 30 seconds.
Add flour mixture in three parts, alternating with the buttermilk, beginning and ending with the flour mixture. Scrape down sides and bottom of the bowl and beat for a few more seconds.
Pour the batter into the prepared pan and bake for 45 to 55 minutes, or until a tester inserted in the center of the cake comes out clean. Set the pan on a wire rack to cool for 20 minutes.  Loosen the sides of the cake from the pan, then turn the cake out onto the rack. Remove parchment if it's still stuck to the cake and flip the cake right side up.  Let the cake cool completely.
2.  Make the almond butter frosting: Place almond butter, butter, 2 tablespoons of milk, 1 1/4 cups confectioners' sugar, vanilla, and salt in a food processor.  Pulse until frosting comes together and is shiny and smooth (see picture above).  If you prefer a slightly looser frosting, add 1 to 2 additional tablespoons almond milk.  If you prefer a thicker frosting, add 1/4 cup confectioners' sugar, and process again.  I added 1/4 cup of confectioners' sugar to mine, so what you see in the pictures is what the frosting looks like on the thicker side.
Transfer cake to a board or serving platter and use an offset spatula to spread the frosting evenly across the top. Decorate with almonds or pumpkin seeds, if desired.
The cake can be stored, lightly covered, at room temperature, for up to 3 days.
~~~~~
Pumpkin Party!
Cake Over Steak • Pumpkin Ginger Cookies with a Vanilla Glaze
Britnell • Pumpkin & Goat Cheese Macaroni
A Couple Cooks • Pumpkin Spice Almond Butter
I Am a Food Blog • Roasted Pumpkin and Pork Stuffed Shells
Well and Full • Harissa-Spiced Pumpkin Gnocchi
Loves Food, Loves to Eat • Pumpkin Pork Burrito Bowls
Girl Versus Dough • Pumpkin Challah
Snixy Kitchen • Black Sesame Pumpkin Mochi Cake
Hungry Girl por Vida • Pumpkin Chocolate Crumb Cake
Donuts, Dresses and Dirt • Pumpkin Spice Latte Truffles
Two Red Bowls • Pumpkin & Caramelized Onion Galette
The Frosted Vegan • Dark Chocolate Pumpkin Gingersnaps
Warm Vanilla Sugar • Dulce de Leche Pumpkin Ice Cream + Affogato
An Edible Mosaic • Pumpkin Spice Latte Snack Cake with Brown Butter Buttercream
Kitchen Konfidence • Yeasted Pumpkin Waffles with Candied Ginger
Chocolate + Marrow • Pumpkin Scones with Cinnamon Butter Swirl
The Pig & Quill • Pumpkin Pie Milkshakes with Pumpkin Spice Caramel + Coconut Cream
Salt & Wind • Apple Cinnamon Pumpkin Muffins with Pepita Streusel
With Food + Love • Creamy Pumpkin Polenta with Balsamic Roasted Beets
A Cookie Named Desire • Pumpkin Crepes with Cinnamon Ginger Cheesecake
Nommable • Pumpkin Moon Pies
Feed Me Phoebe • Thai Pumpkin Curry with Shrimp and Bok Choy
The Yellow Table • Coconut-Curry Pumpkin Soup
Ginger & Toasted Sesame • Pumpkin Ricotta Gnudi
The Crepes of Wrath • Pumpkin Pie Cake
The Swirling Spoon • Pumpkin Hand Pies
Erin Made This • Pumpkin Rye Waffles with Coconut Caramel
Beard and Bonnet • Pumpkin Spice Pizzelle Ice Cream Sandwiches
My Name is Yeh • Pumpkin Slice and Bake Cookies
Earthy Feast • Pumpkin-Stuffed Turnip-Ravioli with Pepita Pesto
Broma Bakery • Pumpkin Pie White Chocolate Brownies
Floating Kitchen • Pumpkin Beertail with Tequila and Spiced Rum
The Sugar Hit • Pumpkin Everything Bagels
The Bojon Gourmet • Pumpkin Flatbread with Gruyére and Crispy Sage (gluten-free)
Sprinkled with Jules • Pumpkin Spice French Macarons
Feast + West • Dark Chocolate Pumpkin Seed Toffee Bark
Jojotastic • Pumpkin Cinnamon Rimming Sugar
Fix Feast Flair • Japanese Pumpkin Spice Cheesecake with Quick Caramel
Appeasing a Food Geek • Pumpkin Ale Cake
Tending the Table • Roasted Pumpkin with Tamarind and Coriander Chutney
Long Distance Baking • Pumpkin Pie Ice Cream + Pumpkin Pancakes
My Blue & White Kitchen • Roasted Pumpkin Risotto with Crispy Prosciutto
Fork Vs. Spoon • Pumpkin Buttermilk Pudding
Alyssa & Carla • Pumpkin Tea Bread (in a Coffee Can!)
Twin Stripe • Pumpkin Spice Toffee
Le Jus d'Orange • Lentil-Stuffed Acorn Squash, Crispy King Oyster Bacon + Aged Goat Cheese
The Scratch Artist • Japanese Pumpkin Temaki with Ginger Kale Chips
Brewing Happiness • Caramelized Apple Pumpkin Muffins
Blogging Over Thyme • Homemade Candied Pecan Pumpkin Ice Cream Drumsticks
Heartbeet Kitchen • Pumpkin Swirled Mashed Potatoes
The Speckled Palate • Pumpkin Brown Butter Streusel Muffins with Maple Cream Cheese Glaze
Cookie Dough and Oven Mitt • Pumpkin Gingersnap Pie
Style Sweet CA • Chocolate Stout and Pumpkin Checkerboard Cake
Fork to Belly • Pumpkin Orange Brulee Pie
Tasty Yummies • Grain-Free Pumpkin Spice Pancakes
Påte á Chew • Pumpkin Almond Cake with Almond Butter Frosting
Holly & Flora • Pumpkin Pie Martini with Coconut Cream + Homemade Pumpkin Spice Syrup
Southern Soufflé • Sorghum Pumpkin Soufflés
SugarHero! • Cinnamon Swirl Pumpkin Pound Cake
Okie Dokie Artichokie • Creamy Pumpkin and Chorizo Pasta Bake, Cheese Tortellini, Sage-Mascarpone Sauce, Toasted Hazelnuts
Kale & Caramel • Pumpkin Goat Cheese Polenta with Brown Butter Thyme Mushrooms & Kale
The Little Epicurean • Maple Pumpkin Butter Brioche Toast
Vigor and Sage • Maple Pumpkin Harvest Smoothie
Tried and Tasty • Whole Wheat Pumpkin Sugar Cookies
Sprouted Routes • Creamy Vegan Pumpkin Risotto with Sweet & Spicy Roasted Pepitas (gluten free)
The Fauxmartha • Baked Pumpkin Donuts
So… Let's Hang Out • Grain-Free Apple Crumble Pumpkin Pie
Wit & Vinegar • Pumpkin Flaxseed Dog Treats
Dunk & Crumble • Pumpkin Roundup
Biscuits and Such • Pumpkin Pound Cake
A Little Saffron • Spiced Pepita Brittle