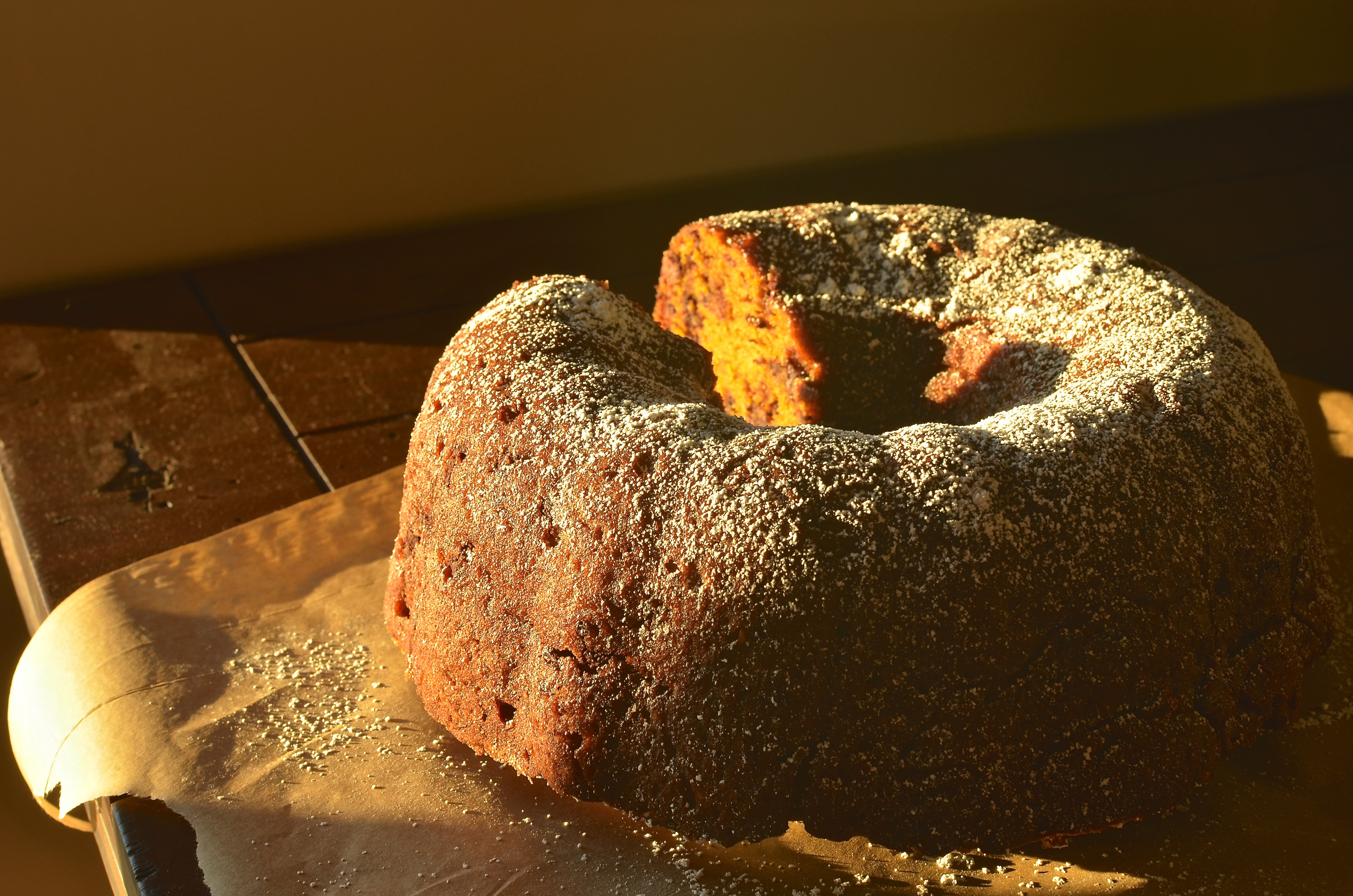 Autumn is a magnificent season.  Even in the evergreen-filled Pacific Northwest, we still see some deciduous trees turn vivid colors of yellow, orange, and red.  We wrap ourselves in cozy layers and drive out of the cities to pick apples and pumpkins.  We stroll down the streets while smelling the warmth of roaring fireplaces.  Eventually, a quiet but beautiful melancholy sets in.
Autumn is also when I most want to bake.  For me, baking is a comforting activity.  If I'm feeling sad, I often get the urge to bake.  Now, I would never encourage you to eat your feelings, but if you're feeling down, baking gives you something to focus on, something to create.  Then at the end, you have a beautiful, sweet treat you can enjoy for yourself and (more often than not) give to others.  And the resulting smiles on others' faces make you feel infinitely better.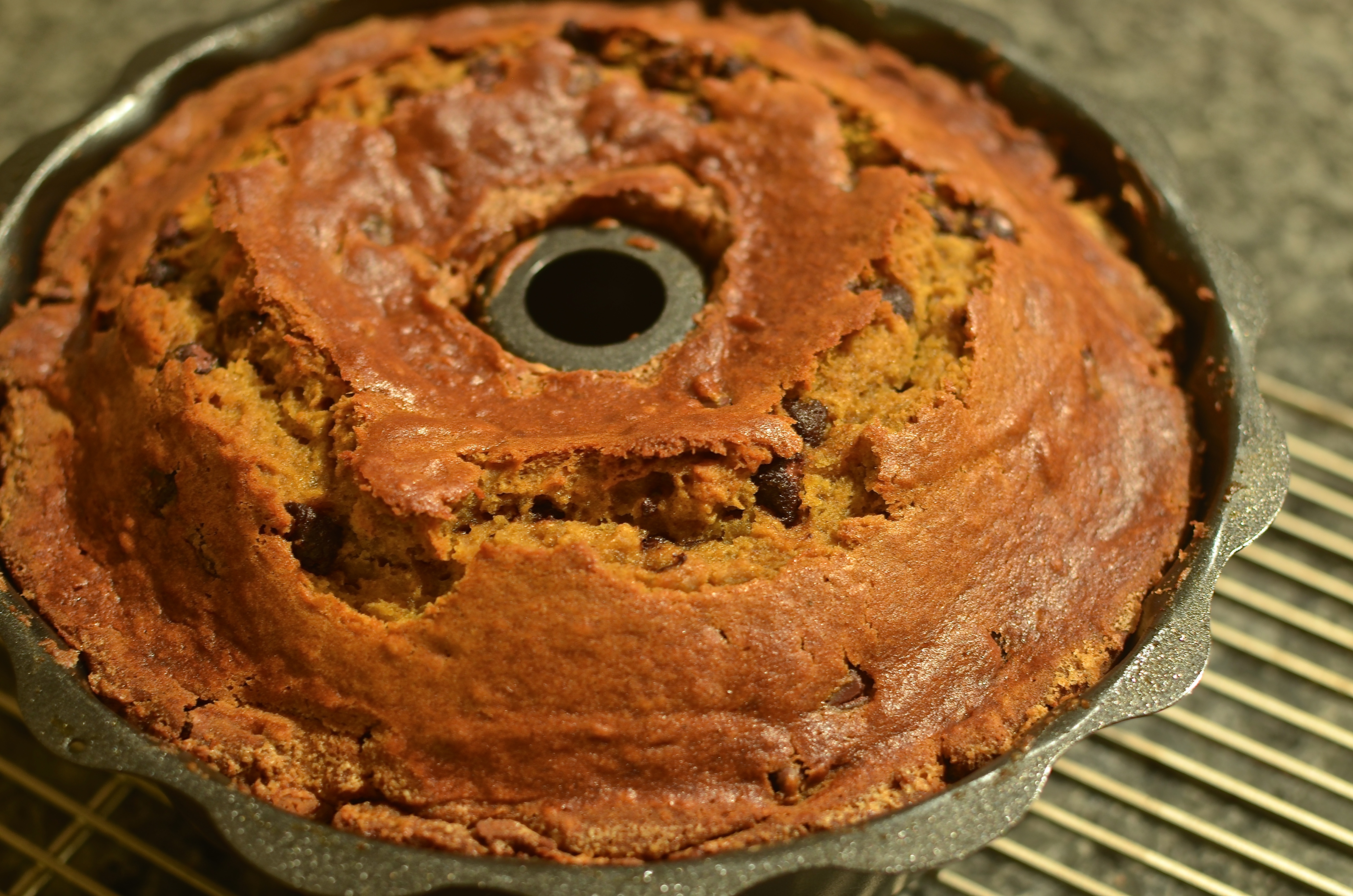 I first made this cake almost a year ago, after a particularly bad weekend left me with a serious case of the Mondays.  I left work a little early, desiring only to go home to the comfort of my kitchen, but not before checking my far-too-long "Recipes to Try" list.  A simple pumpkin cake from Baked caught my eye.  Baked gave me the recipe for my favorite Pumpkin Bread.  Bottom line: I trust Baked with pumpkin.  I picked up the ingredients I didn't have on hand, came home, and quickly threw this cake together.  It was fun, it was easy, and it came out of the oven perfect.  I cut myself a slice while it was still slightly warm – it was moist, wonderfully spiced, and full of pumpkin flavor.  The chocolate chips were just the metaphorical icing on the cake.  I smiled.
The next morning, I treated the cake to a little photo shoot.  I love how the early morning light hit the cake in such a dramatic fashion!  The cake came to work with me, and made my coworkers' day a little more sweet.
The cake is great, whether it's meant to cure sad feelings or make happy ones.  But no sad feelings today – for starters, I get to relive this amazing cake.  Oh, and I'm also off on a European adventure.  Follow me on Instagram as I eat, shop, and sight-see my way through the streets of London and Paris.
Au revior!
P.S. – Hope you liked the newly-designed Pâte à Chew, which now resides at pateachew.com!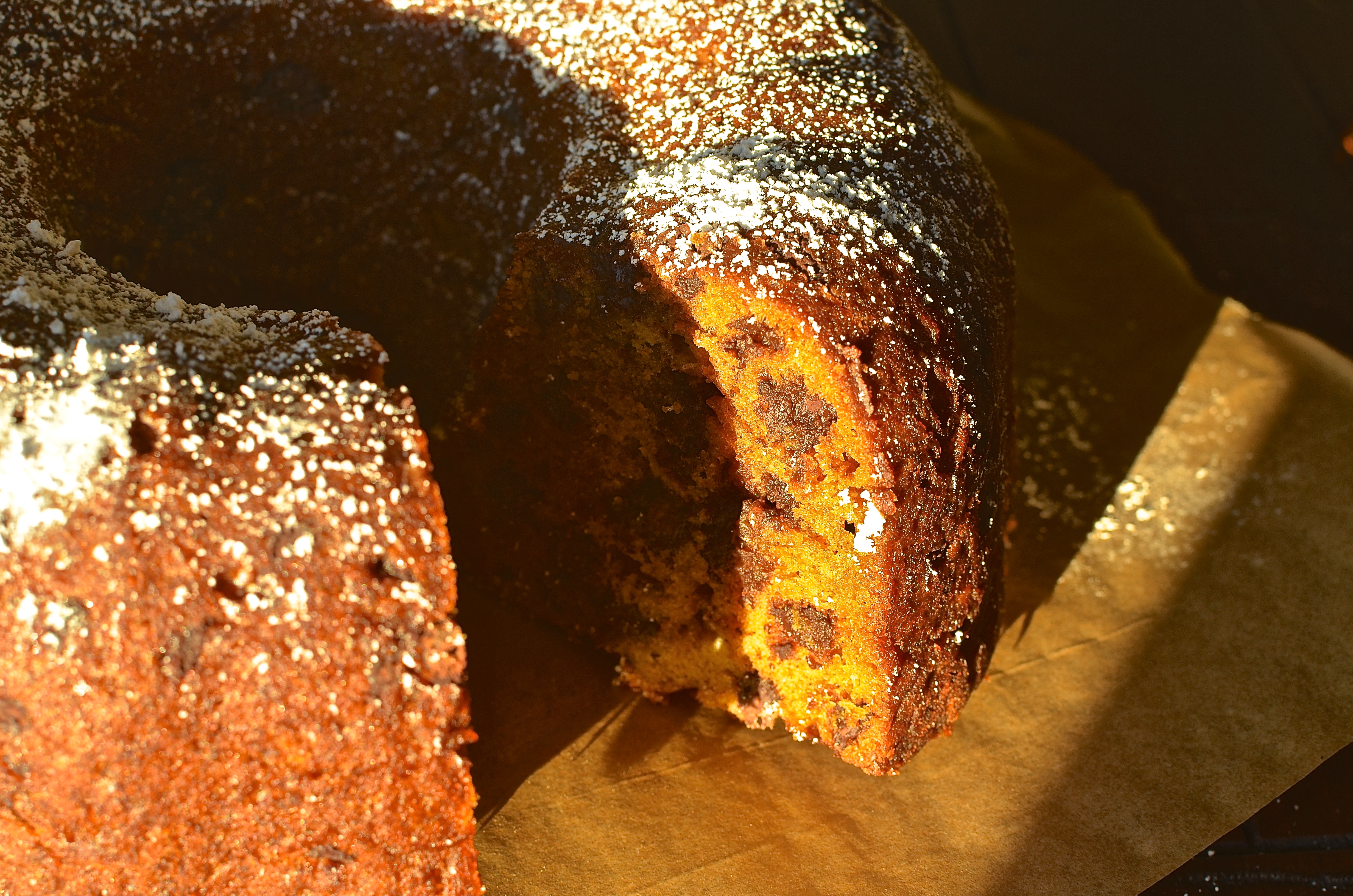 Simple Pumpkin Chocolate Chip Bundt Cake
Notes:
This recipe makes enough for a 12 cup Bundt.  Whatever Bundt pan you use, make sure to not fill to the top with batter – leave at least an inch to 1 ¼ inch for the cake to rise without overflowing.
Grease or non-stick spray the heck out of the Bundt pan so it doesn't stick to all the pretty crevices.
Feel free to make this cake as muffins – they should bake up in about 20 minutes.
The cake will stay good for at least 4 days, and freezes well.
You don't have to add chocolate, and/or you can substitute nuts or dried fruits if you so choose.
Adapted from the National Baking Society blog
Makes 1 Bundt cake
Ingredients
3 ¼ cups flour
1 Tablespoon cinnamon
½ teaspoon ground nutmeg
½ teaspoon ground cloves
½ teaspoon ground ginger
2 teaspoons baking soda
2 teaspoons salt
1 ¾ cup (or 1 15-ounce can) pumpkin puree
¾ cup canola oil
2 ½ cups sugar
4 large eggs
1 teaspoon vanilla extract or paste
⅔ cup room temperature water
1 ½ cups semi-sweet chocolate chips (or 12 ounces semi-sweet chocolate chips)
 Preheat oven to 350 degrees F.  Apply a heavy coating of non-stick spray (Pam for Baking or another spray with flour is great) to the interior of the Bundt pan.  If using a decorative Bundt, be sure to get all the nooks and crannies.

 In a large bowl, whisk flour, cinnamon, nutmeg, allspice, ginger, baking soda and salt together.  Set aside.

 In another large bowl, whisk the pumpkin puree and oil together until combined.   Add the sugar and whisk again.  Whisk the eggs into the mixture one at a time, then whisk in the vanilla.  Add all of the water and whisk until combined.

 Using a spatula, fold the dry ingredients into the wet.  Do not over mix.  With the spatula, stir in the chocolate chips until just combined.

 Pour the batter into the pan, making sure to leave at least an inch to 1 ¼ inch of space at the top (see Notes).  Use your spatula to smooth the top of the batter.  Bake until a toothpick inserted into the center of the loaf pan comes out clean, about one hour and 15 minutes to one hour and 30 minutes.   Rotate the pan half way through the baking time.
Allow cake to cool in pan on a wire rack for about 30 minutes (pan will still be warm-ish, but easy to handle with bare hands).  Cover the top of the cake (soon to be the bottom of the cake) with a sheet of parchment (this will keep the cake from sticking to the cooling rack) and invert quickly.  Cool the cake completely.  Dust with confectioners sugar then serve!