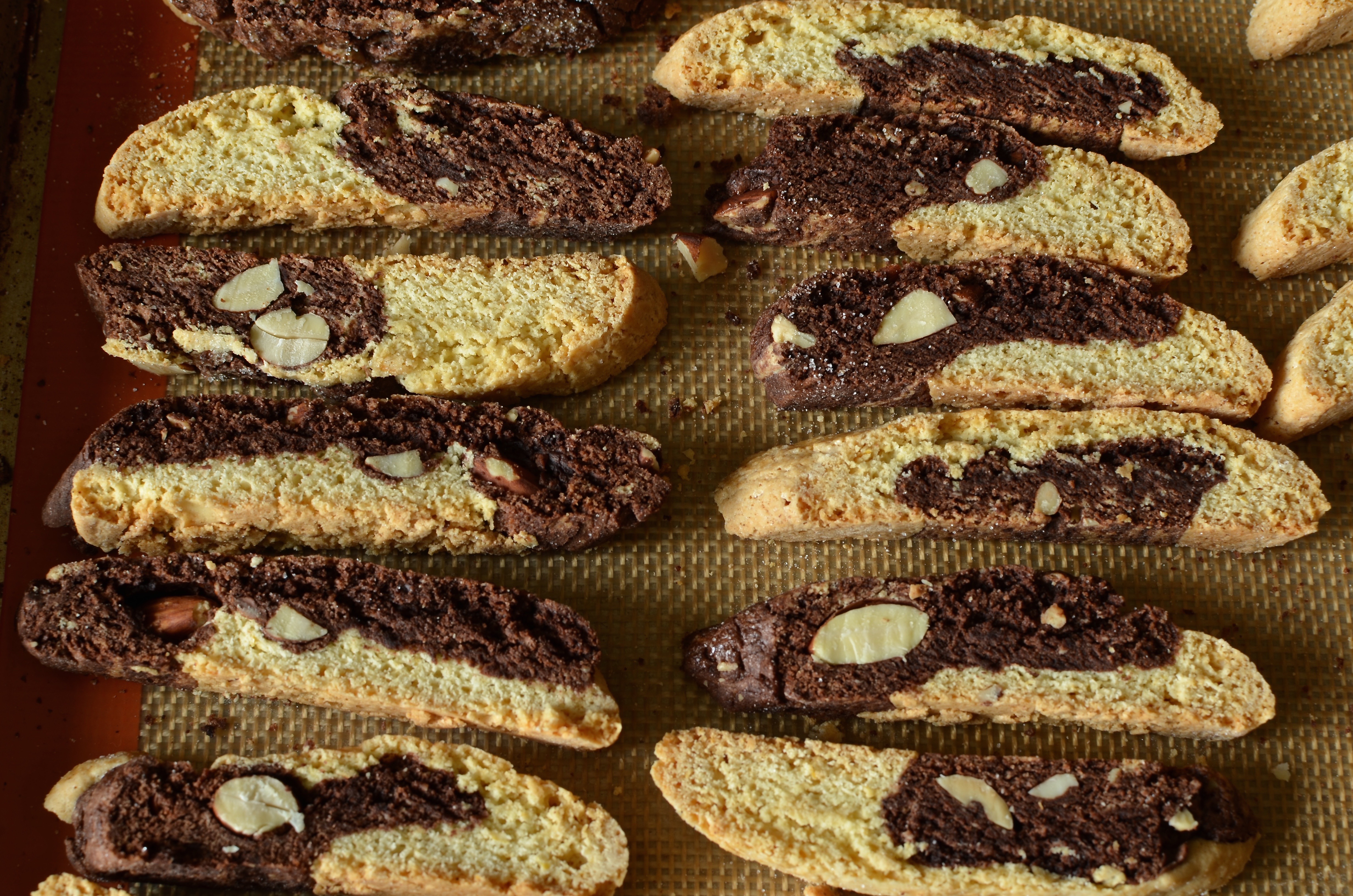 Oh look, another biscotti post.  "Really, Mary Ellen?"  Yes, really!  They are my true love.  Okay, maybe not my true love, but they are certainly my biggest baking vice.
So imagine my joy when earlier this year, an entire book of biscotti recipes came out.  It even has a cute name – Ciao Biscotti!  It's almost as if Domenica Marchetti wrote this book just for me!  I've tried 5 of her recipes so far, but have so many more to go – including a number of savory biscotti varieties such as Mountain Gorgonzola and Walnut, and Cornmeal with Rosemary and Parmigiano.  But this one – a chocolate and lemon biscotti – is one of my favorites.  I'm not always a huge fan of citrus and chocolate together (especially if that citrus is orange), but the flavor combination here works well.
Besides the flavors, I love the ease of the recipe.  The biscotti are made up of half lemon dough and half chocolate dough that you twist together before baking, but as you will see in the instructions below, you make one base cookie dough, then at the very end of the dough-making process, you flavor one half with lemon, and the other with chocolate.  Not needing to make two separate doughs saves a lot of time, and makes the recipe that much more impressive!  I'm happy to add it to the pantheon of Pâte à Chew's biscotti recipes.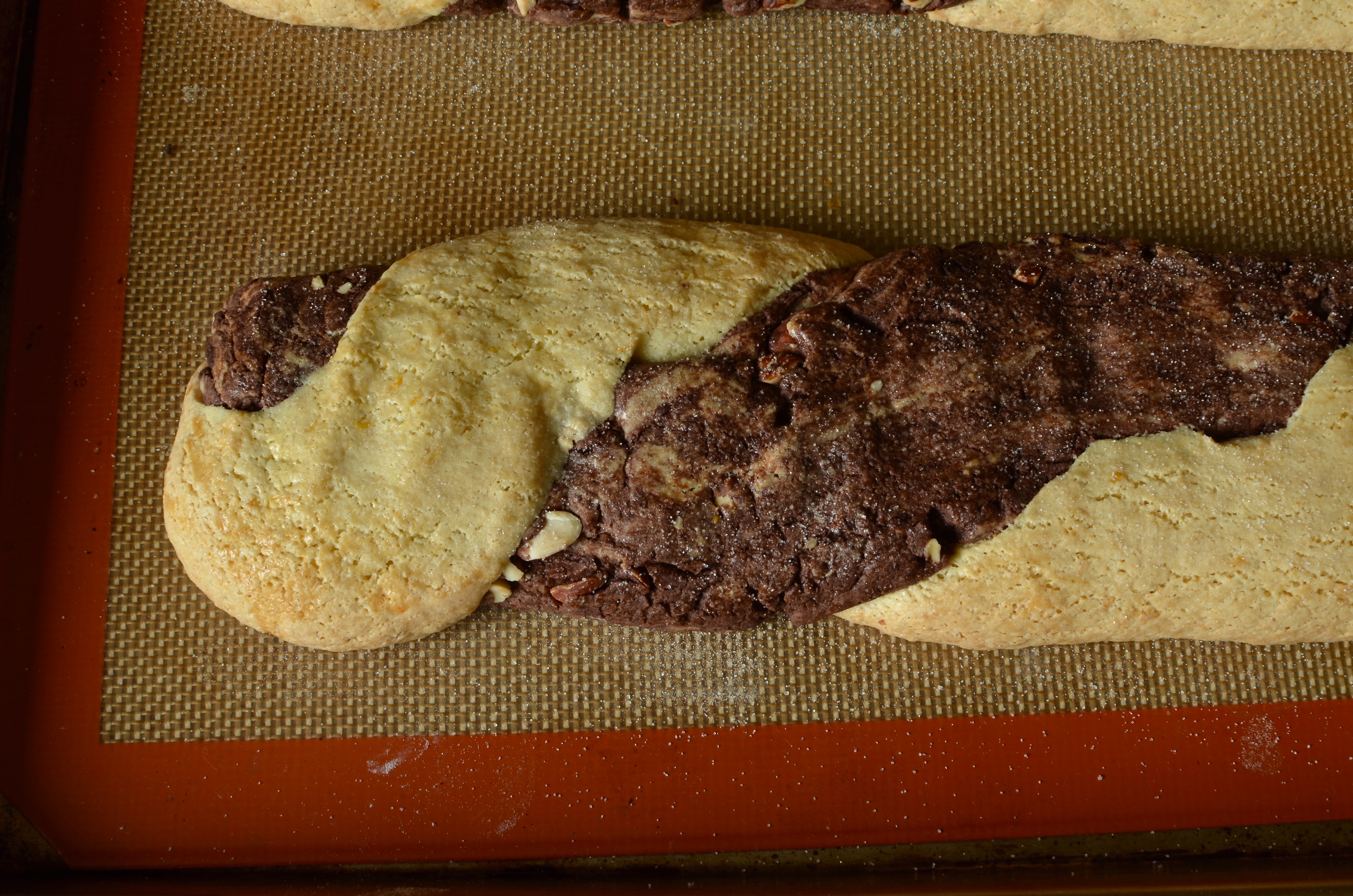 Pâte à Chew's Biscotti Round-Up:
Almond
Almond Cornmeal
Chocolate Cherry
Chocolate and Lemon
Fig and Walnut
Pumpkin
Maple Walnut
(Seriously guys, I have the beginnings of my own biscotti cookbook!)
Chocolate and Lemon Biscotti
Bakers note: You can make these cookies smaller by creating 2 logs out of the dough, as the original recipe suggests.  I have made them this way, but have also made the cookies larger (longer) by rolling the dough out as one large log, and I think I prefer them this way.  But either way will be great!
Recipe adapted from Ciao Biscotti by Domenica Marchetti
Makes around 40 small biscotti, or 24 large
Ingredients
2 cups/255 grams all-purpose flour
1 cup/200 grams sugar
1 teaspoon baking powder
pinch of sea salt
1 cup whole almonds, toasted and roughly chopped
2 tablespoons unsalted butter, at room temperature and cut into 1/2 inch pieces
2 large eggs, lightly beaten
1/2 teaspoon pure vanilla extract or paste
1/2 teaspoon pure lemon extract
zest of 1 lemon
2 tablespoons unsweetened cocoa powder
2 ounces/85 grams bittersweet chocolate, melted and cooled slightly
 Preheat oven to 350 F.  Line a baking sheet with parchment or a silpat.

 Combine flour, sugar, baking powder, and salt in the bowl of a standing mixer fitted with a paddle attachment.  Add the roughly-chopped almonds and mix on low speed to combine.  Next, add the butter in pieces while mixing on medium-low speed to combine.  The mixture will look like damp sand.  Add the eggs and vanilla, and mix on medium speed until a soft, slightly sticky dough has formed.  Scoop out half the dough (eyeball it) and set aside.

 Make the lemon half: Add the lemon zest and lemon extract to the dough in the mixer, and mix on low speed until just combined.  Scoop the lemon dough from the mixing bowl and place on a lightly-floured work surface, and pat into a disk.  I just do this right on the baking sheet.

 Make the chocolate half: Return the other piece of dough to the mixing bowl.  Add the cocoa powder and melted chocolate, and mix on low speed until fully incorporated.  Scoop the chocolate dough from the mixing bowl and place on the same lightly floured surface, and pat into a disk.

 If you want to make smaller biscotti, cut each disk in half so that you have four pieces of dough.  Using lightly floured hands, roll, pat, and stretch each piece into a thin rope, about 14 inches long and 1 inch wide.  To make larger biscotti, roll each disk into a thicker rope, 14 inches long.  Bring together one chocolate and one lemon rope and carefully twist them together a few times, then pat them together until you have a uniform log about 2 inches wide (much wider if you're making one log).

 Bake logs for 25 minutes or until set – springy to the touch with cracks on the surface.  Move the baking sheet to a cooling rack and cool for 20 minutes.  Lower the oven temperature to 300 degrees.  Transfer the cooled logs to a cutting board and cut them on the diagonal into 1/2 inch thick slices.  Arrange the slices cut-side up on the baking sheet, and bake for 15 minutes.  Turn the slices over, and bake for another 15 minutes until they are crisp.  Cool completely on a cooling rack.
The biscotti will keep for up to 10 days in an airtight container.