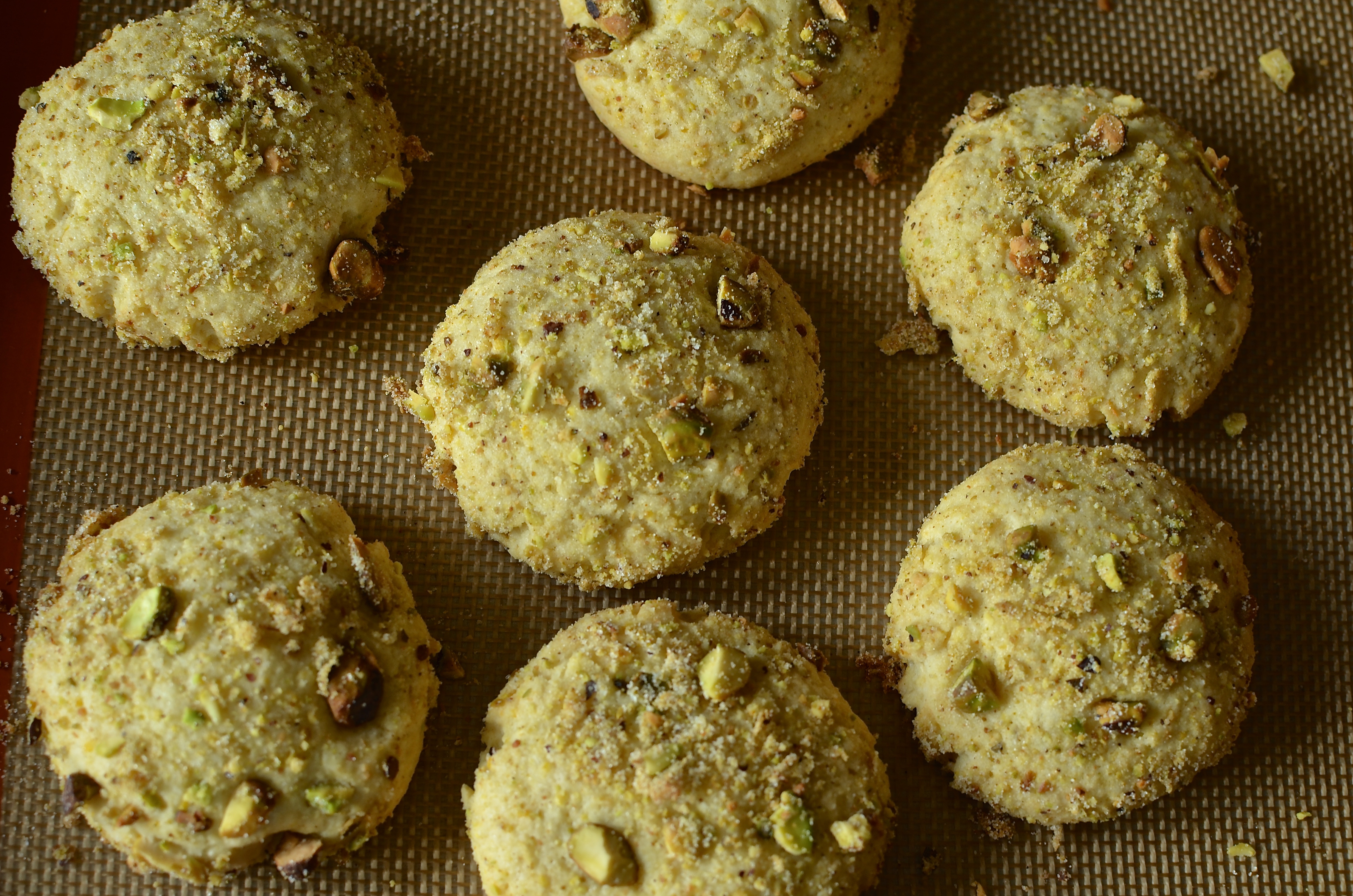 My blog doesn't have much of at "theme;" I pretty much do whatever I want.  The majority of my posts are about baking, but this is not exclusively a baking blog.  I'm someone who generally watches what she eats and makes exercise a priority in her life, but this is most definitely not a healthy eating blog (see recently these, or these, or even these).  Butter, flour, sugar, chocolate – these are the things that make life worth living.  But everything in moderation, right?
That's why I love new book Baking with Less Sugar, by Joanne Chang, the pastry chef–owner of Flour Bakery + Café in Boston.  For her book, Joanne developed recipes using natural sweeteners, such as honey, maple syrup, and fruit juice.  She also includes recipes that simply use (much) less refined sugar, which allows the other flavors in the recipe to shine.  These Lemon Polenta Pistachio Buttons are one of those recipes.  They are a lemony, just-sweet-enough cookie with a lovely crunchy texture from a healthy dose cornmeal in the dough.  Topped with a little sweetened crushed pistachios, they are a treat perfect for any occasion.
Overall, they are easy to make (no mixer or fancy equipment required!) and taste fantastic, while being summer wardrobe-friendly.  Thanks for the great book, Joanne – can't wait to try more recipes!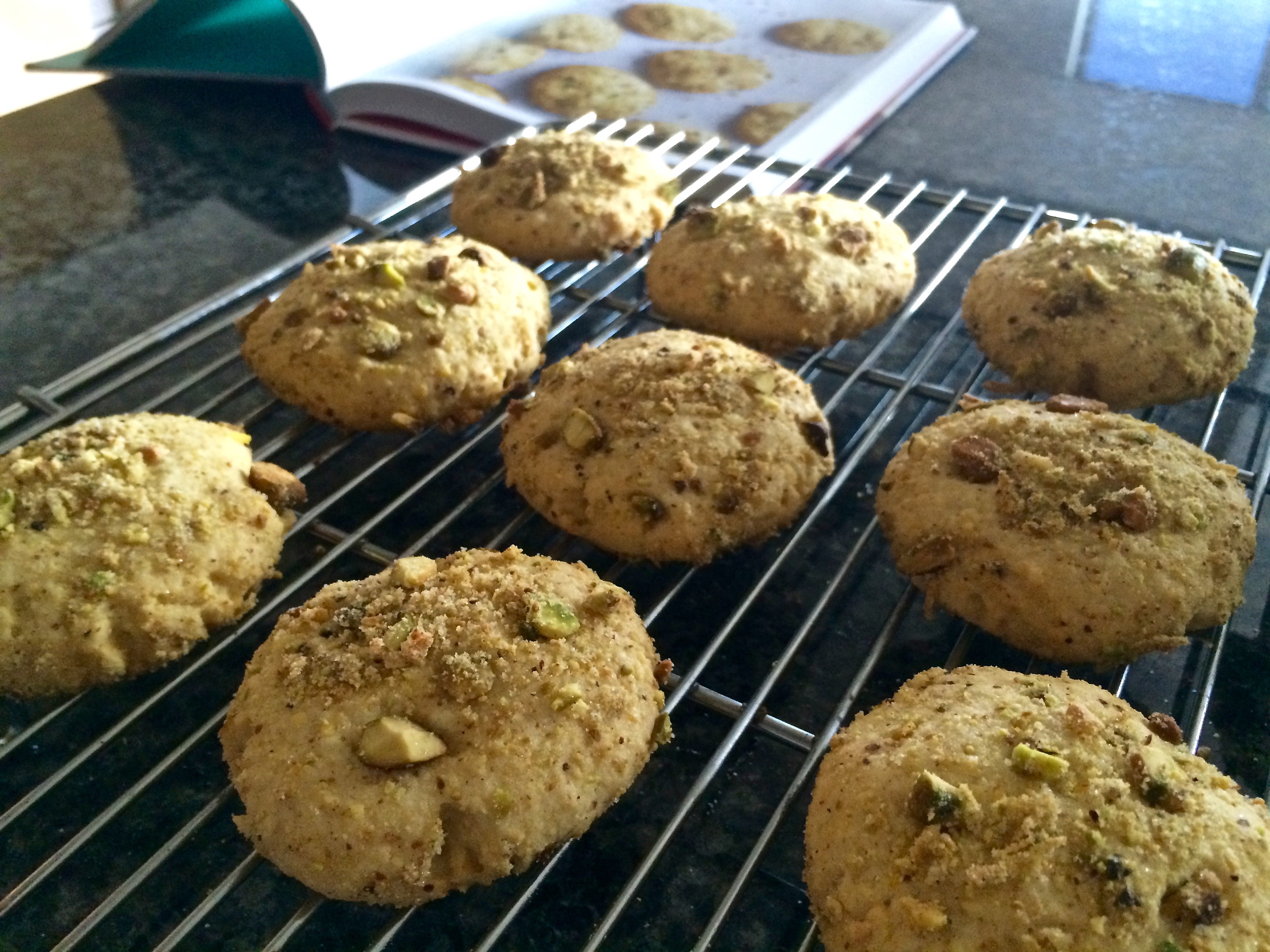 Lemon Polenta Pistachio Buttons
Baking with Less Sugar by Joanne Chang of The Flour Bakery + Café
Makes 10-12 cookies
Total active time: 45 minutes
Ingredients
6 tablespoons unsalted butter, melted
1/4 cup sugar
1 Tablespoon finely grated lemon zest
2 teaspoons vanilla extract
1 large egg, room temperature
1 cup all-purpose flour
1/4 cup cornmeal
1 teaspoon baking powder
1/2 teaspoon salt
Sugar dipping mix
2 Tablespoons sugar
1/4 cup finely chopped, roasted and salted pistachios
1 Tablespoon finely grated lemon zest
1. Pour butter into medium bowl and add the sugar, lemon zest, vanilla, and egg; stir together with a wooden spoon or rubber spatula.
2. In a large bowl, mix together flour, cornmeal, baking powder, and salt, stir to combine. Add the wet mixture to the dry ingredients and mix until well-combined. Cover and chill the dough in the fridge until firm, about 1 hour (or up to overnight).
3. Preheat oven to 350 degrees and place rack in center of oven.
4. Make the sugar dipping mixture: combine sugar, pistachios, and lemon zest in a small bowl.
5. Roll the cookie dough into balls the size of a large walnut; I ended up with 11 cookies. Roll the dough balls in the dipping mix – press firmly to allow the mix to adhere to the dough. Place cookies on a lined baking sheet 2 inches apart. Press them flat with the palm of your hand, they will not spread much when the bake. Bake for 15-18 minutes, until golden brown on edges and pale in the center. Let them cool on the sheet for 10 minutes, then transfer to a wire rack to cool completely.