I haven't been doing much cooking lately, so it's about time I got back in the kitchen and whipped up something comforting yet healthy.  And usually when I want something comforting yet healthy, I look to my long list of "soup recipes I've been meaning to try."
Black bean soup has always been a favorite, and I'm so glad I found this recipe.  The soup is lovely, even though it takes less than an hour to make, from prep to table.  I served mine with sliced avocado, low-fat sour cream, and a big pinch of cayenne, but some cojita or shredded cheddar is also great addition.  I would eat this soup all year long, but if you're in one of the many parts of the country currently suffering from extreme cold and snow storms, you should definitely move this to the top of your To-Do list.
Plus this soup freezes well, which means I'll have some easy, healthy lunches ready to go in the near future!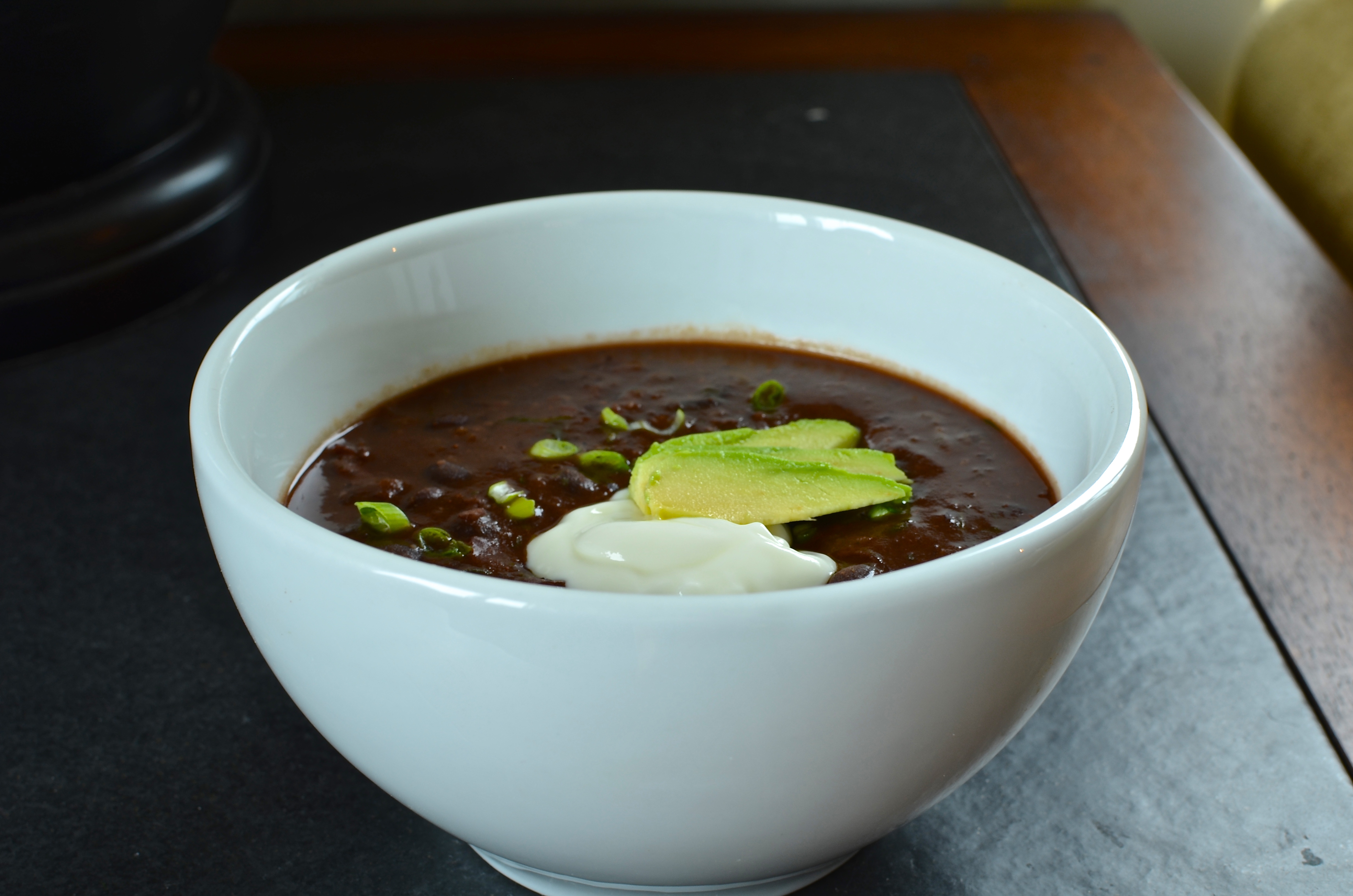 Black Bean Soup
Adapted from Dave Lieberman
Serves 6
Total time: 1 hour
When the soup was done, I hit it with my immersion blender for several pulses, until the soup was creamier but still had plenty of whole beans throughout.  If you don't have an immersion blender, you can take 1 cup of the finished soup and puree in a blender or food processor, then mix the pureed soup back in with the rest of the soup.
Ingredients
8 slices bacon (optional, or adjusted to your taste!), finely chopped
2 medium onions, chopped (about 2 1/2 cups)
Red pepper flakes, to taste (optional)
6 garlic cloves, pressed or finely chopped
1 (14 1/2-ounce) can low-sodium chicken broth (or water to make it vegetarian)
1 1/2 cups canned chopped tomatoes
2 teaspoons Worcestershire sauce
1 tablespoon chili powder
4 (15 1/2-ounce) cans black beans, drained but not rinsed
Kosher salt and freshly ground black pepper
1 bunch cilantro
juice of 1/2 lime
Thinly sliced scallions, for garnish
Sour cream, avocado, chopped tomatoes, and/or grated cheddar for garnish
1. Put the bacon into a large heavy pot and place it over medium heat. Cook the bacon until it starts to give up its fat, about 4 minutes. Stir in the onions and cook, stirring, until they start to turn translucent, about 4 minutes. Stir in the garlic and red pepper flakes, if using, and cook until fragrant, about 1 minute. Add the broth, tomatoes, Worcestershire, and chili powder, and stir to combine. Then stir in the beans, turn the heat to high and bring to a boil. Adjust the heat so the soup is bubbling gently and cook 10 minutes. Season with salt and pepper.
2. While soup is simmering, pick off all the thick stems from the cilantro, wash, and then and shake dry. Chop the cilantro coarsely and stir it into the soup once it has been simmering 10 minutes. Cook another 5 minutes, or until the soup is thickened. If you want to blend or puree a portion of the soup, do so now (see note above).  Stir in the lime juice, then serve with the garnishes.