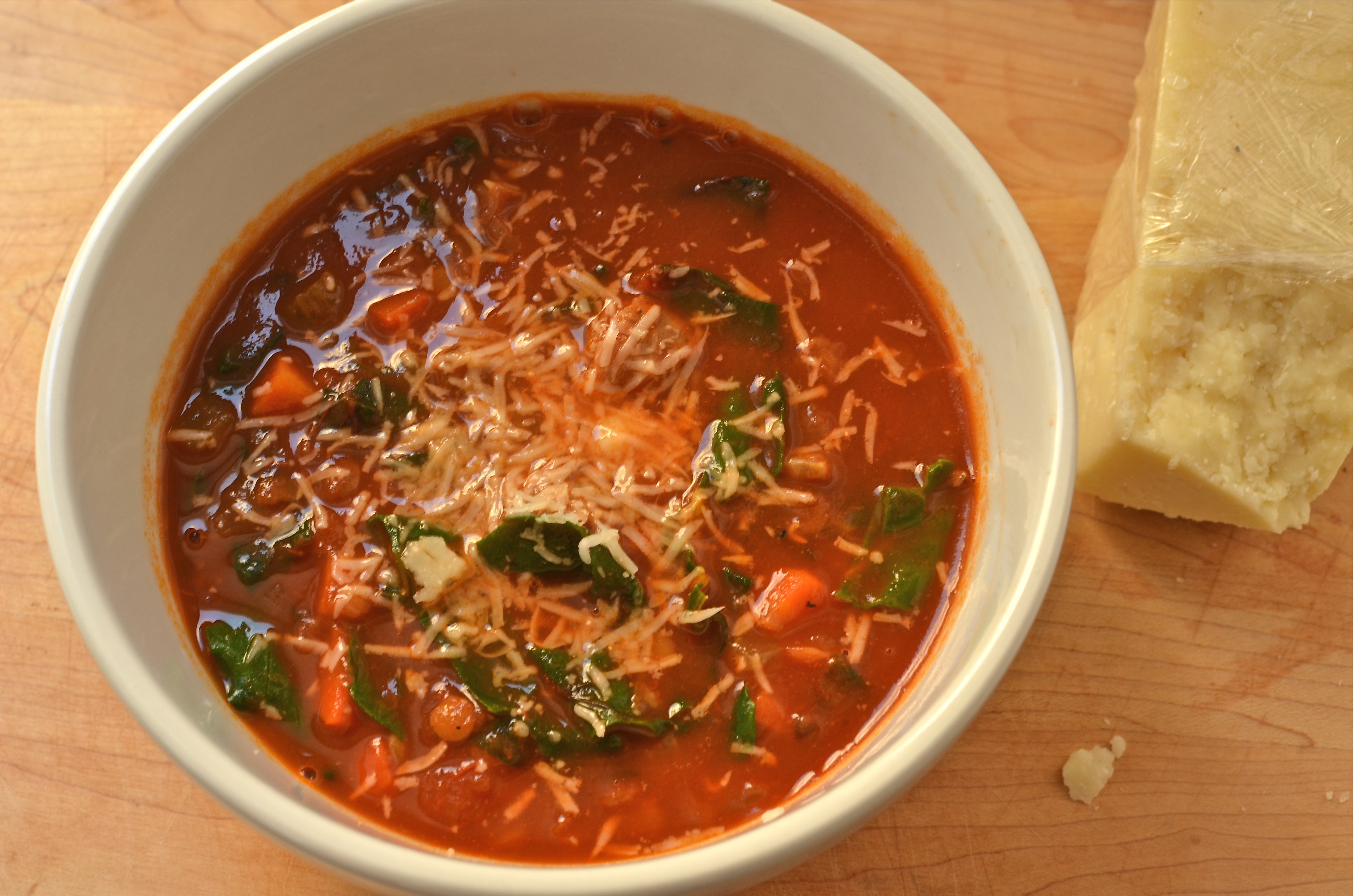 Pâte à Chew lives!  Sorry, I've been terribly busy with life lately, and haven't been cooking much (or at all).  But I made time this past holiday weekend to make a quick and hearty soup to keep us warm during this cold northeast winter.
I love lentil soup.  It's healthy, it's easy to make, it comes together fast.  And it can be changed into a unique soup each time you make it by the addition of a few new ingredients.  For example, I make it a French lentil soup by adding fresh thyme and a drizzle of sweet balsamic vinegar to finish.  This time, the few new ingredients were Italian sausage and some gorgeous rainbow-colored Swiss chard.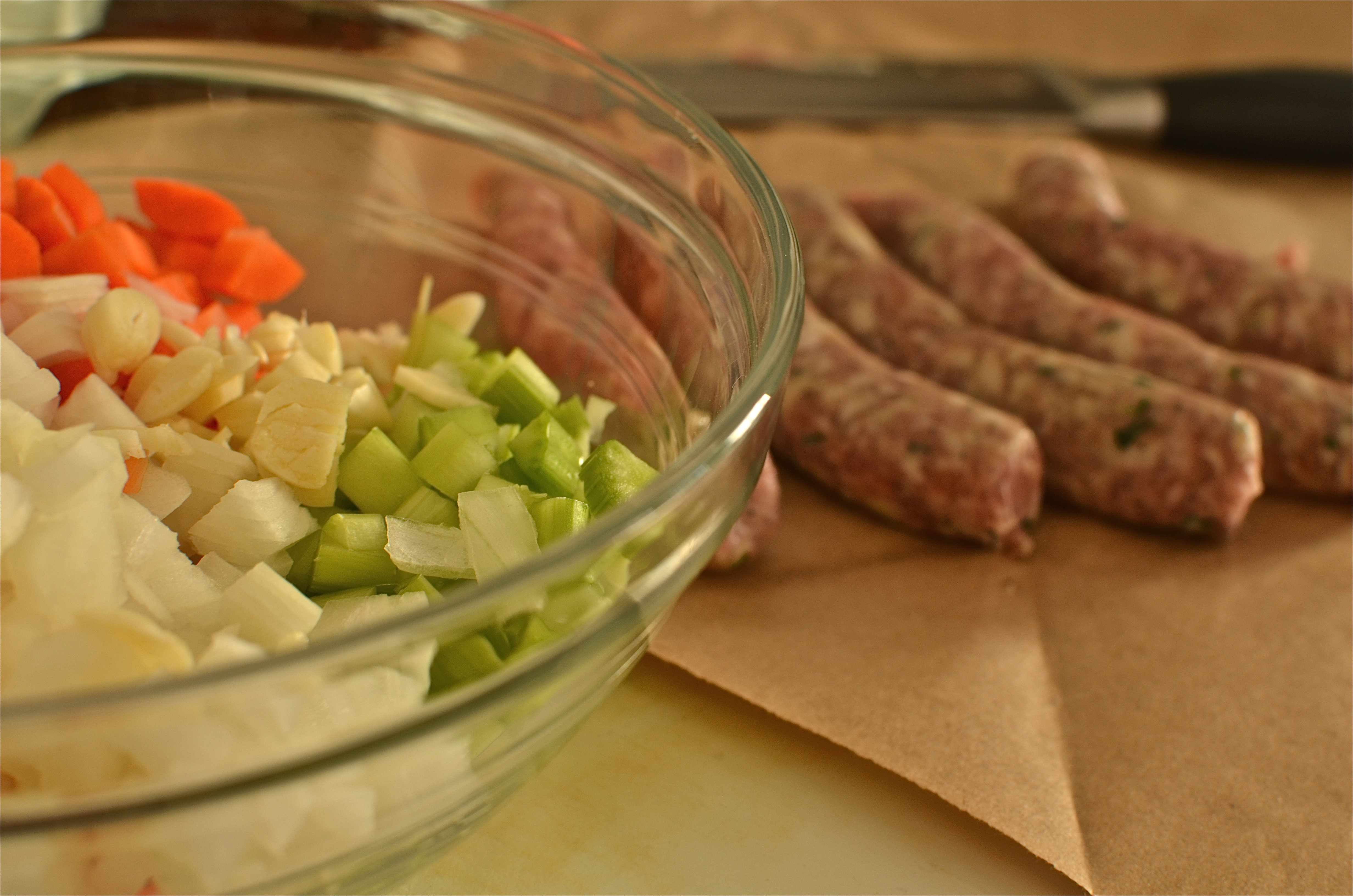 The addition of meat and Swiss chard make this a heartier, comforting meal.  I personally loved it, and will be making it again soon. And of course, the soup can easily be adjusted to your taste.  Use turkey sausage to lower the fat content.  Leave out the sausage to make this vegetarian.  Leave out the cheese as well to make this vegan.  The possibilities are endless!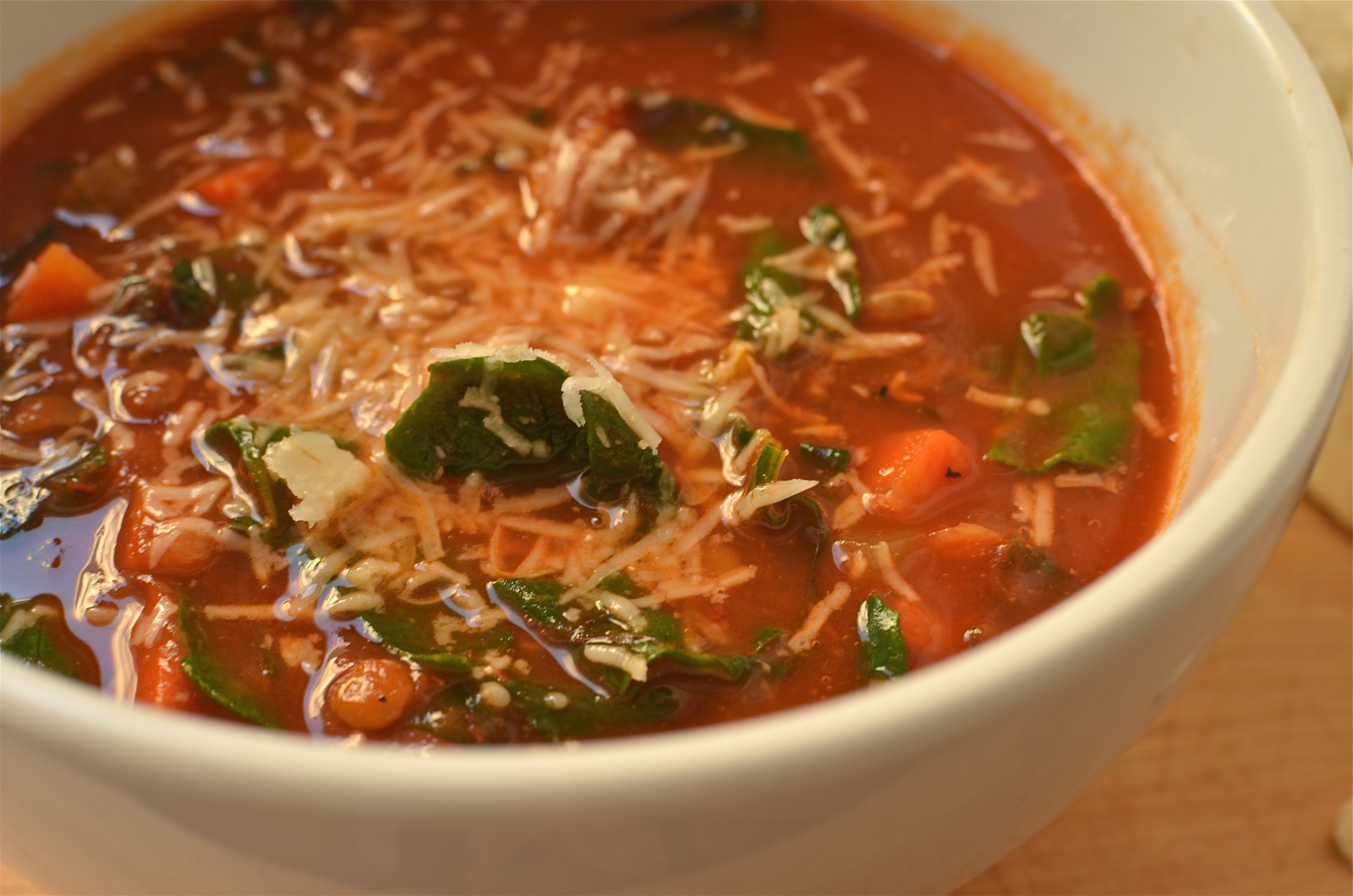 One year ago: Chicken with Apples, Rosemary, and Blue Cheese, Sweet Potato and Black Bean Chili, Hazelnut Linzer Cookies, and Salmon with Lentils
Two years ago: Homemade Chicken Noodle Soup, Pasta e Ceci, Homemade Oreo Cookies, and Lasagna + Garlic Bread
Lentil Soup
Notes:
I've made this a bunch since I've posted the recipe, and I am usually lazy (not to mention calorie conscious) and leave out making the garlic oil that is drizzled on the soup at the time of serving.  I still think the soup is pretty great without it.
Adapted from Secrets of the Best Chefs, where it was provided by Gina DePalma, via smitten kitchen
Serves 6
Ingredients
1/2 cup olive oil, divided
4 large links of sweet Italian sausage, casings removed (use half of this if you prefer that the sausage not dominate the soup's flavor)
1 medium onion, diced
2 celery stalks, sliced or diced
2 medium carrots, peeled and sliced into half-moons or diced
4 cloves garlic, sliced (reserve half for later in recipe)
Kosher salt
A pinch of crushed red pepper flakes (optional)
1 cup brown lentils, sorted and rinsed
2 bay leaves
1 28-ounce can crushed tomatoes
6 cups water
Freshly ground black pepper
3 to 4 cups shredded or thinly ribboned Swiss chard leaves or kale
Grated Pecorino Romano cheese to finish
 Heat 1/4 cup olive oil (or enough to coat bottom of pot) in a large pot on medium heat. When hot, add the sausage, breaking it up with a wooden spoon until it starts to brown, about five minutes.  Next, add the onion, celery, carrots, first two garlic cloves, a pinch of salt, and a pinch of red pepper flakes. Cook with the sausage until the vegetables soften a bit, another 5 minutes. Add the lentils, bay leaves, tomatoes, water (6 cups is 2 empty 28-ounce cans), more salt and black pepper to taste.  Bring to a simmer uncovered and allow to cook until the lentils are tender, about 30-40 minutes (still uncovered).  It might be necessary to add more water if the soup gets too thick.

 When the lentils are cooked, add the chard and cook until the leaves are tender, just a few minutes more. Discard the bay leaves.

 To finish, add the remaining 1/4 cup olive oil and 2 garlic cloves to a small skillet and heat over medium until the garlic softens and hisses. Divide soup into bowls, then drizzle each with a little garlic oil, and top with fresh Pecorino, passing more at the table. Leftovers will keep for several days in the fridge.