Happy New Year!  We may be 15 days into 2013, but better late than never, right?  I started 2013 off with moving into a new apartment and attempting to settle into a new – and much smaller – kitchen.  A lot of my baking and cooking pans are in piles in my living room or stacked on my book shelves.  I just have so much stuff, and it's stuff I just can't bear to part with.  It's all still a work in progress, but it's slowly getting better.  If anyone out there wants to help me install a hanging pot rack, please let me know.
The first post of 2013 is dedicated to all the meat-lovers out there.  My last six (!) posts were all baking all, all the time.  I unsurprisingly got no complaints, but I do occasionally like cook.  Lately all I've had the patience for while working in a half-unpacked kitchen is simple meals, and this one was a hit.  I like steak.  I like Brussels sprouts.  I put them together with some rosemary and garlic.  Done.
As you can see from the pictures, I overcooked my steak a bit.  It was still delicious, but try not to cook it more than medium!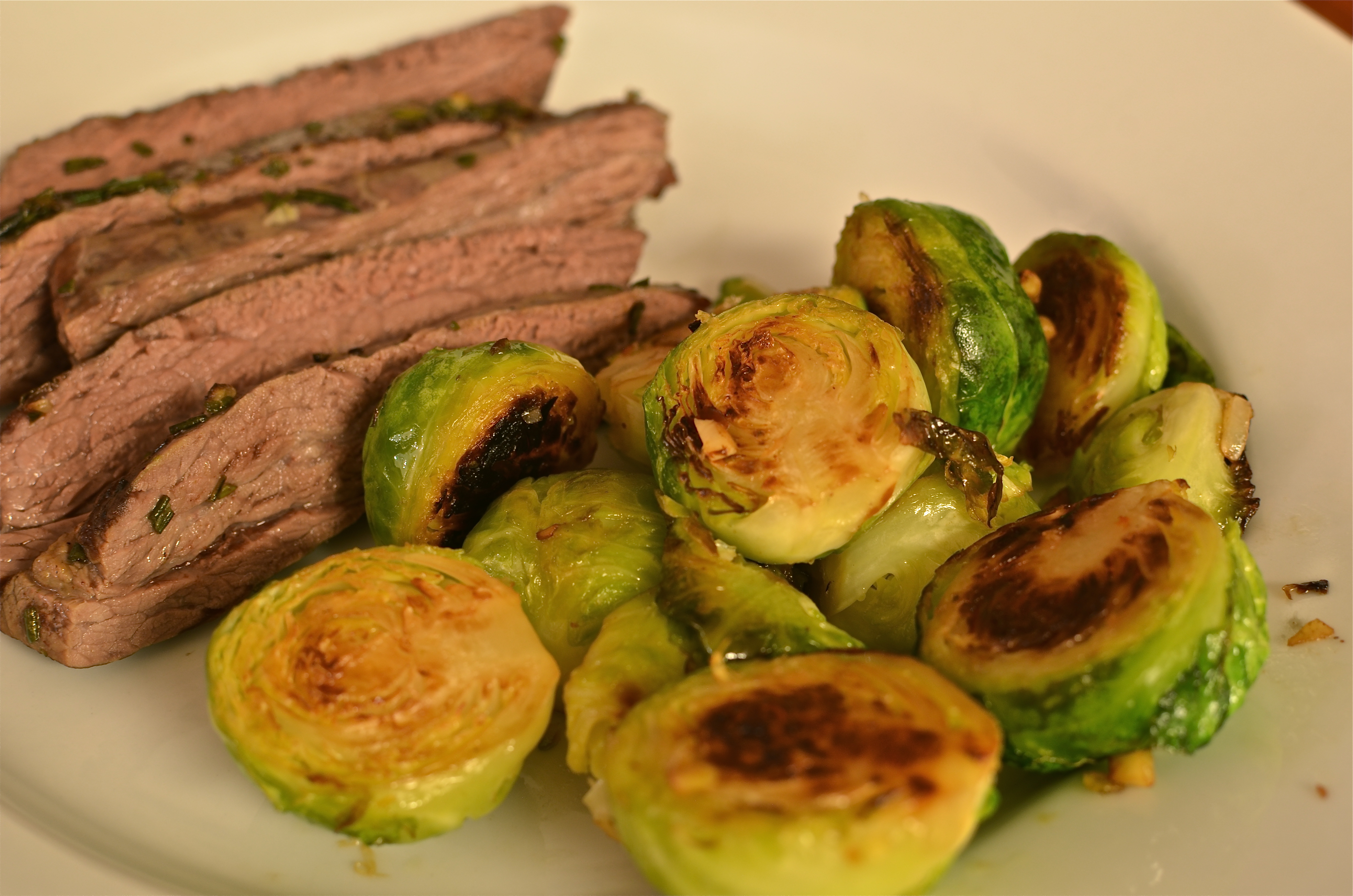 One year ago: White Chocolate and Sour Cherry Scones, Nutella Oatmeal Cream Pies, and Greek New Year's Cake (Vassilopita)
Two years ago: Banana Espresso Chocolate Chip Muffins, Black-eyed Peas with Garlicky Black Pepper Shrimp, and Six Days in Rome: a Food Retrospective
Grilled Flank Steak with Rosemary and Simple Sautéed Brussels Sprouts
Recipe by Pâte à Chew
Makes 6 servings
Ingredients
1/3 cup olive oil
2 tablespoons honey
6 large garlic cloves, minced
3 tablespoons chopped fresh rosemary
1 1/2 tablespoons black pepper
1 1/2 teaspoons Kosher salt
1 2-pound flank steak
Brussels Sprouts
1 pound Brussels Sprouts, rinsed and cut in half length-wise
1/4 cup olive oil
2 cloves garlic, minced
Salt and pepper to taste
1.  For the steak: mix all ingredients except steak in 13 x 9 x 2-inch glass baking dish, then add steak and turn to coat. Cover and refrigerate 2 hours, turning occasionally.
2.  Prepare grill (medium-high heat) or preheat your broiler. Remove meat from marinade; discard marinade. Grill steak to desired doneness, about 4 minutes per side for medium-rare.
3.  For the Brussels sprouts: While your steak is cooking, heat 1/4 olive oil over medium heat in a large skillet.  Add Brussels sprouts, salt, pepper, and garlic, and sauté until tender, stirring occasionally to ensure the vegetables aren't charring on the bottom.
Transfer steak to cutting board, and let stand 5 minutes to allow the meat to rest. Slice across grain into thin strips.