Pâte à Chew has been baking up a storm in cold, rainy New York City over the past few days.  Cookies are one of my favorite things to experiment with in the kitchen, but when the holidays arrive each year, my mind is consumed with finding new and creative Christmas cookie recipes to try.  My coworkers are going to love me this month.
My third annual Christmas Cookie Extravaganza continues this week with an adorable and yummy take of speculoos cookies.  Speculoos are a lightly-spiced shortbread cookie with a hint of molasses.  The cookies were traditionally baked for consumption on or just before St Nicholas' feast (December 5), but they can be enjoyed all year long.  Many of us have had speculoos cookies before, but with the growing popularity of speculoos spreads such as Biscoff – a delicious spread made of speculoos cookies – we are seeing a lot of new and creative ways of using this treat.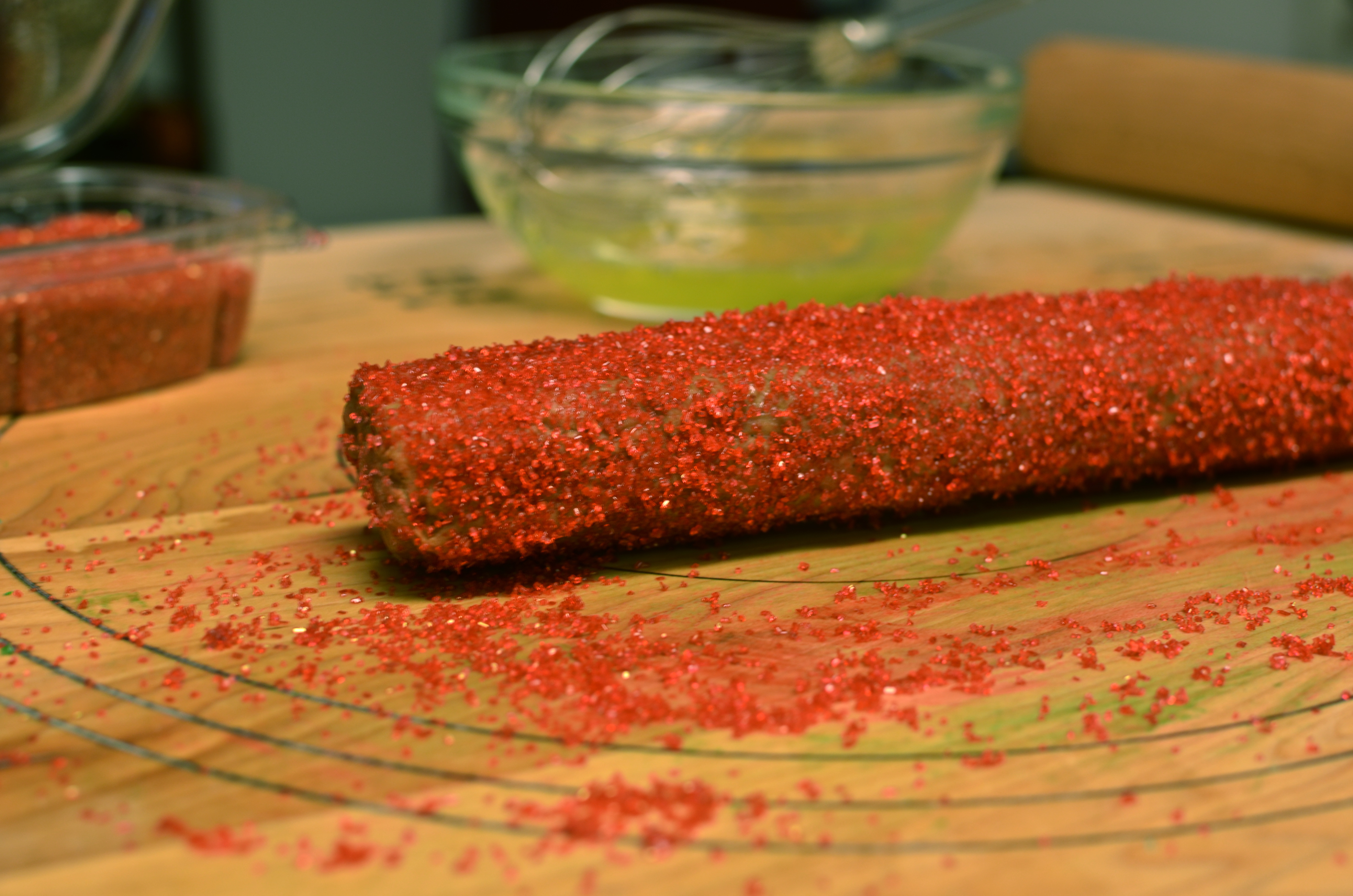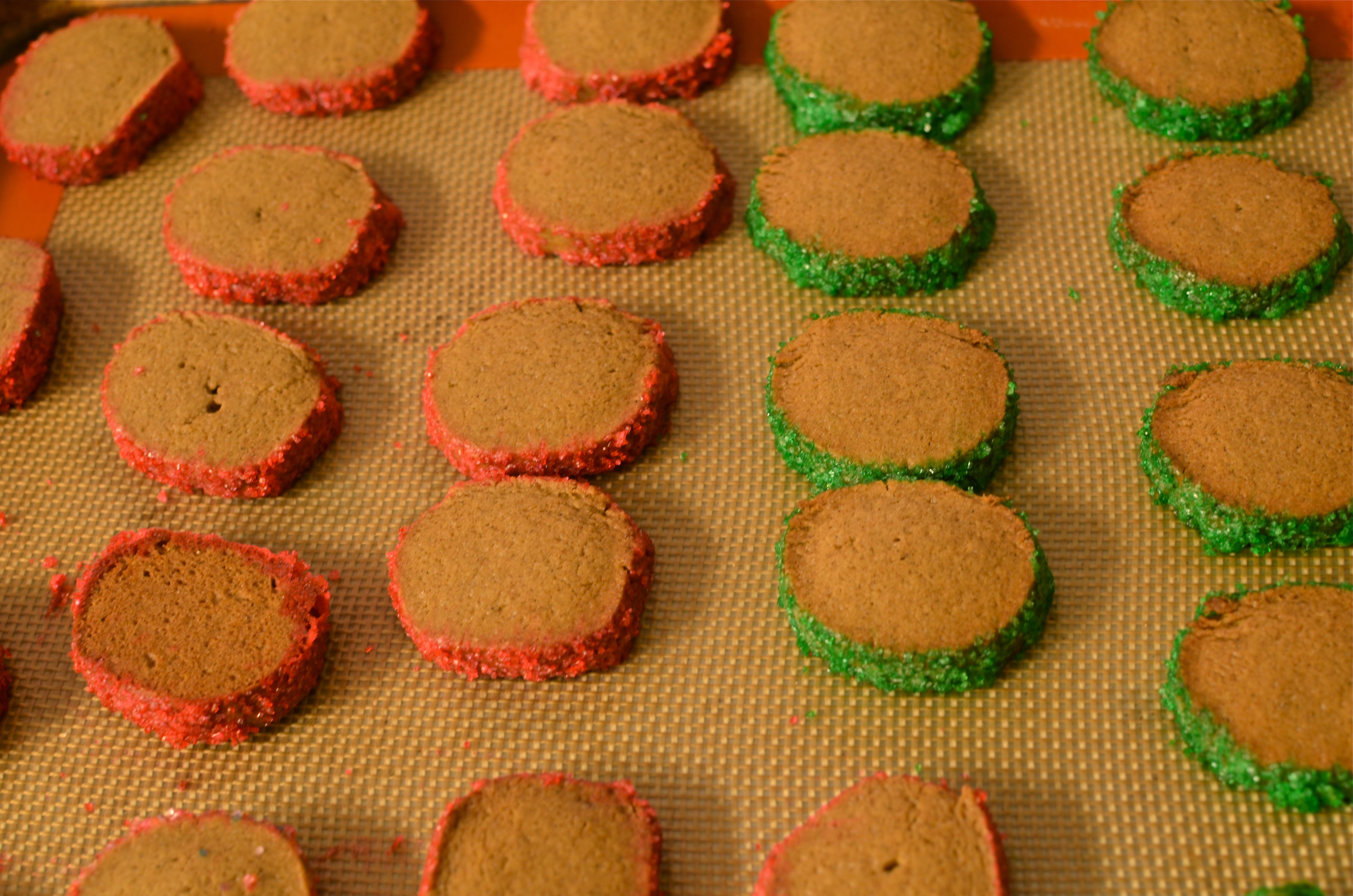 Bon Appetit always publishes a great December issue that includes many exciting and creative recipes for Christmas cookies.  Speculoos Buttons are featured on the cover of the magazine this December (just like these heavenly Peppermint Meringues last year).  What makes this December cookie cover story even more special is that it features cookies by the great Dorie Greenspan.  I've tried many of Dorie's recipes in the past, and each one has made a treat that is out of this world.  Her Speculoos Buttons are no different – they are sweet, a little spicy, and make a beautiful gift or contribution to a cookie exchange.  Just as good: they are bite-size, which will satisfy your cookie craving while making sure you don't gain that inevitable holiday weight.
You can use sprinkles or colored sugar to decorate the cookies, but I love the elegant look of dragées.  Dragées are little colored balls of sugar, that come in a variety of shapes and sizes.  Many of my cookies did not turn out as perfectly round as Dorie's, but I personally think they are still pretty darn cute, and the bright, shiny dragées are the first thing that draws the eye!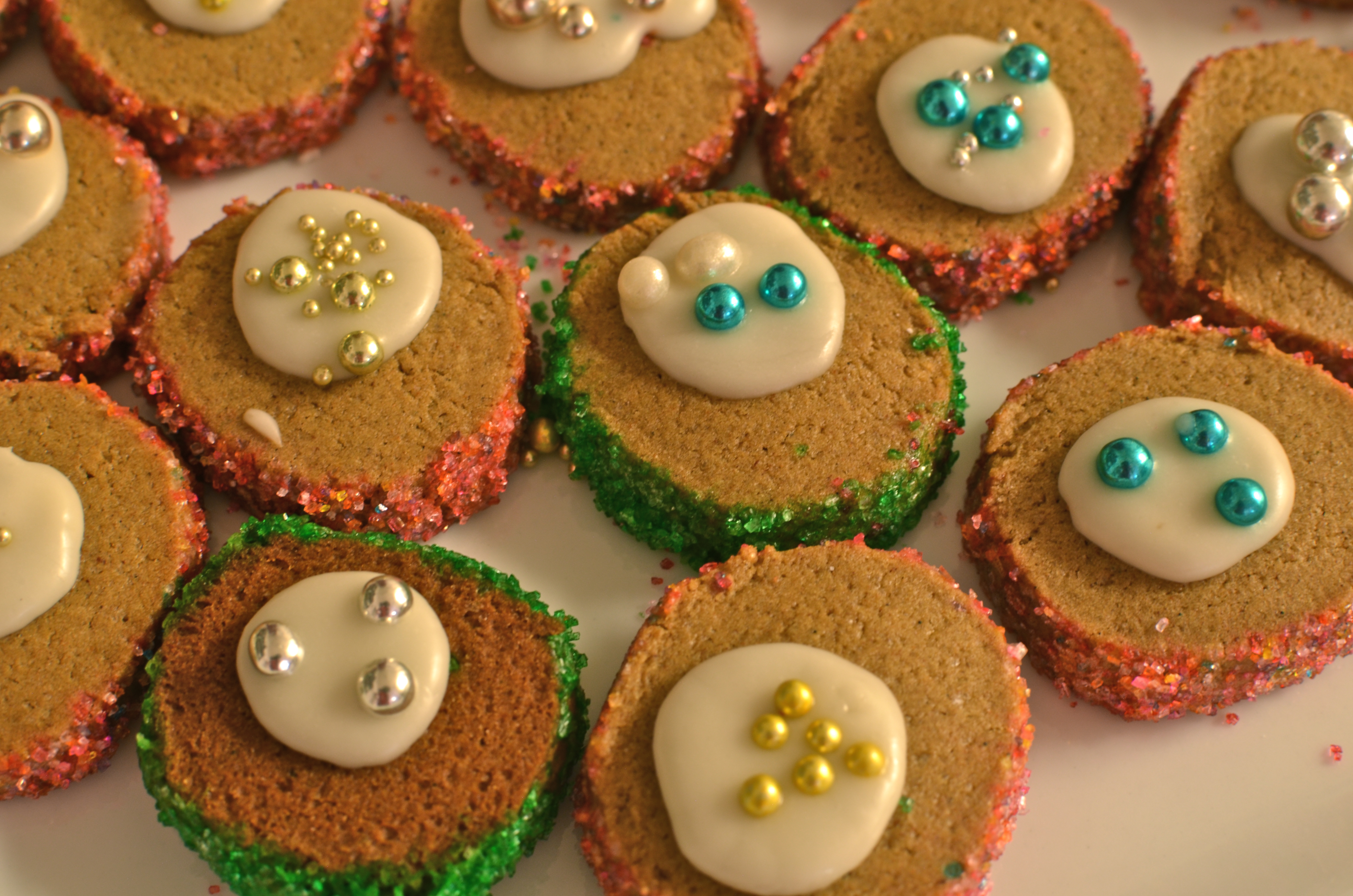 One year ago: Peppermint Meringues
Two years ago: Starry Starry Nights
Speculoos Button Cookies
Recipe by Dorie Greenspan
Makes around 3 dozen little cookies
Ingredients
Cookies
2 cups all-purpose flour
1 tablespoon ground cinnamon
3/4 teaspoon ground ginger
1/2 teaspoon fine sea salt
1/2 teaspoon freshly grated nutmeg
1/8 teaspoon ground cloves
1/2 cup (1 stick) unsalted butter, room temperature
1/2 cup (packed) light brown sugar
1/4 cup sugar
2 tablespoons mild-flavored (light) molasses
1 large egg, room temperature
1 teaspoon vanilla extract
1 large egg white
Sanding or other decorative sugar
Glaze
2 cups powdered sugar, sifted
Sprinkles, colored sanding sugar, or dragées (optional)
1.  Whisk first 6 ingredients in a medium bowl and set aside. In an electric mixer with paddle attachment, beat butter at medium speed until smooth, about 2 minutes.  Next add both sugars and molasses and continue to beat until mixture is smooth and creamy, about 3 minutes.  Beat in egg and vanilla and mix for 2 minutes. Reduce speed to low, then add dry ingredients in 3 batches and mix to blend well.
2. Scrape dough from bowl and divide into thirds.  To get near perfect thirds, I gently patted the dough into a round disk, and then cut the disk into thirds.  Next, using your palms, roll each piece of dough into an 8-inch log.  Wrap each log tightly in plastic wrap or parchment paper and freeze for at least 3 hours.  (For neater edges, remove logs from freezer after 1 hour and roll on counter.)  DO AHEAD: Dough can be made up to 2 months ahead. Keep frozen.
3.  Arrange the oven racks in top and bottom thirds of your oven and preheat to 375°.  Line 3 baking sheets with parchment paper or silicone baking mats.  If you don't have three cookie sheets, you can bake the cookies in batches.
4.  Remove one log from the freezer.  Whisk egg white in a small bowl to loosen, and lightly brush all over 1 log. Sprinkle with (or roll in) sanding sugar.  Using a long, slender knife, slice off a sliver of dough from each end of log to make ends flat. Cut log into 1/4 inch-thick rounds. Transfer to 1 baking sheet, spacing 1/2 inch apart; place in freezer while you cut the next log. (The cookies hold their shape better if you bake when dough is cold.) Repeat with remaining dough.
5.  Bake 2 sheets of cookies, rotating the sheets from top to bottom and front to back after 6 minutes, until tops are golden brown and centers are almost firm, 11-13 minutes. Transfer cookies to wire racks and let cool. Repeat with third sheet of cookies, reusing a baking sheet if you don't have 3 baking sheets.  DO AHEAD: Cookies can be baked 2 days ahead. Store airtight at room temperature.
4.  Make the Glaze.  Mix powdered sugar and 7 teaspoons cold water in a large mixing bowl – the glaze will be very thick.  Spoon about 1/2 teaspoon of glaze onto each button. Decorate with sprinkles, colored sugar, or dragées, if desired.  Let stand on rack at room temperature for at least 30 minutes for glaze to set.
Cookies can be made 5 days ahead. Store airtight at room temperature.