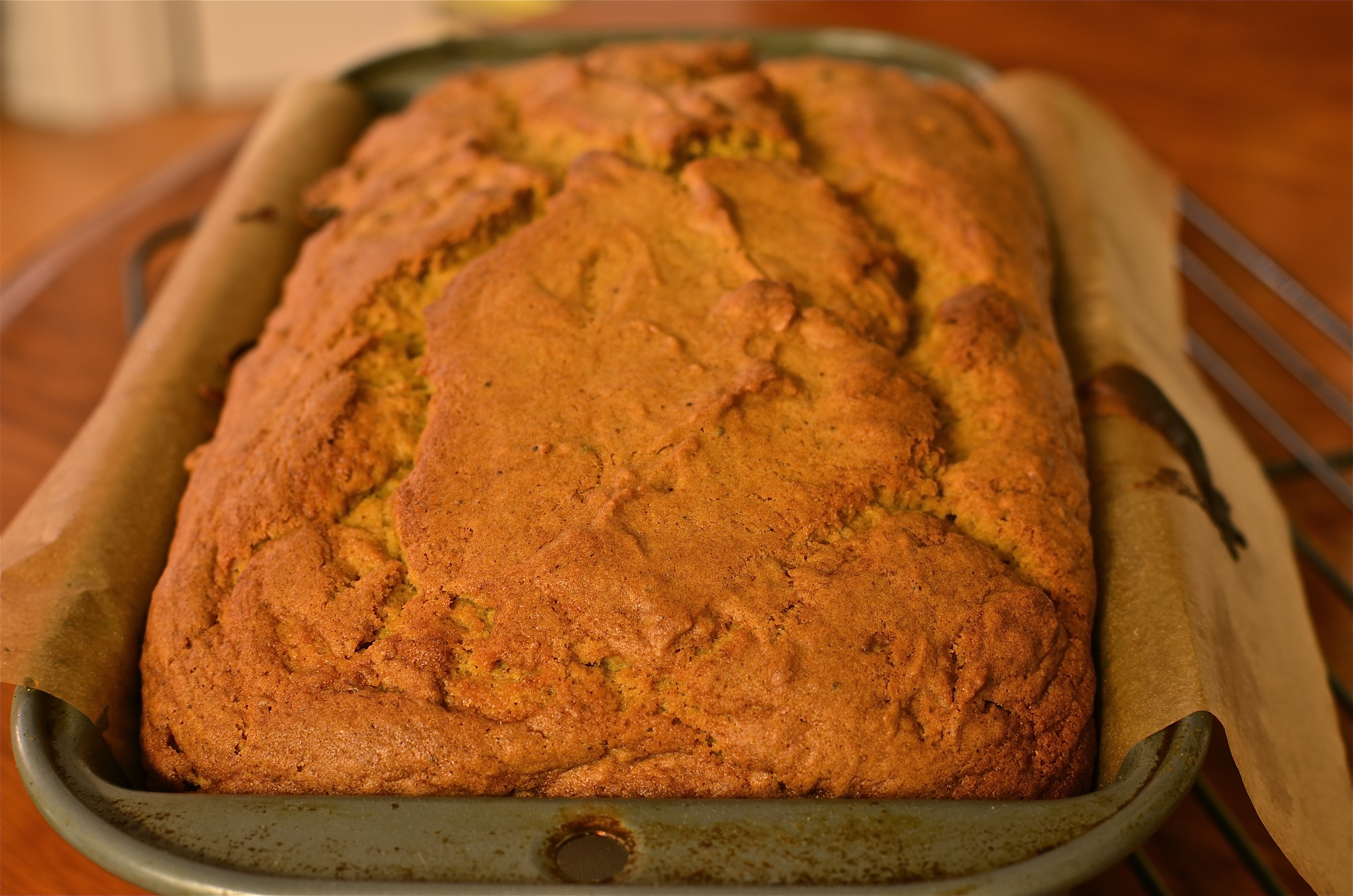 It's been far too long since my last post!  Between travel for work, Hurricane Sandy, and that pesky Nor'easter that just hit the New York City area, life has been chaotic.  I hope everyone out there made it through the storms safe and sound.
Right before Hurricane Sandy arrived, the Baked in Brooklyn blog posted a recipe for Quick Cranberry Walnut Pumpkin Bread.  I've been looking for a good pumpkin bread recipe ever since I started baking.  I turned my nose up at every recipe I tried – they were too dense, or too dry, or too sweet, or not sweet enough, or not pumpkiny enough, or so loaded with butter or oil that the bread tasted more like a heavy pound cake.  I was the ever-suffering Goldie Locks of pumpkin bread.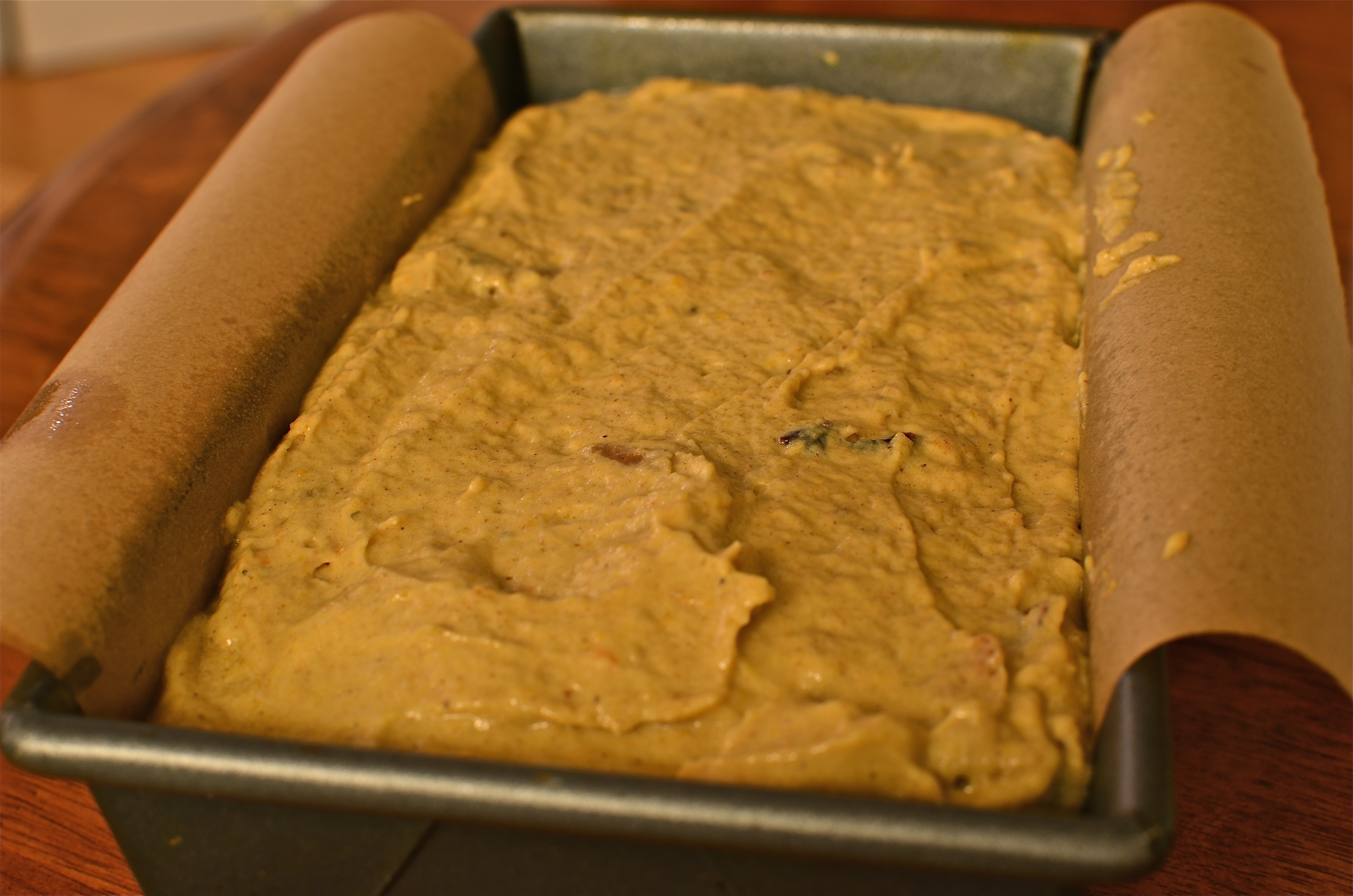 Lo and behold, the Baked blog came to my rescue.  This truly excellent recipe for pumpkin bread that will now be my go-to recipe.  It's moist, just-sweet-enough, well-spiced and sufficiently pumpkiny.  I think the buttermilk is a key ingredient, so please don't skip it.  Most grocery stores carry low-fat buttermilk with an extended expiration date, so please invest in it.  I would be happy to suggest any number of recipes on this blog that make use of your leftover buttermilk!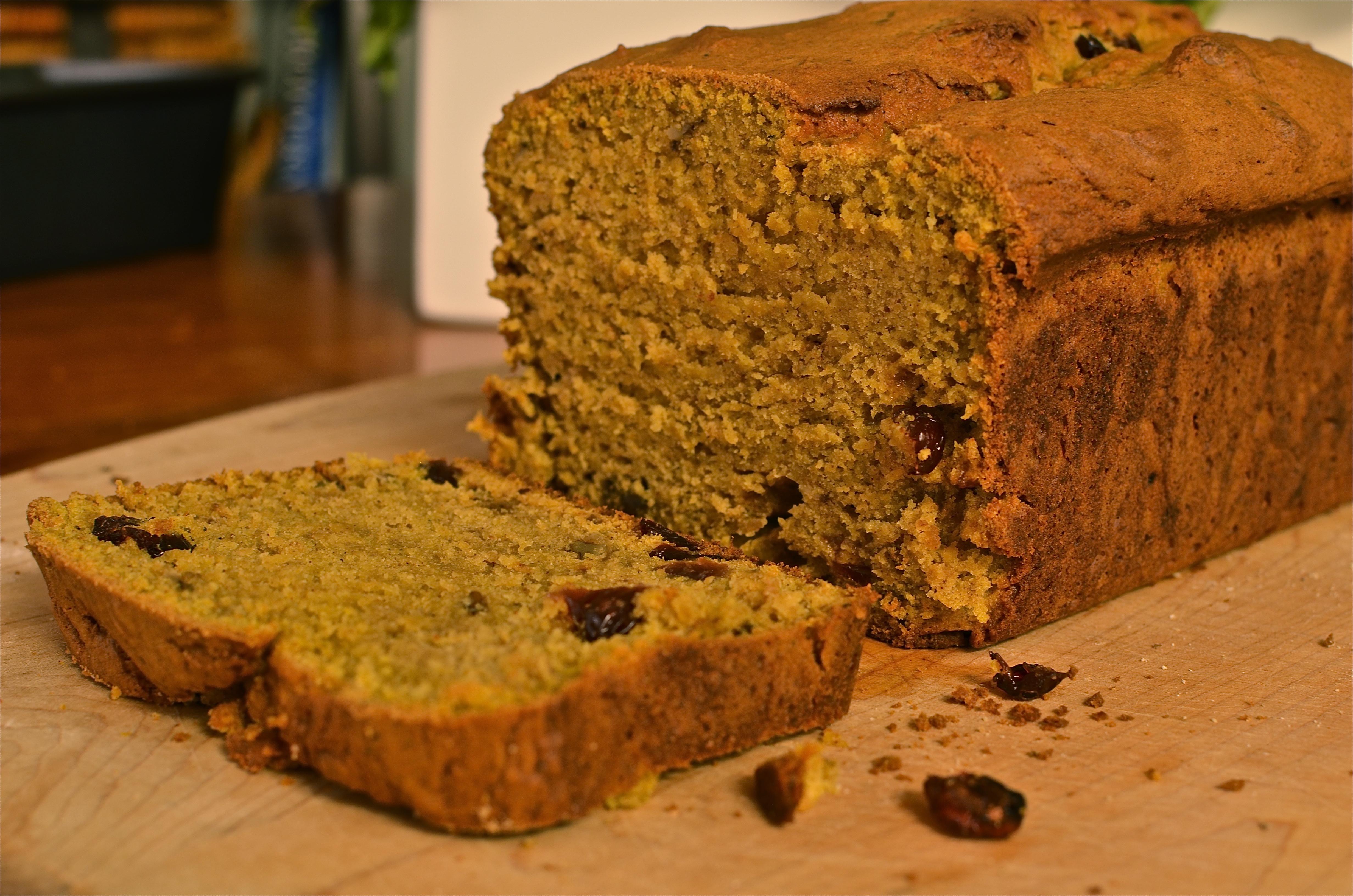 One year ago: Chicken with Tomato Herb Pan Sauce, Caramel Walnut Pie, Soup au Pistou, Pasta with Cauliflower and Brussel Sprouts
Cranberry Walnut Pumpkin Bread
Adapted from Baked's blog, The National Baking Society
Makes one 5 x 9 inch loaf; Recipe can be doubled
Total time: 1 hour 30 minutes
Ingredients
2 cups all-purpose flour
1 teaspoon cinnamon
1/2 teaspoon ground ginger
1/2 teaspoon ground nutmeg
1/4 teaspoon cloves
1 teaspoon baking powder
3/4 teaspoon salt
1/2 teaspoon baking soda
6 tablespoons (3/4 stick) unsalted butter, room temperature; could substitute 6 tablespoons vegetable oil
1 cup sugar
2 eggs, room temperature
1 cup pumpkin puree
1 teaspoon vanilla extract
2/3 cup buttermilk
1/2 cup dried cranberries (optional)
1/2 cup toasted chopped walnuts (optional)
1.  Preheat oven to 350 degrees F.  Grease a loaf pan (or spray with non-stick baking spray, my preferred method).  Cut a sheet of parchment to fit so that you can line it along the long sides of the pan, which will make for easy removal of the bread after baking. Gather all of the dry ingredients in a bowl and whisk to combine.
2.  In the bowl of an electric mixer (or large mixing bowl) beat the butter until fluffy; if using oil, just put the oil in the bowl.  Add the cup of sugar and beat until creamed, 3 to 5 minutes.  Add eggs followed by the pumpkin puree and then the vanilla.  Take care to scrape down the sides of the bowl and the bottom of the bowl.  Alternate adding dry ingredients and buttermilk, starting and ending with the dry ingredients.  I added the dry ingredients in three steps, and the buttermilk in 2.  Don't overmix!
3.  As soon as almost all of the flour mixture is incorporated, use a spoon or spatula to fold in the cranberries and walnuts.  Spoon all of the batter into the prepared loaf pan.  Smooth the top and place in the hot oven.  Bake 60 to 70 minutes, until a tester inserted into the middle of the bread comes out clean.  Cool for 10 minutes, then remove it from the pan and cool completely on a cooling rack.